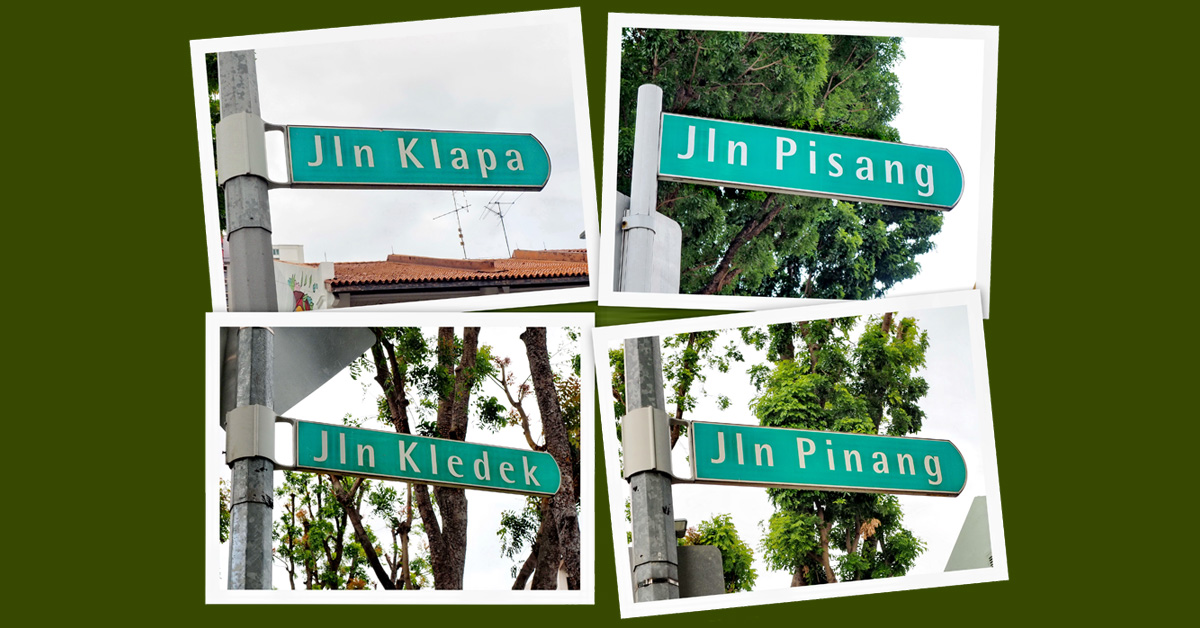 Until recently, we Singaporeans have been spoilt for choice as far as travel options were concerned. It was so easy to grab our powerful passports and catch a flight for a weekend trip to Bangkok for a bit of shopping and eatery-hopping, jump on a boat to Bintan for some photo-taking and makan-sampling, or drive up to Johor Bahru for shopping and, of course, more eating.
But with Covid-19, those days are over – at least for the time being – and our red passports are getting a bit dusty.
At first, we had no choice but to stay home, but that became boring and, as Singaporeans, our taste for sightseeing, food-sampling and exploring reawakened. In fact, we've come to realise that we don't need a passport to enjoy the sights, sounds and tastes of some of the region's most interesting and colourful neighbourhoods — we've got them right here in Singapore!
And now, armed with our SingapoRediscover Vouchers (and comfortable shoes), there's no better time to indulge in a bit of nostalgia and discovery in our Lion City.
Just one example of such a neighbourhood is Kampong Glam. While some of the area's landmarks are familiar, there are also some not-so-well-known yet fascinating places there.
Rooted in the rich diversity and proud traditions of our migrant society, Kampong Glam is an evolving tapestry of art, culture, food and shopping options – so accessible, right in the heart of Singapore!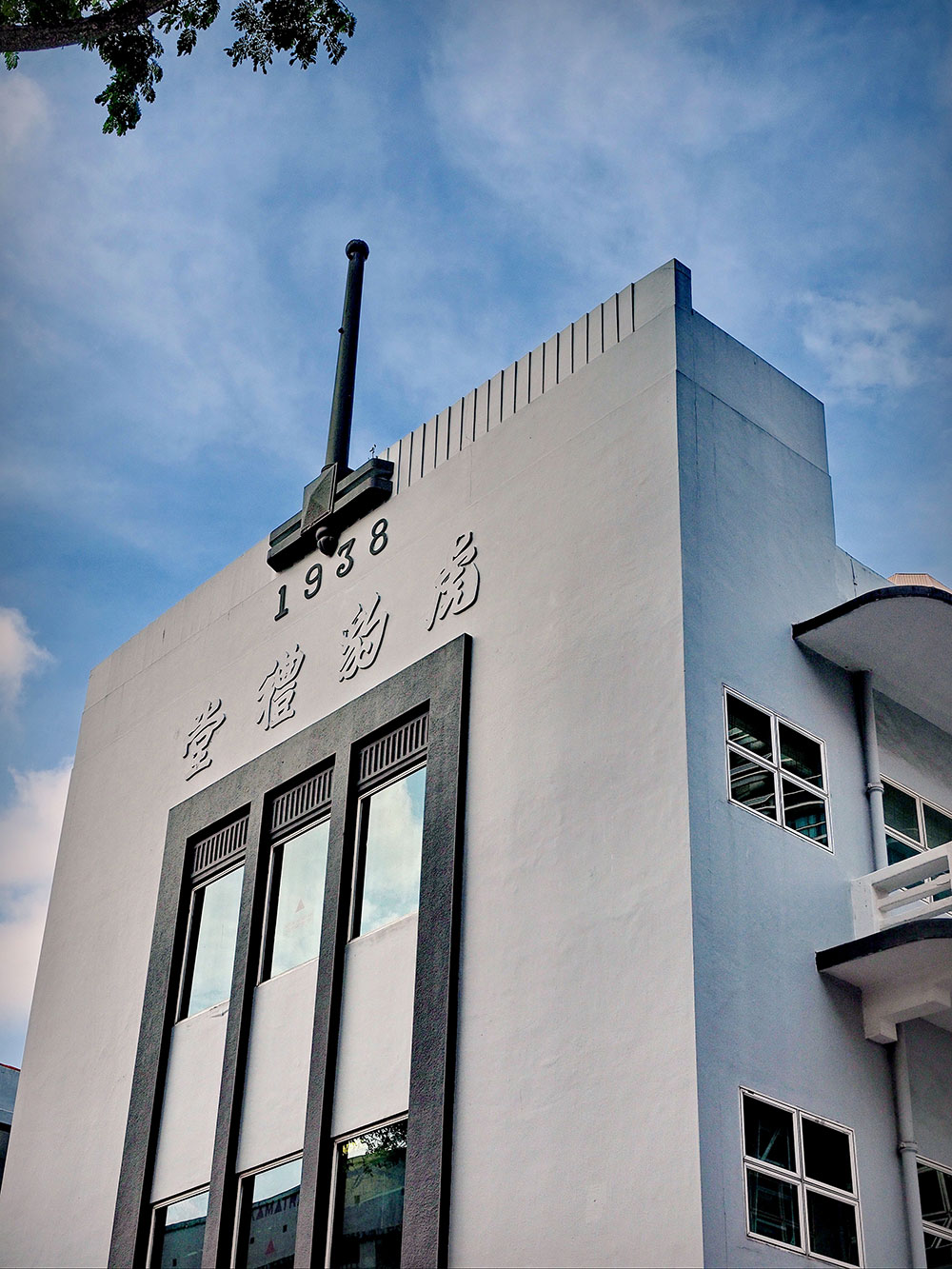 Most of us view historic Kampong Glam as a Malay and Arab precinct, as it was in the time of Sir Stamford Raffles. So, no wonder our friends are surprised when they see the former Chong Cheng School and Chong Pun Girls School (now the Aliwal Arts Centre), that impressive Art Deco building just a stone's throw from the famous Istana Kampong Glam.
Although the two schools were in separate wings, they shared a central hall.
If you look up and read the name of the hall you may wonder why the Chinese characters for "tiger" and "leopard" are there.
The answer: it was named after the Aw brothers, "Haw" and "Par" (better known for Haw Par Villa and Tiger Balm). The brothers were among the school's major benefactors.
Another interesting "factoid" about the school can be seen in the 1949 enrolment record: our dear former President, Ong Teng Cheong, was one of the students.
And, as we drive along North Bridge Road or Victoria Street, just past Jalan Sultan, we may be curious about the naming of the side streets.
One of them, Jalan Kubor (cemetery), is rather obvious because of the nearby Malay cemetery. But what about the others, named after fruits and vegetables? How did Jalan Klapa (coconut), Jalan Kledek (sweet potato), Jalan Pisang (banana), and Jalan Pinang (betel nut) come about?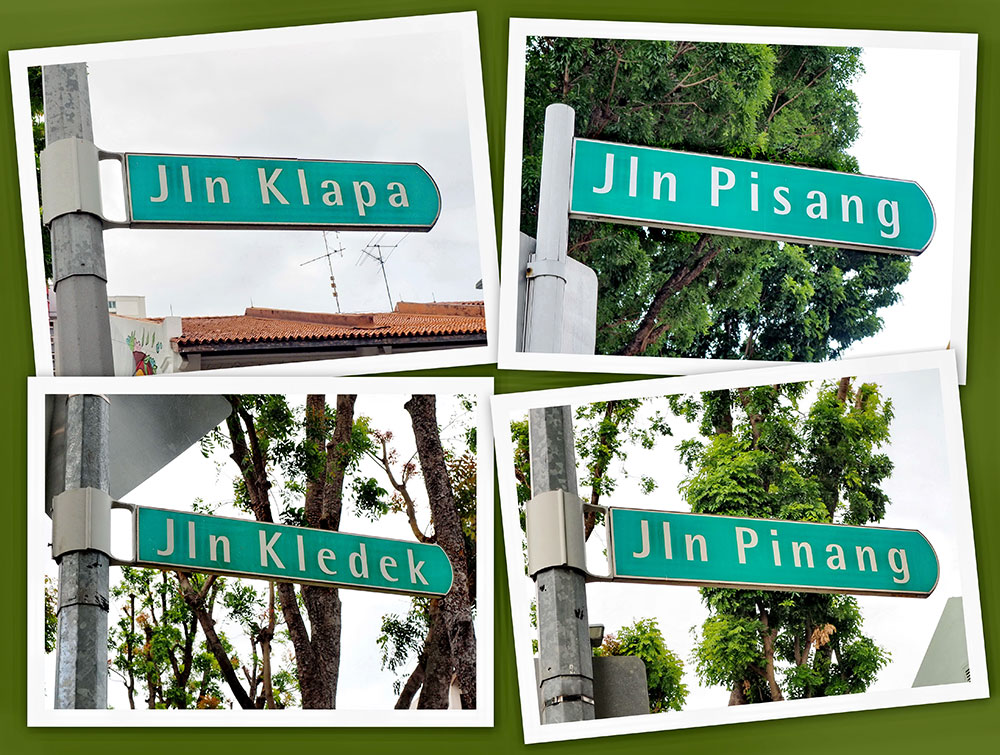 The answer is that the area was originally part of an orchard in the Istana Kampong Glam estate. When the British built North Bridge Road, the compound was made smaller. The resulting new side streets were named after some of the things that were grown in the sultan's orchard. Now you know!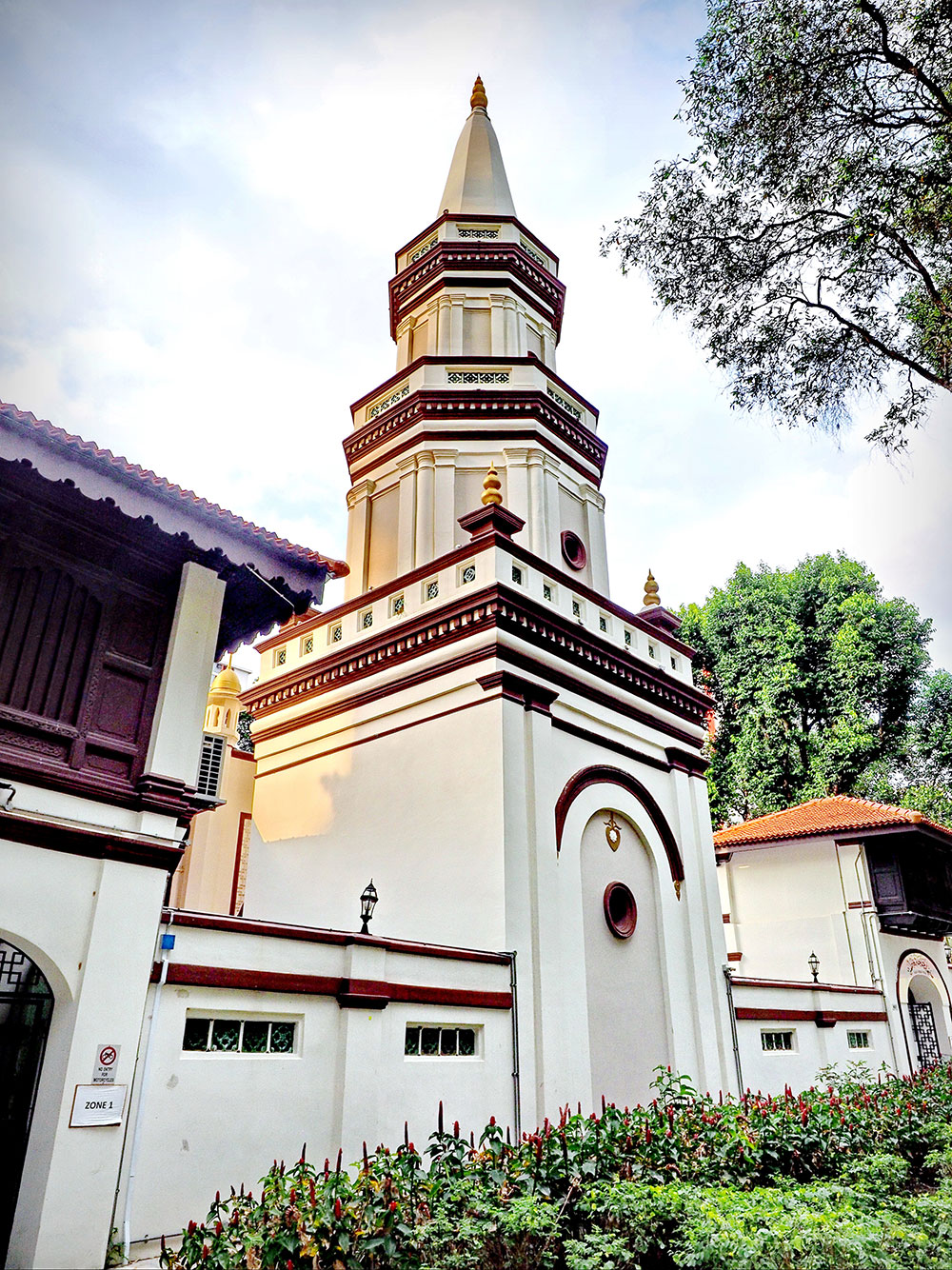 Another fascinating landmark in Kampong Glam is the Hajjah Fatimah Mosque, completed in 1846.
While not as well-known as the Sultan Mosque, the Hajjah Fatimah Mosque is both interesting and thought-provoking. The immediately obvious point of difference is the design of the mosque – it brings together Western, Malay and Chinese influences, something to be proud of in our multi-cultural Singapore.
But perhaps the most striking structural feature is the minaret — not only is it reminiscent of a church steeple, it leans to one side! That's why it's called Singapore's Leaning Tower of Pisa.
Also interesting, and very timely, is the name of the mosque – how many mosques are named after women? The mosque was name after Hajjah Fatimah Sulaiman, who married a Bugis prince.
After being widowed at a young age, she successfully continued her husband's business, accumulated great wealth and became known for her philanthropic activities. She donated the land, the site of her former home, for the mosque. As a symbol of diversity and female empowerment, she was certainly way ahead of her time!
There are many more fascinating neighbourhoods to visit in Singapore, such as Joo Chiat, Tiong Bahru, Little India, Chinatown – the list goes on. Besides neighbourhood-specific tours, there are also thematic tours centred on special interests such as architecture, nature and historic sites. You can even form a private tour with your friends and neighbours.