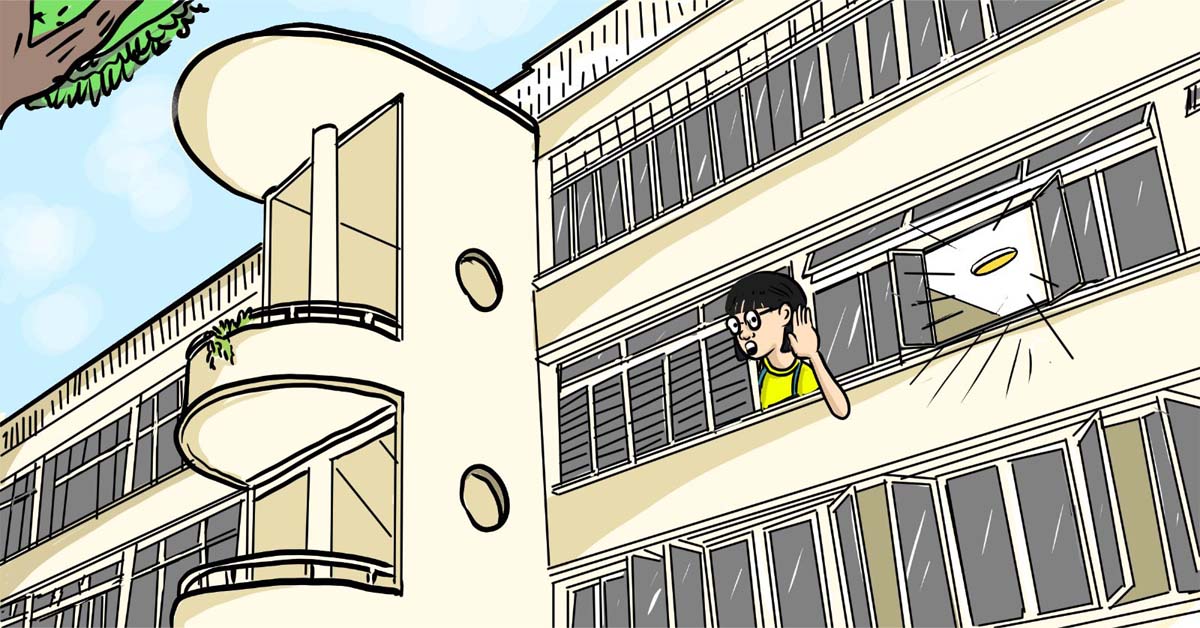 Today is Epiphany, the day after the 12 days of Christmas.
You know, when your true love gives to you a partridge in a pear tree….
Epiphany is when the three wise men visited Jesus. Epiphany can also be a moment of sudden realisation (Christopher and his farm-handling skills).
For nigh on 50 years I grew up in a compound of seven blocks of SIT (Singapore Improvement Trust) flats; government housing built during the tenure of Mr Lim Yew Hock, Singapore's first Chief Minister.
(Yes, Milly – Millennial – Singapore ever got Chief Minister, one.)
There were 112 families in those four-storeyed blocks. 111 actually, one unit was given over to run as a Community Centre.
An aunty minded the little corner tuck shop, neighbourhood boys played the single game available, carom, and tried to play the one guitar provided. Alas the girls never played the boys.
(Milly, yes, our time no television one.)
The compound between Prinsep and Short streets had a badminton court (behind the CC) and a "middle field" as we called it. Annual events organised by the Rochor constituency were held in middle field. Our MP was Dr Toh Chin Chye — no relation — one of the founding figures of PAP.
Dr Toh had an epiphany the day I showed up to ask for help in housing for my two half-sisters.
Long story short, Dr Toh exclaimed "You mean your father had two wives?!"
He did of course help the two girls get a roof over their heads. Our father was long gone then; he had been a grassroots leader.
I have missed my calling. Today I am just a grassroots kaypoh (busybody). Most recently making a fuss over World Cup screenings in the current CC.
Today, three blocks remain of my old kampung (village).
When I walk by the now gated compound, it serves as a throwback to a time, not that much different to today, really.
Families went about their marketing (wet, not super), children walked to and from nearby schools, the richer ones had tuition classes, parents took buses to their offices, we ran up and down staircases (no lifts in sight).
The singular difference? We had many playmates, because we were large families of four to seven children.
Sometimes "external" children joined us.
Two sisters spent weekday afternoons in our compound while their mother visited with her close friend, a widow and her bachelor son.
It was no epiphany to learn the woman eventually divorced her daughters' father and married the bachelor son.
The SIT flats were no man's castle. You could look into the lives of your neighbours through windows and balconies, front and back. And chart their lives even.
There was a hardworking couple with two school-going sons and a daughter.
Both father and mother sewed and stitched on their Singer machine, by the window's light. Day and night all week. They made uniforms for their employer. No rest, no leisure, pure work.
Their sons became engineers. Their sister did not complete school and kept house. Today she owns two properties, her son is a specialist on global postings.
She has the broadest of smiles when sending her granddaughter to ballet class.
"Let's have high tea!" she called out when our paths crossed recently.
When the windows are curtained off, you can still "share" in the family conversation.
This was music to my ears, as I would jot down colourful phraseology (which led to my Singlish exposés).
Such like the tell-off — "Today not your birthday you eat same like everybody!" — from the host to the guest at a house party. Remember those house parties? When you were requested to bring a bottle and you did. A bottle of Fanta grape. Or Sinalco. (Yes, Milly, last time drink names.)
I can't quite say it was a gentler lifestyle then, especially as the area of Albert Street was renowned for its two gangster tribes; one was the 03 gang and the other I can't recall even under torture.
My Father who was quite unafraid of anything because his bat was his good humour taught us no fear. "Don't you believe it!" he would say to my Mother.
One late night, Mother had alerted Father to some activity going on in the below flat opposite.
"Looks like a scuffle," she said. My Mother was from an elite school in Penang, as she often reminded us.
My Father naturally went out in his striped pajama pants and marched over to the flat in question.
Mother immediately drew the curtains — we were top floor — and through a tiny gap suddenly cried out: Aiyah! Papa so silly! He pointed out where we live! Now the thieves know where we are! What a thing!"
Well, we were robbed the one time. Long after that incident. They got away with $30. A princely sum, then. Yes, Milly, not enough to buy chicken rice today, hor.