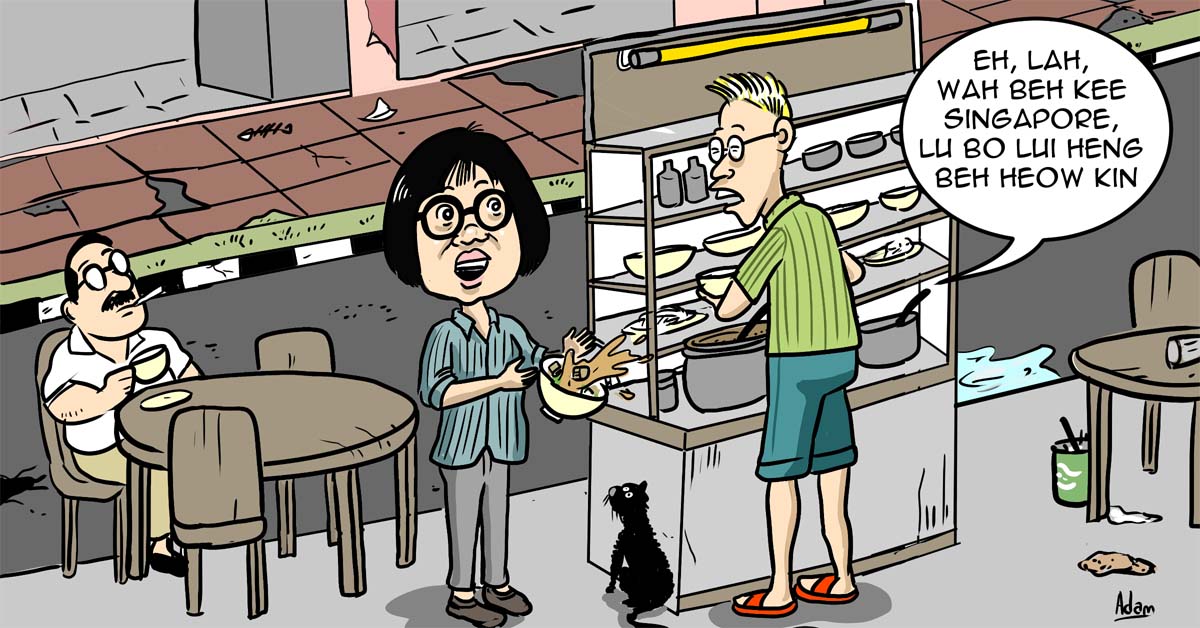 Remembrance Of Things Prata may not sell like Marcel Proust's proverbial hot madeleines.
Nor is Timbukfour — Twice As Fun As Timbuktu likely to topple any of Kinokuniya's best-selling books.
You've guessed, my speciality is pithy book titles. But my contents would be pitiful. (Aw, shaddup already about not being good between the covers.)
Publishers — both of them — have always been so encouraging, write, write, they exhort, you leave the selling to us.
Well here's a loose leaf chapter from out of my Around The World In Ate Days.
Any SilverStreak(er) worth his EPNS (hallmark of silver plating) must know the annual Penang Hawkers month-long promotion in York Hotel.
There are regulars who have not missed a plate of its famed char koay teow in 36 years. That's how long it's been going on. I should know, I was instrumental in scouting them down…the hawkers.
"Syl, Syl, can you go to Penang?" my colleague Violet Oon trilled from her desk to mine.
I'm there I shouted, you do not turn down a visit to the old hometown, birthplace of my deadpan humour. (Never break into a smile, it ultimately results in wrinkles.)
In the company of the hotel people, Holiday Inn, and the airline people, Cathay Pacific, me and my pocket luggage, we flew off to Bayan Lepas Airport.
First stop was a gracious Makcik's clean-as-a-whistle home. The lady of the house produced a plate of homebaked kueh-mueh, I remember nothing to send postcards home about.
Came the magic hour — we were free, lunch at our own peril, meet later in the lobby at dinner time.
Naturally I beelined for the nearest kopitiam (coffeeshop). I bet my bottom ringgit it's still there, in its untidy fashion (euphemism) with not much lick of change since, except for prices.
Hae Mee (Penang-style ambrosia disguised as soupy prawn noodle). It went down a treat, I stepped up to the hae mee uncle and in my best Penang Hokkien asked if he'd venture out to Singapore….
Before I could reach the end of my sentence, hae mee uncle snorted: "Beh, lah, wah beh kee Singapore, lu bo lui heng beh heow kin…"
No, he was not invoking the names of my Penang aunts, he had quite simply brushed me off with words to this effect: Miss, if you can't pay for your prawn noodle, it's all right, but don't think you can invite me to Singapore!"
Red and hot — like his soup — I was never more embarrassed than at uncle's rebuff. The rest of my Penang Hokkien abandoned, I scuttled out. Penang folk are unfaze-able. Habitues cocked an eyebrow at our exchange and turned back to their prawn.
The singular place for a sweet wind-down was the old ice kachang stall in New World in Swatow Lane. I'd frequented it from father to son, and the son greeted me like a long lost cousin. Sister! So long never see!
I chowed down on the best ice kachang in the world, okay. (He gives me extra atap-chee.) Chilled by this dessert, I became down home cool and nonchalant, and in casual manner, said to the son, "You won't want to come to Singapore with your ice kachang huh?"
His reply completely floored me. "You mean like the char koay teow, the lor bah, the hae mee, the ju hu eng chye, the koay teow thng, you want all these stalls, I can arrange for you!"
They'd been to Adelaide as part of a Malaysia tourism event! I leapt into the first trishaw about and barrelled to our hotel Holiday Inn and sang to our contingent.
We flew home to a very long line waiting for taxis. I was behind the person at the head of queue. An anxious man raced up to ask if he could jump ahead as he'd bought special ornamental fish from Thailand and they were gasping in their plastic bags. He held up the two bags. The head of the line said no.
So of course I said to fish man you can ride with me, we're up next. He then proposed, miss, if we can go to my house first, because my fish are fading, after that I will drive you home.
So Roland and his wife and their fish and I went home together. I sat in the garden of his terraced house in East Coast, while he literally prayed and coaxed the fish back to flapping their fins.
The wife was also anxious, "Roland, ah Roland, how can you make Miss Toh wait and wait like that?"
Eventually the couple drove me home, by way of a beef noodle stop in Bugis Street.
As I was getting out, they asked my occupation. I told them I worked in the newspapers. Whereupon, Roland said, "So you know people like Puck Choo?"