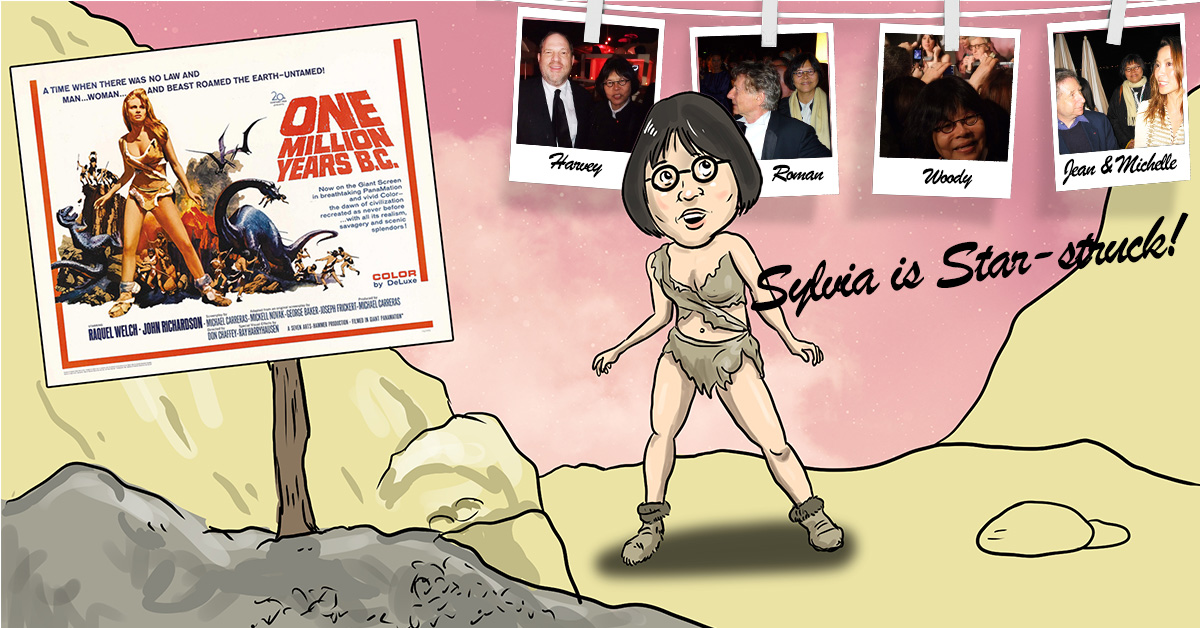 I have a Raquel Welch story.
The actress died last month, at 82, famous for having three lines (and two other things) in her first film, One Million Years B.C. She wore an animal-skin bikini and that is all anyone remembers.
I had gone to a music exhibition in Paris, this was in the early '90s, and met a Bauhaus architect who made the most extraordinary guitars.
Jean Weinfeld, then in his 80s, gave new life form to the instrument, his creations were geometric, rhombic, triangular, flat, producing clear sounds.
While Monsieur Weinfeld did not exactly say "Come up and see my scratchings sometime," I did indeed visit him in his atelier.
No sooner had he closed the front door behind us, I saw a larger-than-life poster of Raquel Welch stuck to its back.
My motormouth could not resist, "There's the ultimate guitar shape!" I said, pointing to the picture.
Mr Weinfeld grimaced, "That's my daughter-in-law, don't talk about her."
So we didn't. (The actress was married to Andre Weinfeld, a movie producer, and had proclaimed him "a Renaissance man". They were married a decade.)
Ah, but I can talk about more stars than there are in heaven, because I have met them all.
I'm sorry, I'll say that again, they have all met me.
Pinned here are some of my (in)famous "friends". You must admit I know how to choose them: Woody Allen, Roman Polanski, Harvey Weinstein.
And of course Michelle and her leading man, Jean Todt.
For well-nigh 15 years I was a fixture at the famed Cannes Film Festival, held each May on the French Riviera. For 10 nights and 11 days it was Hollywood-by-the-sea as the stars came out to play on the sand and the shore of the Cote d'Azur.
I had laughingly said one time, might be fun to go once just for a gawk and a guffaw.
So we did. On our own dime. Nobody writes you a cheque for being whimsical.
My CPF (Close Personal Friend) took the pictures, I typed the words, and the newspapers, magazines, television and Internet bought them. Sandwich money practically. While waiting for Johnny Depp and Benicio del Toro I had to buy a cup of coffee, it was only S$22.50 (versus $2 in Singapore…!)
Johnny Depp — along with George Clooney, Brad Pitt, David Beckham and Billy Zane — are five of the most perfectly beautiful handsome men you'll ever meet. Take it from me. (This was way before Robert Pattinson of course.)
While David (only first names here in Gollywood) may not be the sharpest knife in the box, and Billy (Greek god, truly) can be rude and arrogant, Johnny, George, and Brad are cool nice guys, honestly. Very easy-going, never take themselves seriously, self-deprecating humour.
It's an up-with-the-lark start to festival days in Jollywood.
Press screenings for the same night's premiere can be 8am. Media has to make it into the bunker (main building where action is) by then.
If it's a stinker you'll know in minutes by hoots and whistles and snorts and jeers as press folk leave to get breakfast they missed for this piece of #?%!.
Silence, then the film's a cure for insomnia, or we are in thrall of it.
Seven minutes before movie's end, press peeps have jumped from their seats in a mad rush to get from auditorium to media conference room to bag front row seats. Because this is where the actors and director will hold court for about an hour.
Answering questions that run the gamut from "Did your time in prison help you in the making of this film?" (To director Roman Polanski) to "And how did you 'see' to compose the music for the film?" (To Stevie Wonder).
Pasty Conference Etiquette
At conference's end there is a hurly-burly, topsy-turvy, scramble to score autographs from the actors. Only Michael Douglas ever refused to sign for anyone. Until we shouted him down.
He got the message. Play nice with the press or you'll read all about how pig-headed you were the next day.
As Sean Penn found out. He'd shoved a photographer. That kind of Tarantinoesque behaviour might work in America — we are talking pre-woke times — but mister, not in Europe.
You guys have got Disneyland, Europe has got History okay?
For the rest of his stay, coverage mugshots of Penn showed him in the least flattering of expressions.
Afternoons are engaged with round-table and one-on-one interviews, if you managed to seal them. These are in the hotels and the best opportunity for poor press people to grab a bite and a drink for free: Pastries or sandwiches or full-blown buffets.
I once saw a journo pick up a plate of unfinished food outside a hotel room door and demolish it, he was that famished. I was astonished. It was like that scene before intermission in Gone With The Wind. Something to do with never ever being hungry again.
Nights are reserved for parties; if you have begged, borrowed or stolen an invite. By hook or by crook. There are soirees every night for the day's main feature or industry suits.
I have met Michelle Yeoh several times. Like Jackie Chan she started out in Hong Kong, with 100 kung fu movies before she made it big time in Lollywood.
Ipoh girl Michelle Yeoh — a Dato' herself — bags Oscar for Best Actress at the Academy Awards 2023.
The state of Perak must be in quite a state itself at hometown girl made good in Hollywood.
In fact you could say "Silver lifts gold!"
"Perak" is "silver" in Malay.
*Next month, in my sequel: How to land both an autograph and a photo with the stars.