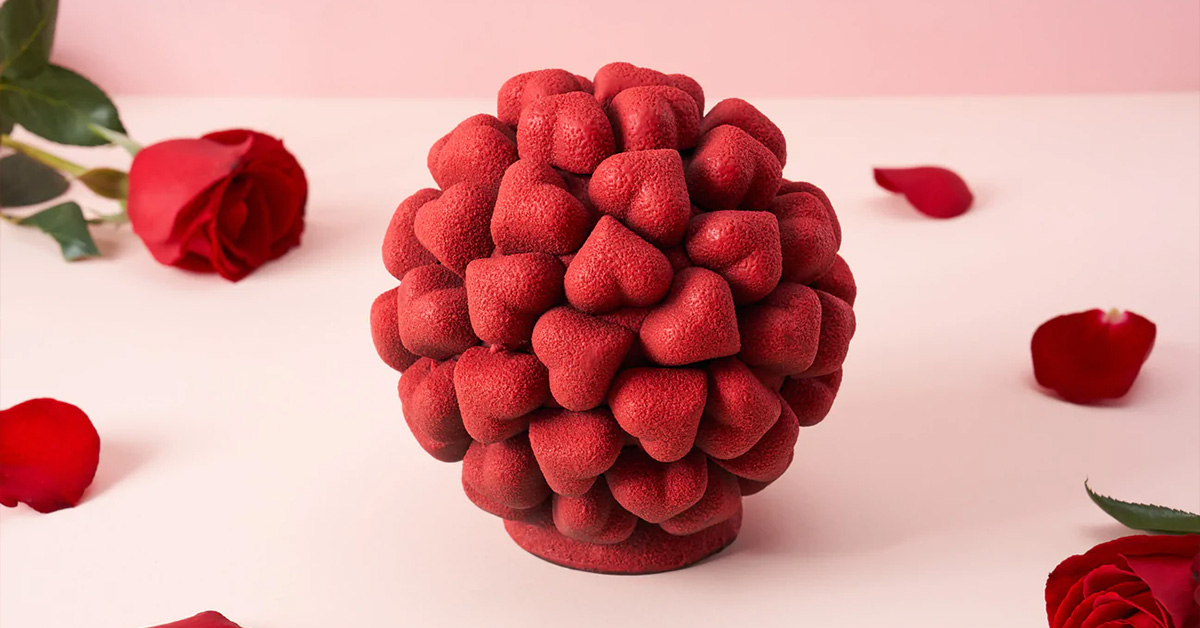 With rising costs, the price of romance will be even higher this year. So, do you choose between confectionery and overpriced blooms?
Bearing in mind you cannot eat roses. And, a box of chocolates is just as romantic as a clutch of blooms. But with prices ranging from a few dollars to hundreds of dollars, it would be wise to be armed with some background knowledge when you're on your chocolate quest.
Dark Chocolate Beginnings
Valentine's Day had a gruesome start as it was the day that a saint named Valentine — a common name in those times — was martyred. Whether or not it was a clever poet, Chaucer who made the first link between Valentine and love, his 14th century poem, Parlement of Foules, immortalised it.
But who else could have monetised it into another tradition, but another C, Richard Cadbury himself, who, in 1861, brilliantly packaged them in heart shaped boxes with C himself — Cupid — shooting arrows?
Our homegrown "craft" chocolatiers have jumped onto the bandwagon, and with their big social media presence, being run by the young and savvy Singaporeans, tag big prices onto their artisanal, sustainable-sourced, single-origin, creatively packed chox.
The prices do make them hard to swallow, let alone stomach, as a simple calculation will show that each pop in the mouth may cost more than a couple's meal at the hawker centre.
From handmade bonbons, pralines and truffles, to artisan chocolate bars, the choice is vast.
Bonbons are moulded chocolate comprising a chocolate shell and hollow cores filled with liqueur, fresh cream, caramel, coconut, fruit puree, gel or ganache.
Some regions refer to filled candies also as bonbon, since bon is French for good, and with filling becomes a double pleasure!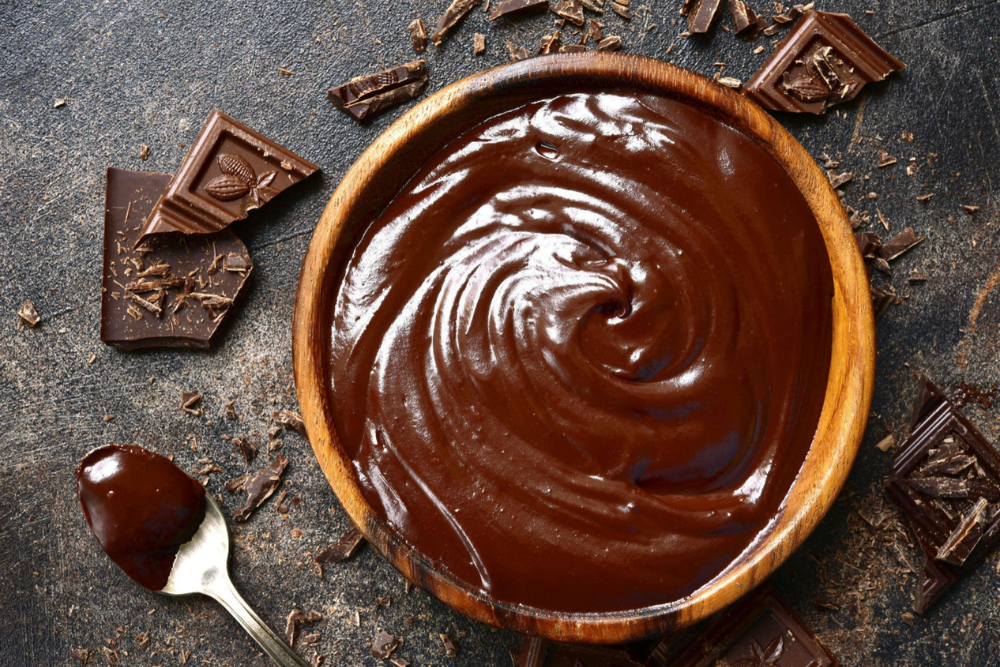 "Ganache" is an uncomplimentary word in France, purportedly directed at famed chef Escoffier's apprentice who, tasked with making pastry cream, accidentally poured hot cream into the bowl of chocolate instead of the egg yolks.
Anger turned into discovery, as Escoffier realised that this delicious yet pliable confection could be used for filling tarts and other pastry. Ganache rolled into ball shapes made good truffles which melt smoothly in the mouth.
Named after the precious fungus, this creamy rich nugget is rolled in cocoa to mimic the soil where European pigs root for the real mushroom in the woods.
Also originating in France, and named after French diplomat, César, duc de Choiseul, comte du Plessis-Praslin, pralines were invented by his chef. These confections of caramel and almonds were put in packets with the diplomat's name and delivered to his lovers who may have found them more delicious than him.
Chocolate was a later addition to these coin sized clusters of nuts held together with caramel and known as pralines in France and America.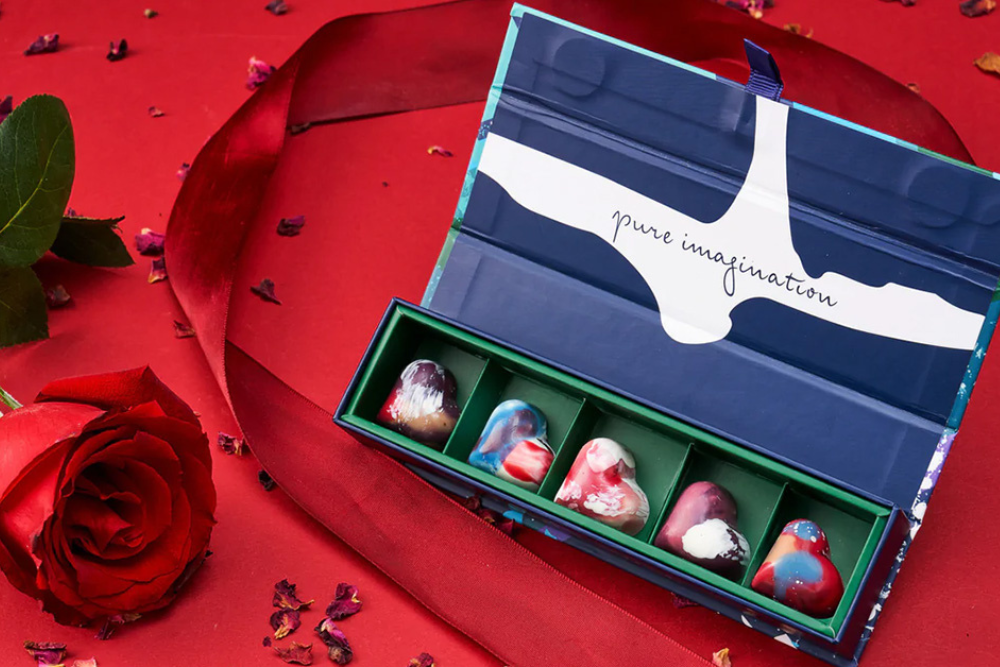 Janice Wong
, the famous homegrown pâtissier and chocolatier has a Valentine's Day collection which starts from a box of 5 chocolate hearts for $ 28.00 up to a $450.00 bundle which includes 24 red roses, 6 red spray roses and a Valentine's Day box of 9 chocolates.
Each tiny heart filled temptingly with either guava rose berry, ruby peach thyme, limoncello pineapple, figs burnt sage or rosemary lemon is painfully priced at $5.60.
Anjalichocolat presents chocolate hearts filled with champagne, jasmine, lavender, lemon pistachio, strawberry, Mayan chili or mint and truffles, is slightly cheaper at $4 a pop, for their box of 4.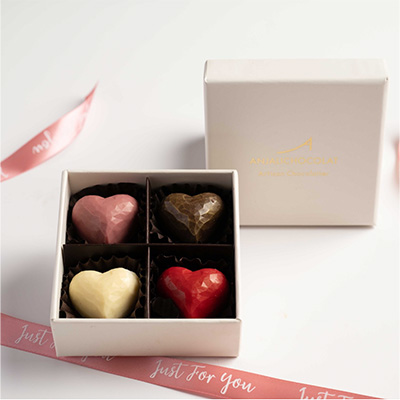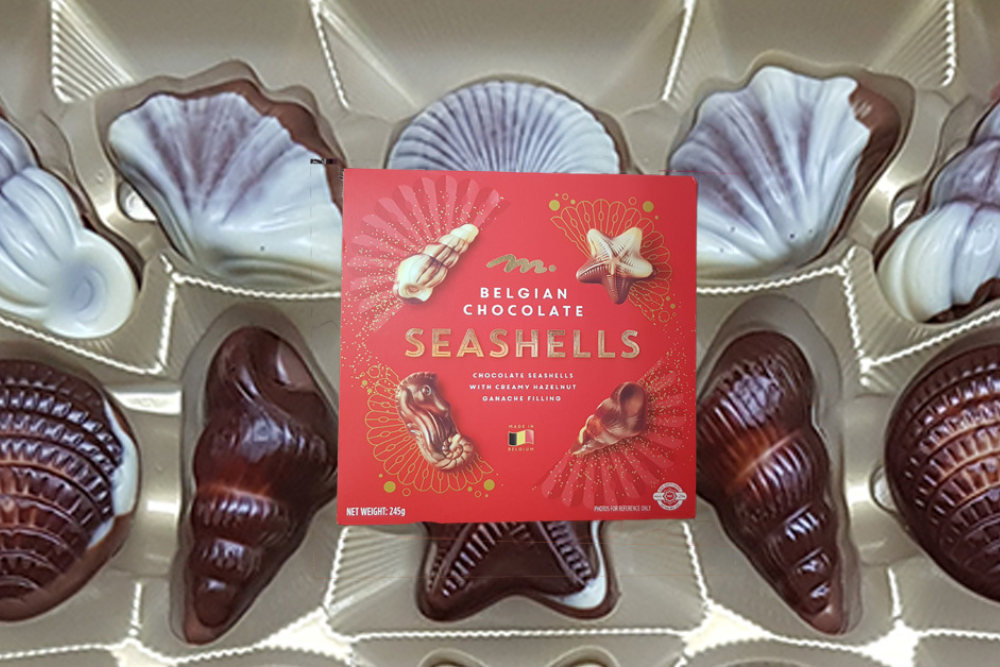 Mmmm…seashells to nibble on from M.
If there is no need to go to such heights, and the thought is as good as the act, Cold Storage's house brand, Meadows (M.), delivers incredible value at $5.95 for a box of 20 seashell shaped bonbons.
Made with Belgium chocolate filled with hazelnut ganache, and with a net weight of 245gm, these beautifully shaped bonbons sit pretty in their own compartments in a presentable red box.
At less than 30 cents per piece, they are nearly 19 times cheaper than the most expensive artisanal chocolate.
Amazingly, on the day of purchase, there was a one-for-one offer for these gift boxes, making them 38 times cheaper!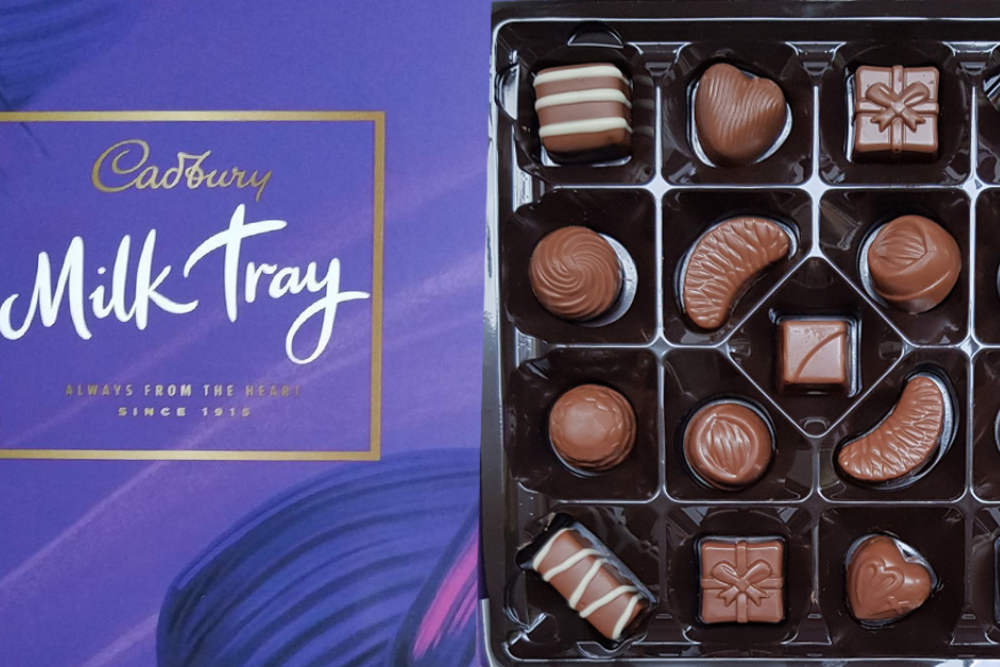 Lastly, perhaps it would be good to honour Richard Cadbury, who started it all, and the lasting romantic traditions of gifting this sweet treat.
Available at NTUC Fairprice for $9.99, still a delightful find at less than 60 cents each.
The unmistakable royal purple box proclaims that these chocolates are "always from the heart".
Conduct your very own taste test and let us know which chox you like best on @SilverStreakSG FB: