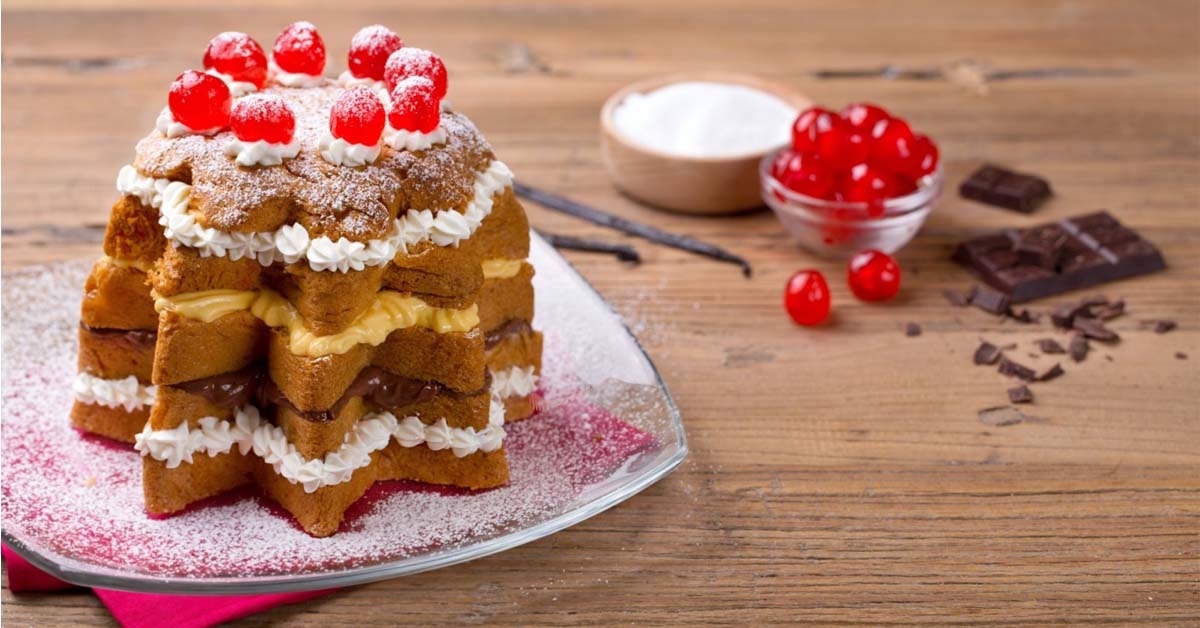 No one goes to a Christmas party empty-handed, and often the safest gifts are items of food.
Only recently has Christmas grown to a significance nearly rivalling that of Lunar New Year, where the food-gifting tradition is well established; gifting a bottle of pineapple tarts, a box or bak kwa (candied grilled pork slices), or any other New Year snack, savoury or sweet with family or close friends is compulsory as is exchanging mandarin oranges for luck and prosperity.
But what does one bring to a Christmas gathering?
For that, we go global since Christmas baking was never an entrenched local tradition.
Whilst we used to look to England for inspiration, mince pies and thickly iced, marzipan fruitcakes are more often decorative for the dessert table and most often left intact after the last guest has left.
Few locals, other than the most Anglophile amongst us, are telling the truth when we say we enjoy the cloying taste of mince pie filling or the hard sugary crust on the fruitcake.
If that does not dissuade us, the calorie count and detrimental effect of so much sugar in a bite would — and should — make us think twice!
Recently, panettone, and an even more recent newcomer, pandoro, have been gaining a foothold, endowing a somewhat "sophisticated" air on the giver.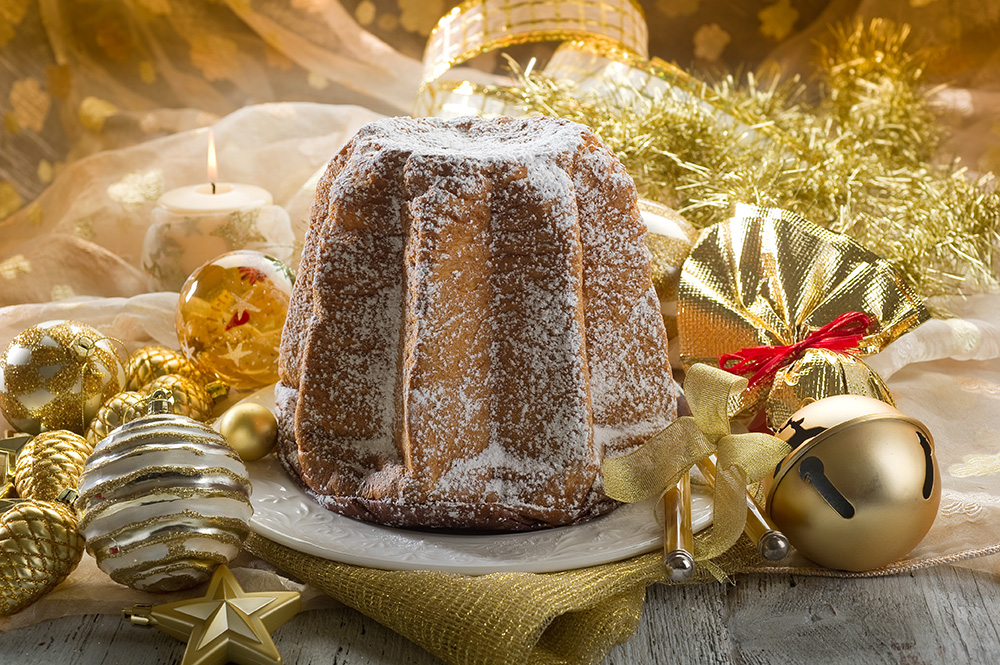 Pan'doro means "bread of gold" reflecting an ancient Venetian cake where bakers covered them with gold leaf for the aristocrats.
Whilst the pandoro, which can trace its origins to baker Melegatti in 1894, is sold today sans gold leaf, it is still yellow from rich egg yolks.
The eight-point star shape at the top of this cake takes inspiration from Nadalin, another medieval cake which represents the comet which guided the Magi to Bethlehem.
Likened to a snowcapped mountain, when dusted with the fine powdery sugar, and packed in pastel hat boxes, it is a decorative edible fit for the season of gifting.
Whilst this tall cake can be kept cold, being made from natural yeast, it can stay fresh on the countertop for up to six months. This makes it a good gift for space-constrained fridges.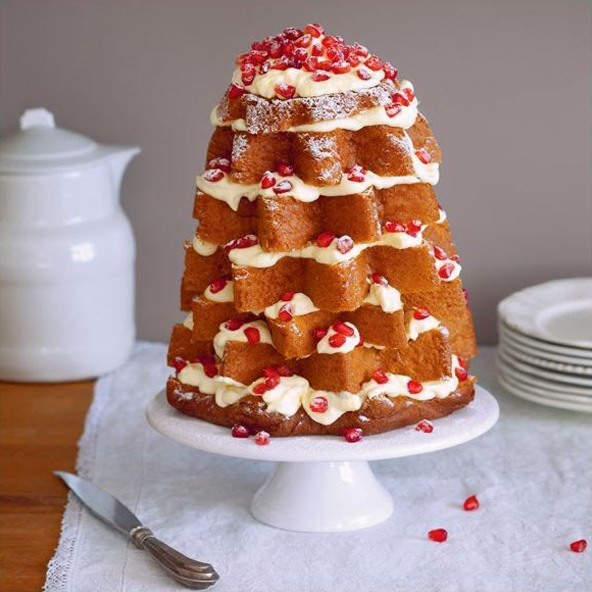 A further level of sophistication is reached when the hostess cuts the cake into rectangular slices, spreads jam, custard, cream or zabaglione on both surfaces and restacks them into a Christmas tree shape.
The sugar can be sprinkled on artfully to resemble snowflakes and the "tree" can be further embellished with tiny sweets and candies.
Pandoro must be very popular with Singaporeans as imports of famous Italian brands such as Bauli, Borsari, Albertengo and Bablo are easily available here. But Italian restaurants such as Da Paolo bake their Pandoro Classico in house.
Prices of 1kg Pandoro start from $29.90 for Balocco Pandoro Maxiciok, $30.00 for a Bauli Pandoro Verona and $36.00 for a Borsari Pandoro. Artisanal Pandoro will cost nearly double that, — $74.50 for Albertengo Pandoro and $68.00 from Da Paolo.
Panettone is also a cake like bread and derived from the word "panetto" (small loaf cake), while the suffix "tone" expands the name to refer to the large cake which it is.
It was created a few hundred years earlier than the pandoro, during the Renaissance period. It used to be the pride of Milanese bakers, which used to be the only place where they were baked and sold.
Some older Italians still keep to the tradition of eating a slice on 3 February every year in honour of St Blaise, San Biagio, who saved a child who was choking to death on a fish bone, by giving him a piece of bread.
They believe that this will save them from respiratory and other illnesses related to the ear, nose and throat.
Bread-and-butter Confection
As high as the Pandoro, but shaped like a dome, there are many legends associated with this Italian Christmas cake.
The story of Toni, a kitchen boy in the Duke Of Milan's residence is one that survives till today. He purportedly burnt the dessert to be served on Christmas eve, and whipped up a substitute, using leftover dough, eggs, candied fruit and raisins.
Luckily it was a hit with both the duke and his guests and became a Christmas classic. And some even say that the name panettone came from him.
The Larousse Encyclopedia of Food's version is that Tonio was an impoverished baker who could not marry off his daughter to a young nobleman as he could not afford a dowry.
Instead, he provided all the ingredients to make an excellent cake. Tonio's cake made him a fortune which made for a happy ending.
To attain the highest but lightest toque is an art form for the Italian bakers, even whilst defying gravity, a high proportion of butter, candied fruits and other ingredients must be well worked into the dough.
A cross is then etched into the top with more melted butter dripped in.
Once baked, the dough has to be "stretched" by being hung upside down for 5 to 10 hours ensuring that the bread does not collapse takes skill and technique.
Each region has its own specialty panettone, made with apricots or lemons, milk or dark chocolate and toasted almonds or pistachios.
Following the latest trends, there are salted caramel versions, chocolate chips, black cherries and even savoury panettones, incorporating parmesan cheese and black pepper, to the dismay of panettone traditionalists.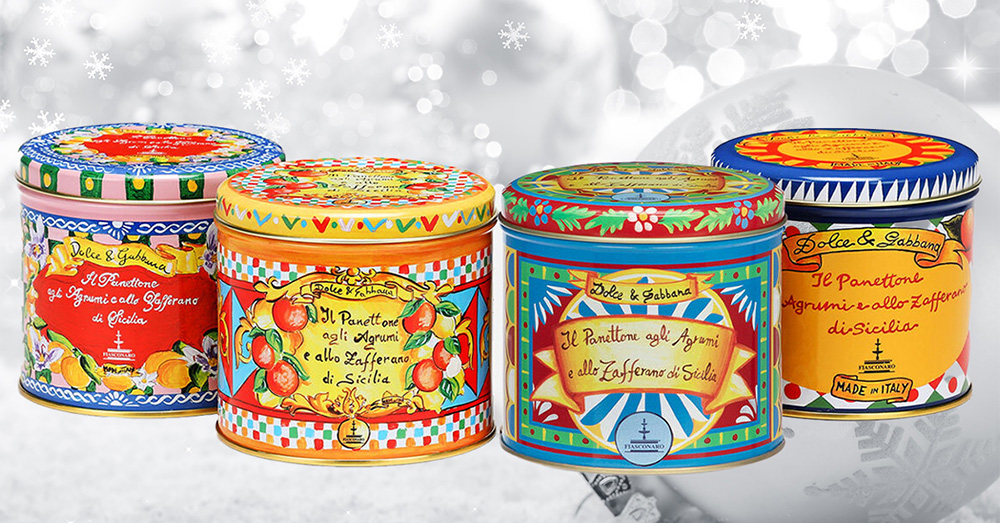 Though the Classic Panettone is still the most popular in Singapore, other flavours are also available here, including those with alcoholic infusions, and fillings of assorted candied fruit.
They weigh lighter than Pandoro at 500–750g and a traditional one can cost as little as $24.00 for a Panettone Virginia and $38.40 for Borsari, available at Cold Storage.
Hotels like Shangri-La have also jumped onto the craze, with its panettone going for $52.00. WuGuFeng, better known for its oriental pastries, has no retail presence but is available in pop-up stores and online, has a 900g panettone at $44.00.
Da Paolo's most expensive 1kg panettone is flavoured with saffron and Sicilian citrus fruit, and sold in a collectable
Dolce and Gabbana
designed tin for a whopping $175.00.
The very best food gift must be one homemade with love.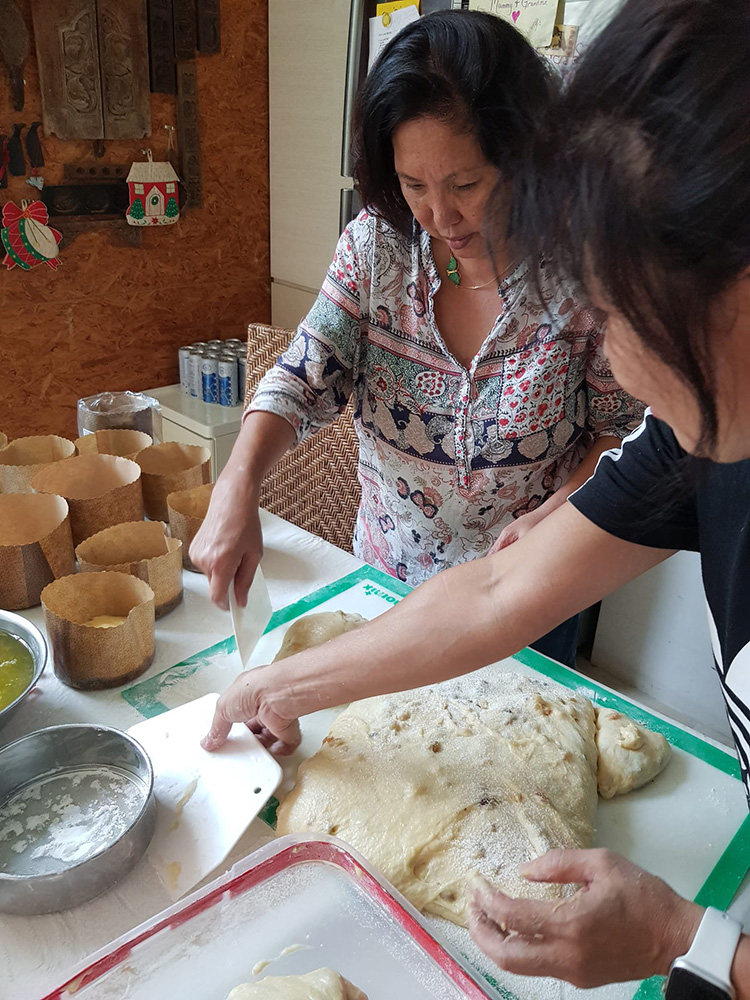 Though I have attempted to make panettone, the effort it takes making the leavening, or the mother yeast alone is very challenging, not to mention the successive steps which may straddle a few days.
And despite conscientiously studying "how to" videos and comparing recipes to try to get a foolproof one, our humidity can foil the most dedicated of bakers.
However, my first attempt (see the
recipe
below) was successful.
There are recipes from the 1980s in our local newspapers which creatively suggested that the interior pot of the rice cooker would work just as well to achieve the high cylindrical brioche, but now these liners are easily available at bakery supply shops such as
Phoon Huat
.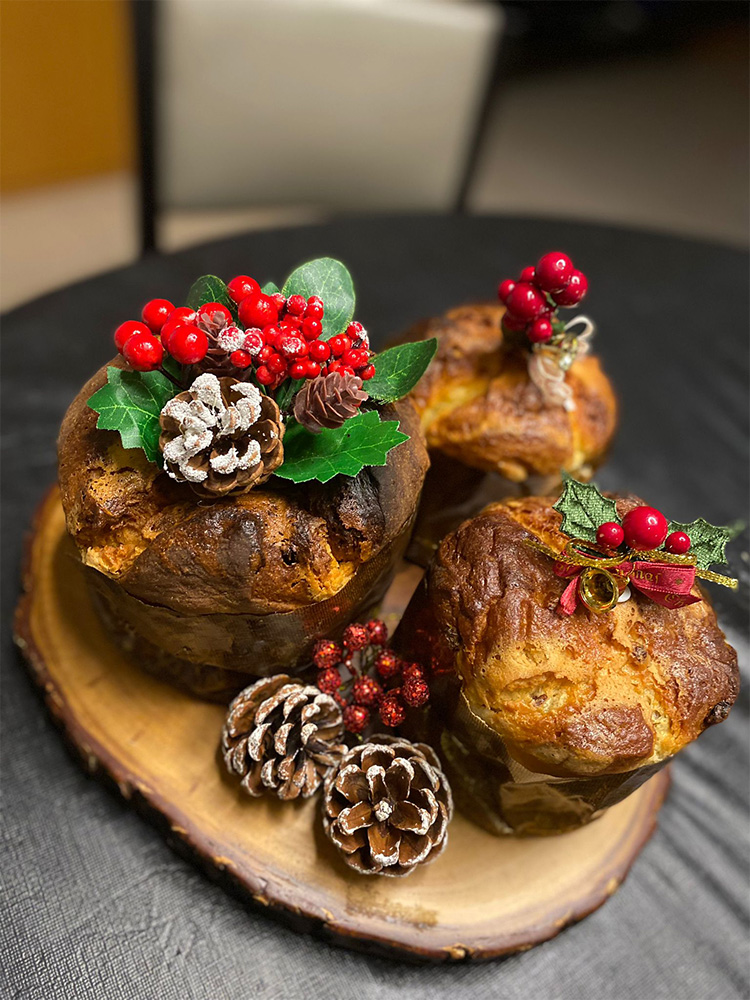 It is certainly easier to bake a customised fruitcake than pandoro or panettone. I make a few batches of fruitcake each year for gifting, and though it does take some effort and time, baking fruitcake is not much more complicated than a pound or butter cake with macerated fruit.
However, time may be pressing as parties draw near, but we are in luck.
There is a whole array of international Christmas cakes available from local supermarkets, restaurants and hotels. And shopping for them can be fun, once you know your pandoro from your panettone.
Panettone (Recipe adapted from Chef Jimmy Kea)
This needs to be made a day before to allow the starter to ferment.
Using a bread dough hook, mix in all the ingredients on low speed for about 5 minutes.
Increase the speed to high, and mix for another few minutes until the dough looks stretchy (gluten formation).
Ferment for 16 hours in the fridge (but not too cold, about 16°C)
Using the bread dough hook, mix together the sourdough starter (A) with the bread flour, salt and yeast.
Add in the egg yolks and mix together till incorporated for about 5 minutes and then increase the speed and mix for another 2 minutes.
Using half the sugar, mix together for 2 minutes, and then the rest of the sugar for another 2 minutes, making sure that the sugar is well incorporated.
Lastly, mix in the butter, sultanas and peel. It may be necessary to use a scraper to mix the fruit to ensure that they are evenly distributed in the dough.
Leave to proof for one and a half hours in a warm place.
Divide the dough, depending on the size of the brioche liners (500g for 110 x 85 mm boule). Shape into a ball, and place in the liners. Leave to proof for another 3 hours.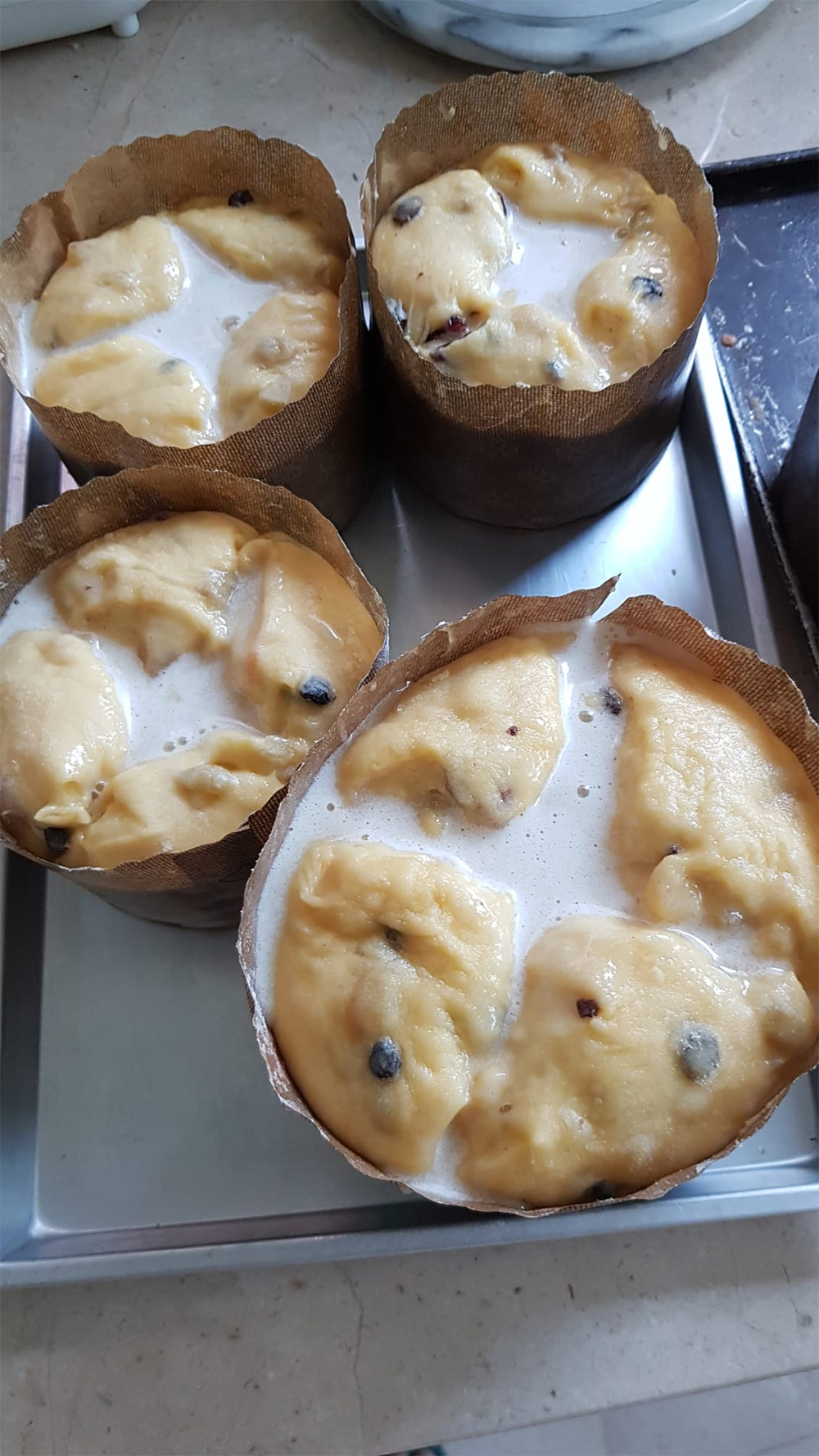 Mix all of the above ingredients.
Once the dough is ready, using kitchen scissors, score a deep cross and pipe in the toppings, or if not using toppings, brush on 2tbsp melted butter.
Bake in the oven (preheated at 160°C) for 40 minutes.
Enjoy your homemade panettone. Let us know how it turned out for you!