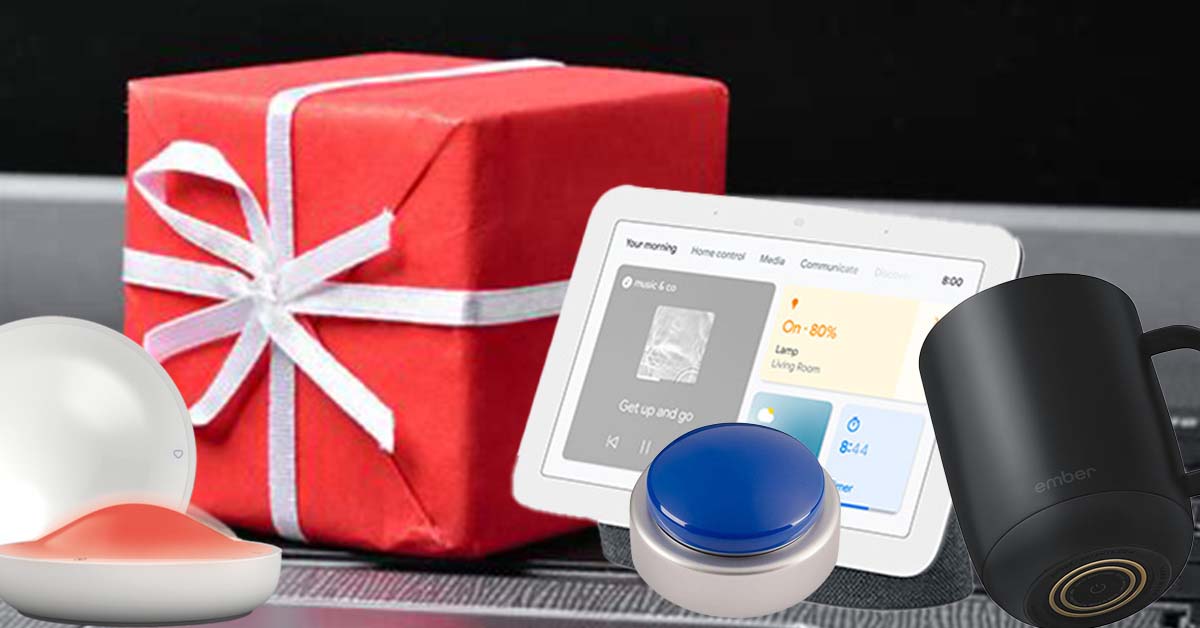 It's time to go shopping for a nice, practical and safe technology-related gift for mum and dad, grandma and grandpa, a dear friend or relative, or even for yourself.
As such, SilverStreak is here to share some holiday gifting inspirations for your favourite silver!
While technology has brought many wonderful conveniences to everyday life, we want the people we love and care to benefit from these comforts and innovations too.
While some expensive tech gifts may seem like fantastic ideas at first, they later turn out to be impractical gifts for seniors by perhaps causing frustration, being unfriendly to use or even being hazardous.
Taking these points into consideration, we hope the following gift ideas will have you covered for this holiday season and beyond!
It's not uncommon for seniors to complain about their insomnia — even when they try counting sheep! Here's where the
Terrraillon Dreamer
(SGD$60)* comes in handy.
Designed in conjunction with the European Sleep Center, this tiny, portable sleeping aid with lights offers two sleeping modes — both using red light (unlike other colours such as blue light, since red light does not block the secretion of the sleep hormone melatonin).
The first mode is the Cardiac Coherence mode which encourages you to do breathing exercises.
As you may know, this helps facilitate relaxation, fight stress, and controls your heart rate to help you naturally fall asleep.
Simply inhale as the red light gets brighter and exhale as it dims and soon, you'll be in dreamland. Or if you prefer, the orange-hued Sunset mode gradually evolves to a warm red to help you fall asleep softly.
You can also use Dreamer as an ambient light source to create a nice, relaxing atmosphere in your bedroom if so desired. The unit's touch-sensitive interface makes it a boon to use and is rechargeable via the included USB cable- good for 160 minutes or 8 sleep cycles of use. Available from the
Fairprice Online store
,
Amazon Singapore
, or Selfix direct stores island-wide.
Theragun Mini 4th Generation Portable Muscle Treatment Massage Gun
As we age, our muscles start to ache more after some exercise or even when just watching TV!
The
Theragun Mini Massage Gun
(SGD$100)* may just be the solution to those of you who still think you're Tarzan and are now facing the painful consequences!
The Theragun mini is a compact, high quality, portable massager packed with power — providing unparalleled muscle treatment while at home or on-the-go.
What I like about it is its ability to provide muscle relief quietly, thanks to its powerful motor and ergonomic grip which make handling it more comfortable.
With a battery life of 15 minutes and small size, it's a wonderful and thoughtful gift for your favourite silver. Available online from
Amazon Singapore
and
Synced Singapore
.
Cirbic Extra Large Talking Button Clock
If you have elderly parents or grandparents who may be hard of hearing, visually impaired or suffering from dementia, do consider the
Cirbic Extra Large Talking Button Clock
(SGD$182)* due to its relatively large size, huge buttons and bright colour.
To hear the current time, simply press the huge button once, and press a second time for the current date. There's also an alarm setting and easy voice instructions to set up the device. It runs on three AAA-sized batteries, which unfortunately, are not included.
Available from the
NineLife
online store.
Ember Temperature Control Mug 2
Its unique app-controlled and heat reveal technology helps keep your beverage of choice hot for up to 1.5 hours on a full charge. Or if you prefer to keep it hot for longer, sit the cup on the charging coaster for day-long enjoyment.
Pair it with the Ember mobile application (iOS and Android) to set your preferred temperature, customize pre-sets, receive notifications and more. The unit also intelligently senses when to turn on and off by entering into sleep mode when it's empty or after two hours of inactivity.
The Ember mug will subsequently wake up when it senses movement or liquid being poured.
The new
Sony HT-A5000
(SGD$1,500)* soundbar is special as it has 5.1.2 channels of speakers built into its slender frame. Two up-firing speakers for overhead sound, two beam tweeters and three front speakers for wider surround, plus a built-in subwoofer for deep bass.
With its proprietary 360 Spatial Sound Mapping technology working in conjunction with Vertical Surround Engine and S-Force PRO Front Surround, the HT-A5000 creates virtual surround sound to envelop you so you can fully enjoy the thrill of object-based surround sound technologies like Dolby Atmos and DTS:X.
To push the performance envelope further, combine the HT-A5000 with the matching optional subwoofer and wireless surround speakers for even greater dynamic expression.
Google Assistant and Alexa voice controls coupled with Spotify Connect, Google Chromecast and Apple Airplay allow you to enjoy your favourite music from your mobile device and streaming services all in one box and in the comfort of your home.
Click & Grow Smart Garden
Even if you don't have a green thumb, the
Click & Grow series of Smart Gardens
(SGD$140 – SGD$350)* make it possible to grow and maintain plants indoors 365 days a year in even the most urban of households.
This innovative, app-based self-growing garden takes care of watering, light and nutrients, while reaping its inherent benefits — especially for seniors where it helps build calmness and enhance relaxation while reducing stress, improving air quality and health through the consumption of what you grow.
After reading a NASA report about growing plants in space, founder Mattias Lepp became inspired to develop the first ever indoor garden that took care of plants automatically.
After working with universities around the world to fine-tune the technology, the concept of the Click & Grow Smart Garden was born.
The system is pretty simple — add the pods that contain the seeds into the specially designed base, add water, plug it into the mains and simply watch it grow!
Since there are no additives, the herbs and vegetables you grow would be healthier and taste better as well. Available on the official Click & Grow Singapore store on
synced
.
Google Nest Hub 2nd Generation
The
Google Nest Hub 2nd Gen model
(SGD$140)* is an affordable centre for your home entertainment, information and communication needs. Its list of features is overwhelming, but in essence it keeps you entertained with shows, videos and music.
You can catch up on your favourite streaming shows and music via your subscribed partner streaming services like Netflix and Spotify, control your other smart home devices like setting your air-con thermostat and lighting conditions, get the latest news and weather forecast, send and receive messages, set timers and alarms, help you fall asleep to tranquil, meditative sounds and gently wake you up in the morning to meet the thrills of a new day.
Nest Hub's simple design and subtle colours fit any room and the display adjusts to ambient room light, so it's not too bright or too dim. It's also built with the environment in mind – the enclosure is made with 54% recycled plastic.
Robotwist Deluxe 7321 Automatic Jar Opener
I've seen this at work and it's amazing!
The
Robotwist Deluxe 7321 Automatic Jar Opener
(SGD$33)* has a higher torque compared to earlier models making it easier for anyone suffering from arthritis or with limited grip strength to open his or her favourite jar of jam, peanut butter, olives or whatever else!
Due to its automated process, it conveniently opens tight jar lids simply by setting it over the jar, pressing the huge physical button on top and watching in amazement as the vice grips the unit in place and twists off the jar lid.
This robotic jar opener is constructed with two large twisting vice grips that can handle lids between 3 and 9cm in diameter. Available from
Amazon Singapore
.
*Approximate pricing. Check the web links for any special offers.