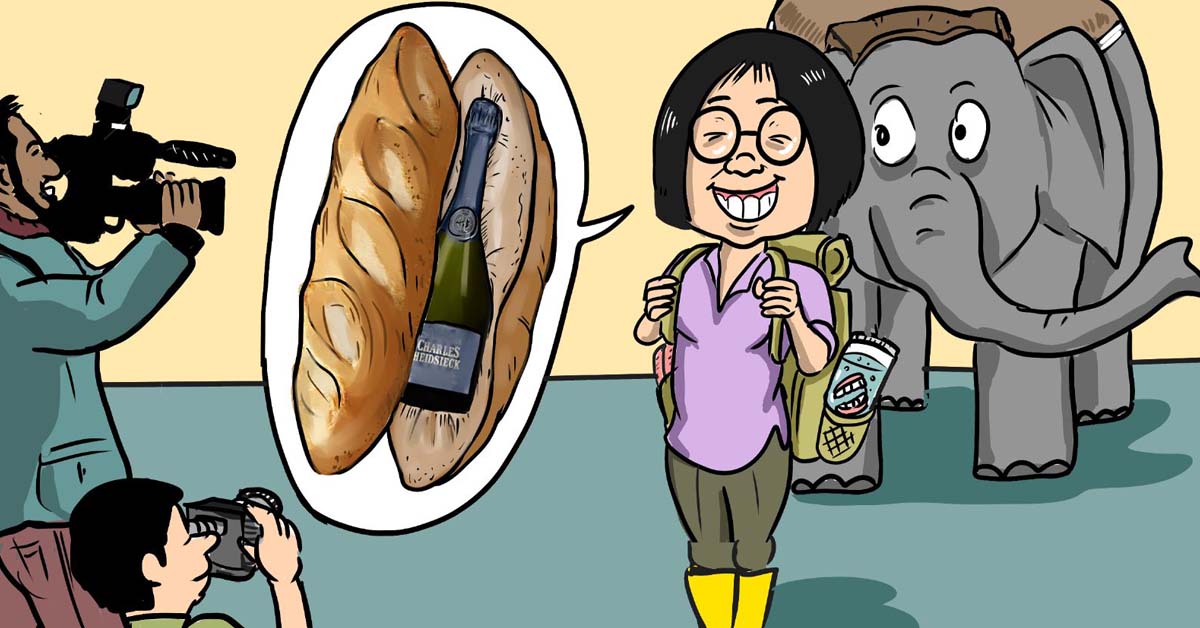 Exactly 30 years to the month, the fall of 1992 — both autumn and my propensity for even managing to trip on level ground — I embarked on an amazing race. Almost a decade before America's televised Amazing Race (2001).
As is so often the case, it began with a phone call (landline, dear). A savvy friend from a real pro of a public relations consultancy broached, "Hey, Sylvia, if we asked you to go around the world for 100 days, would you?"
Without batting my double-eyelid, I said "Sure!", and we left it at that exploratory stage.
Their client had this idea to pick six teams (of two) from around the world and pit them against each other in a race around the world. In The Footsteps Of Champagne Charlie. Over 100 days.
Bengs required my resume, which is the one piece of writing I steadfastly avoid because I have nothing to show for it. So of course I penned a pointedly funny one.
Came the call. "Sylvia, your resume did it, Singapore is one of the six teams chosen!"
And on that surprising note, Singapore joined pairs from USA, Britain, France, Canada, and one other duo from America I think, as the vast continent needed to field two teams.
The rules were basic. There were 18 must-stops; cities where Monsieur Charles Heidsieck had set up offices to introduce his champagne to the global market. We had to cover those.
Without flying. Yes, no flights, no automobiles, no high-speed trains.
As one of the early pioneers of bubbly, Charlie had travelled in the time of sailboat and steam trains, so modern modes of transport were out.
We were to do it within 100 days. We would be given some pocket money to help defray costs of anything and everything. Worked out at S$200 per diem, times 100 days, each.
Picture it…$20,000 to fund the world trip in 100 days and all the champagne you can quaff.
Ah. Yes. The teammate. Ordinarily I would have gone with Tarzan. Think about it. A swinger who is up to every task and mishap and on the vine a lot. Eventually another freelance journalist (land's sake, which full-timer could take 100 days off?) paired up with me. My fellow journeyman and I became good friends of course.
The world map was the first move. To rout our 100 day-route from Singapore and back, nailing 18 cities. When you've done the maths, daily stipend $200 would be stretched no end to cover how-we-gonna-get-there, where-we-going-to-sleep, food and drink and tips and things.
While GB worked on the atlas charting New York City to New Orleans and beyond, I speed dialled tourism boards and tourist offices to lock hotel rooms, gratis. I filed a column every week for the newspaper and returned accommodation favours with a print mention. The kind reading public palpably hurrah-ed us on our way. My reports were illustrated by a different cartoonist every week. Wish I'd kept them!
In each city we met the Charles Heidsieck representative, who would feed us a meal (ker-ching saved!) and put a champagne stamp on our special passports (issued by Remy Martin the liquor people behind the sponsorship).
Because Singapore was one of the selected six, we did have much publicity, cheering the home team.
So we went to the zoo, rode on an elephant, early mode of transport remember? And then a trishaw ride to Raffles Hotel, where I performed my party trick of how to carry a champagne bottle, much to the delight of the media covering us (for a change).
Use a baguette. Slice whole in half, remove bready bits till reasonable hollow fits a champers bottle. Tie with string, and cheers!
Print and broadcast interviewed us. Radio, television, newspapers and magazines. Only then did we realise the challenges ahead. Half of the listed cities were new to me, there would be oceans to cross, it'd be frightfully cold in places, perhaps obscure foods and remote languages and unusual cultures? How more foolish was I going to get?
No sleep to be had, I packed all day and night into the morning of departure. The trick to travelling light is to throw out exactly half after you're done packing. If you don't have it, you won't need it. You can always buy it at the next stop? Don't count on it. Do without. Except for dentures and spectacles. Those you must carry spares.
We took off from PSA, on a container ship, signed on as midshipmen, for Neptune Orient Lines.
Headed for the fragrant harbour of Hong Kong, our first stop.
And this is where I stop. To be hauntinued, as they say.