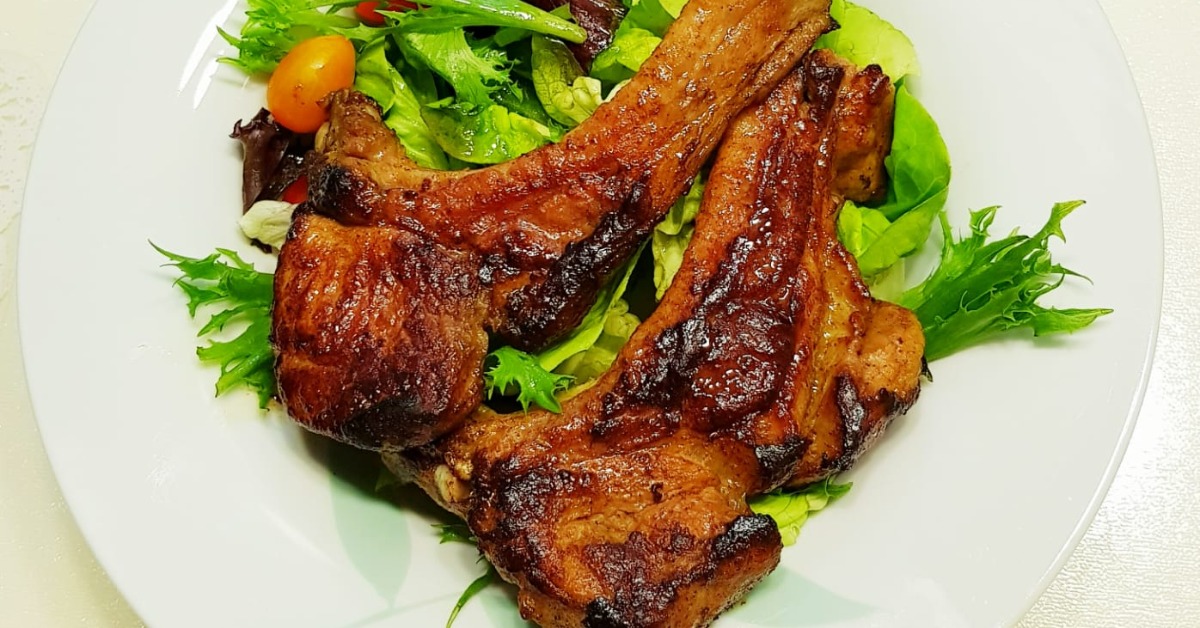 Having to "work-from-home" (WFH) for months on end during the Covid-19 pandemic drove many working folks to build up their repertoire of one-pot dishes that are fast-to-cook, good-to-eat, and most of all, requires minimum cleanup.
One such person is Senior Manager Kelly Han. Since the company she works in implemented WFH protocols in early 2020, cooking more at home became the norm for the 55-year-old. Despite her heavy workload, Kelly takes it in her stride because she enjoys cooking "ever since I was a kid, as I like to experiment with things."
Although eating out or buying in remain alternatives, Kelly made a concerted effort to expand her arsenal of one-pot meals by watching TV cooking shows or replicating her late mom's recipes. "I try to improvise recipes if I cannot find the chef's ingredients," she reveals.
Kelly usually does her marketing during the weekends and you will find her at gourmet supermarkets such as "FairPrice Finest, Cold Storage Great World City or Takashimaya, Isetan Scotts Supermarket, or Paragon Market Place." One dish she hopes to master one day is her mom's Hainanese Chap Chye. "I have tried reproducing it many times but the taste is just not right," she sighs.
A kitchen goddess in the making, here's what Kelly's weekly culinary routine—complete with her recipes—typically looks like:
Went grocery shopping at Cold Storage Great World City and saw this unbeatable deal – a beautiful sea bass selling for just $16.80! It was a deal too hard to resist, so I bought it and asked the seafood counter chap to help descale and clean up the fish. Bought spring onions too for use in steaming the fish. Weekend lunch settled.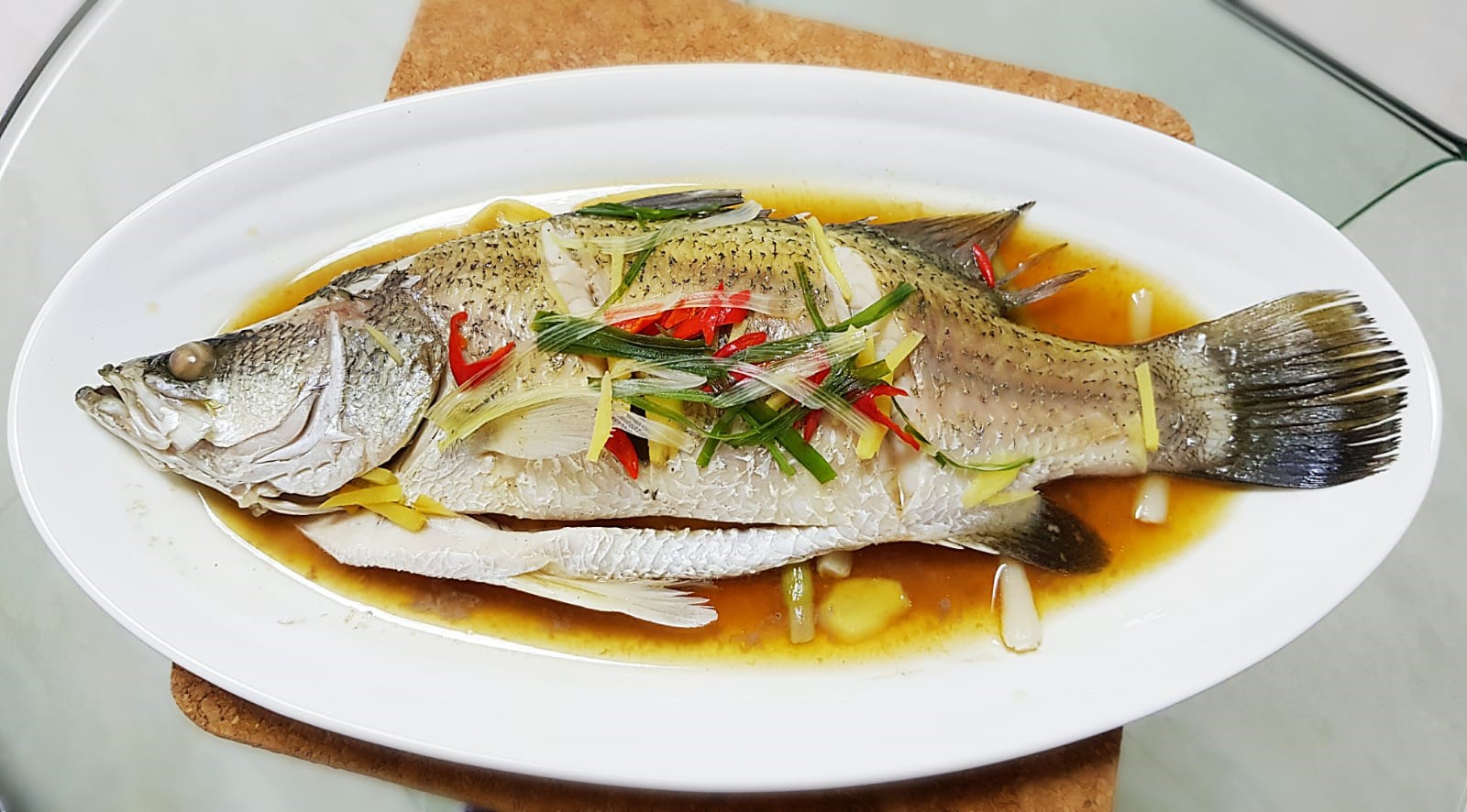 Wash fish and make two cuts on both sides. Season the fish inside and out with salt and pepper.
Place marinated fish over some of the sliced spring onions on a heat-proof plate. Add some ginger and red chilli strips over the fish.
Bring water in a steamer to the boil before placing the plate of fish into it. Depending on how big or thick the fish is, steam about 10 minutes or till the fish eyes popped.
Add the wine, sesame oil and light soya sauce. Steam for another 5-10 minutes.
Check if fish is cooked with a knife. If cooked, carefully remove plate from steamer. Garnish with remaining ginger, red chilli and spring onion strips and serve.
Had some friends coming over in the afternoon, so decided to make light finger food and desserts for them. It is easy to cook using an air-fryer with minimum cleaning and fuss, and especially if you don't wish to look like you'd just worked in the sweatshop. Chill and open a bottle of wine to complete a perfect Sunday gathering with close friends.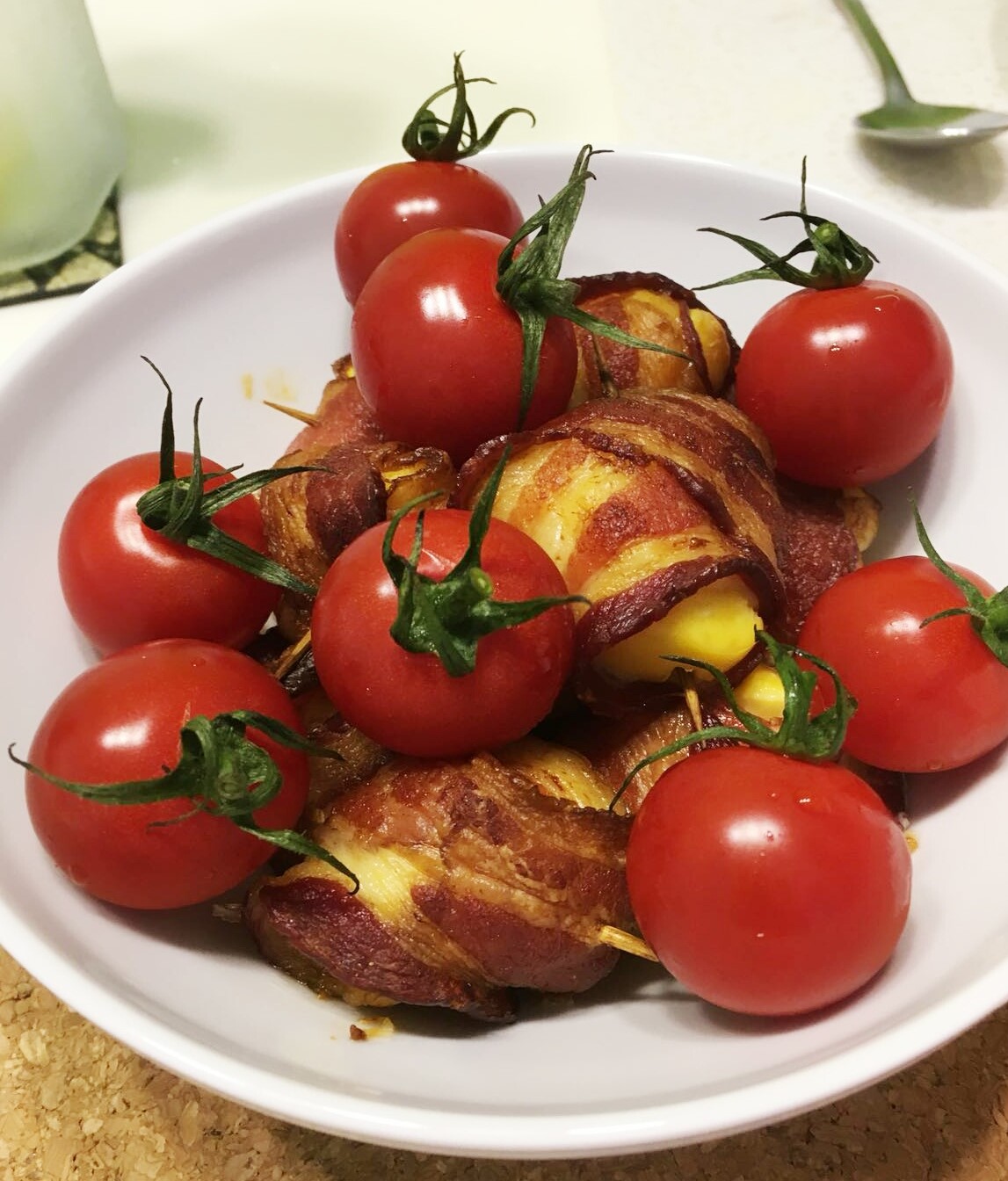 Wash the tofu tubes before unwrapping and cutting the tofu into bite-sized pieces that are about the width of the bacon.
Wrap the bacon over the tofu and use a toothpick to secure the overlapping ends.
Preheat the air-fryer at 180 degrees. Put the wraps into the air-fryer and cook for 20 minutes. Then turn and cook for another 10-15 minutes.
Add cherry tomatoes as garnish and serve.
Baked Apple with Marshmallows (1 serving) - OPTIONAL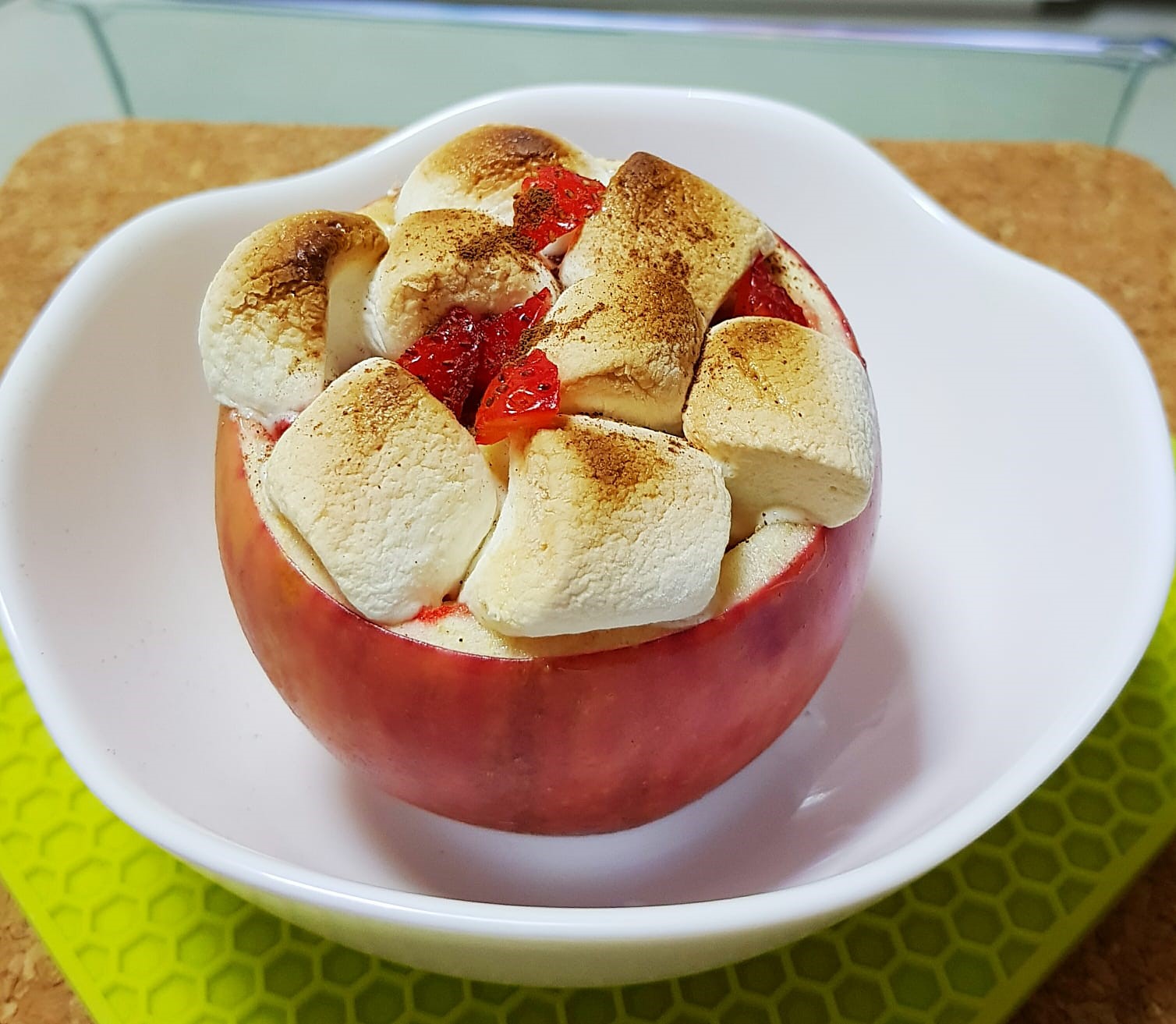 Wash the apple, cut off 1/4 from the top, par out the core and some flesh (so that you will get an apple cup).
Cut the scooped up apple flesh, strawberries and marshmallows into small cubes.
Stuff the cut apple and strawberries into the apple cup. Sprinkle some icing sugar (optional).
Place the marshmallows last and top with some strawberries (for aesthetic purposes) and a little cinnamon powder.
Preheat the air-fryer at 180 degrees, place the apple cup into the air-fryer and bake for 5 to 8 minutes. Check the apple around the 4-minute mark as the cinnamon powder and marshmallows can get burnt easily. Remove the apple cup with a pair of tongs when the marshmallows start to turn brown and crispy. Serve.
Needed to cook a light dinner quickly before attending my bible study group via Zoom, so I defrosted some prawns about one hour before the end of my working day. Once work was done, I whipped up the prawns with garlic butter and chucked them into the toaster oven to enjoy a yummy garlic butter prawn with rice.
Baked Garlic Butter Prawns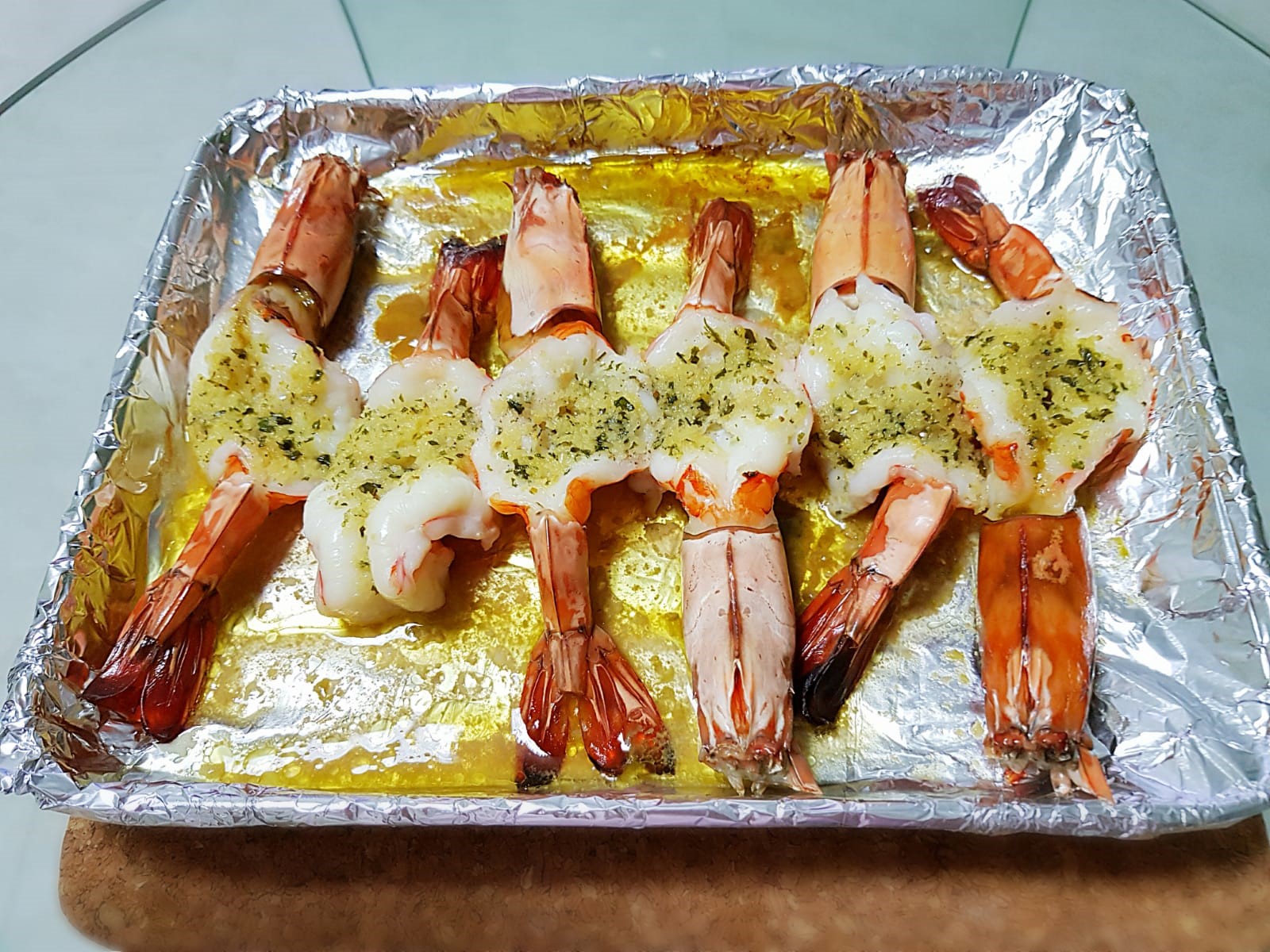 Clean and devein prawns, but keep the heads and tails intact.
Lay toaster oven tray with aluminum foil (for easy cleaning – just throw foil away)
Cover prawns with generous amounts of garlic butter spread and line them up on the tray.
Place tray into the toaster oven and bake over 180 degrees for 15-20 minutes or until the prawns turn red.
Remove from toaster and serve with white rice, toast or baguette.
Had a hectic WFH day and had no energy left to walk to the hawker center and buy dinner. So I rummaged through the fridge for something easy to cook. Found some wild Australian scallops which I stockpiled for Chinese New Year and a head of broccoli. Decided to make Pan-seared Scallops with Broccoli as it is not only a healthy dish with fibre and protein, it is easily done with no oil splatters and requires minimum washing up.
Pan-Seared Scallops with Broccoli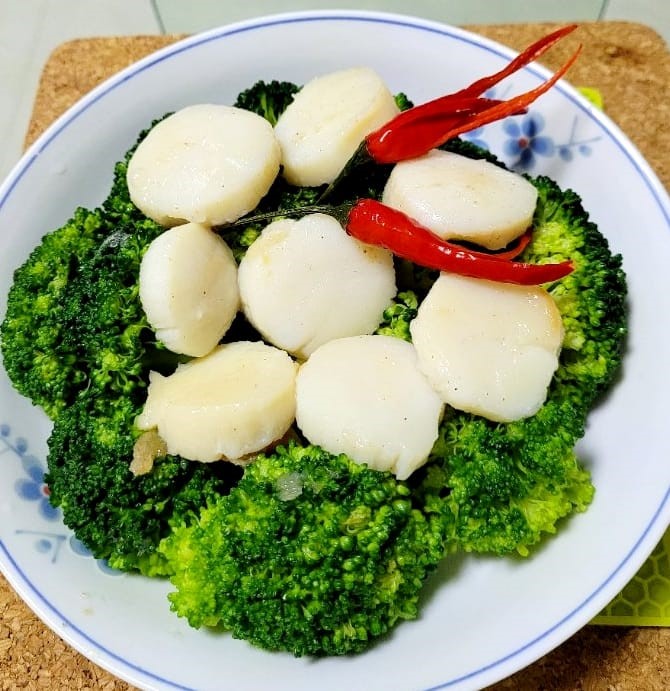 Wash scallops, pat dry and set aside.
Soak broccoli in salt water for 10 minutes, wash thoroughly and cut them across their mini branches. Blanch the cut broccoli in boiling water, remove and soak them in ice water to keep its crispiness and bright green hue.
Heat up a non-stick pan over low heat and place the scallops on it. Sprinkle salt and pepper on them.
Turn the scallops when they turn white with water bubbling around them. Sprinkle salt and pepper on this side. (Scallops cooked very quickly, so remove from heat once you see that they are white, otherwise overcooked scallops can be very tough.)
Drain the broccoli from the ice water. Use the broccoli to prop up the cooked scallops on a serving plate, garnish with red chilli strips (optional) and serve.
Middle of the week is "celebration" day as I have made it to the halfway mark of the week, with just two more days before the weekend. In a better mood and wanting to pamper myself for surviving three hard days of hectic work, I usually go for a more "challenging" dish.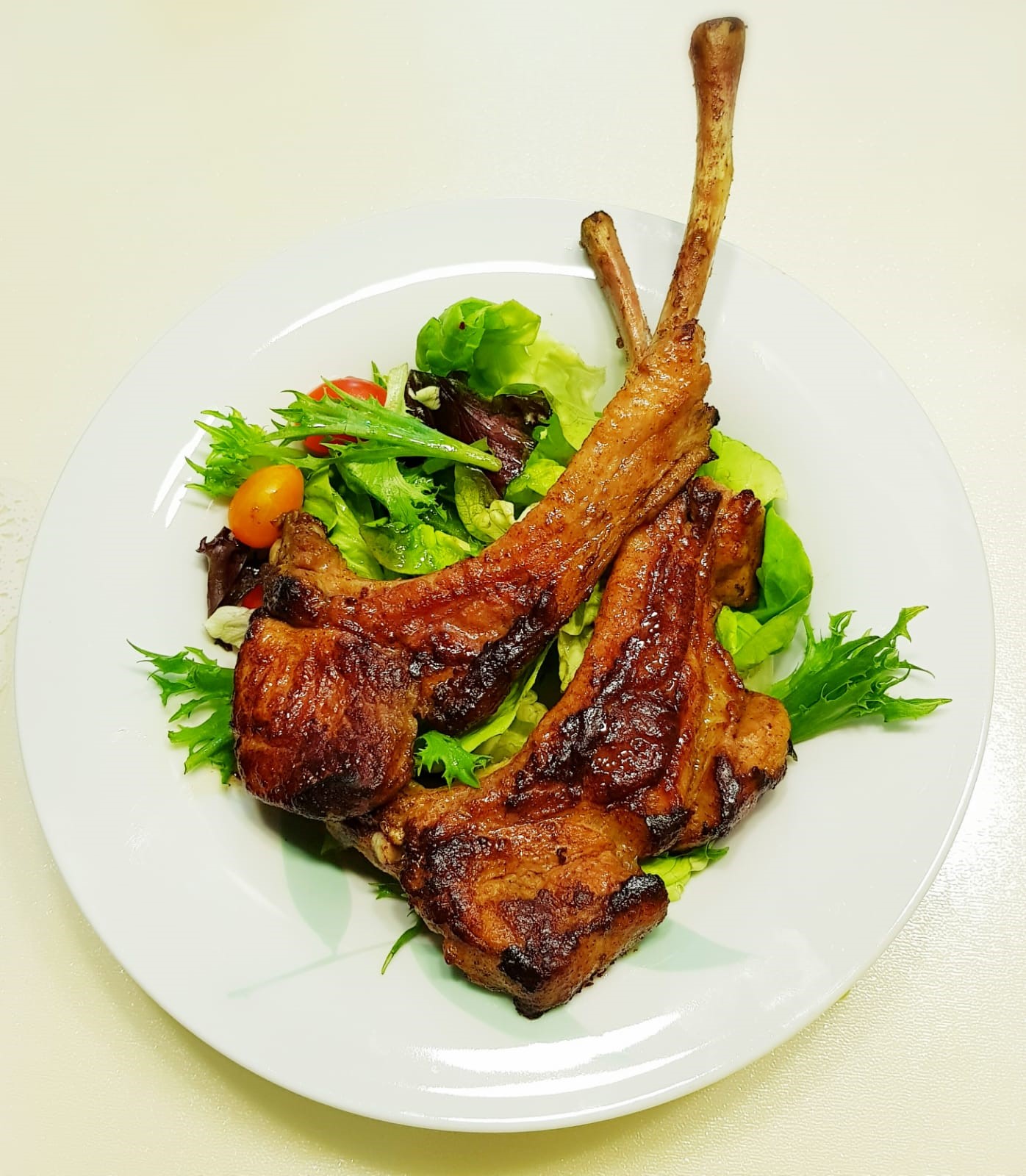 Marinate the pork ribs with salt, pepper, light and dark soy sauce and rice wine for 30 minutes.
Heat cooking oil in wok till hot.
Gently lower marinated pork ribs into wok. Let the meat turn golden brown (about 2-3 minutes) before you turn it.
Add butter a few minutes before you remove them from the pan.
Serve the ribs on top of a bed of lettuce or wild rockets.
For inspiration and recipes of what to cook at home, check out fun food programmes on cable channels such as TLC (eg. Jamie's Quick & Easy Food, Girl Meets Farm) and AFN (eg. Family Kitchen with Sherson, Asia Unplated with Diana Chan), as well as streaming provider Netflix (Jon Favreau's The Chef Show, Michelle Obama's Waffles + Mochi.)