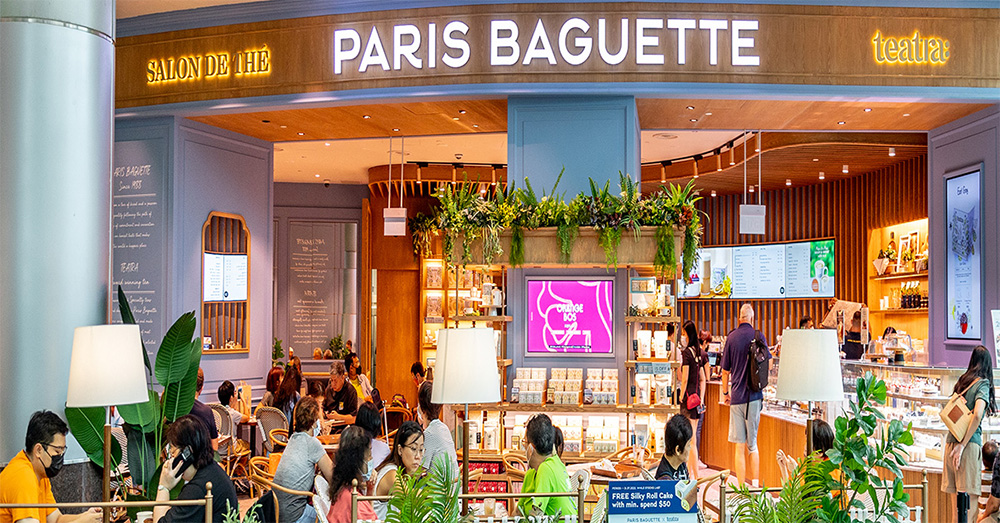 When I was given a trio of mini croissants by Paris Baguette during the launch of their first teatra (tea travel) café and retail concept store in Singapore at Raffles City, I was intrigued at how international bakery chains are now "Singaporeanising" their bread offerings.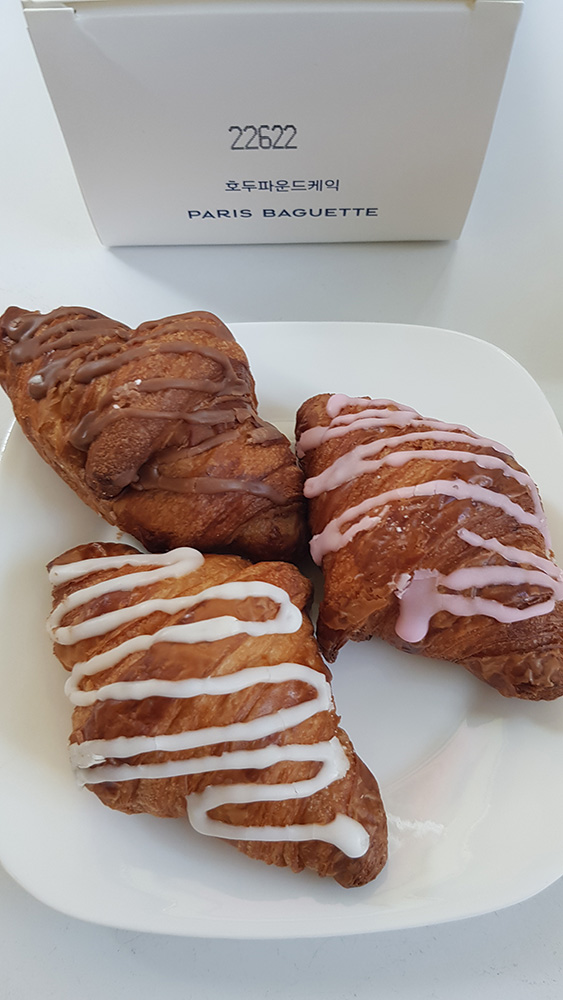 This trio of croissants also set me thinking about how far Singapore has gone on our bread journey that now "atas" or high-end croissants and baguettes may have overtaken white bread and buns as our breakfast of choice, given the proliferation of bakeries in Singapore such as Au Croissant, Paul's, Petit Pain, Bakery Brera, Le Petit Croissant, Bread & Hearth, Artisan Boulangerie Co, Asanoya Boulangerie and many other artisanal bakeries.
Bread has been a staple since the turn of the last century in Singapore and prior to WWII, European bakeries turned out good-quality brown bread, rye bread, white bread, Hovis bread and other types of loaves.
The shortage of wheat flour then resulted in an adulterated version using tapioca flour and, according to the October 1946 article Metropolis of the East, which resulted in local bread that was sticky, not crispy, even when toasted. The French loaf had no body, just crust, and was hollow inside.
However, the wheat flour shortage eased with time and local neighbourhood bakeries took over from European bakeries, and started supplying the daily bread. For the households who did not have time to go to the bakery, there were bread vendors, first hawking on a bicycle with a box, and then vans with their distinctive squeeze horns to announce their arrival.
Hainanese chefs paired French loaf (chiam tau loti, which roughly translates to "sharp end bread") with curry; the resulting marriage the stuff of foodie fusion heaven.
Hand-torn chunks of crusty bread are gently dunked in the curry, allowing the soft interiors to sponge up the gravy to the desired level of soaking before being swiftly despatched, for that spicy mouth feel. That mix of crispy bread resisting the dampening effects of the gravy; that lemak, coconut-rich beginning ending on a crunchy note, is an experience that's hard to turn down.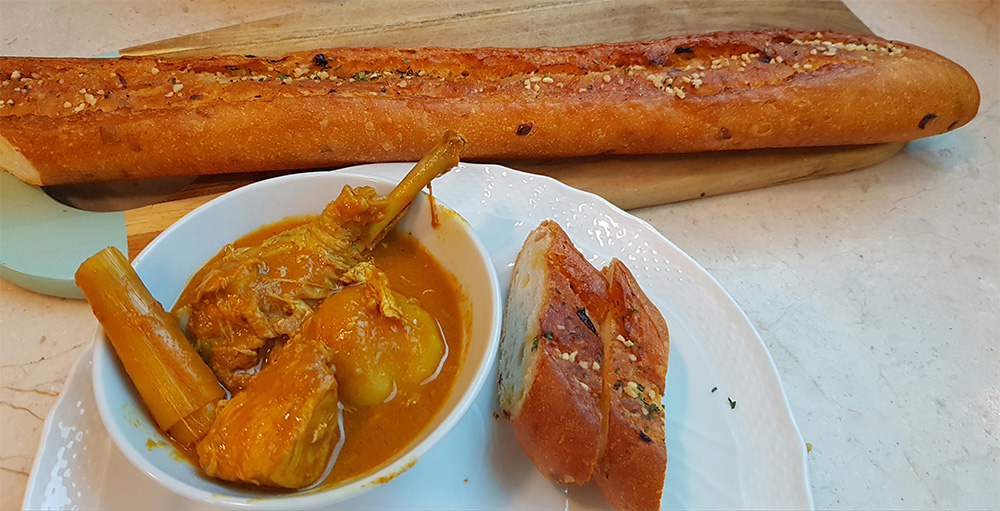 Today, Paris Baguette has upped the ante with their garlic encrusted baguette which, dipped in homemade curry, is recalling nostalgia, enhanced in piquancy!
Is John From Singapore or Malaysia?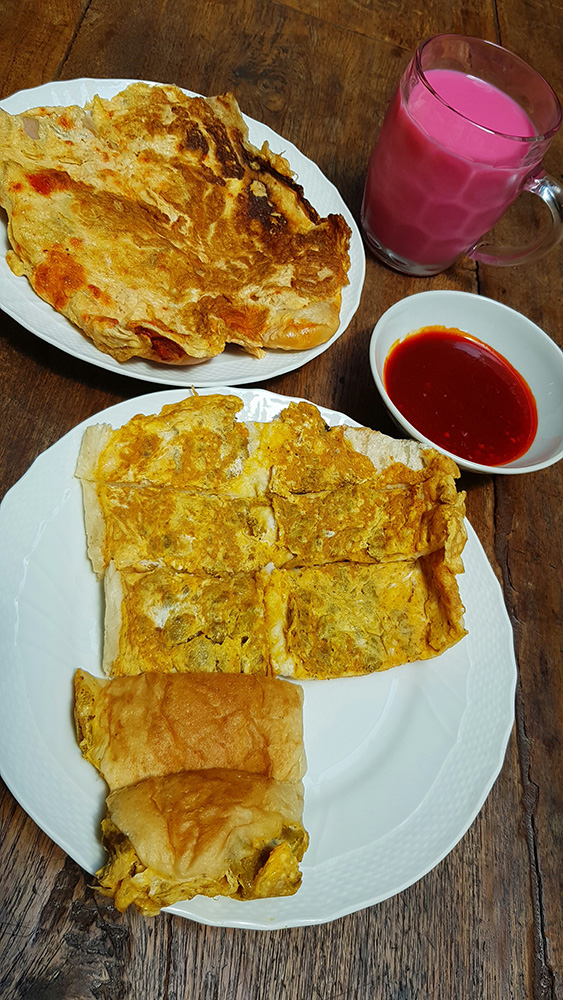 The debate about how "Roti John" was created is one that still rankles as a "made in Singapore" or "made in Malaysia" narrative. It made it into The Straits Times on 9 September 1981, when reporter Anuar Othman stated that 20 years earlier (in the 1960s), a stall holder in Sembawang was requested by an Englishman to make a dish with bread. In order not to disappoint him, the stallholder made a slit in the middle of the local baguette, known as Roti Perancis, and stuffed in some meat, sliced onions and poured in a beaten egg. It was then fried and served with the exhortation to "Please enjoy, John".
While in Kuala Lumpur, Othman visited the popular Kartini Western Food, which served more than 200 "Roti Johns" daily by Kartini Abu Bakar. When asked what her speciality was, she said, "Roti John, which comes from KL".
Kartini and her husband, Rosli, subsequently admitted that whilst the name tickled the customers, not all of them would order Roti John if they were told that it originated from Singapore, where Mdm Kartini had served this popular favourite prior to their move to Malaysia.
Ask any French person, and he or she would say that the similarities between Roti Perancis, or French loaf, our parlance for the baguette, ends with its name. There were previous attempts to introduce the French baguette to the general public, a joint collaboration between department store Metro and Singapore Airlines, in 1976. But it was Frenchman Hugues Prince, who introduced baguettes and croissants to Singapore in a big way.
In January 1983, Hugues Prince brought in Vie de France, the international bakery chain of which Les Grands Moulins de France (France's largest flour mill) had a 65% shareholding. Its first bakery was opened in Fitzpatricks in Goldhill Square, where not only the "real" Parisian baguette, but also croissants were freshly baked.
From then, French baguettes and Viennoiserie, including croissants became popular, especially after the same Hugues Prince opened DeliFrance in 1985 on the second floor of Clifford Centre. Local bakeries such as Mirana Cake House started selling their own versions in the late 1980s and continue to do so today. Today, any self-respecting bakery, and not just "Paris of the Yeast", Tiong Bahru Bakery has deep baskets with these oversized bread sticks.
Buttering Up To Croissants
Coming back to the subject of croissants which costs anything between $2 and $8 each, with higher prices boosting demand, what makes a good croissant and why has it seemingly overtaken the bun? Definitely the butter, and only French butter, which must make up at least 20% of the croissant.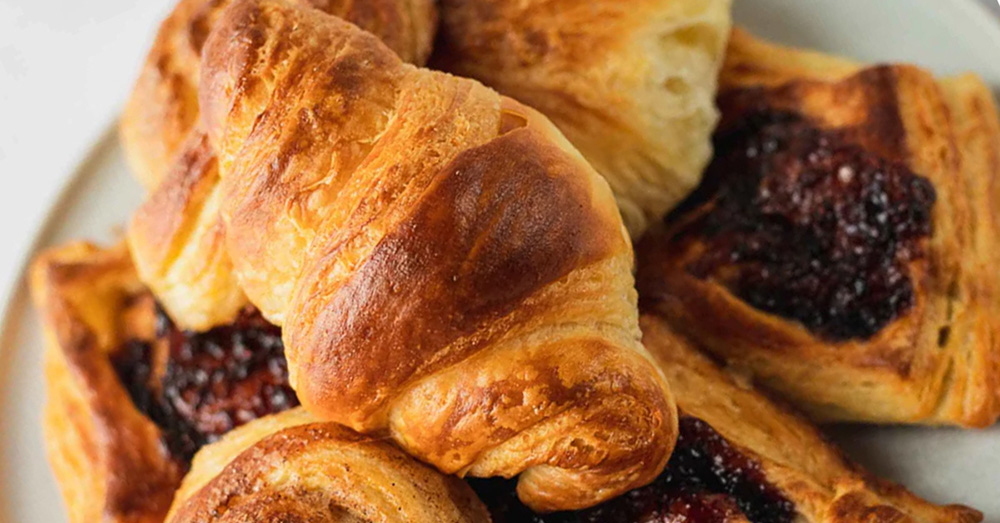 Chef Pang, formerly of Antionette in Penhas Road says that a croissant must have a crispy and flaky crust, be well defined with an airy crumb and good flavour from good quality butter. The chef must have a sound technique. Croissant pastry is made in the same way as puff pastry, using the lamination method, sandwiching butter with dough.
Another very important consideration in order to achieve a crispy and flaky crust is a temperature and humidity controlled environment, kept constant at 12℃, especially during the folding process. In France, some provincial bakers still start their morning licking their finger and walking outdoors to test the humidity before calculating the proportions of flour to water.
The "Singaporeanisation" of croissants arguably started with Chef Pang's salted egg lava custard croissant using only salted duck eggs. There was a run on them as they sold within minutes even at the hefty price of $6.50 each in 2016.
Savoury fillings include Burger King's chicken croissants. Mentaiko croissants are a speciality of La Grigne Patisserie, a one-man operation on Ann Siang Hill, who named his patisserie after the slash in the dough.
Tiong Bahru Bakery partnered with renowned fourth-generation French baker Gontran Cherrier, not only to accelerate the gentrification of the then pleasant but little-known enclave in Singapore, but to introduce croissants which, at first bite, will bring one back to their romantic Parisian breakfasts.
Another artisanal bakery which has impacted the boulangerie and patisserie scene is Mother Dough. Their breads and pastries are handcrafted differently from the French. Owner, Naadhira honed her techniques at the International Culinary Institute, New York City, and spent four years in various bakeries. Sourdough or the fermentation culture, the mother dough, forms the basis of all their breads including the baguettes and croissants.
But some artisanal bakeries such as Tiong Bahru Bakery and Mother Dough, with foreign origins mainly retain their "heritage" trademark classic croissants.
We should also give a shout to our local bakeries who have taken our bread eating up a notch with the "atas" croissant, and combined it with our favourite local fillings.
Now, we can tar pau, bungkus or take away orh nee (yam paste) croissant cubes from Keong Saik bakery and Brotherbird's August edition croissants which include radish cake Danish, ondeh-ondeh roll and pulut hitam twice-baked. Or, better still, have that French loaf with chicken curry or otah otah! It's great to have food that keeps on innovating in tasty ways!