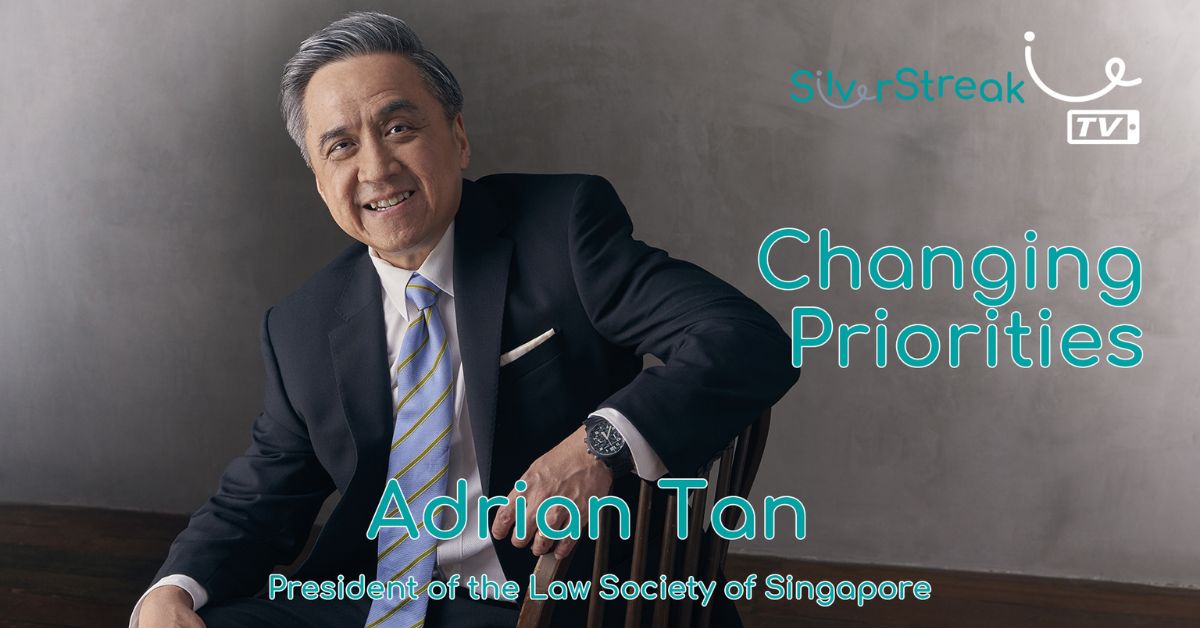 Adrian Tan is battling cancer.
Having known him since the 1980s, while a lot has changed in his life, he is still the same, witty, chatty person I knew when we were in the committee setting up Mensa Singapore, back in 1988.
Adrian grew up in a 3-room HDB flat and paid his way through University by writing The Teenage Textbook, which proved to be popular enough to be made into a TV series, stage play and spawned a sequel, The Teenage Workbook.
Once he became a lawyer, that took up all his time. But he still made time to catch up with friends and argue the issues of the day.
When Covid hit, he couldn't meet with his friends, so he took to writing more about his views on LinkedIn. In that process, he would often sign off his long observations on life and society by saying "If I were the King of Singapore…" followed by his own brand of corrective action.
Last year he became the President of the Law Society of Singapore, and he had plans to further the education of Singaporeans in matters of the law.
Then the rudest of wake-up calls hit. Cancer forced him to evaluate his life's priorities.
While he still has ups and downs, he is still charging ahead.
In this series of videos, which will be released over the next few weeks, Adrian talks about being a lawyer, his interest in writing, living with cancer, and the role of death in society.
Adrian Tan chats with
@SilverStreakTV
about a busy few years — becoming President of the Law Society, writing and battling cancer.
When the pandemic hit, his regular chat sessions with his friends had to be suspended and he couldn't vent as much about the things that bothered him. So he resorted to writing long observations of issues in society on LinkedIn. And he would draw his own conclusions and state them tongue-in-cheek as "King of Singapore".
He talks about school as an important way of encouraging the young to have aspirations. And he is all for elite schools being spread out around Singapore rather than being near the landed gentry.
Just as he was about to embark on a busy spell as President of the Law Society, with the pandemic behind us, Adrian found himself feeling out of sorts. When it became hard to ignore, he went to a doctor and was diagnosed with cancer.
He needed immediate chemotherapy, but the waiting period in the government hospital was too long for him.
So, he went to a private clinic.
The lesson he learnt from this experience was to be prepared for the worst, and get good critical illness insurance cover.
Along the way he also had to cope with losing his hair, and the importance of his own health as a foundation to build the rest of his priorities.
When he was growing up Adrian thought he was part of the middle class. His Mother said that because they lived in a 3-room HDB flat and she was a teacher, he belonged to the middle class.
But in school, his friend who live on landed property and whose father was a doctor, also said he was from the middle class.
The middle class in Singapore seems to be whatever's convenient in an argument.
When it comes to government handouts, those living in smaller HDB flats get more money than those living in larger flats. 
And private property owners get very little. But the number of big cars in the car parks of HDB flats seems to point towards a healthy middle class occupying these dwellings.
The changing shape of Singapore society makes it more difficult for people to age at home. In the past, you could find three generations of Singaporeans living together in a kampung house, which made ageing in place an easier proposition.
Today, the extended family seldom resides together and Adrian is convinced the Baby Boomers and subsequent generations will have to look after themselves.
But what is the purpose of living into your 80s and beyond when you can't fulfil a useful role in society? Is society willing to tackle this issue?
As President of the Law Society, Adrian Tan wants to educate Singaporeans about the role of lawyers and the law in society. With too many ideas formed based on what they watch on television, Adrian insists reality "is not like that".
He calls the slick TV lawyer shows "lawyer porn", since they overdramatise the law, and cases are often solved within an episode
Writing helped Adrian Tan pay his way through university. His hugely popular The Teenage Textbook was made into a stage play, TV series and film. Adrian says you can maybe get a couple of hits under your belt to help keep you going for a short while, but it's hard to be a novelist on a fulltime basis.
Being a lawyer also takes up a lot of time.
But Adrian is working on another book. Although he's been on it for 30 years, and has only reached chapter 2, he hopes to complete it "soon".
Silver Spotlight: Adrian Tan