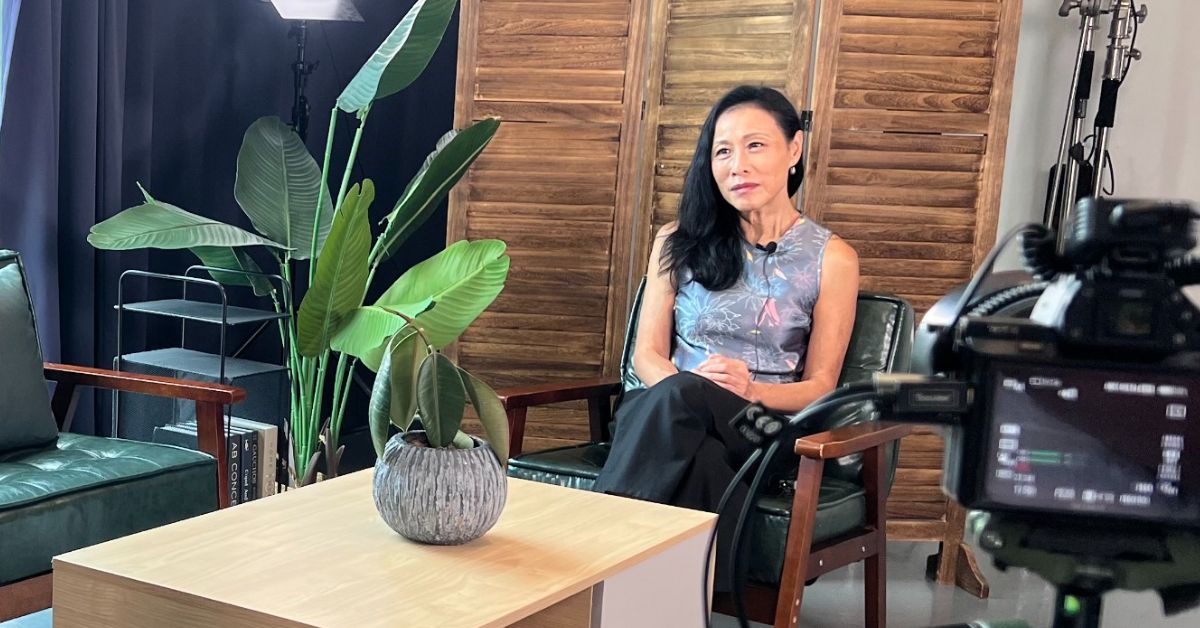 Actress Tan Kheng Hua speaks earnestly and is full of vigour as she talks about her long and sustained career as an actress.
She is dressed in a jumpsuit designed with Singaporean designer, Angeline Oei of
A. Oei Studio
.
The keng hwa flower on the fabric is drawn and designed by Shi-an, Kheng Hua's daughter, to commemorate her mother's 60th year. It will be launched on Mother's Day, with a percentage of proceeds going towards charity.
The petite actress of stage and screen has been living in Canada for the past few years, working on the TV series, Kung Fu, a martial arts action-adventure series  on the CW network.
Kheng Hua has worked on a long list of shows including Crazy Rich Asians and Marco Polo as well as homegrown series like Phua Chu Kang, A War Diary and Growing Up. Her continued commitment to the industry means this list will continue to grow.
In this Silver Spotlight interview with SilverStreak, Kheng Hua talks about her lifestyle — she stays active, running, cycling, climbing and…skipping! — her work ethic and how she loves being 60.
She opens up about her daughter with her former husband, actor Lim Yu-Beng, and how she has found romance again in Canada; with the natural beauty of the land, and her partner in Squamish.
Kheng Hua's exercise routine is intense even if it isn't consistent.
She is not obsessed with exercising but does enjoy running, cycling, skiing and climbing when she finds the time between her busy filming schedule for the TV series Kung Fu.
She also enjoys skipping, and has a particular way of doing it.
As she gets older, Kheng Hua finds she is more at peace with herself, and is much calmer. She is enjoying life as she turns 60, happy to speak her mind and "not give a damn"!
While she spends a lot of time in Canada, home is still Singapore.
And what's her choice between happiness and peace of mind…?
As she gets older, Kheng Hua finds she has fewer friends.
The gatekeepers have pared away the excess and only the true friends remain. These premium relationships are all she requires.
Kheng Hua is her own best friend, and being comfortable in her own skin allows her to enjoy a life that is based on her own set of values.
Decision-making can be quick or slow, depending on the circumstances for the stage and screen actress.
"I shop like a man. I like it, I'll take it in three colours,"
But some decisions are agonisingly long, sometimes taking more than two decades to come to a reasonable conclusion.
After her divorce from actor Lim Yu-Beng, Kheng Hua has been living in Canada, enjoying the romance of the country's natural beauty, while finding a chance to enjoy romantic love again.
"Retirement is for people who don't like what they are doing and want it to end,"
Having been an actress for many decades, the fire still burns bright in her eyes as she continues to hone her acting skills.
While not schooled in acting, she has developed her own methods that allow her to land parts that are varied and challenging.
Kheng Hua would love to be involved in a  premium Singapore television series that would tell local stories.
The recent win by Michelle Yeoh — who Kheng Hua acted with in Crazy Rich Asians  — she feels will open up more opportunities for Asians in the industry.