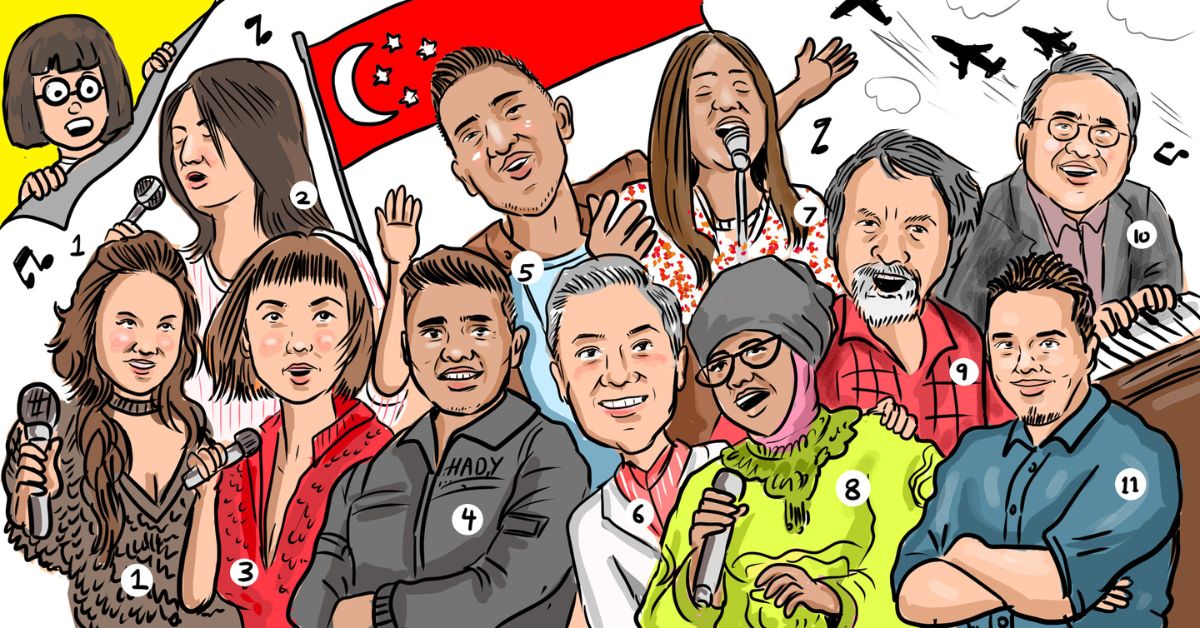 Singapore has produced some 30 greatest hit songs, in almost twice as many years, and not one tells of a heartbreak hotel or a blue moon.
Well, picture a National Stadium in full house rah-rah-ing in unison, at the top of collective lungs, about "the long and winding road".
Won't work as an NDP (National Day Parade) song, would it?
I am ashamed to admit not to have attended an NDP, in 58 years now, solely on two counts. One, I was either out of Singapore, or never had a ticket to the event.
But aha I have had my ears pierced, with all 30 of those numbers.
They are drilled and drummed into the national consciousness, via public domain — schools, elevators, supermarkets, broadcast media — during the celebratory month of August.
To make up for missing out on months of Saturday NDP rehearsals (I'm in, I'm in! Why you all bojio?) I had a listen to the string of our national hit parade.
It was a long and winding road. For much of the way — three decades — anyway. To be fair, the melodies were there, the lyrics were not.
Not lyrics. But campaign slogans.
We had kicked off with a triple whammy, a hattrick of winning anthemic singalong songs that got us all ambidextrous, waving the mini flag with one hand, and brushing a tear off our cheek with the other hand.
These were Stand Up For Singapore (1985), Count On Me Singapore (1986), We Are Singapore (1988).
(For which we have Mad Max to thank in part. The composer, Hugh Harrison, a Canadian, had seen the movie, bought a bike to follow in the trail steps of MM, ran out of gas money, bought a ticket to Singapore, landed a job with an advertising agency here, which won the tender for a national song, and their cash register bells went ding ding.)
Thereafter, the NDP song contest was held in a laboratory. It might as well have been.
A veritable Roget's Thesaurus for patriotic, nationalistic, multiculturalism, nation building, unification, commitment, gratitude, the synonyms tossed in a test-tube, shaken, to clinically produce song words that would stir us. (Normally, best left to the man in the pulpit.)
At least a dozen songs have "Singapore" in its title, and why not, duh!
Between 1998 and 2007, that decade dropped "Singapore" from its titles, going for the existential if you will: Where I Belong, We Will Get There, Reach Out For The Skies, What Do You See.
I see a pattern, a template, a sheet of tracing paper, a national song by numbers.
All right, okay, uh-huh uh-huh, we are not expecting a movie love theme, but you could love your country you know, just not in so many homilies and motherhood statements, lah.
I get it, I get it. Connect the lyrics to the time frame, independence and identity, patriotism and loyalty, building, achieving, belonging, being grateful, must you hammer me into the ground with repeated reminders, year in year out, only having it set to a different tune?
Of course we've had winners that have warmed the very cockles in our beloved char koay teow:
Dick Lee
's memorable
Home
, Corinne May's
Song For Singapore
, the standout The Road Ahead (produced out of our lockdown period you could say).
And quite a few others given rousing renditions by homegrown talents Jacinta Abisheganaden, Rahimah Rahim, Kit Chan, Stefanie Sun, Hady Mirza, Taufik Batisah and Tanya Chua.
As we enter — ahem — into the future with confidence, looking back in pride, let us unify in force to commit to the challenge on the horizon, with a song to Singapore for its 60th birthday in 2025.
This gives you a two-year lead-in time. Each heartland can compose its paean to our Lion City.
I'll start you off then, this has to be sung, loosely, to the tune of Cole Porter's You're The Top:
Singers/Songwriters by Numbers :
Tanya Chua,
Stephanie Sun,
Kit Chan,
Hady Mirza,
Taufik Batisah,
Dick Lee,
Jacintha Abisheganaden,
Rahimah Rahim,
Hugh Harrison,
Jeremy Monteiro,
Don Richmond