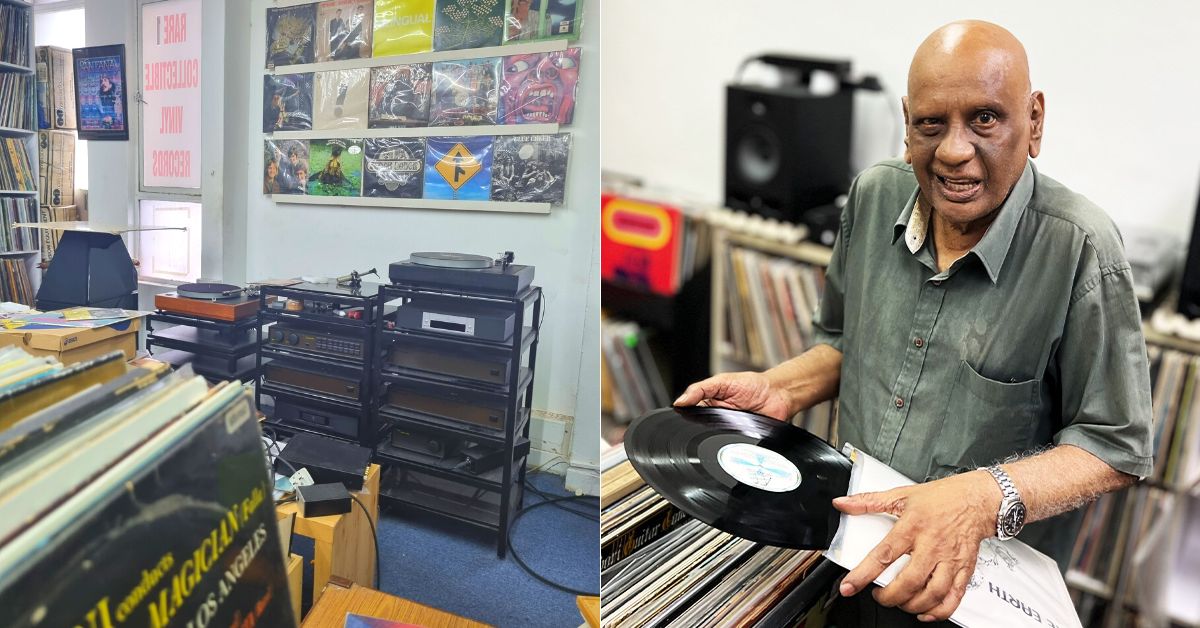 "When I first saw the headline labelling me as the Vinyl Nazi, I wasn't sure if I should be happy or angry. But then after reading the article, I understood what the writer was going for," says R Alagirisamy thoughtfully, before cracking a rare smile.
Being likened to Seinfeld's famously austere Soup Nazi — an over-the-top caricature of an actual New York soup vendor — might not please most people, but the 74-year-old vinyl record store owner wears it like a badge of honour.
He's reigned over his vinyl record fiefdom in a quiet corner of Peninsula Shopping Centre's fourth floor since 2008, peddling albums from his 43,000-strong personal collection – but only to those who pass muster in his eyes.
While he won't shout 'No record for you!', he readily admits that he pays little heed to "hipsters" looking to "follow the crowd", and especially detests "speculative buyers" — or customers he "senses are out to make a quick buck" by flipping his records — even more.
But those who get into his good books know that Giri, as he's affectionally called, is a bona fide "record guru" who's more than willing to share the "near-encyclopaedic knowledge" he's amassed since he got hooked on vinyl in the 1960s. Psychedelic rock bands and artists from the '60s and '70s are his area of expertise.
"Back then, there wasn't such a thing as the Internet. Everything I knew, I had to get it from magazines, books and guides over the years,"
Or, he'd flip the [record] cover over and read the liner notes.
"There are a lot of little nuggets in there about the artists' lives and their influences," he says, before highlighting one such sliver of trivia — the influence of Tolkien's Lord of The Rings on English rock band Led Zeppelin's discography, with songs such as Misty Mountain Hop and The Battle of Evermore (alluding to events and locations in the fantasy series).
He also makes twice-yearly pilgrimages to the world's biggest record and CD fair — typically held in Utrecht, the Netherlands, though the most recent edition was held in 's-Hertogenbosch further south — rubbing shoulders with like-minded vinyl enthusiasts and returning with "an average of 500 to 600" records.
The effort he's made to accrue this knowledge might explain why he has such disdain for so-called "hobbyists" who "don't know their stuff". He says: "They are completely clueless — I will tell them that this is not the right shop for them."
Unlike modern record stores in gleaming malls, the Vinyl Nazi's sanctum is unabashedly grungy. The shelves — and most of the spare floor space — are crammed with weathered record sleeves cradling precious cargo. A good portion of his collection resides here — the rest is spread between a storage unit elsewhere in the mall, another outlet across the road in The Adelphi shopping centre, and his home.
Stashed far in the back is his upmarket turntable and audio system for demo plays. Getting there is difficult, as there is barely any room to walk. Giri himself sits back on a black leather swivel chair — his throne, hidden between the towering shelves.
It is an intimidating ensemble that's scared off many a potential customer.
"They step into the store and they stop dead in their tracks," he says with a chuckle. (Don't fret, he also sells his records on
eBay
.)
Sounds like a bad business strategy, though Alagirisamy isn't too concerned.
"The rent here is reasonable. I am not looking to make big bucks — I just need to cover my overheads. This is purely a passion project of mine,"
Sounds like a bad business strategy, though Alagirisamy isn't too concerned. "The rent here is reasonable. I am not looking to make big bucks — I just need to cover my overheads. This is purely a passion project of mine," he says.
But those who've done their homework typically find a kindred spirit in the Vinyl Nazi. Most of his customers are people like him — vinyl record lovers with a fondness for the whimsy of psychedelic rock and the willingness to drop "thousands of dollars" in a single visit.
"I cater to a niche within a niche,"
He divides his remaining patrons into two broad categories — the "stamp collectors", and the "audiophiles". The former's priority lies not in the vinyl record — but what's around it — while the latter is obsessed only with the "musicality of the record".
"These are the people who buy records not for the music, but to show off their sound system," Giri says, before waxing lyrical about a "legendary" record among the audiophile community, 1959's Belafonte at Carnegie Hall.
When played, it doesn't just reproduce Caribbean-American pop star Harry Belafonte's crooning — but also the odd cough from the audience.
Coughs captured on vinyl aren't music, though these are exactly the perfect imperfections that give vinyl records its allure.
"I liken it to the difference between prints and oil paintings. With a print, all the detail is there — but something's missing. There is no life,"
And a cough on vinyl brings the recording to permanent life.