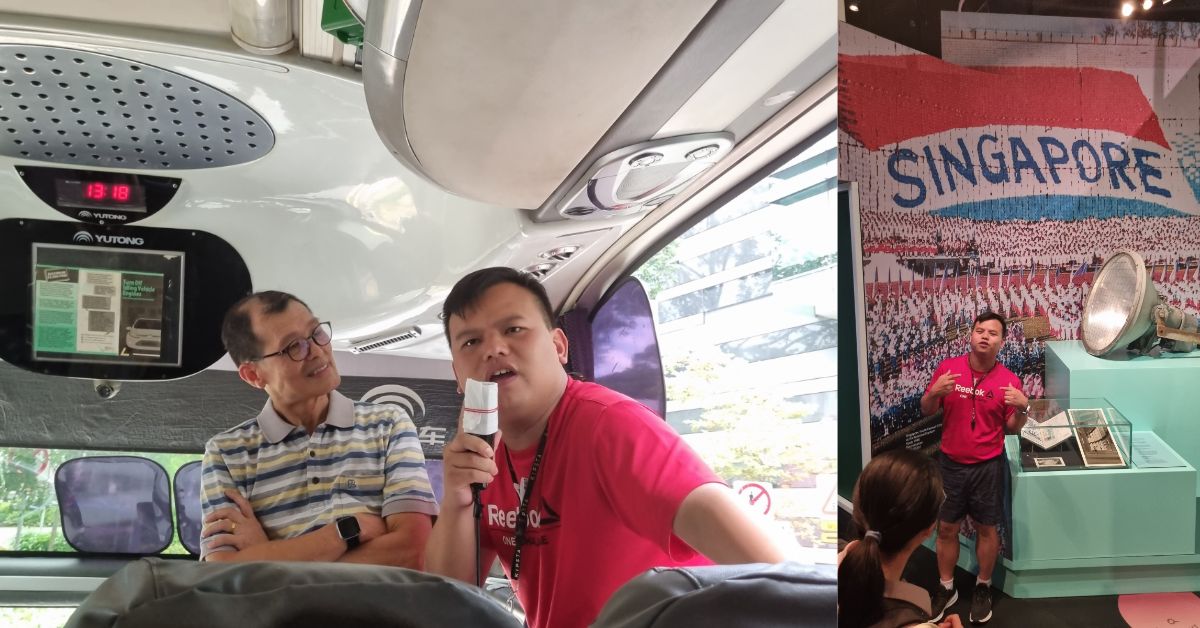 The Founders' Memorial will soon be launching bus rides from various MRT stations to the
National Museum of Singapore
, where its pilot exhibition Semangat Yang Baru: Forging a New Singapore Spirit is currently being held.
These bus rides are more than just a convenient way to get from the heartlands to the heart of the city and back.
Role-playing tour guides accompanying each bus provide an immersive introduction to the exhibition, which revolves around the dilemmas and difficult decisions that faced Singapore's founding generation from the 1950s to the 1970s.
The characters present at the media preview include Wei Jie, a 45-year-old physical education teacher played by Colin Goh, and Kok Seng, a 65-year-old engineer played by Chan Choon Seng.
The pair discussed the transformations that Singapore went through in its founding years, and how everyday Singaporeans would've reacted to those changes.
Examples include the shift from kampung houses to early flats built by the Singapore Improvement Trust (the predecessor to today's Housing & Development Board); the gathering of itinerant hawkers into hawker centres; moving from vernacular schools to English-based learning; and the clean-up of the Singapore River.
These events are explored further in the exhibition itself through the lens of guiding principles like multiculturalism and resilience.
Visitors get a chance to revisit contentious policy decisions like the 1966 Land Acquisition Act, which paved the way for the Government's purchase of private land from places like Punggol (and the subsequent relocation of pig farmers working in it), as well as the introduction of legalised gambling in 1968 with Toto.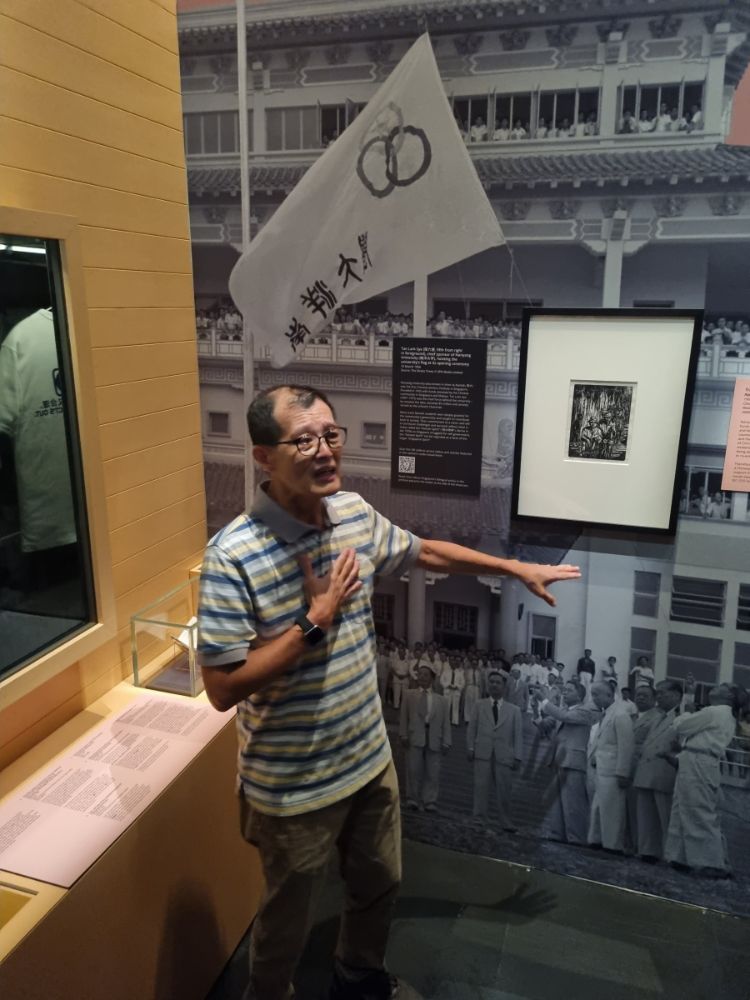 Choon Seng, who himself is 65 years old and retired, said, "This exhibition is very useful for younger Singaporeans who haven't lived through the events that are being showcased here.
When they are walking through the exhibits, they can see Singapore in the past and better understand how comfortable our lives are now.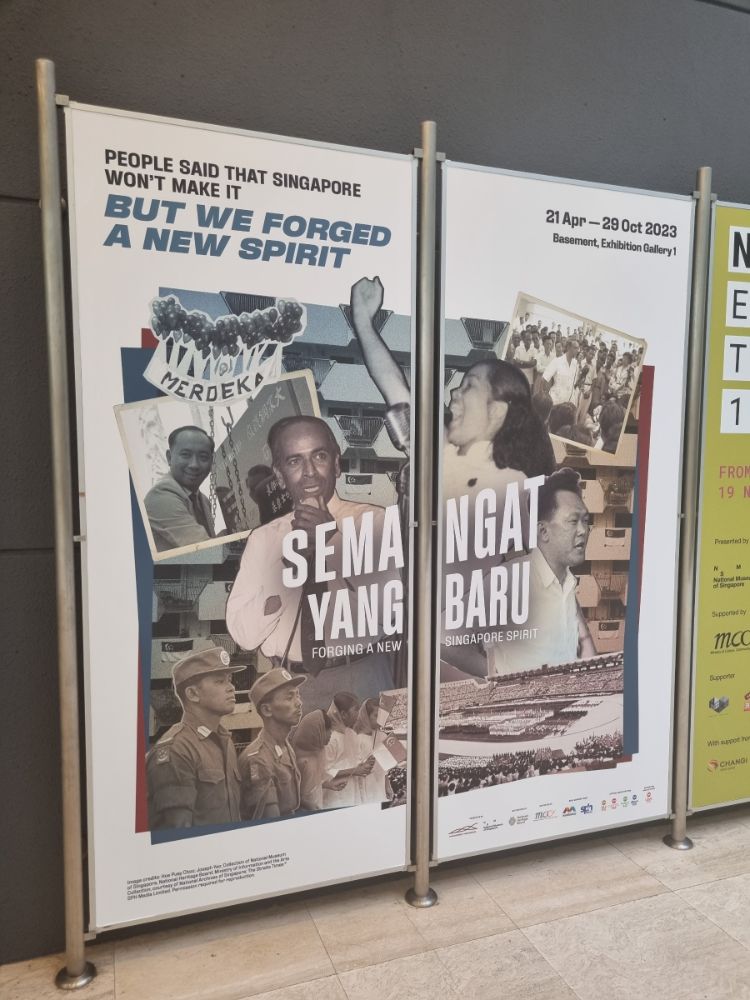 The Semangat Yang Baru ("a new spirit" in Malay) exhibition was curated from over 900 stories and artefacts collecting following a public call. This included interviews with academics, community leaders and other stakeholders, young and old.
Feel free to provide honest feedback about the exhibition's storytelling techniques and themes, as the Founders' Memorial plans to incorporate these suggestions into a permanent gallery at the Bay East Garden in 2027.
The guided tour continues with a one-hour, free-and-easy segment. Visitors can visit the post-war Singapore section of the Singapore History Gallery during this time – hit all 16 touchpoints in the trail to redeem a limited-edition keepsake that harks back to the late Lee Kuan Yew's 'red box', a document case which carried everything the statesman was working on.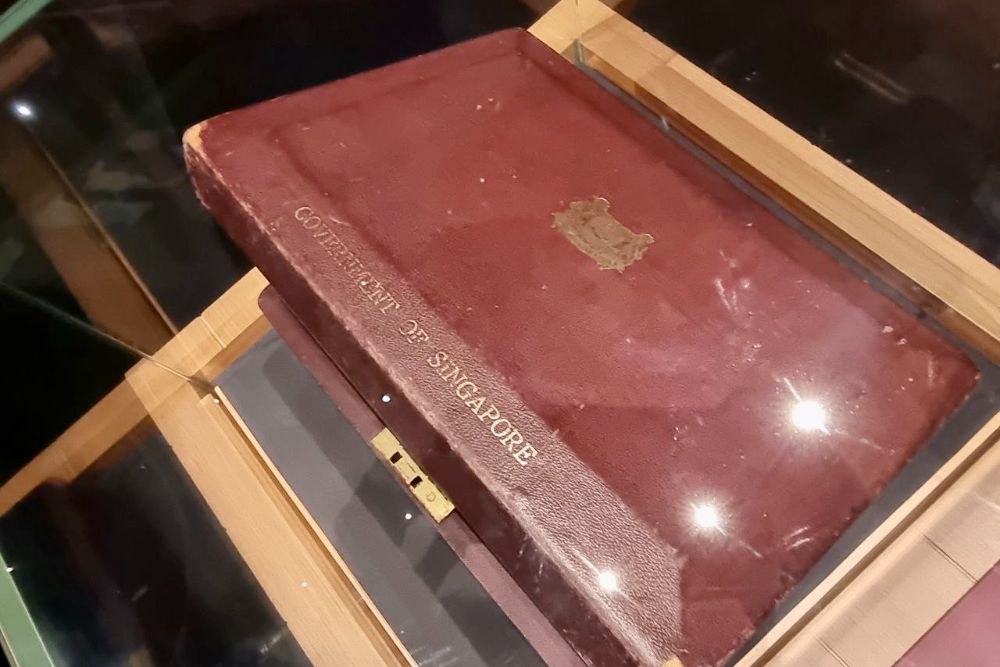 After the end of the tour, the bus drops visitors back at their original heartland MRT station.
Bus tours cost a flat $5 per pax, which comes inclusive of a snack pack and tote bag. There is a maximum capacity of 40 people per tour. These are the dates available:
Sunday, 18 June, 10am – 1pm at Yishun MRT (Exit C)
Sunday, 2 July, 1.30pm – 4.30pm at Tampines MRT (Exit B)
Saturday, 22 July, 1.30pm – 4.30pm at Harbourfront MRT (Exit D)
Sunday, 13 August, 1.30pm – 4.30pm at Dover MRT (Exit A)
Saturday, 19 August, 1.30pm – 4.30pm at Serangoon MRT (Exit A)
Tours are conducted in English by default, but vernacular tours in other languages are available too via group bookings made in advance at
founders_memorial@nhb.gov.sg
(minimum of 35 participants; flat fee of $400 for the whole group). Otherwise, you can make a booking
here
.