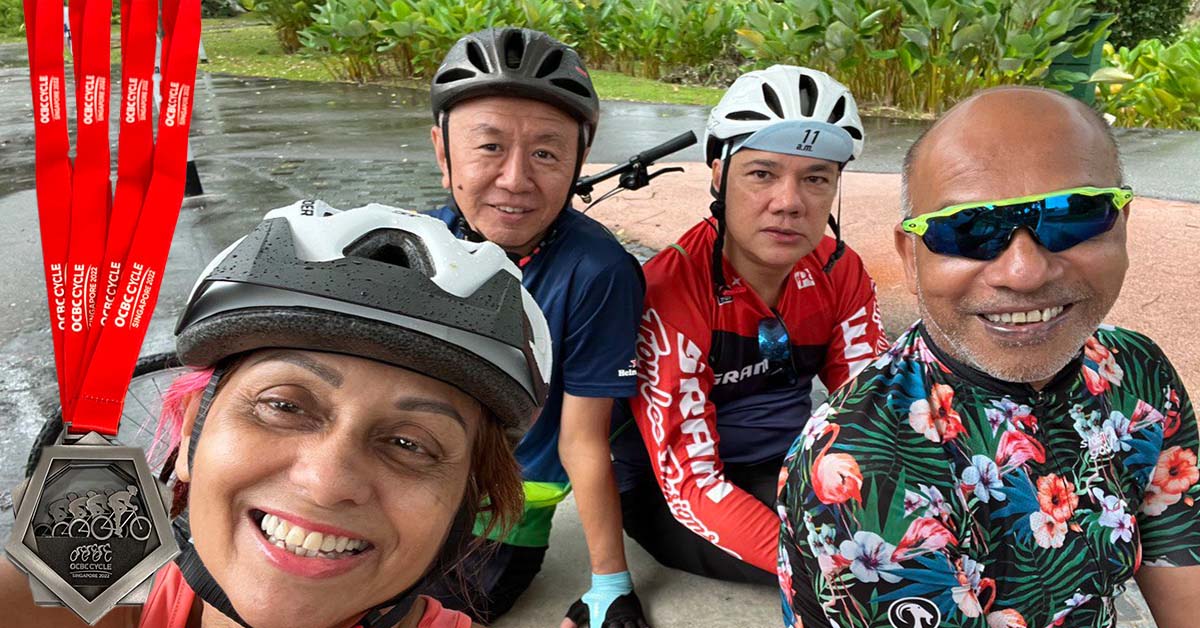 Paul Tay turned 60 this month.
One of the ways he marked entry into the next decade was by cycling with his friends and former teacher in the OCBC Cycle Singapore 2022 Team Challenge Virtual Ride.
As his former teacher who had ridden solo in the 2021 event, I mooted this idea when I heard my ex-students from St Joseph's Institution were turning 60 this year and wanted to mark the occasion in a memorable way.
But it was my ex-students who, in the name of solidarity, who opted for the new, team event, which would allow us to work around our schedules and commitments (work and studies) and chalk up our best four rides each for a cumulative score.
And for the finale, we could ride together under the banner "Sloppy Joes on Route 66"; all in the name of maintaining good health.
I found three who could commit to champion this cause. Initially we had plans for more to join us, especially those who had recovered from a heart attack or stroke and other health scares. They had adopted new lifestyles, modifying their diets and incorporating an exercise regimen. I was very proud of them. But each team could only have four participants.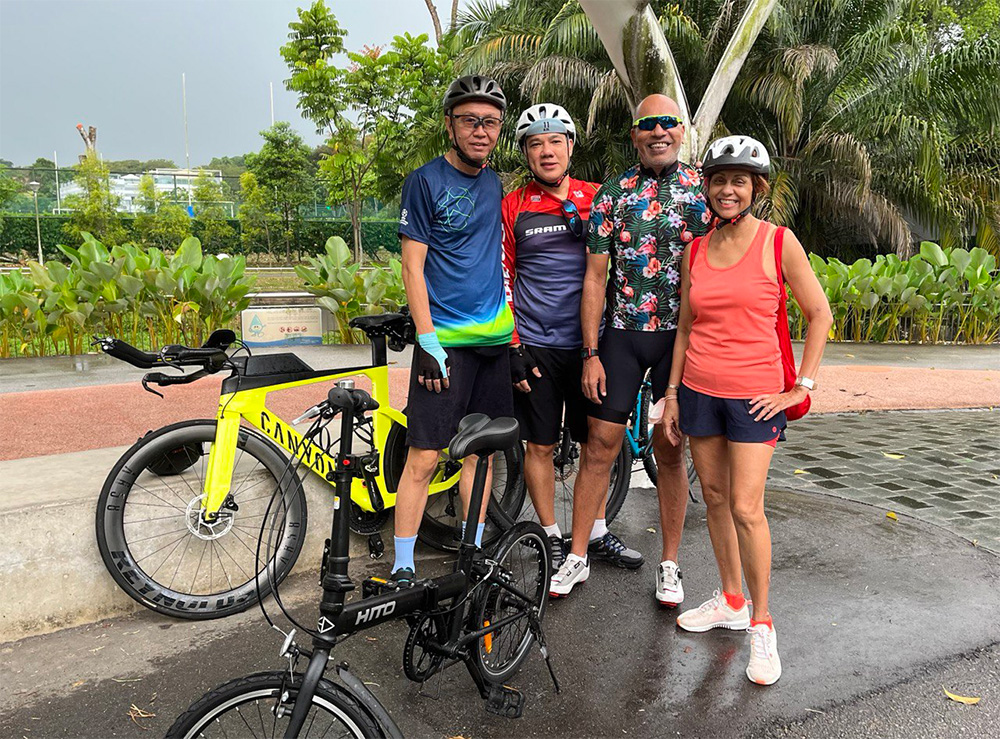 A blast was sent out and we formed our representative team comprising Teacher Valerie with ex-students Carl Skadian, Paul Tay and Lucius Thomasz.
These guys ride twice a week either alone or with different groups. Carl puts in 50km comfortably in the morning before he heads off to work at the Middle East Institute in the National University of Singapore. Paul who retired from the IT industry and Lucius from the oil business, ride regularly each week. The highlight is the "makan" upon completion of their ride. Paul told me they plan their route to end up at their eating spot of the day.
Carl's favourite early morning rides take him in the quiet of the morning along the entire stretch of the East Coast; then on to Bedok, and looping back to the East where he stays. He loves the serenity and personal reflection time. He returns home charged for the day's work.
We use the Cyclemeter or Strava app to record our rides.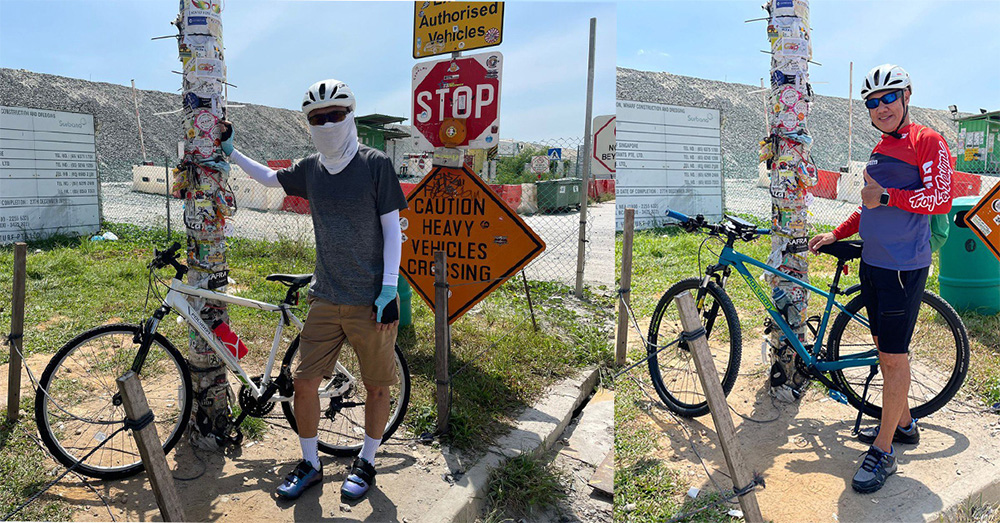 One of Paul's and Lucius's most memorable rides was to "the end of the earth"; in Singapore cyclists' lingo. They cycled from Ang Mo Kio to Lampost 1 in Tuas West Road on one ride, covering more than 60km but alas the phone ran out of battery and the ride was never recorded. Still they count it as a commendable achievement. Cyclists can also start at the Tuas West Coast MRT station for the 10-km ride to Lampost 1.
One of my most enjoyable rides was along the Rail Corridor.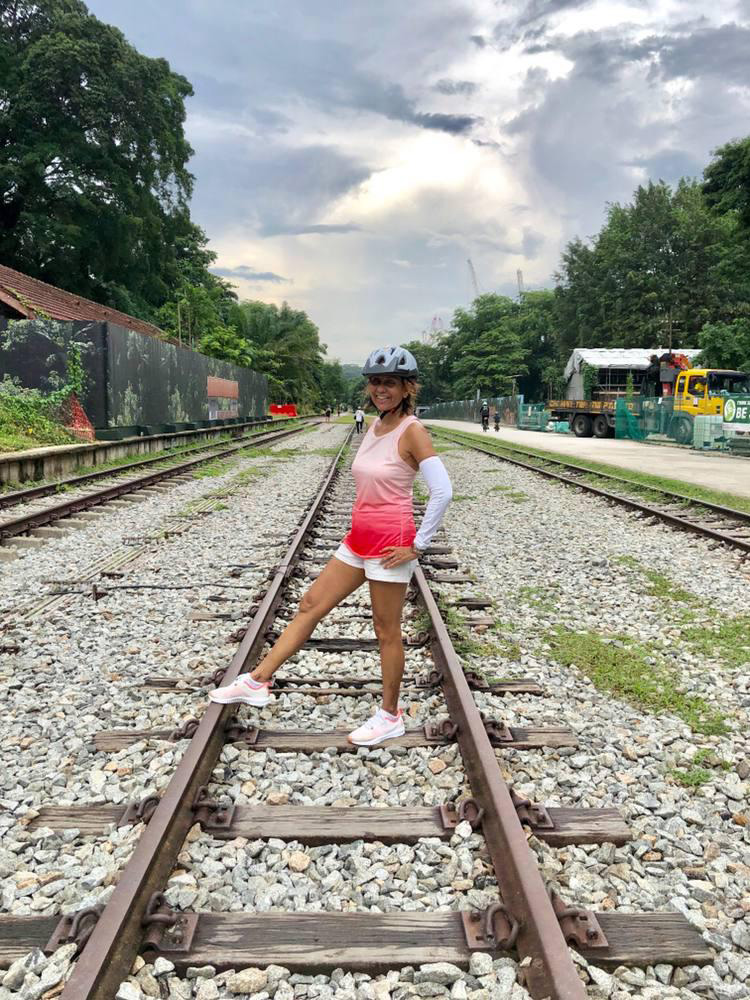 Over two years I watched the old Bukit Timah Railway Station being refurbished while retaining its original features. The former Railway Staff Quarters has been transformed into a café offering local and fusion fare, and also boasts a heritage wing.
For our finale student-teacher ride we met at Bishan Park, only to take shelter from the heavy downpour. When it stopped, we continued on our mission. The ride was a trip down memory lane because we stumbled on interesting bits of architecture.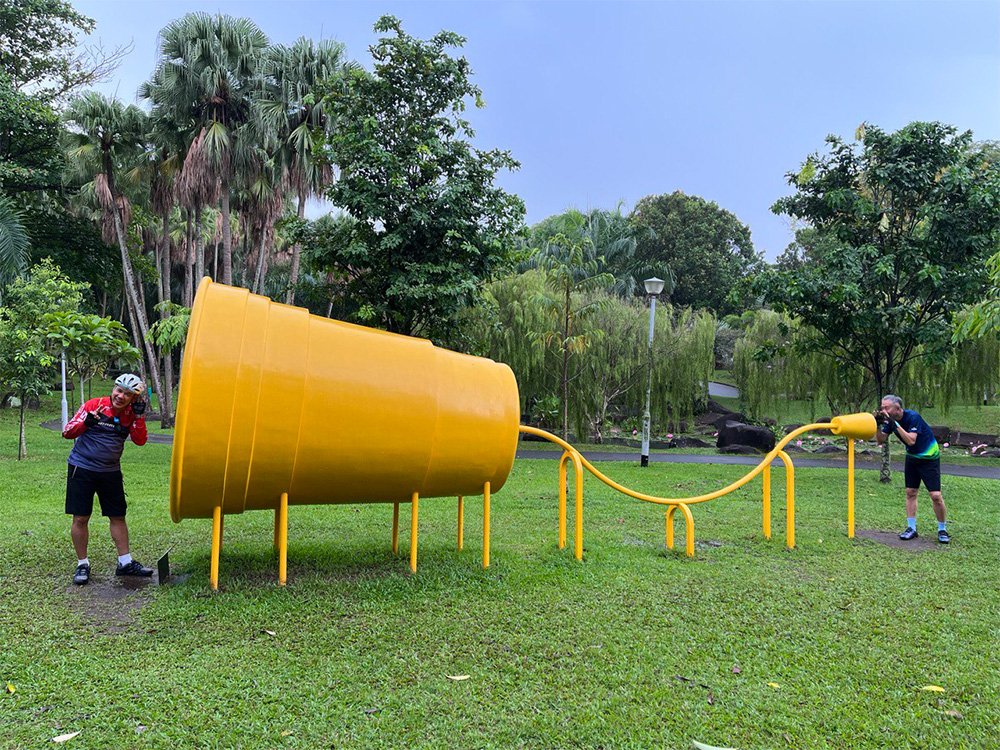 Paul and Lucius became kids again as they abandoned their bikes and ran off to try hearing each other on the long-distance telephone line. Remember how we used paper cups and connected them by thread?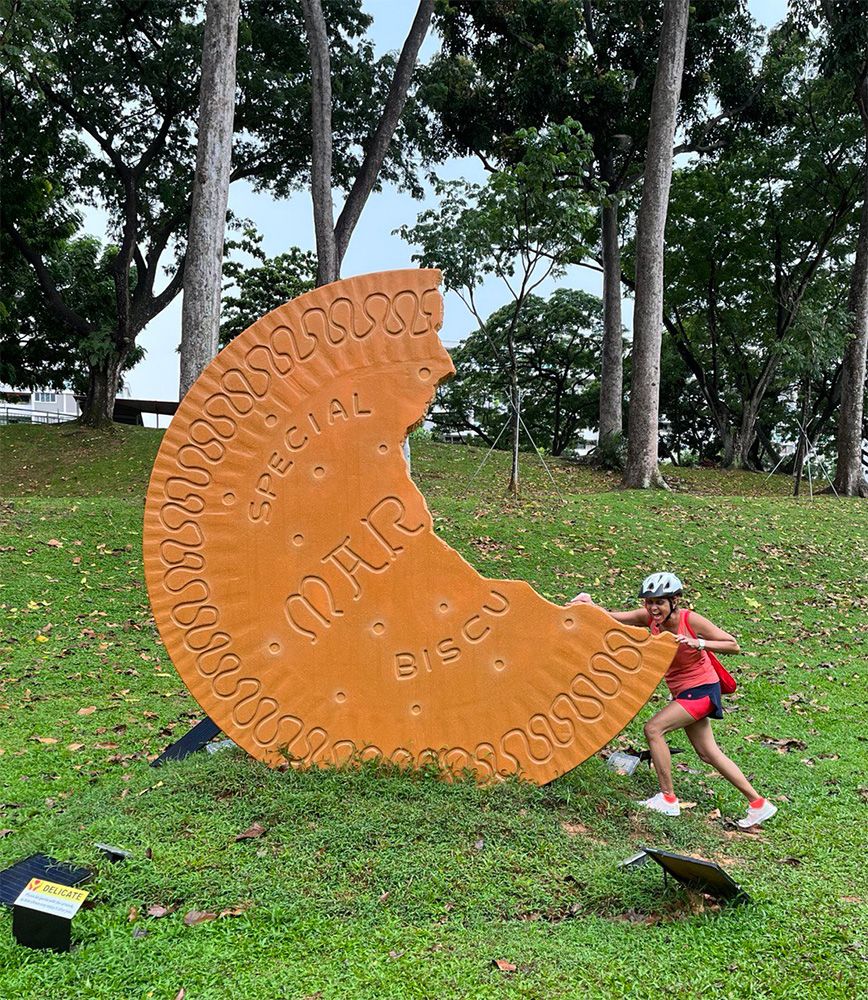 My personal thrill was seeing a giant "Marie" biscuit which reminded me of afternoon tea when we were kids, dipping our biscuits into cups of milo. I ditched my bike for a 'bite'.
Speaking of memorable moments, my first 35-km ride in the OCBC Cycle 2022 Event on 13 May actually gave me a scare because I had leg cramps.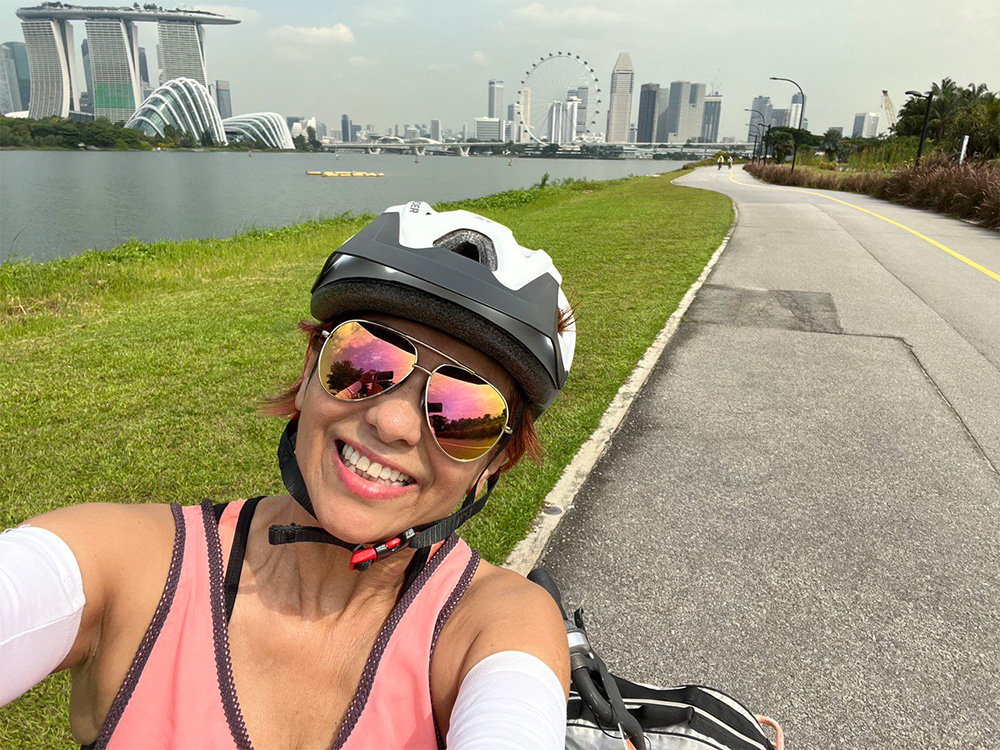 I had started on my favourite route but in the reverse direction. Beginning at the Gardens by the Bay I was fine all the way until I was nearing the Changi Beach Park after the gruelling ride in the midday heat (plus no shade) along that 12-km stretch on Tanah Merah Coast Road which has no loo stop and no water cooler top-up stop. Suddenly my leg muscles started to tighten. Then cramps!
I stopped to stretch but each time I pedalled, the muscles kept tightening. It was pain shooting all the way up my left thigh. I pressed on, alternating between walking and riding the final three km, and finally sat down to a hard-earned cold lime juice with sour plum at Changi Village. It turned out to be Singapore's hottest day; with temperatures reaching 36.7°C.
The East Coast has always been my favourite sea spot and I had started revisiting it during the pandemic; first trekking, and then cycling on the route to get away from the madness.
Changi Beach/Village memories
I chose this route because it meant a lot to me journeying through time. I would start at Changi Village reminiscing my childhood visits to the beach with my family and the picnic and swimming of the whole-day affair.
Then during my junior college years there were the hiking and camping trips to Pulau Tekong and Pulau Ubin. We boarded our bumboats at the village jetty.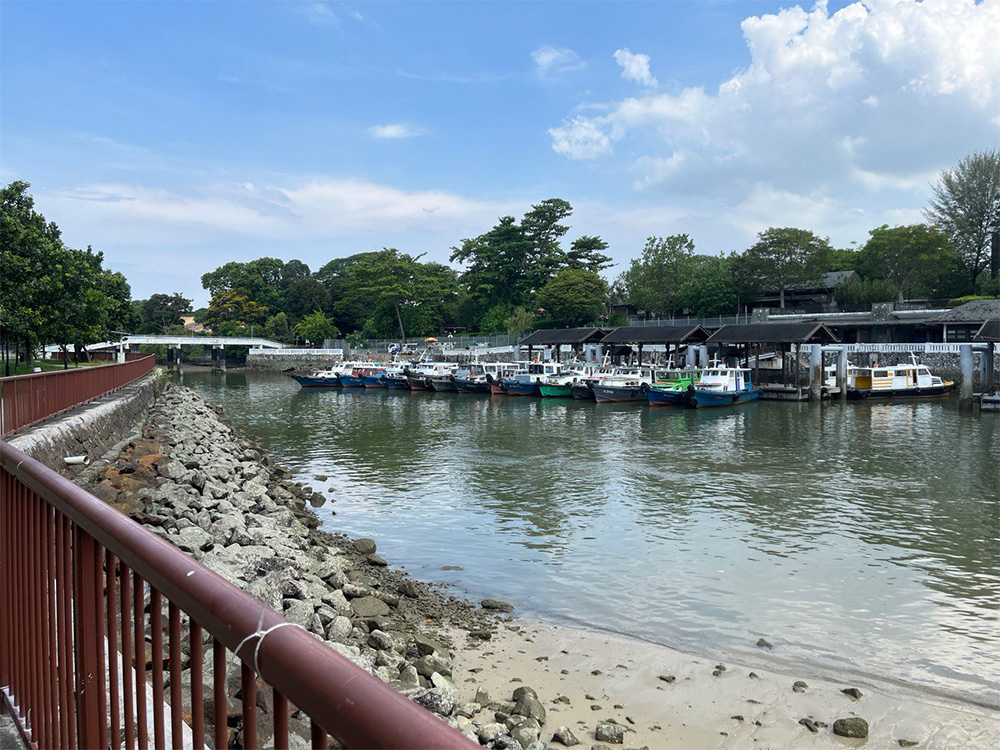 At other times we were also adventurous, canoeing in the open sea at the same area. Later on in life my return to Changi Village was to have lunch with colleagues as I worked for SIA and my office and Group Sports Club was close by at Airline House. Our favourite haunt was the Indonesian Ikobana café, now long gone. Cycling past the SAF Ferry Terminal also brought back memories of when I would drop my son off at the terminal to head back to Pulau Tekong when he was serving his National Service.
The ride after that took me past the beach I love and onto the massive reclaimed land area along Aviation Road and onwards to Tanah Merah with no respite from the sun's heat. I would pass the Changi Exhibition Centre situated in the middle of nowhere but to which 10,000 die-hard concert goers made their way to in 2017 to catch the rock band "Guns and Roses"; me among them. I would also pass the prominent pink and purple facade of migrant lodging housing the workers who help build our infrastructure. Then I knew I was approaching the start of the East Coast Park after the Tanah Merah Ferry intersection. On this last stretch, there is a dedicated cycling lane but one still has to be very careful because of the many cargo trucks plying the roads. Once I reach the beginning of the East Coast stretch, I can use the loo! And top up my water at the water fountain.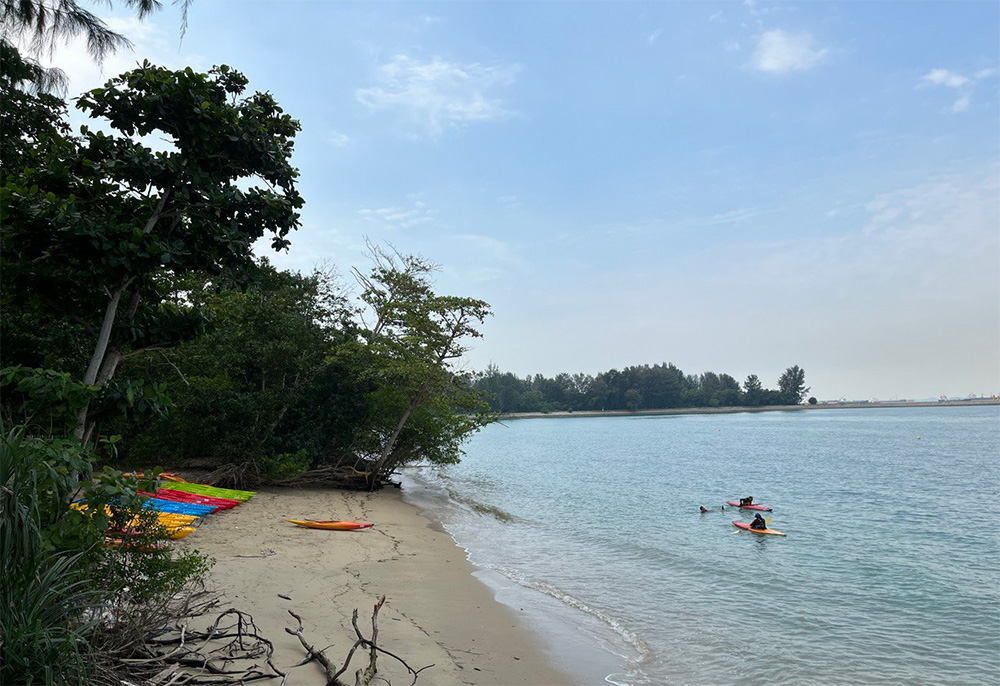 I set off anticipating my favourite stretch — the cul de sac with a little private beach where I would stop to watch the aircraft approaching Changi. When we could not dine out, I'd munch on my snacks here. Today, I see brightly-painted canoes lining the beach. A family has hired two canoes and are having a ball in the water.
The East Coast beach has something for everyone: A Cyclists' Park, Bougainvillea Garden, Eateries like PS Café and Old Town Coffee (after Marine Parade), Bedok Jetty for fishing, camping, kite flying, water boarding.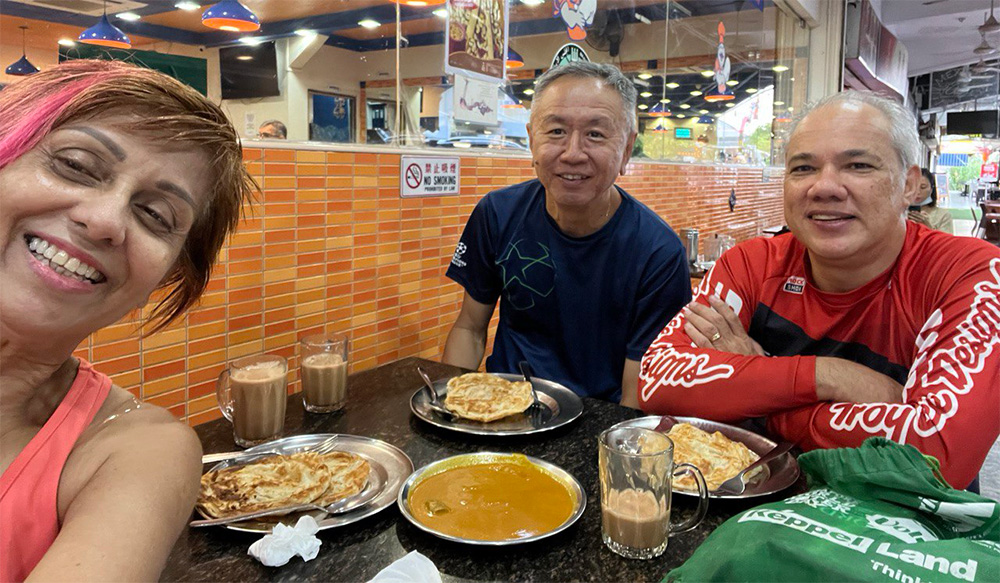 Our finale ride together ended on a high food note — a roti prata breakfast at Casuarina, near the Lower Pierce Reservoir. We had accomplished what we set out to do: Complete our Team Challenge.
We proudly stacked our medals when we received them in the mail. Each one was different but together, they made us whole.