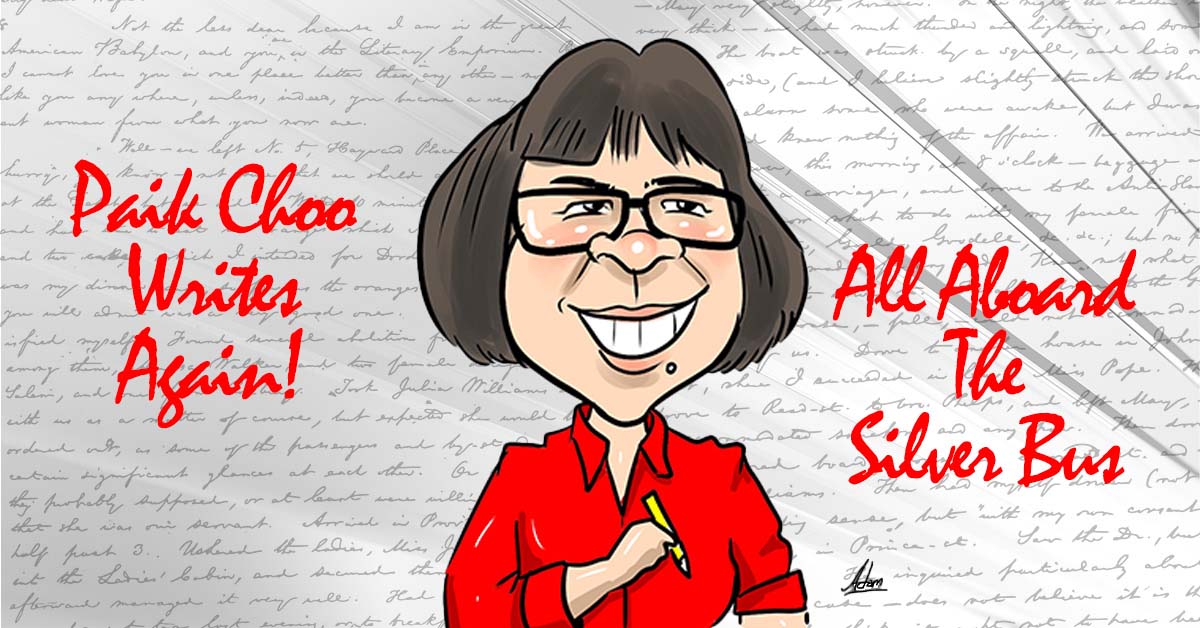 In my early life as a sit-down comic — I was born tired, hence don't do stand-up — I managed tours for a friend's travel agency. He would pack busloads of Singaporeans into a European coach, all hell bent on seeing Rome in 24 hours. Rome wasn't built in a day but by Caesar we were going to conquer it in one!
I'd be in the seat next to the coach driver who invariably spoke no English. My makeshift doodles conveyed times for wake-up call (telephone), breakfast (coffee cup) and so on. The day the Italian driver mistook my sketch of bed (hotel rooms) I knew it was time to hang up the old Samsonite.
Added to that, the passengers would ask, "Sylvia, why do you keep saying 'orgy' to the driver?"
"Oggi" is Italian for "today."
Couple of times a year there would be "group group" tours. These would be made up of similarly occupied folk — all teachers, all nurses — who always start out by thinking wouldn't it be just grand for us all to travel together since we share so much in common.
Accountants, butchers, CEOs, zookeepers (this last cancelled as we have but two zookeepers in Singapore, I believe).
Because we suffer from pre-conceived notions, most of us at least, we'd imagine and expect all teachers to give us extra homework, with their incessant questions. Why the merchant of Venice and not any other city?
At least with all nurses, there'd be no shortage of plaster and Panadol and po chai yin!
As for all insurance brokers, oh my God will they try to sell us a policy?!
This is one of the contributing reasons I'm not into like-minded groupings. Especially after I discovered the Friends of Wagner I'd signed on for turned out NOT to be for the heartthrob actor Robert Wagner, but for the German composer Richard Wagner. I flew out of there like a Valkyrie.
Famous last words. For here I finally am, in a community, a group of silver streakers no less, I now belong to a club, of sorts. Rather, allsorts.
And there's the key — all sorts. Rojak. Held together by our saucy pro-age stance.
When you hear the term Silver Streak, what do you visualise?
Behind Gold and ahead of Bronze in the race, any race.
White-haired nudes chasing about in fields of lalang. (Millennials, "lalang" is like grass on steroids, long blades of grass with cutting edge.) Your friendly neighbourhood uncle and aunty fighting ageing. With a platinum peroxide from the kampung Kim Novak Hairdressing Saloon.
Given our size, our circle of friends in Singapore develops from school and university, in the workplace, at social gatherings. It is hard to make new friends, much less those of a mixed age.
You then begin to get the wisdom of joining like-minded assemblies. (Actually I've caught up with many an old acquaintance in SilverStreak.) And even within, there's the "clan culture". For example, in the CC (Community Club), the people who enrolled in tai chi class earlier tend to stick with each other, and those who registered later, the newbies, have to fend for themselves.
In our little estate, we have a KKK. Nothing as romantic as wearing bedsheets and playing with fire. Simply a bunch of Kampung Kopi Kakis. It's all about having someone to drink coffee with.
"Alamak, this is my TV remote I've brought! I thought it was my spectacle case!"
We are not known as That '70s Show for nought.
I am greatly looking forward to SilverStreak — I used to be a SilverSurfer but have since caught up to speed — with the hope of making like-minded friends who'll buy into my revolutionary proposal.
A group of four. One for mobility, one for memory, one for physicality, one for barking out orders. This way, A will drive, B will remember, C will carry — my groceries, natch.
I love this group already.