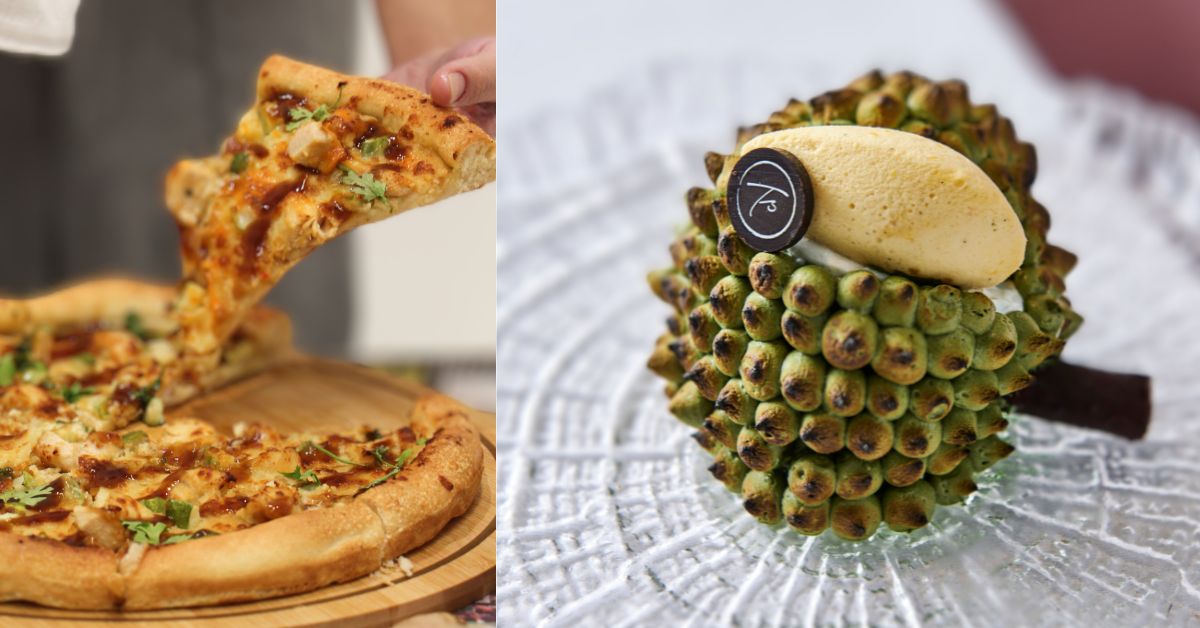 Commemorating Singapore's day of independence on 9 August can take many forms. There are families who love to get in on the action, balloting for tickets or booking seats at
sky-high restaurants
boasting a great view of the festivities.
Others prefer to celebrate National Day at home, catching the annual parade on TV while munching on a
potluck feast
.
Whether you're the host or an attendee, check out SilverStreak's list of Singapore-themed food for National Day 2023 – there's everything from light local-accented bites and pastries to heartier, more adventurous fare for locavores who don't mind trying something as unusual as chicken rice pizza.
1. Ondeh ondeh, salted egg crab and satay-laden pastries from The Lims' Kitchen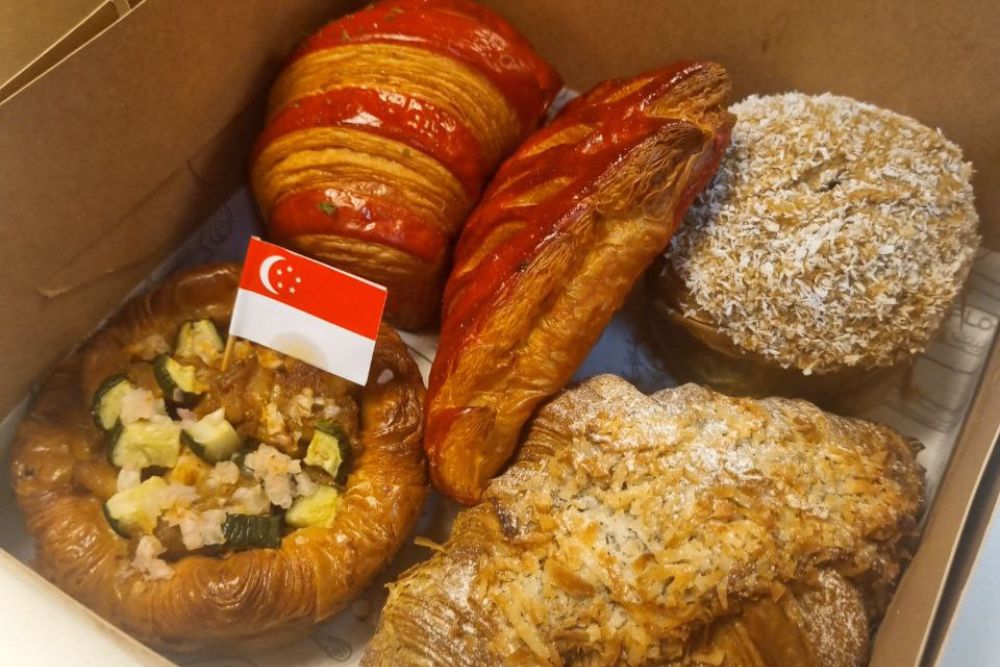 The Lims' Kitchen started out as a home-based bakery operated by actress Rebecca Lim's brother Daniel (with help from the rest of the family, including his celeb sister), but has since uprooted into a commercial kitchen.
On offer for this year's National Day festivities – the Little Red Dot Pastry Box, a five-bake sampler of Singapore's multicultural cookbook.
The Satay Danish, featuring chicken satay, ketupat, diced cucumbers and onions in peanuty, spicy satay sauce on a flaky pastry base, is a highlight; so too the ondeh ondeh-inspired Gula Melaka Puff, comprising a pandan-tinted croissant base covered in dried coconut cradling an indulgently oozy gula melaka custard.
2. Hainanese chicken rice pizza and milo churros from Canadian Pizza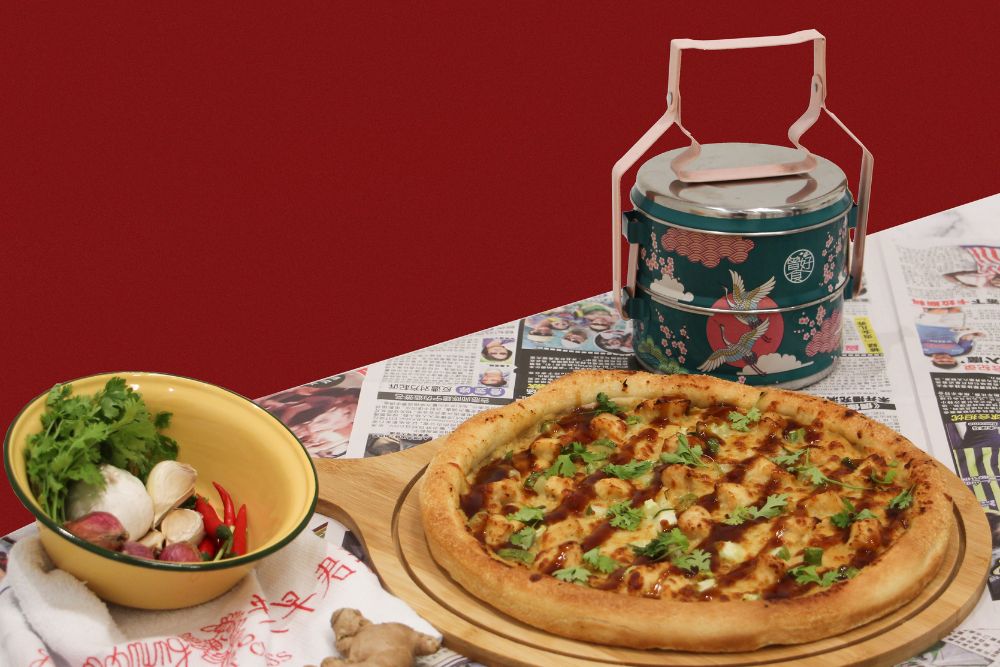 Behold, Canadian Pizza's gutsy reimagination of Singapore's most famous hawker dish: Hainanese chicken rice, now given a pizza-style makeover for National Day 2023.
The fusion pie features marinated chicken chunks, cucumber bits and thankfully, no rice, drizzled with sweet dark soy sauce and served with a spicy garlic chilli dip (from $30.70 for two pizzas).
Pair this with other local-styled dishes like deep-fried popiah skin stuffed with otah otah ($8.90 for six pcs) and the classic Milo Dinosaur (chocolatey Milo topped off with more Milo powder and extra rainbow sprinkles to mark the occasion; $4.20).
The Hainanese chicken rice pizza and other National Day dishes from Canadian pizza are available for dine-in, takeaway and delivery at all outlets, their website, and the app until 30 September.
3. Elevated epok epok and roti john from Rempapa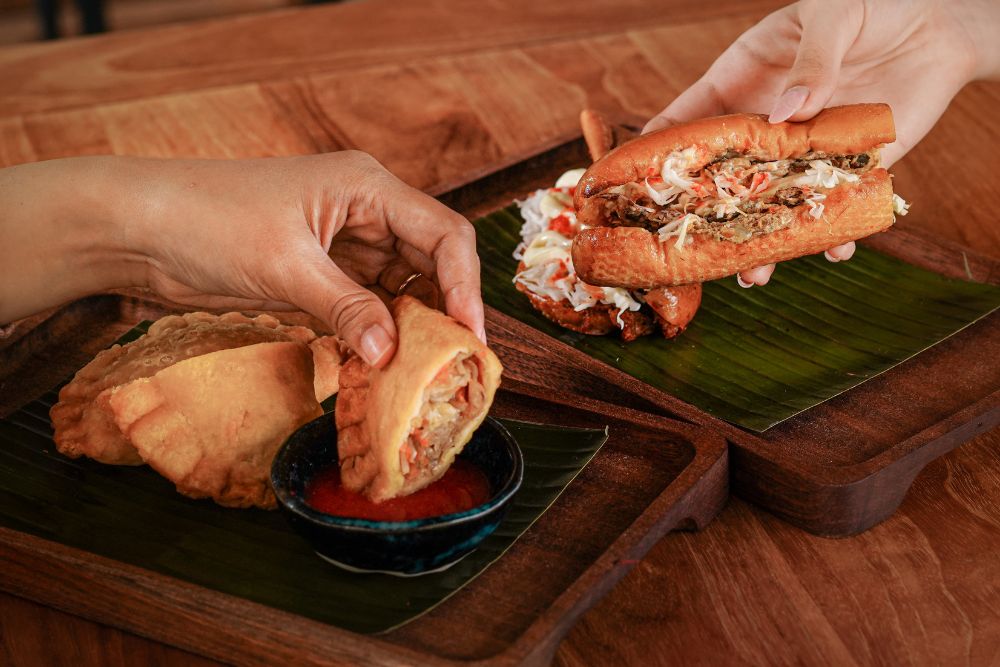 Celebrity chef Damian D'Silva celebrates two multi-ethnic national foodie faves on Singapore's birthday at Rempapa: Epok epok sayur (vegetable curry puffs; $8 for three pcs), a deep-fried homage to an increasingly rare vegetable-focused variant of epok epok, comprising cabbage, beansprouts, carrots and jicama in a housemade shortcrust pastry shell; and roti john ($10) featuring masala chicken, onions, peas, sliced cucumbers and shredded lettuce on low-carb buns supplied by Singaporean food tech company Upgrain.
Both are available at Rempapa from 7 to 13 August.
4. Delicate chilli crab parcels from Paradise Teochew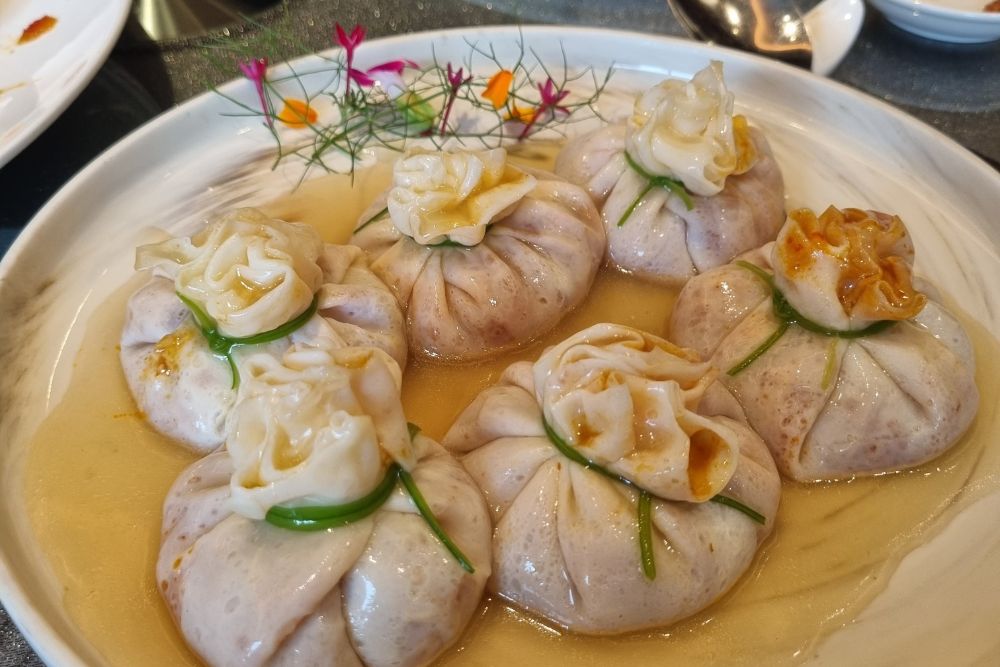 Homegrown restaurant chain Paradise Group pays back to Singapore with a curated National Day 2023 menu at their various outlets.
Head to Paradise Teochew at Scotts Square or Ngee Ann City for chilli crab – a signature dish for the brand and local culinary icon – shelled and folded into elegant parcels with delicate egg white crepes ($36.80).
Also worth trying is a riff on the comforting Cantonese classic, braised pig's trotter with vinegar. Fatty Irish duck replaces the collagen-rich feet here for an elevated – but no less delicious – claypot braise ($32), especially with a bowl of white rice.
Paradise Group's National Day dishes are available until 31 August.
5. 'Durian' Baked Alaska at Tablescape Restaurant & Bar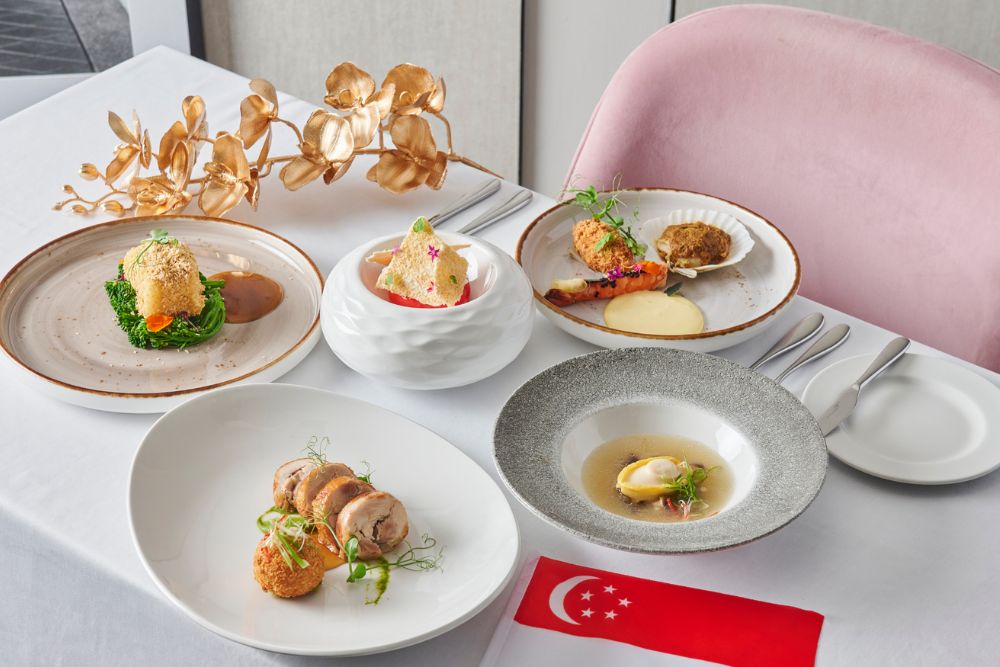 Mod European joint Tablescape Restaurant & Bar flies the Singaporean flag high with a National Day set menu ($88 per person, discounted to $58 from 9 to 13 August) underpinned by local-accented grub.
It is also worth shelling out for the adorable Durian Fantasy ($28), a life-like reimagination of the classic Baked Alaska as the King of Fruits by way of carefully sculpted durian ice cream, vanilla sponge and a spiky torched meringue.
These National Day treats are available until 13 August.