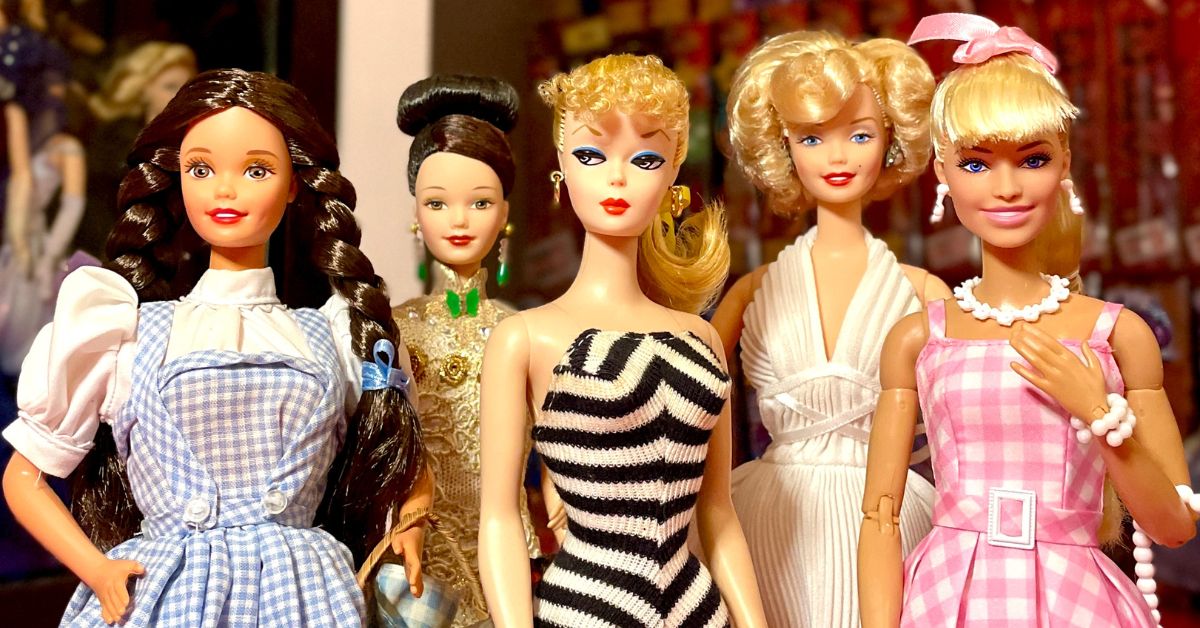 The Barbie hype has started with the new movie and so many memories come to mind as I reflect on the role this 'perfect woman' played in my life.
There were no big toy stores in Singapore in the '60s
I was a 1960's kid and there was no big toy shop – neither
Hamleys
nor
Toys "R" Us
had set up in Singapore. Our economy was not sophisticated enough.
Times were hard for my parents so my siblings and I played five stones, pick up sticks, hide-and-seek and hopscotch.
We fought when we didn't agree and got punished for it, but this built our social skills as we had to get along if we wanted someone to play with.
Barbie seen as an unhealthy symbol for girls' self esteem
In my adult life, Barbie was the doll that my nieces — then aged 8 and 10years — always asked for.
I had read that 'imagination' and 'make believe' were important aspects of a child's growth, and so it was that for five consecutive Christmases, I gave them a Barbie.
I didn't realise that I was shaping their views that might have affected their self esteem – slim body, blonde hair, blue eyes.
In those days, that was considered the epitome of beauty and there are vestiges of it when I see women colour their hair blonde today. I don't see blondes colouring their hair black.
The furore about how the Barbie dolls were an unhealthy symbol for girls' self esteem and body image came later.
Thankfully, both nieces did not develop aspirations to be ultra skinny. The shocker for my sister and me was when pop singer Karen Carpenter died from anorexia; unheard of, in those days.
Barbie's status as a cultural icon extends to movie and pop stars
In working life, I was part of a firm that managed media relations for Mattel in Singapore.
Mattel
was the company founded by Barbie's creator Ruth Handler in 1959 when Barbie was created.
A new world opened for me when I saw adult collectors in long queues for the latest editions of Barbie.
There were the fashion icon Barbie dolls (from Vera Wang to Calvin Klein), movie star Barbie dolls like Judy Garland in 'The Wizard of Oz' and Marilyn Monroe in 'The Seven Year Itch' and 'Gentlemen Prefer Blondes', as well as Pop Star Barbie dolls like Olivia Newton John and Joan Jett.
It was a wonder to me that people would be interested in collecting toys, especially when an item could not be unboxed for it to fetch a high value.
The premiums of some dolls increased more than others, and the most expensive Barbie doll recorded in the
Guinness World Records
was sold in 2010 for USD302,500 (today's equivalent would be USD420,000 or S$588,000).
At the time, the concept of adults 'collecting' toys was still new.
Today, there are retail and online shops that stock toy collections, and insurance policies to protect them!
In the United States, one of the largest hobby groups in the world
The United Federation of Doll Clubs
has 16,000 members worldwide and are holding their 74
th
annual convention this August.
Being in the business of brands and communication, I marvelled at the speed that Mattel was able to keep up with the times. In the 1980's Mattel introduced Asian dolls, Hispanic and African dolls.
One would think that Asian dolls would be our best sellers here in Singapore, but ask any young girl today and she would still pick the blonde Barbie!
A doll collecting hobby becomes much more
One of the interns at the workplace was a young man, Yang Jian, who was just starting his collection of Barbies in 1997.
He has since amassed over 12,000 dolls and is now one of the world's biggest collectors, as well as an important social media influencer today.
His work with toys took him to many places including being the first Singaporean to be named global head for a marketing agency in New York, where he took care of a single toy property across movies, animation, licensing and toys.
Now, this co-owner of a communications agency makes it his life's work to create advertising and content for clients like McDonald's and Toys "R" Us, informed by his deep immersion and passion for the category.
It has been interesting to see how the lessons taught by Barbie have enabled a new generation of marketeers. Take a look at
Yang Jian's Instagram
.
The Career Barbie range silences skeptics
One day, my god daughter, prompted by her mother, reached out to me for her school project. The subject matter was how Barbie had influenced their generation of 15-year old's.
Looking at eight wide-eyed girls with their future ahead, I thought it best to explain that Barbie was not just a symbol of beauty. I did this by sharing the Career Barbie range with them.
This set of aspirational dolls was produced by Mattel from the mid 60's and included doctors, astronauts, firefighters and teachers.
Perhaps it was what I had preached: that Barbie was a misunderstood icon of unintelligent beauty — that got them a B instead of an A for their project. I felt so bad.
Today in keeping with the times, other career Barbie dolls are Computer Engineer, Palaeontologist, Game Developer and Music Producer.
Barbie adapts very quickly to the new demands of society
As for smart marketing, I learnt that good brands have to keep evolving. Standing still is never an option, in any business.
According to
people.com
, the new Barbie Fashionistas range has 176 dolls with nine body types, 35 skin tones and 94 hairstyles.
New additions are Barbies wearing hijabs, dolls marketed as hearing impaired and more recently disabled dolls in wheelchair, on prosthetic legs and with Down Syndrome.
Today, there's also a range made from
recycled
ocean plastic waste including the doll, her fashion and her packaging.
So with this new Barbie Movie, Mattel has struck gold once again.
Judging by the intense hype, I can only salute the smartness of the Barbie marketing team. The Mattel stock is up 21% on the
NASDAQ
index since the beginning of the year.
The Barbie movie box office has hit a record high after the first weekend, at US$155million (S$217m) despite heavy competition from the movie Oppenheimer which only collected US$80million (S$112m), or just half.
As I look back, I'm amazed that a doll has come so far, in 64 years.
Barbie's perfect form has been an emblem of aspiration, derided for causing 'wrong values' in girls, marketed so that adult collectors fall under her charm for various reasons, and not just monetary gain.
So while I dislike the idea of succumbing to the hype, it's getting increasing hard to ignore the 'noise'. And I love pink.
Today's price for the Ponytail doll is SGD38,000 on Etsy, there's an ad for Happy holidays 1997 Barbie Doll on Ebay asking for US$15,950 or S$22,300.