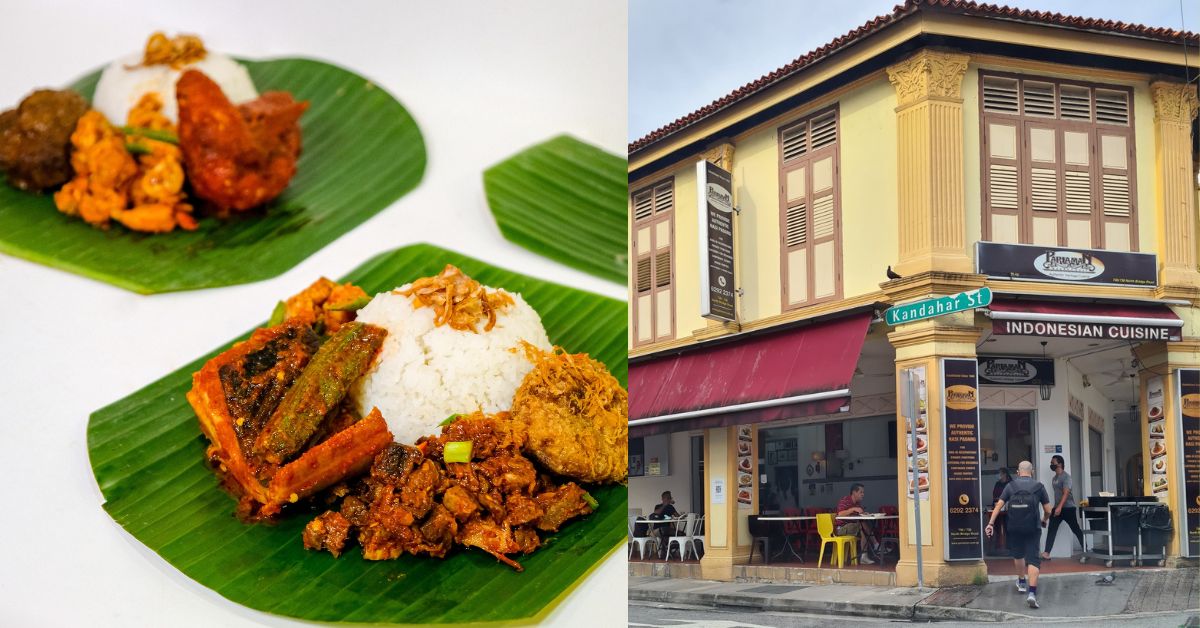 Once an ethnic enclave for the Malay community in the 18th century,
Kampong Gelam
has transformed over the years into a buzzy cultural hotspot, where heritage buildings and longstanding eateries now intermingle with grungy street art, trendy cafes and hipster watering holes.
Check out our handy guide for Kampong Glam's most traditional restaurants and eateries, doling out time-honoured eats that've been refined and perfected over the generations – whether that be a comforting plate of nasi padang stacked high with curried meat and veggies or a frothy glass of teh tarik.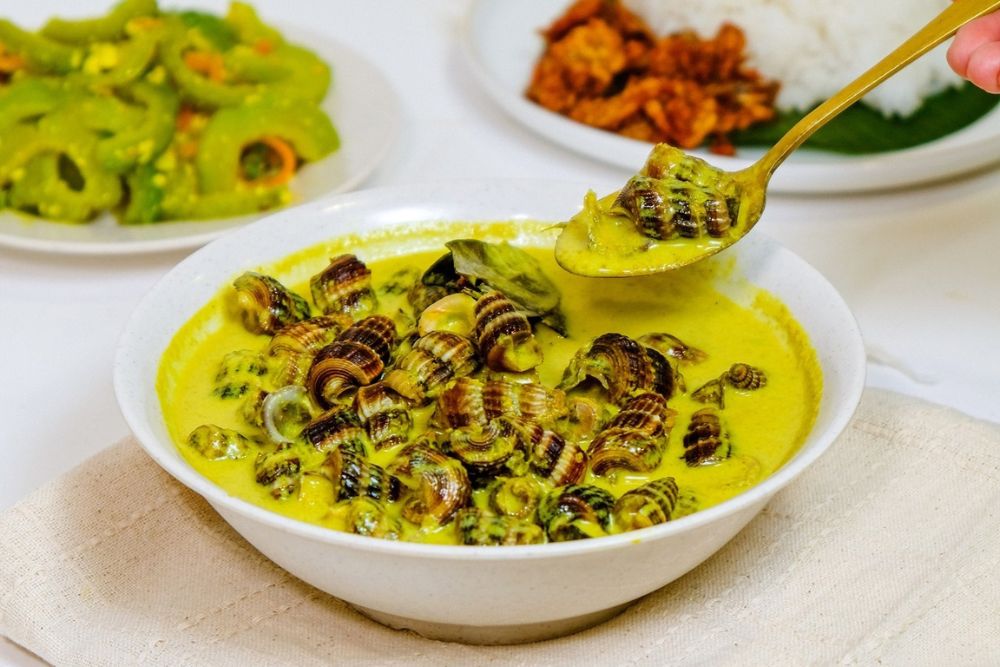 Hjh Maimunah has been a fixture in Jalan Pisang since the 1992. It's expanded from a single shophouse in Kampong Glam into six other outlets around Singapore and a catering division while earning a place on the Michelin Bib Gourmand list to boot.
The restaurant gets its name from the founder's late mother, Hajah Maimunah Abdul Karim, and is now in the hands of its second-generation owners and sisters Mastura Binte Didih Ibrahim, Maria and Maryam.
Popular dishes on the restaurant's 'Kampong-style' array of familiar Malay eats include beef rendang, siput sedut lemak (sea snails in spicy coconut gravy) and sambal goreng pegantin (tender cubed beef lungs and liver stir-fried with rempah and fresh prawns, a heritage dish often served at special events).
2. Zam Zam – open since 1908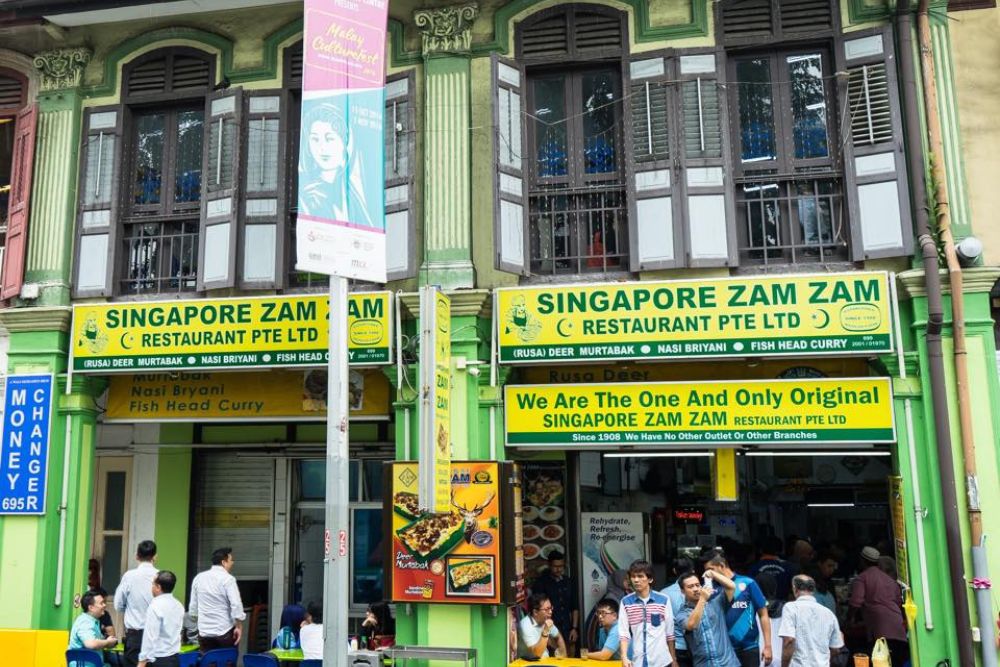 As far as longstanding rivalries go, few are as vicious as the feud between fellow murtabak specialists and neighbouring eateries Zam Zam and Victory Restaurant.
Both have been around since the start of the 19th century – the former was established in 2008, with Victory Restaurant soon following two years after – and both have laid claim to having Kampong Glam's best and most authentic murtabak.
Both establishments have ardent fans for their versions of the giant meat-stuffed prata, so feel free to give both a try if you've got the stomach space for it.
You get to see more of the action by sitting on the first floor – as well as an intoxicating aroma from the array of curries on display – though the second-floor seating is air-conditioned.
The set-up at Victory Restaurant, now in the hands of the original founder's grandson Gazali Edikilakath, is largely similar to its fellow prata eatery, with an option to head upstairs for cooler dining when Singapore's perennially tropical weather takes a sunny turn.
In any case, there's plenty of yummy Indian-Muslim classics to be had at the heritage Kampong Glam stalwart.
Apart from the all-important murtabak – mutton, chicken, beef, tuna and even venison from Friday to Sunday – you can expect dum biryani, nasi goreng, stir-fried noodles, mutton chops, curries and the usual medley of drinks to wash it all down.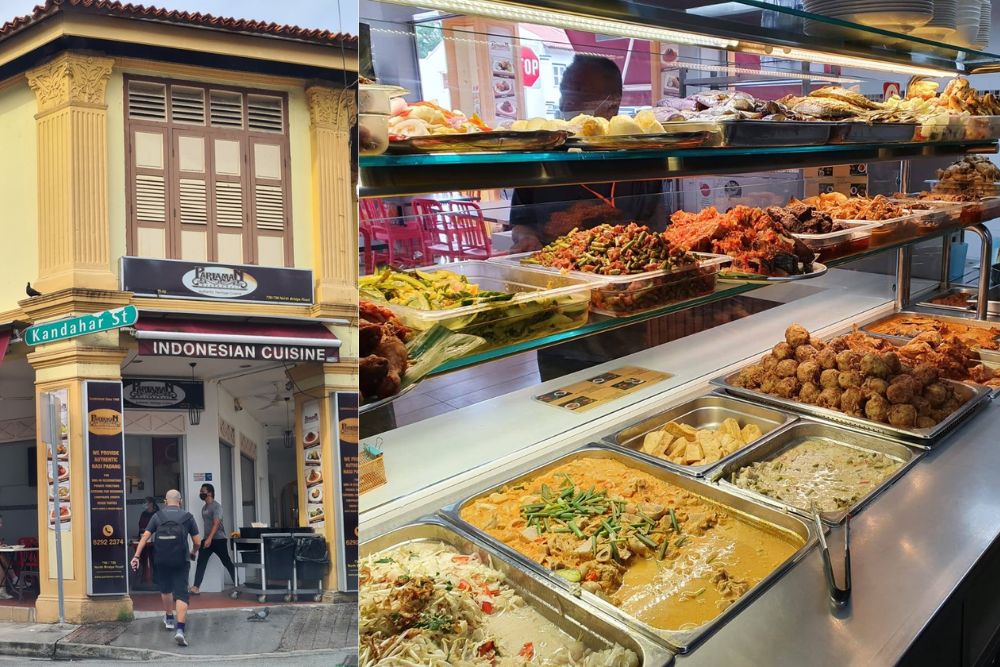 Warong Nasi Pariaman is a family-run nasi padang eatery with a history dating back to 1948. It is believed to be the
oldest surviving stall
in Singapore selling the dish, which has origins from the city of Padang in West Sumatra, Indonesia.
That is where founding husband-and-wife duo Isrin Bin Ibrahim and Rosna Binte Zainal Abidin were from before they migrated to our island to set up a street stall in Kampong Gelam.
Its burgeoning popularity led to an upgrade into a shophouse along North Bridge Road, where it is now run by the founders' children.
Serving authentic Minangkabau food remains the focus, both in terms of sticking to time-worn recipes and ingredients for their popular rendang, as well as cooking techniques, like grilling ayam bakar and cooking other dishes over a roaring charcoal flame.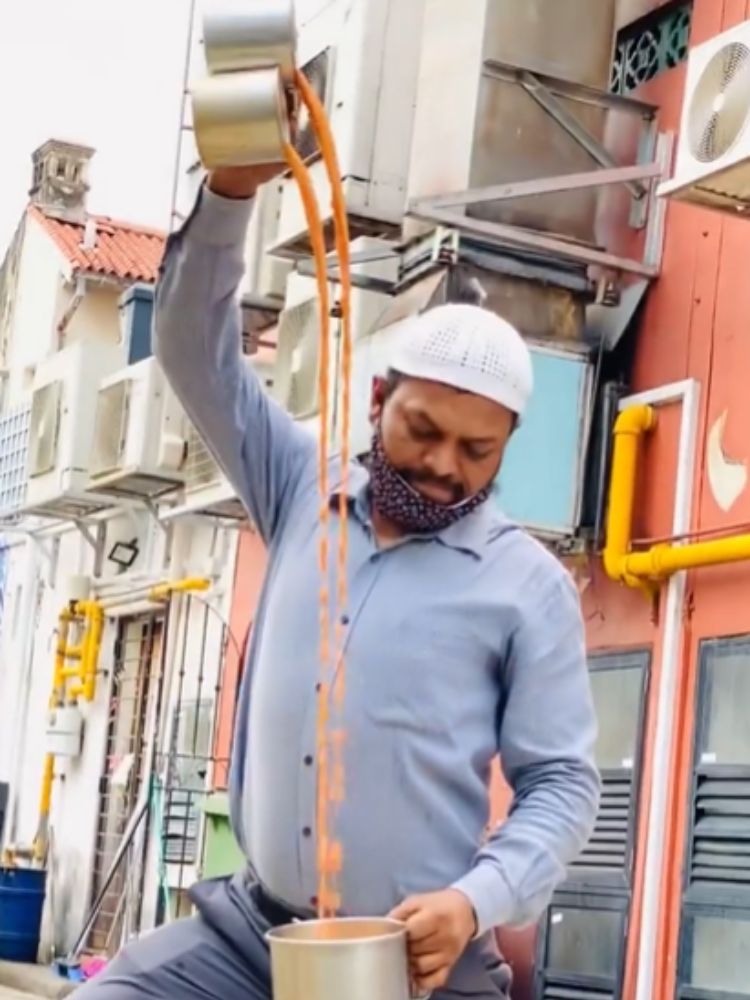 Though a satisfying glass of teh tarik can be found at almost any corner in Kampong Gelam, Bhai Sarbat is the place to go for a frothy cuppa steeped in history.
It had humble beginnings back in the 1950s, where it was operated by founders Kabiruddin and Zamir Ahmad as a travelling, tea-hawking rickshaw. That is, until 1977, when the founders saved up enough to open a shop strategically located on busy Bussorah Street.
The heritage tea stall is now in the hands of Kabiruddin's apprentice, Mohammad Asgar, who has since expanded the stall's offerings from a condensed menu of around a dozen items to over 120 flavours, including the over-the-top Milo Godzilla (the ice cream-topped version of the Milo Dinosaur, which features extra Milo powder over the drink) and milkshakes.
It closed briefly when borders were shut, but has since reopened to jostling crowds as tourist crowds returned post-pandemic.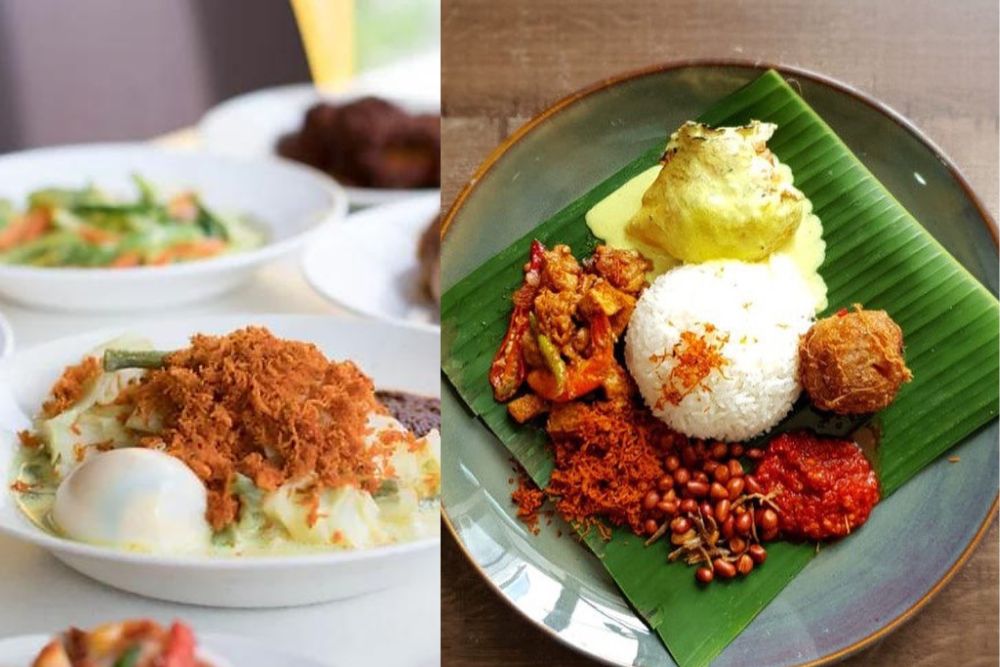 Sabar Menanti is another heritage nasi padang joint with a long history. Before it landed up in the hands of third-generation proprietor Iszahar Tambunan, the name belonged to a restaurant originally founded by Minang-born couple Haji Marlian Athar and Hajjah Rosemah (his grandparents).
Their children, heavily involved in the family business, eventually branched out to open their own spinoff brands. Youngest daughter Zulbaidah opened Rumah Makan Minang in 1954 – the next restaurant in our listing – while Iszahar's mother opened Sabar Menanti II.
The original restaurant (and a Shenton branch) was operated by Iszahar's uncle, who eventually shelved the biz – making Sabar Menanti II the only remaining restaurant bearing the original name.
Like the other traditional nasi padang restaurants on our list, Sabar Menanti II (now named simply Sabar Mentati) offers a dizzing array of Minang-style eats including familiar favourites like beef rendang, ikan bakar (grilled fish) and sup buntut (oxtail soup).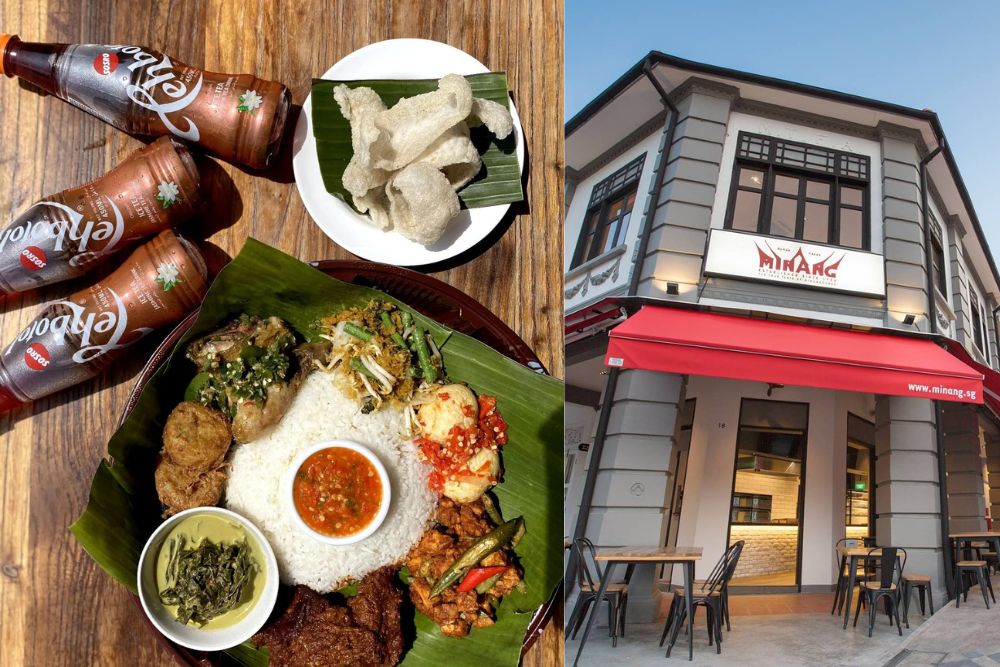 As mentioned earlier, Rumah Makan Minang is another offshoot of the original Sabar Menanti restaurant operating nearby on Kandahar Street.
The nasi padang restaurant is now in the hands of Zulbaidah's son, Hazmi Zin, who continues to raise the flag for classic Minangkabau cuisine both in and out of Kampong Gelam.
Their well-loved rendang, sambal balado and ayam masak merah have even made appearances with Shangri-La Hotel's buffet restaurant, The Line.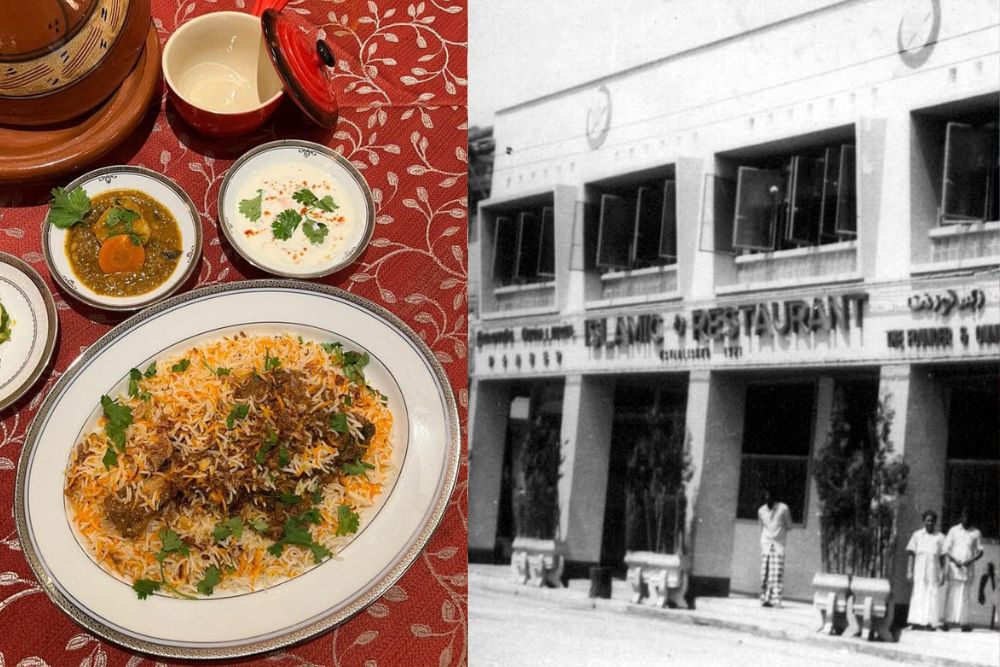 Islamic Restaurant was established in 1921 by Abdul Rahiman, once the master chef of the well-heeled and influential Alsagoff family. Its speciality?
Dum biryani par excellence, using a secret spice mix known only to family members, including its third-generation steward, Kaliloor Rahaman Abdul Wahab, grandson of Abdul.
Luminaries who've dined at Islamic Restaurant at various points in its 102-year history include the late President Yusoff Bin Ishak, Minister Mentor Lee Kuan Yew (and his son and current Prime Minister Lee Hsien Loong) as well as Bruneian royalty.
Complement the heritage Kampong Glam restaurant's signature biryani (available with chicken, mutton, fish, lamb and prawn) with a full complement of nosh from North and South India.