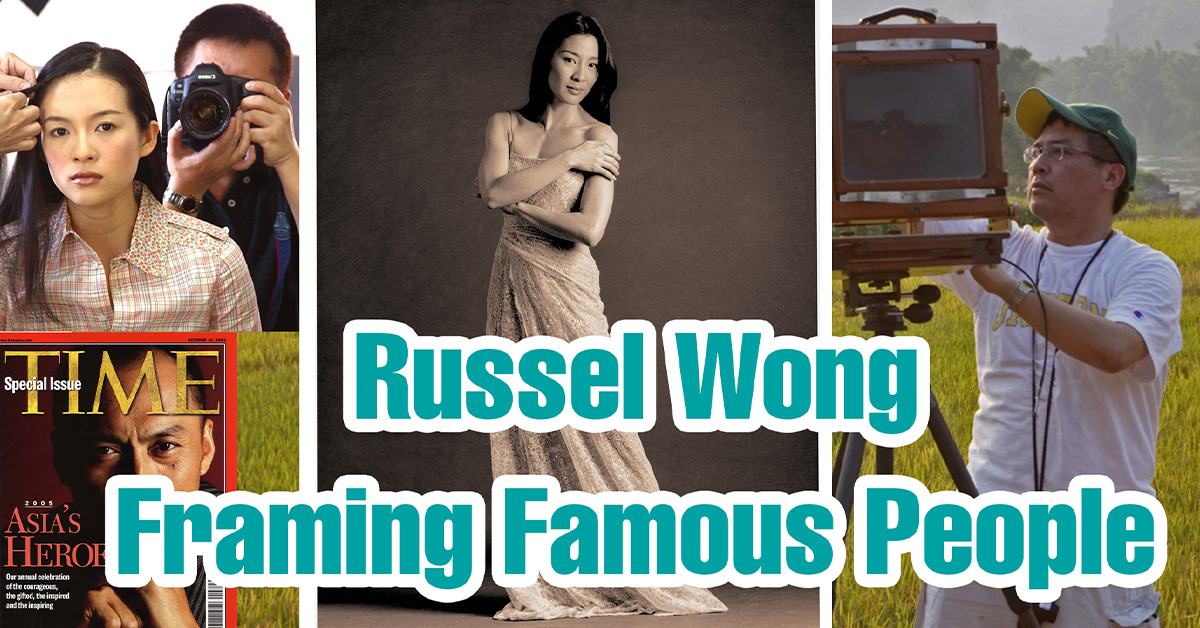 Russel Wong stumbled into photography at a young age and he's stuck with it all the way.
It's the only job he's ever had, and it's thanks to his Father who handed him a camera when he was 16 that kicked off the chain of events.
Russel left for the US to study finance and kept taking pictures. He attended a coaching clinic by Sebastian Coe at a public park in Eugene, Oregon, and snapped off a roll of shots.
Russel didn't think much of that until his friend saw one of his shots and commented that it might be worth something. He hopped on his bicycle and clutching his box of slides went in search of the Nike office, where he left the slides and a message at the reception desk.
Russel's photo of Sebastian Coe wound up on the cover of the January 1982 issue of Track & Field News.
Russel has since gone on to photograph a range of celebrities — Jackie Chan, Andrew Lloyd Webber, Michelle Yeoh, Aiswharya Rai, Herbie Hancock, Rihanna, Chow Yun Fat, among others.
In this Silver Spotlight interview, Russel chats about his early days and what he's up to now as a veteran fashion photographer who is still open to new experiences, as he navigates a changing industry.
After gaining prominence for shooting his first international cover at the age of 18, Russel found himself thrust into a career early in life.
He has no regrets, and has enjoyed creatively framing and photographing celebrities and political figures.
But as the scene keeps changing, with new players and new equipment, how does he stay ahead of the field?
"There's no substitute for craftsmanship," Russel maintains. He's always looking through the viewfinder to see what would make an image leave a long-lasting impression.
Meeting Jackie Chan & Michelle Yeoh
Russel has always wanted to be his own boss.
Fortune favoured him as he got to meet Michelle Yeoh and Jackie Chan at a party in New York.
He was in film school in New York when he met the celebrities. They were happy to meet an Asian photographer in New York.
"It's the party that changed my life," Russel recalls.
As smartphones and technology are having an impact on his industry and his services, Russel decides to look for birds.
Japan is his preferred destination. In Kyoto, he photographs geishas and in Hokkaido he's shooting red-crowned cranes.
Increasingly, the influence of social media is dominating the scene. Russel maintains there's too much rubbish online.
But he reckons people are smart enough to skip the trash.
Pointers For Camera Buffs
There are those who will be happy with their smartphone photographs. But then, there's only so much it can do.
Russel's advice to silvers who want to get into photography: "Get a real camera. Get a DSLR or a simple mirrorless camera and play around with it. It's a tool you'll enjoy."
Retirement has never been on his mind.
"Do you ask a creative person if you're going to retire? They have a different mindset."
There's no expiry date for what they do."
"As I grow older, I do the best I can; manage the best I can. The good thing is my job takes me out a lot, so I stay fit as I have to move around. But, still, you have to listen to your body."
These days he needs more recovery time, so he has breaks between assignments, and naps more.
But what keeps him up at night?
There is something. And it keeps pushing him to be creative and come up with different things.
"I'm going to shoot for the rest of my life!"