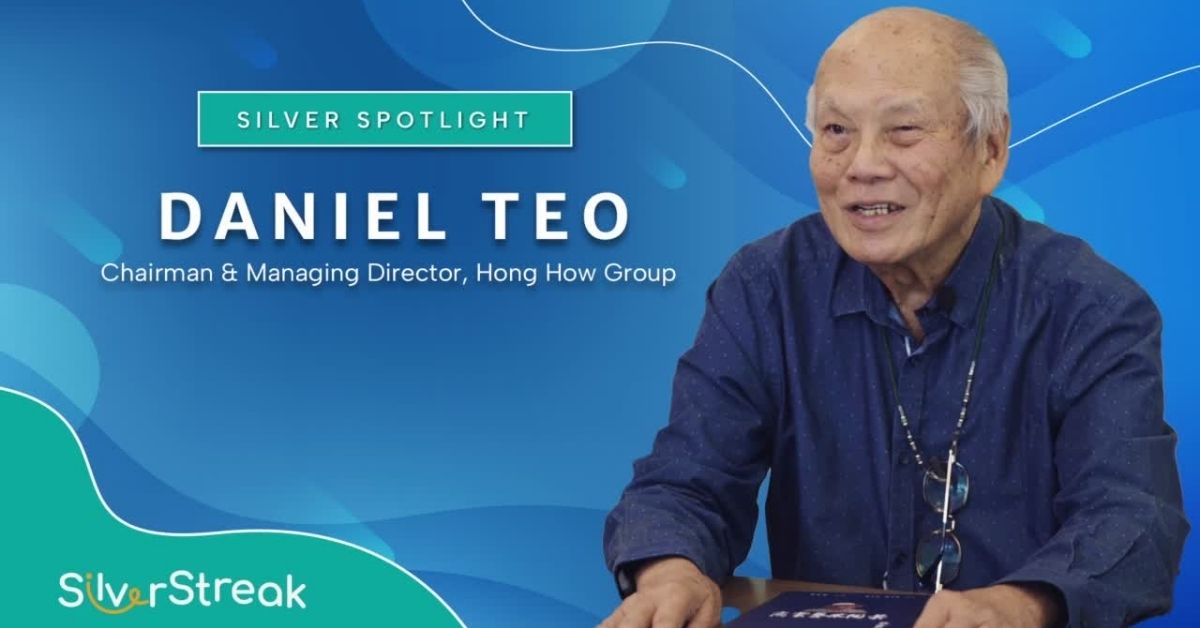 As we walk around Daniel Teo's garden, the freshly-minted octogenarian is still enthusiastic about planning for the future.
The Chairman and Managing Director of Hong How Group says that if he can get a longer lease on his property, he would like to open up his sculpture garden to the public.
He's growing vegetables to be somewhat self-sufficient. He has installed solar panels to be more environmentally friendly. This rented house, which he uses for meetings and casual discussions is filled with art work which harks back to one of his pet causes.
Trained as an architect in Melbourne, Daniel returned to Singapore to work in the family property developing business,
Tong Eng Brothers
.
As he built up his reputation, he also invested personal time in the arts. His wife, ballerina Goh Soo Khim, is a Cultural Medallion recipient and co-founder of the Singapore Dance Theatre.
The two have known each other since primary school and Daniel has been a fervent supporter of his wife's artistic endeavours.
Curious by nature, Daniel is always interested in new things and things of beauty. Along the way, he has developed interests in philately, birds, pop art, technology, stem cells, fish farms, among others.
In this
Silver Spotlight
interview, Daniel talks to SilverStreak about his early years, his varied interests, the growth of the family business and the new ventures the next generation is developing.
Daniel Teo: The Renaissance Man
Architect and property developer Daniel Teo took the business his father started and developed it into a multi-faceted enterprise.
The family business started in scrap metal and moved into property development. He talks about growing up, meeting his wife, ballerina Goh Soo Khim, and the various interests he's developed over the years.
His children are in the process of taking over the business, but he says it's becoming more difficult to find a niche in today's competitive environment.
Daniel Teo: A Day In The Life…
At 80, businessman Daniel Teo still enjoys working. He leads an active lifestyle as well. From business meetings to tech investment, tending his sculpture garden and regularly exercising, he stays sharp and keeps in shape.
He talks about his investments — parrots, stem cells, technology, fish farms — and the start-up environment, which he believes still holds promise.
The company is real-estate based but with the help of the next generation, Daniel hopes it will continue to grow and find its own niche.
He talks about fractional ownership, the current market and comments on the work the HDB has done.
Daniel Teo: Nurturing The Arts
Art lover, Daniel Teo's love of the arts saw the establishment of the Wetterling-Teo Gallery with Swedish gallerist, Bjorn Wetterling.
That inspired him to continue to showcase local artists through The Private Museum. He talks about the gallery scene and Singapore's arts scene.
Daniel reflects on the Nanyang style which has evolved over time into a contemporary style, which reflects the Singapore mix of cultures, religions and races.
While the arts scene in Singapore has advanced over the years, there's still some distance to go, when it comes to comparing it with Hong Kong scene.
Daniel Teo: Spaces For Living And Playing
Daniel Teo's interests range from arts to technology and building new lifestyle concepts.
The former President of REDAS, the real estate developers association, has been working with the authorities to develop new initiatives for property development. He wants to develop retirement homes, but is hoping for longer lease terms to make the venture viable.
Daniel's company bid $42 million for a retirement/residential site in Singapore, after extending the lease from 30 years to 60 years. But he lost out.
He looks towards importing talent to enhance the creativity levels here, and he lauds JTC and A*STAR for the incubators they've set up. He's set up a family investing vehicle and would like to set up a foundation that would address issues of the aging population.
Daniel Teo: A Garden Of Delights
You could spend a lot of time in the garden of architect, real estate developer and art lover, Daniel Teo, which features sculptures, lush vegetation and a vegetable patch.
The eclectic mix of art includes works by a variety of artists. Daniel buys what appeals to him, or if the pieces connect with him.
And a vegetable patch helps to put greens on the table.
He wants to curate a sculpture garden that he would like to open up to the public. But in order to do that, he is hoping for a longer lease for the property rented from the Singapore Land Authority.