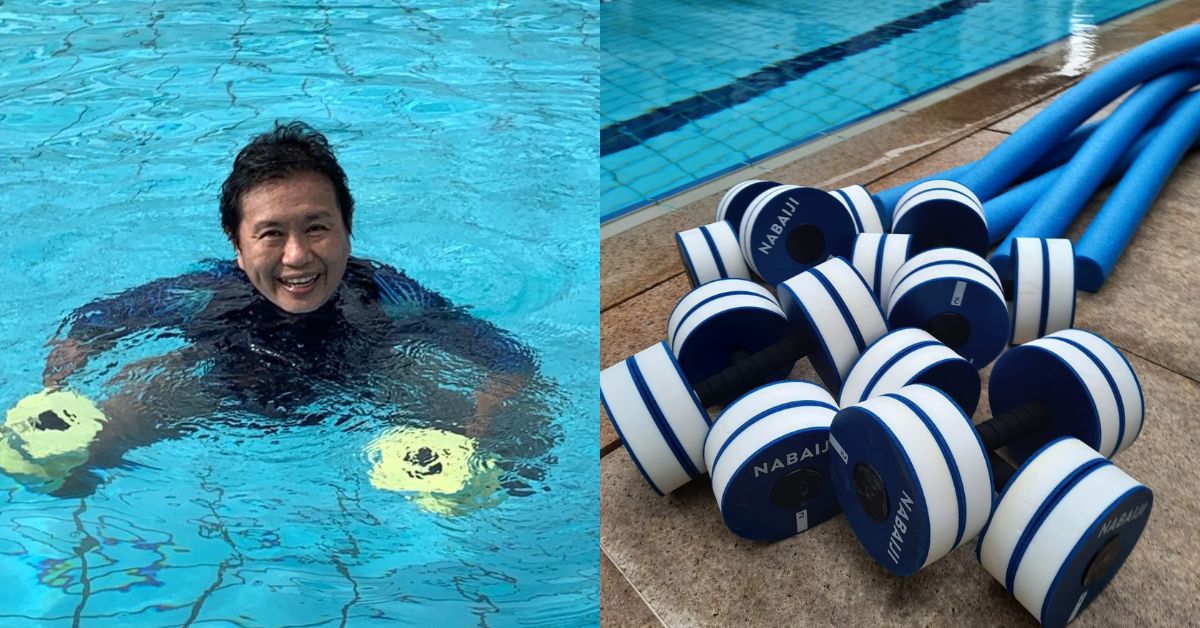 From a communications professional to an aqua fitness instructor.
What a change, you may ask.
Several years ago, I was diagnosed with breast cancer.
During a rehabilitation session, the therapist spoke about the benefits of water exercises for cancer survivors. Water pressure improves blood circulation. It also helps with lymphatic drainage and reduces swelling.
This clicked, as I love water sports and am a qualified aqua fitness instructor. So, into the pool, I went.
Recovery process, post cancer
Unable to jog or run due to weak leg muscles, aqua aerobics was a life-saver for me during my recovery process.
Several lymph nodes were removed during my surgery, thus I experienced stiff shoulders.
My range of arm movement was also restricted. Exercising in water loosened those stubborn knots and improved my flexibility.
I recently introduced this sport to some fellow breast cancer survivors and they testify to it too.
As a swimmer and scuba diver, my favourite activity is the deep water aqua fit class.
Wearing a flotation belt allows me to move freely.
As this workout has zero weight-bearing impact on my joints, I can jog or run in the water to build up my stamina and strengthen my weaker right leg.
Recently, the New York Times ran an article on the merits of aquatic workout as an alternative to land exercise.
The buoyancy lifts the pressure off your joints, muscles and bones.
Water properties create drag and resistance thus your muscles have to work "harder".
This is excellent for anyone, not just seniors, who have joint pain and can't do land exercises. My 86-year-old dad, who has osteoarthritis, claims that his legs feel 'lighter' after each workout.
Water has a therapeutic effect on the body and mind too.
As the saying goes, you are only one swim away from a good mood.
Indeed, no one leaves a pool workout feeling grouchy or moody. Hungry, maybe.
If you would like a low-impact sport, why don't you give this a try?
Simple exercises, suitable for non-swimmers
Walking in the pool offers a good workout. This low-impact exercise is gentle on your knees too.
Move from one end of the pool to the other slowly. Swing your hands naturally. You can intensify this workout with a fast walk.
Shoulders back, stomach in and let's do an aqua march.
Lift up your knees, one at a time and let's march on the spot. Face the wall of the pool and hold onto the edge, if you need to balance.
Have fun by moving sideways to the left and to the right. This exercise relieves your tight bum muscles (glutes).
To up your cardio fitness, try jogging in the pool.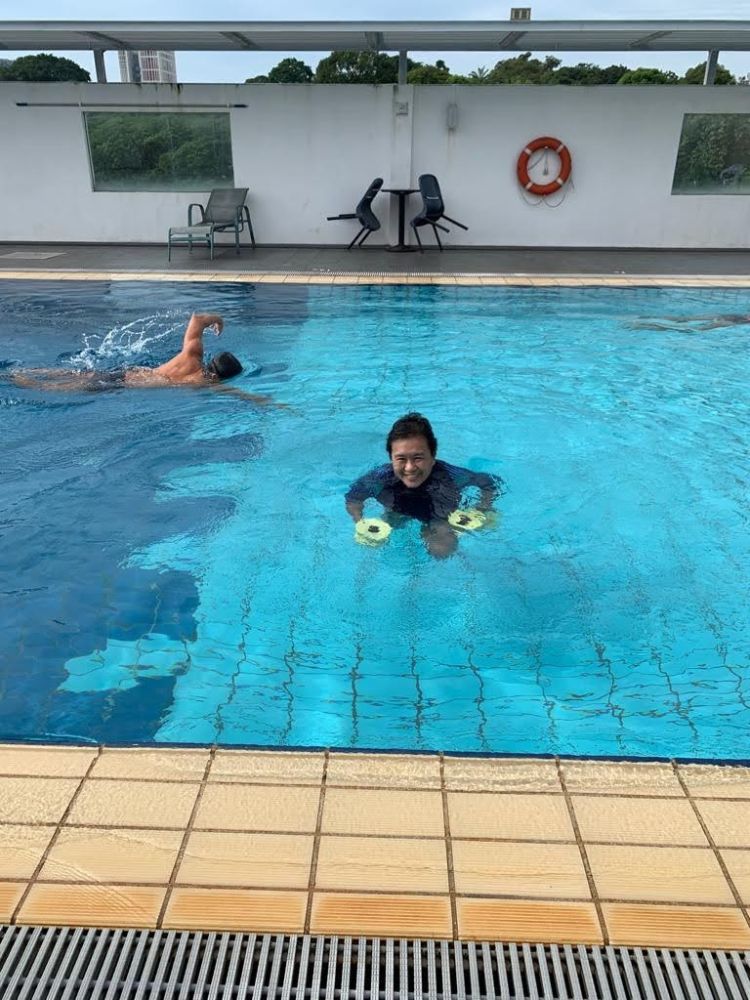 Start with a light jog to get used to the water resistance. Slowly progress to a faster jog or run. Do invest in a pair of aqua shoes (available from Decathlon) for a better grip.
Alternate this exercise by jogging forward, backwards, side to side.
NB: Remember to do some light stretches before and after each exercise.
Add some music while you exercise. Create a playlist on Spotify or simply tune in to your favourite radio channel.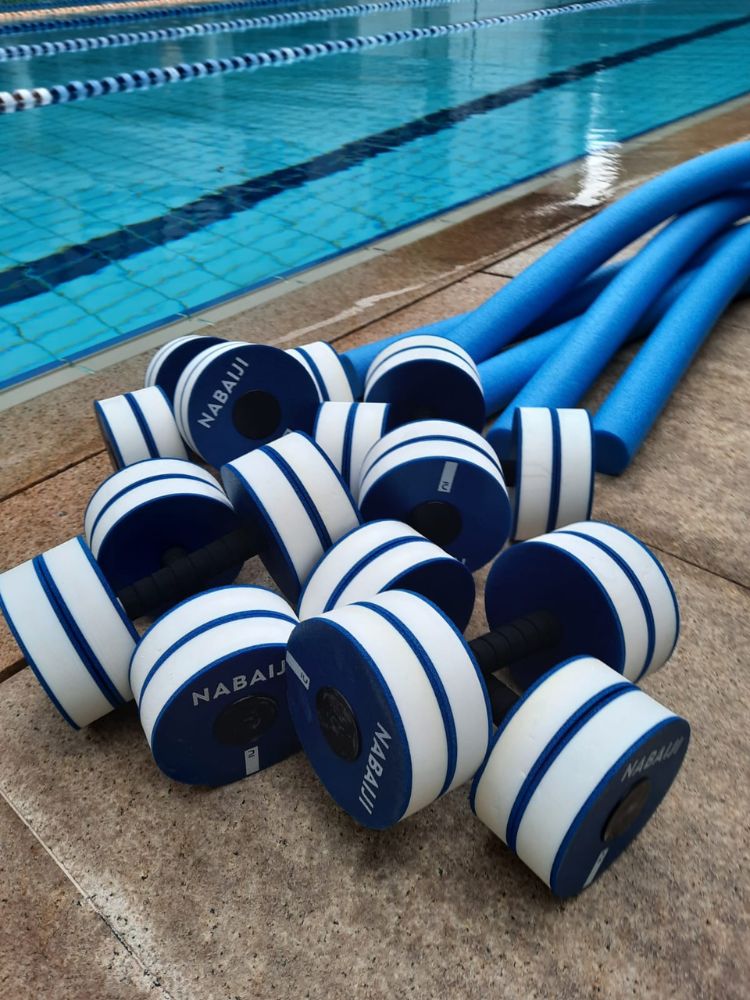 Aqua dumbbells, barbells, gloves and noodles are useful accessories for a water workout and great for resistance exercises. For a start, you can fill two unused 500ml bottles with water and hold them as you do your aqua walk or jog.
Frequently Asked Questions
Aqua aerobics classes are available in most public pools.
Sign up via
ActiveSg portal
, using your SingPass. First-time users get free $100 ActiveSG credit.
Fee: $59 for 12 sessions (off peak hours); $70 (peak)
Fees may vary for other aqua classes such as Aqua Tabata, Aqua Spinning etc.
Aqua fitness classes are also offered in OCBC Aquatic Centre (sheltered pool), private gyms and clubs (eg. Chinese Swimming Club, Tanglin Club).
Check out
Decathlon
as it offers a wide range of sports gear at affordable prices. Or try other sports goods stores such as Royal Sporting House.
Splash on some sunscreen lotion or get a long-sleeve top/rash guard, if you plan to exercise during the day.
Fret not! Some aqua aerobic classes are conducted in shallow pools (1.2m depth).
In fact, I have several ladies in my class who are non-swimmers. Some public pools in Singapore have gentle slopes/ramps so you don't have to use a ladder for entry.
Take your pick — aqua aerobics/fitness, aqua spin, aqua tabata (High Intensity Interval Training or HIIT), aqua zumba to deep water aqua fit classes.
If you are new to exercise, start with the basic shallow-water aqua aerobics class first.
Absolutely not. My youngest participant is 12 years old, and oldest is 86 (my dad).