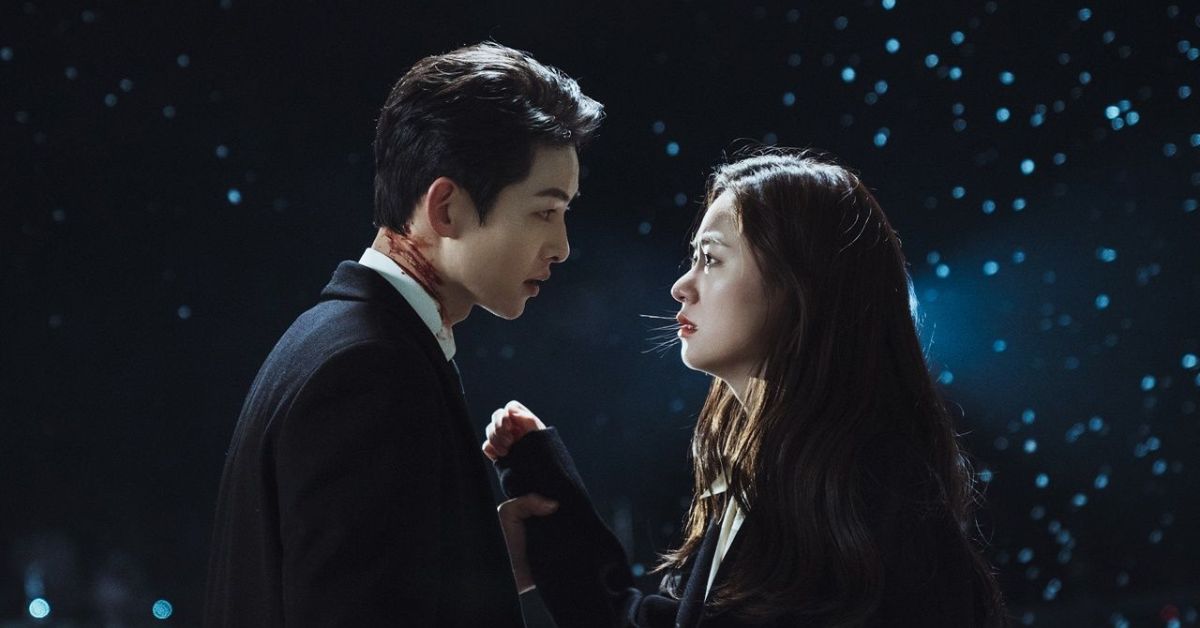 Korean drama. Korean pop. Korean food. Korean make-up, phones, fashion….
Let's face it, Singapore is neck-deep in a Korean invasion — officially known as the Hallyu Wave — and loving every minute of it.
So, you may grudgingly tap your foot as the marching band plays Dynamite by K-pop group BTS during the National Day Parade. You may even accede to a supper of BHC Korean fried chicken (paired with Korean soju and Korean beer).
But when it comes to K-drama, that's often an emphatic "NO" from many out there.
That's because their idea of K-drama is stuck in the early 2000s when the ladies of the house and their mates would cry and simp over the bespectacled dude in Winter Sonata or some girlish-looking bespectacled dude, while planning their holiday to Nami Island to take photos of the key spots featured in the drama.
Let me assure you K-drama has grown up, and Squid Game (which was banned in Korea, incidentally), excellent though it was, is certainly not the be-all and end-all of made-in-Korea entertainment. Not forgetting 2020 multiple Oscar winner Parasite.
But first, let's manage your expectations so that you can look past the "faults" and get to the good stuff:
The men still look beautiful—pale, fantastic skin, flawless hair;
Nami Island is still appealing, as is Jeju and many of the locales that you will get to see in long, lingering drone shots;
The language is still befuddling but as you progress you will pick up key words like "jjinjja?!" and "masisseoyo!";
There is product placement in most of the shows set in the modern day;
The lead character will inexplicably stop his/her car in front of the building and get out. You'll just have to imagine a valet comes and parks it.
Some basics before you begin:
Korean dramas fall into different genres, each with their own quirks that often reflect Korean culture. I've compiled this list so you experience the spectrum, after which you may decide which genre floats your boat.
CRIME/MYSTERY: SIGNAL (2016)
Being a diehard crime TV fan, Korean crime series are a huge draw for me. It's hard to choose just one, but a good one to start with would be Signal (2016), one of the highest-rated K-dramas of all time.
Park Hae Young (Lee Je-Hoon) witnesses the kidnapping of a classmate in 2000 when he is a young boy; his classmate turns up dead, but the murderer is never found.
Fast forward to 2015: Hae Young has become a criminal profiler.
One day, he hears a call from an old police walkie talkie in the office and finds himself talking to a policeman, Lee Jae Han (Cho Jin-woong) in the year 2000, who tells him that he has found the corpse of the suspected kidnapper, which is missing a thumb.
He then hears Jae Han being attacked. Spooked but intrigued, Hae Young, with the help of head of the cold case squad Cha Soo Hyun (Kim Hye-soo), uncovers the bones of the kidnapper—missing a thumb as the voice over the walkie talkie had said.
With the benefit of information from Jae Han, the duo uncover the identity of the murderer and justice is served. And that's just the first episode. By the time you reach the end of this opening episode, you'll likely find yourself watching the next episode… or the next 15.
Featuring a stellar cast that includes Lee Je-Hoon (Taxi Driver) in the lead role next to veterans Kim Hye Soo (Under The Queen's Umbrella) and Cho Jin-Woong (Deep Rooted Tree), this tightly-written cross-time crime-solving series makes for a great introduction into the winsome world of K-drama.
Korean folklore features large in K-dramas. Anyone who's been watching K-dramas for a while will likely be familiar with mythical beings such as dokkaebi (goblins), gumiho (nine-tailed foxes), bulgae (hounds of hell) and jeosung saja (grim reapers).
The drama series Goblin (also known as Guardian: The Great And Lonely God) brings to life a goblin and a grim reaper alongside a sprinkling of gwisin (ghosts).
Gong Yoo (Train To Busan) plays a goblin who has roamed the earth for over 900 years, cursed to immortality until his bride appears somewhere in time and pulls out the invisible sword that impales him.
While it sounds heavy-going, it mostly isn't.
Not knowing in which year or time or country the soul that has been assigned to be the "bride" will come from, the goblin Kim Shin is resigned to living forever, until he meets Kim Eun-tak (Kim Go-eun from Little Women), a high school student who accidentally summons him, indicating that she is the bride.
Thus begins a relationship that is fated to end tragically…or so it seems.
Goblin is at many junctures a wonderful comedy, thanks to the bromantic chemistry between Gong Yoo and Lee Dong-wook who plays a grim reaper that rents a room in the goblin's house.
In turns tragic (because you know what a grim reaper does, right) and hilarious, this series will draw you from episode to unexpected episode, wondering almost right to the very last instalment how it's all going to end.
COMEDY/ROM-COM: HOSPITAL PLAYLIST (2020 – 2 seasons)
Koreans have a great sense of humour, ranging from high-level physical comedy to pun-filled linguistic exchanges. There's no better way to begin appreciating this than through a drama series like Hospital Playlist.
Think of it as Friends meets ER.
Five medical school classmates end up working in the Yulje Medical Centre, a hospital owned by the family of Andrea Ahn Jeong-won (Yoo Yeon-seok of Dr Romantic), a pediatrician and devout Catholic who secretly wants to quit medicine and become a priest.
By day, these 40somethings plough their all into looking after their patients in their various departments:
By night, they get together and jam as Mido And Falasol, a band they formed in medical school.
In the style of a sitcom where nothing really happens from week to week, the focus is on the development of relationships between the characters.
Hospital Playlist wins you over fast with its chortle-inducing exchanges and charming onscreen romances — you will find yourself fully invested in their love lives — as well as the real-life performances of popular Korean pop songs by the five that end every episode.
The show is so well-loved that the five still hold ongoing (if sporadic) concerts that air on YouTube.
REVENGE: REBORN RICH (2022)
Yes, you read right. Revenge is a genre in K-drama and one of the most popular ones too. There are many excellent dramas in this category, including Itaewon Class and The Glory, but the prize goes to Reborn Rich in my books.
Yoon Hyun-woo (Song Joong-ki from Vincenzo) dies at the hands of a conglomerate-owning family he works for and is reborn into the body of his former employer's illegitimate grandson, Jin Do-hyun.
He remembers everything that happened in his past life, and so is fully equipped to exact a long, painful revenge on every single member of the wicked family.
It's an exciting visual journey that will have you leaping from your couch and shouting in triumph one moment and howling in disappointment the next.
Song Joong-ki plays a teenager as adeptly as he does a 40something servant, and his cryptic face has viewers guessing if he has yet another trump card up his sleeve.
Providing the perfect foil to Jin Do-hyun is his wily grandfather, the grand patriarch of the Soonyang empire, played by veteran actor Lee Sung-min.
Just the pleasure of watching these two great performers play off one another makes Reborn Rich a truly great drama series.
FAMILY DRAMA: 18 AGAIN (2020)
Borrowing its premise from the Zach Efron movie 17 Again, 18 Again demonstrates exactly why Korean dramas are superior to Hollywood productions.
Jung Da-jung (Kim Haneul) and Hong Dae-young (Yoon Sang-hyun) are teenage sweethearts who got married young and have a pair of twins.
The story picks up when the couple is in their late 30s and Dae-young plunges into depression and desperation at the state of his life: Da-jung has filed for divorce, his twins treat him like a loser and he is stuck in a dead-end blue collar job.
Wishing he could go back in time to live his life all over again, he wakes up from a freak event to find himself in his 18-year-old body (Lee Do-hyun). Using an alias, he enrols in his twins' school, and tries to find a way to win his wife back.
While on the surface 18 Again is a comedy, the writing and direction dig deep into issues any person above the age of 50 will identify with — regrets, marital issues, money problems, fighting the guilt one feels chasing one's dreams, finding employment in a popular industry after a certain age, the need to love and be loved no matter how old you are.
As the back story of how the couple ended up the way they did unravels, I dare you to not cry, particularly at the choices they made to do the right thing and how those cost them dearly.
I don't think I've ever wept so much watching TV.
Beautiful performances by the three leads: You never for a second forget this teenager is that man trying to reclaim his life.
HUMAN INTEREST: EXTRAORDINARY ATTORNEY WOO (2022)
Although the lead character plays a lawyer — an odd but brilliant one — Extraordinary Attorney Woo is not so much a legal drama than it is an underdog story of the best kind.
A woman with autism, Woo Young-woo (Park Eun-bin from The King's Affection) is an enfant terrible, able to memorise legal statutes as a young child.
Raised by her father after the death of her mother, she lands a job at a prestigious law firm.
Not unexpectedly, she is shunned by her neurotypical colleagues, but forms a friendship with legal support staffer Lee Jun-ho (Kang Tae-oh from Run On).
Despite her odd behaviours which include eating gimbap for every meal and memorising every known fact about whales, Woo Young-woo's legal prowess slowly but surely wins her the grudging admiration of her peers.
Park Eun-bin's excellent portrayal of a grown woman with autism won her the Baeksang Arts Award Grand Prize 2023.
Heartwarming, yet heartbreaking at many parts, Extraordinary Attorney Woo is a standout drama in every way.
HORROR: KINGDOM (2019 - 2 seasons)
You have not watched a proper zombie movie/TV show until you watch a Korean zombie show.
Korean zombies are not your garden variety, slow-moving, boring Hollywood species. These buggers move fast. They turn into flesh-eaters fast too. They are virtually indestructible. And there are hordes of them.
If The Walking Dead had been produced by the Koreans, the story would have been told in one season, not 11.
There are many zombie series, and most of them really are good — Sweet Home, All Of Us Are Dead, Happiness, and the movie Train To Busan. But the one that takes the crown is the period piece Kingdom, set in the Joseon era.
The people of the land are starving, so a well-meaning villager finds some mystery meat and cooks up the best meal they have had in ages. Shortly after, everyone in the village is found dead or sick, and so the zombie infestation begins.
Beautifully, if creepily, shot, the colours, shadows and lighting in this drama series are main characters in Kingdom. Add to that wonderful writing with some wicked twists and turns (no spoilers from me, but there are some worthy jump scares), and a great cast that includes Hollywood crossover Bae Doona.
The third season of Kingdom has not been scheduled but there are two seasons for newbies to feast on, plus a spinoff TV movie Ashin Of The North, a Kingdom origin story starring Gianna Jun/Jun Ji-hyun.
DARK COMEDY: VINCENZO (2021)
Vincenzo did not only become one of the most highly rated series of all time in Korea, it did well internationally too.
The boyish Song Joong-ki is Korea's Tom Cruise: Almost everything he touches turns to gold, and his repertoire is wider than Cruise's — he is as popular as an action star as he is a romantic lead (Descendants Of The Sun).
The premise sounds a little silly but as you watch, it unpacks into a clever satire.
A Korean orphan in Italy is adopted by a mafia family and becomes schooled in the ways of the Family. He returns to Korea where he has stashed the massive gold collection of a client in a decrepit old building, Geumga Plaza.
Discovering that the evil Babel Group plans to take over the building and tear it down (thus gaining the gold), Vincenzo devices a plan to win over the quirky occupants of the building, teaming up with Hong Cha-young (Jeon Yeo-been), a lawyer seeking revenge against the Babel Group for the murder of her father, to defeat their shared enemy and rescue the gold.
Deliciously absurdist and satisfyingly violent, Vincenzo is addictive viewing at its very best. Many a diehard K-drama anti-fan has been converted.
ROMANCE: CRASH LANDING ON YOU (2019)
Romance drama in any language is not my cup of tea, but CLOY is a happy exception.
The intense chemistry between two immensely good-looking leads creates such a feel-good drug that many new K-drama fans have been birthed from this single show.
It's an excellent introduction to K-drama if you're a rom-com fan.
Yoon Se-ri (Son Ye-jin) is the unhappy heiress of a family-owned conglomerate, successfully heading its retail arm in Seoul.
One day while paragliding to destress, as rich young women often do, the winds knock her into North Korea, where she crash-lands and is rescued by handsome soldier Ri Jeong-hyeok (Hyun Bin).
Chaos ensues as they are forced to cooperate to get her out of North Korea without raising suspicion.
A comedy of errors of epic proportions, CLOY works because of the flawless casting—not only of Hyun Bin and Son Ye-jin, who went on to get married in real life and have a child, but of all the minor characters that create a rich, if imaginary, tapestry of life in North Korea.
Interestingly, the show reportedly found great appeal in North Korea despite the fact South Korean entertainment is banned in the North (apparently it has made its rounds on smuggled thumb drives).