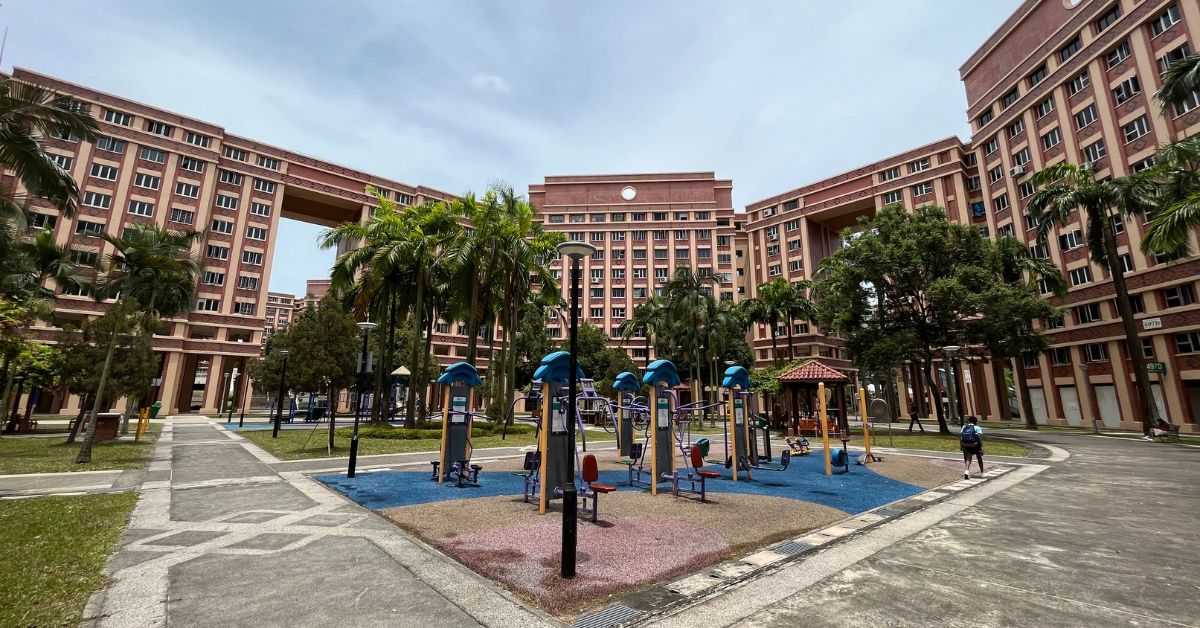 A whole array of exercise options is available to everyone — from the young to silvers — to keep us healthier for a lot longer. Some of us patronize the gyms, some play sports they love, and others run or take walks in our beautifully-curated nature reserves.
SilverStreak has been presenting these treks to you systematically for your exercise needs.
But just under our collective noses are readily accessible tools to keep you in shape. For free.
There are smaller well-planned parks within metres of where we live that come with outdoor gym areas that boast inter-generational fitness stations. This is part of Singapore's urban planning that focuses on public health and community.
Lately, the spotlight has been on an urgent plan to reduce frailty among silvers. Frailty is a medical condition of reduced function and health in the elderly. Doctors believe that frailty among the elderly leads to falls, longer and costlier hospital stays, and slow recovery. From 5% currently, the number of frail silvers is set to rise to an alarming 27% by 2030.
So, what is the solution in this urgent plan? Can frailty be prevented, delayed, or even reversed?
The answer is yes: With better nutrition (a protein-based diet) and strengthening our muscles as we age through exercise.
SilverStreak reviews the benefits of the numerous fitness corners. You can begin by walking around your neighbourhood parks to chalk up distance, and when you are ready and game to take things a notch up, try these fitness stations.
According to NParks, there are about 250 3-G fitness corners in our parks and park connectors.
I visited nine of these Elderly Outdoor Fitness Corners to check out what they have to offer.
Because the residential Fitness Corners are managed by the HDB town councils, the workout stations vary in design, function, and manufacturer. But they are all situated in cosy green enclaves.
Elderly Fitness Corner in Shunfu
New HDB developments have been provided with 3-Generation (3G) Family Playgrounds. A fine example is the 3G Park @Shunfu by Bishan-Toa Payoh Town Council, Thomson-Toa Payoh Citizens' Consultative Committee, and Thomson Shunfu Residents' Committee.
It is located just behind the Marymount station and has a dedicated Elderly Fitness Corner beside the children's playground (with a sign reminding users that they should be 45 years and above to use the equipment).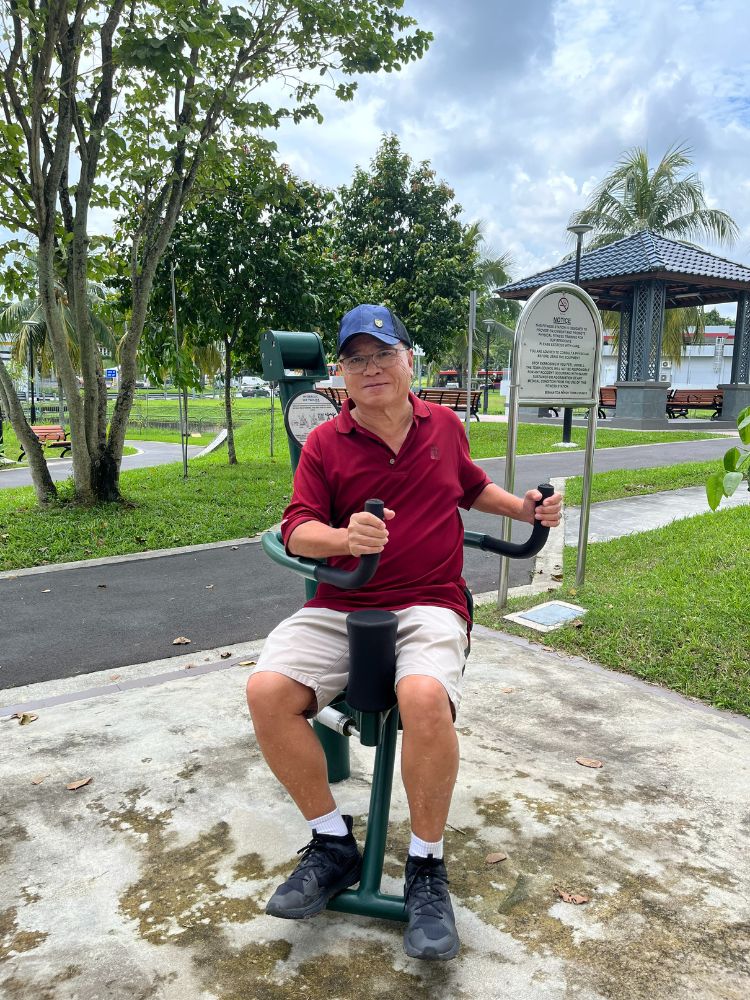 The equipment is selected to provide aerobic fitness and flexibility.
The names of the stations are self-explanatory:
The stations are easy to use because they come with clear visual instructions listed in three steps. And they cater to different fitness levels so you can always up the intensity as you get stronger, to challenge yourself.
Elderly Fitness Corner in Upper Serangoon
Sandwiched between HDB blocks 24 and 25 in an older estate near Lorong Lew Lian is an understated Outdoor Elderly Fitness Corner.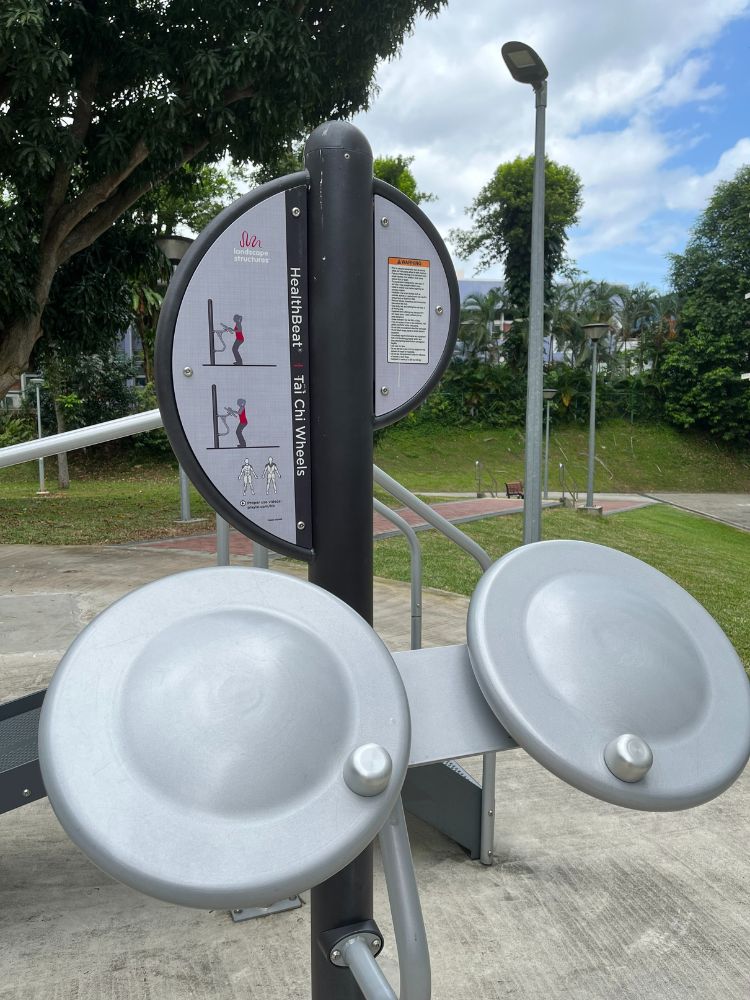 Here I found two stations by the Turkish provider (Parkkent) for Body Stretching and Cycling. Parallel Bars, Mobility Machines, and Tai Chi Wheels are from another vendor (Healthbeat).
I read the literature on the station sign and found this equipment provider has an
accompanying video
for each station.
At an Outdoor Elderly Fitness Corner off Sin Ming Avenue, bar codes at each station offered information on Exercraft's machines' use. If the links are not working, you can call the town council.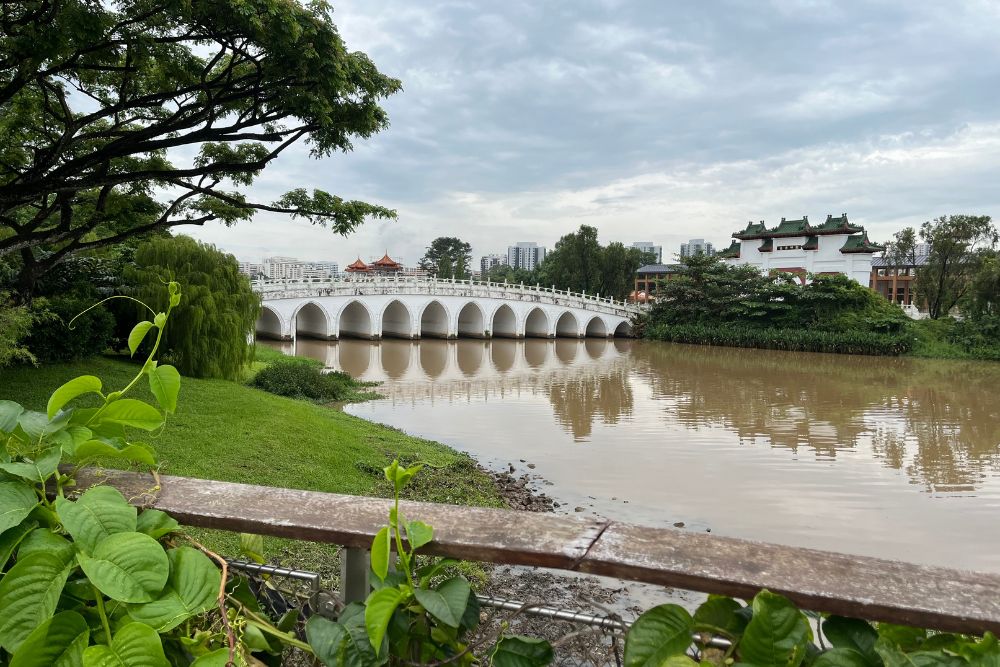 At Lakeside, along the East-West MRT line is the sprawling 90ha Jurong Lake Gardens which houses an Active SG Fitness Area.
Silvers can enjoy a beautiful stroll in the newly-opened 60ha Lakeside Garden, one of three gardens, the other two being the Chinese Garden and Japanese Garden. Walking is highly advocated for silvers because of the benefits.
It can reverse osteoarthritis. Even walking 11 minutes a day can help you live longer.
Among the adults and children exercising at the ActiveSG Fitness Area were 43-year-old Kelvin Mok mentoring 58-year-old Mr Ong, his work buddy-turned-pal. They live in the neighbourhood and were at the Gardens to suss out the Fitness Park. They gave it a thumbs up.
Punggol Park's Inclusive Stations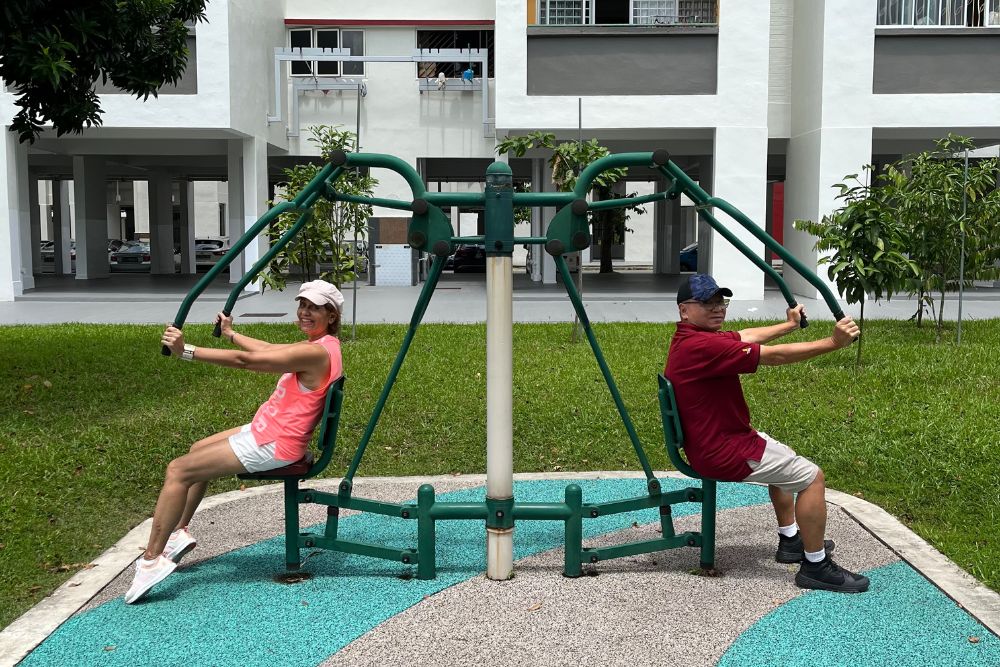 The salient feature of some of Punggol Park's Urbanix exercise stations is that they are designed for wheelchair users.
The stations are labelled "Inclusive Upper Body Station" and "Inclusive Shoulder Stability & Strength Station. In addition, the fitness stations in this park list basic, intermediate and advanced workouts clearly by colour code.
The Whole Body Strength Station, for example, explores squats at all levels of intensity. And there is a Standing Stretches & Pilates Station.
One of the most picturesque fitness parks I visited is in Tampines Street 45. Nestled in the middle of a ring of Stonehenge-styled blocks is a residents' green haven with park benches, pavilions, and a 3G fitness park.
And nearby is yet another marvel: Our Tampines Hub. If the rain deters your exercise routine, and you live in the east, head to the beautiful running track for a brisk walk or jog. The 1.1km track at Our Tampines Hub is sheltered for the most part.
Swimming-pool Turned Fitness Park
Some silvers may recall taking swimming lessons at the Yan Kit Swimming Complex when they were young (present company included).
However, over the years usage declined and in 2019, a new comprehensive fitness park was opened in its place.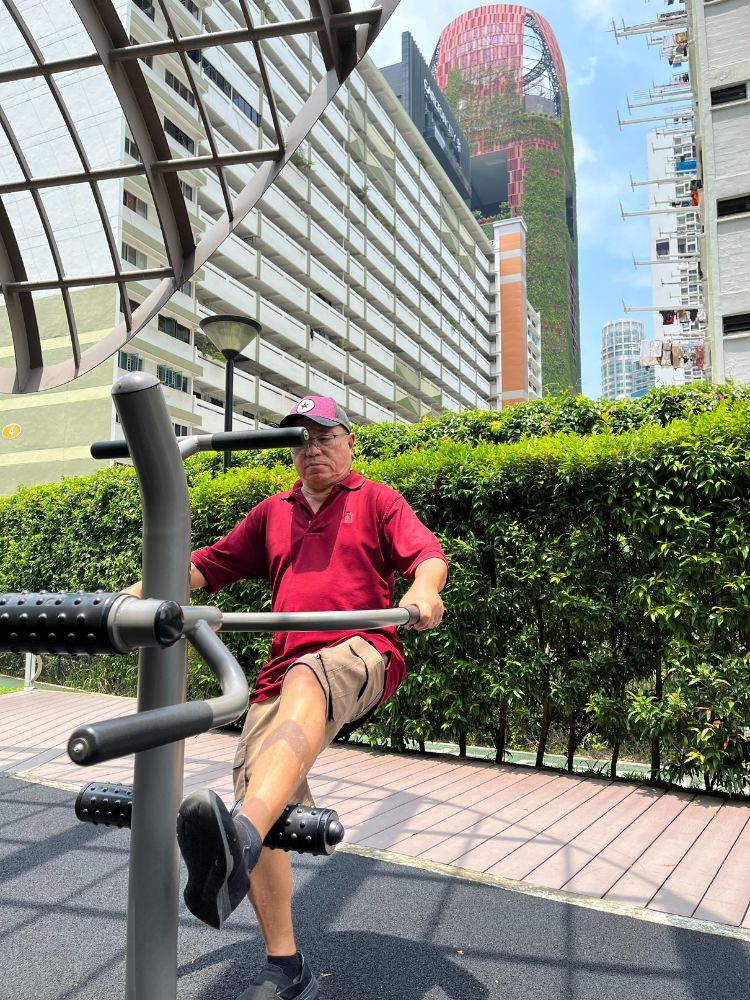 The perimeter of the Yan Kit Playground is a 150-metre track and wraps around a bowling lawn, children's playground and fitness corner.
I was delighted to find a massage station with rollers to soothe those aching calves and back after a workout.
It is encouraging seeing silvers exercising at the stations. Do make use of the fitness parks near you, be it in Woodlands, West Coast, Pasir Ris… and keep frailty at bay.