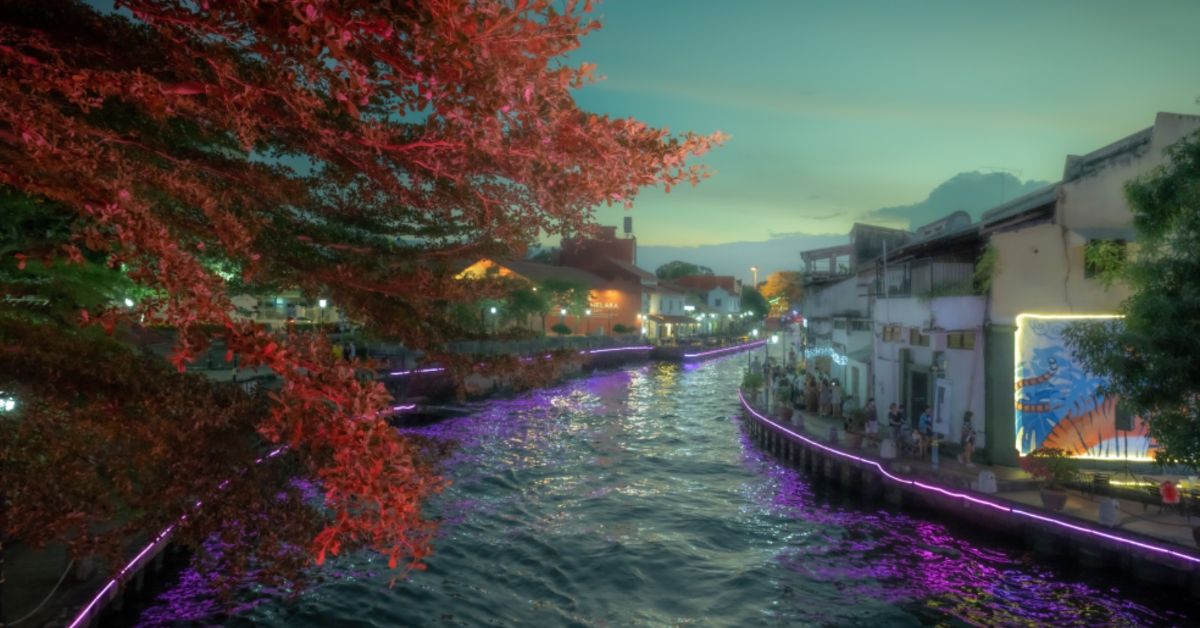 Malacca is rich in cultural sights and wonderful food.
But for most people heading there for a weekend, most of the activities centre around Jonker Street, a hub of shopping and dining activities; food for the soul of Singaporeans.
There is much more beyond the obvious destinations in Malacca, and I set about exploring the other areas of interest on a recent sojourn.
But first sustenance after a long road trip from Singapore.
So, it was off to family business Tengkera Duck Noodles, which originated in Singapore 70 years ago. It travelled to Tengkera, where it was sold from a cart under a tree.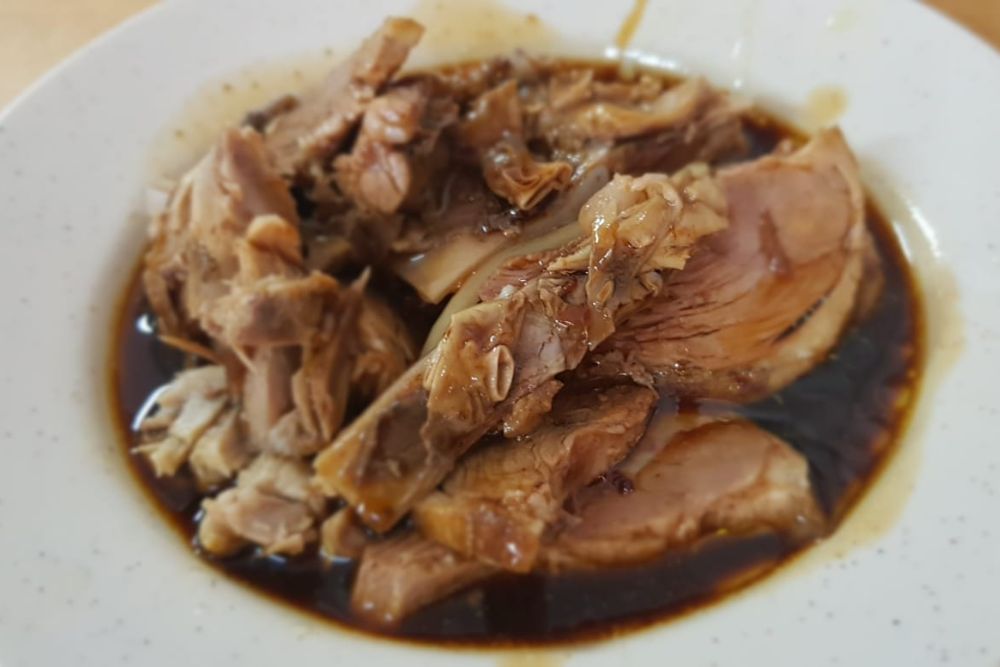 Now located at No. 33 Jalan Kota Laksamana 1/2 Taman Kota Laksamana, the herbal ducks are popular, although the reactions are mixed
The ducks are cooked to extract their essence, and then their signature sauce made from boiling duck stock with a secret blend of herbs and seasonings for 12 hours.
Squares of bean curd, big and small intestines, pig's ears and duck are all braised in the same sauce.
Duck on the bone is always good, but being lean, there was not as much to savor as I would have liked. The bean curd cakes were spongy with airy pockets that absorbed the sauce.
The next day, we ventured out, starting at Xin Ann Kopitiam (12, Jl Pasar Baru, Kampung Jawa,75100), to try a recommended popiah.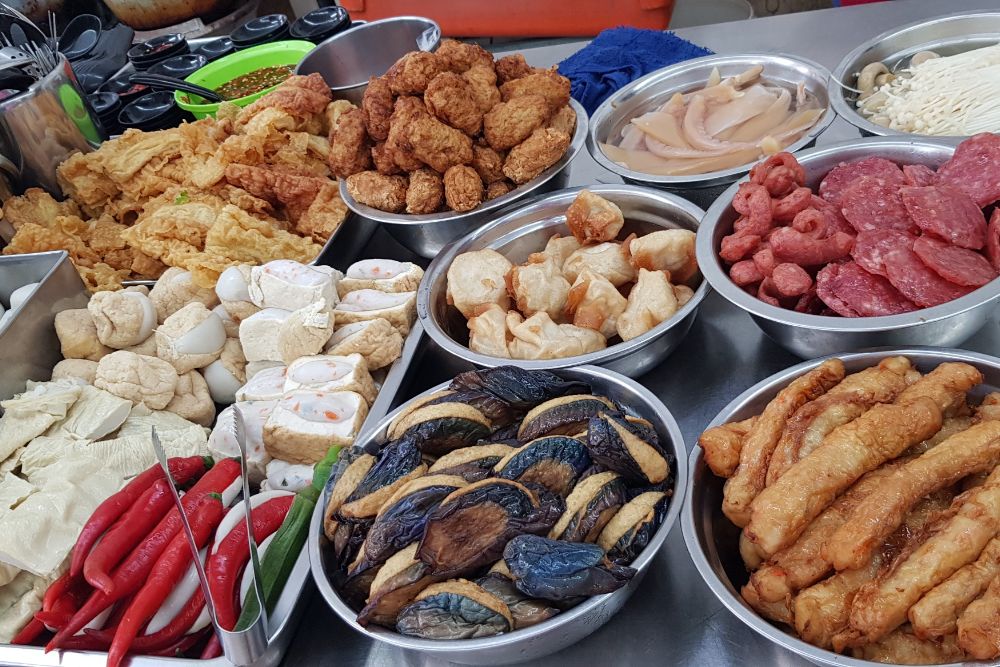 The elderly couple had not started selling yet, but the array of yong tau foo enticed us.
Of course we went overboard, and when our order arrived, we were so pleased to find that not only were the items refreshed by a quick blanching in the stock, but each pre fried piece was also dropped into clean hot oil, drained and served hot and crisp.
The fish filling was 100% scraped yellowtail meat, and was subtly fishy with a bouncy bite. Even the deliciously clear consommé was thoughtfully made from soya beans, anchovies, and fresh fish bones.
Nearby, at 46, Jalan Kee Ann, Kampong Jawa, 75100, was Nam Seng Roastery and Café, which began in 1936 and has its own coffee plantation.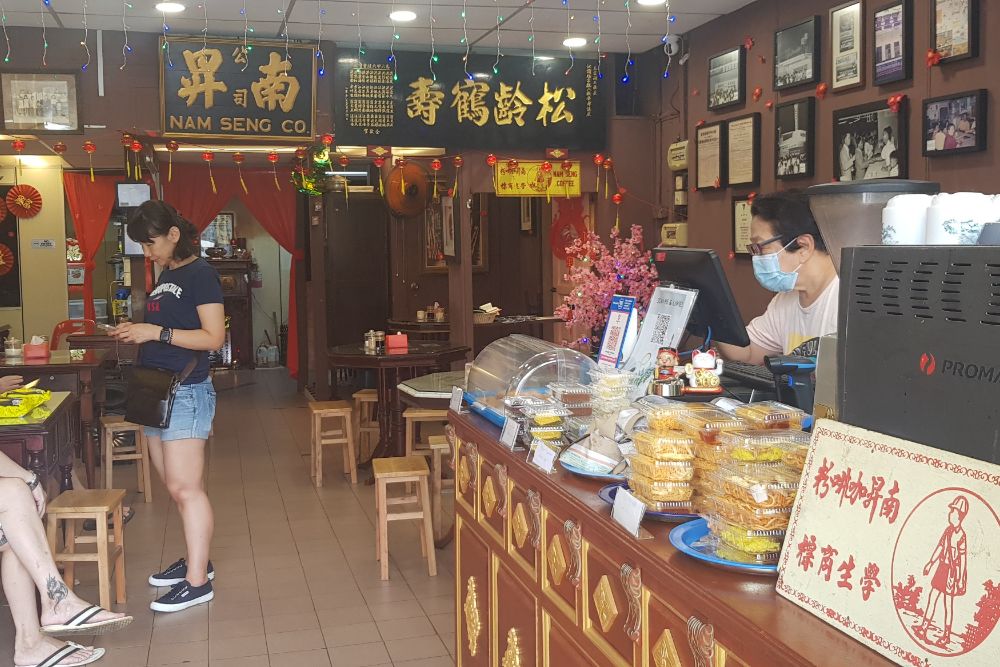 It is the only company in Malaysia which processes green coffee beans to coffee powder.
According to the ingredient list, each bag is made from 75% coffee, with the addition of sugar cane, margarine and salt. A box of their Chap Murid coffee powder containing 50 sachets for MYR10.
One of the quests for this trip was to find the best pineapple tarts in Malacca. For that, we trooped to Wise Chef, 158-1, Jalan Hang Tuah, Kampung Enam, 75300.
Each open faced tart was precisely and evenly crimped, with smooth humps of pineapple paste and topped with perfect tic-tac-toe templates. Certainly good QC this, and though enjoyable taste wise, they tasted manufactured rather than rustic.
Still worth a trip though, as Wise Chef stocks innovative home-made pastes such as Nonya cooking, limau purut and pongteh together with other Peranakan pantry classics.
We headed to the oldest Peranakan village next, the only existing Chetti Melaka village in the world at Gajah Berang.
From Indian Hindu forefathers married to local ladies, less than a hundred descendants stay in the village which has only about 30 houses.
Though protected as a heritage site in June 2000, it was excluded from the heritage zone under the UNESCO World heritage status granted to Malacca.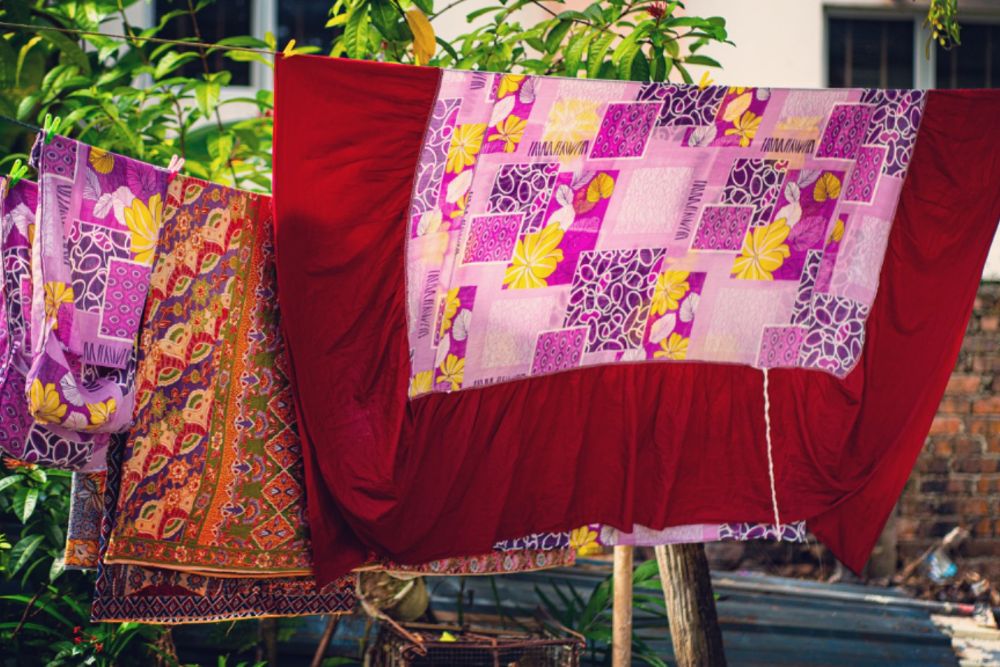 Of the remaining residents, a couple still practice traditional healing for skin and other ailments and the bright garlanded frontages, cheerful flowers and low hanging fruits brought us back to the days of kampong living.
A Singapore friend insisted that the freshest satay celop sauce could only be found at Guan Huat Seng Kee Sdn Bhd, located at 388A Jalan Tengkara, Taman Siantan, 72500.
We circled it a number of times, unable to locate it, until we realised that the signboard only had Chinese characters which we could not read.
Once in though, we discovered that it was an emporium for dried goods, and the manufacturer of Heng's brand. Their flounder powder is a natural umami booster for any dish from soups to stir fried vegetables so that was purchased along with the sauce.
The three-generation restaurant, Heng Hong Tin Kee Restaurant at 62 Jln Tun Tan Cheng Lock, 75200 served authentic, home style Hainanese food. Candy Wong, wielded the wok with great flair and confidence.
The pan fried fish with chai poh (preserved radish) and pork skin with pineapple were some of the dishes which were new to us. They turned out to be very tasty indeed.
The chicken, served with chicken rice balls were authentic, glistening yellow with enough heft in the meat and that layer of fat to bring us back to the days of the best of Hainanese chicken rice.
Despite our determination, we nearly did not get to a guava farm which we wanted to visit .
The map coordinates given led us to a side gate. Tropicana Green, owned by Philip Heng, in Klebang, Pulau Gadong, grew the sweetest jambu batu (guavas), and though it can be intrusive, the hospitable Philip and Maureen shared stories of the tough life of a farmer, a supplier, an educator and a conservator, and patiently explained how resourceful early farmers were in inventing the artefacts in his farming museum.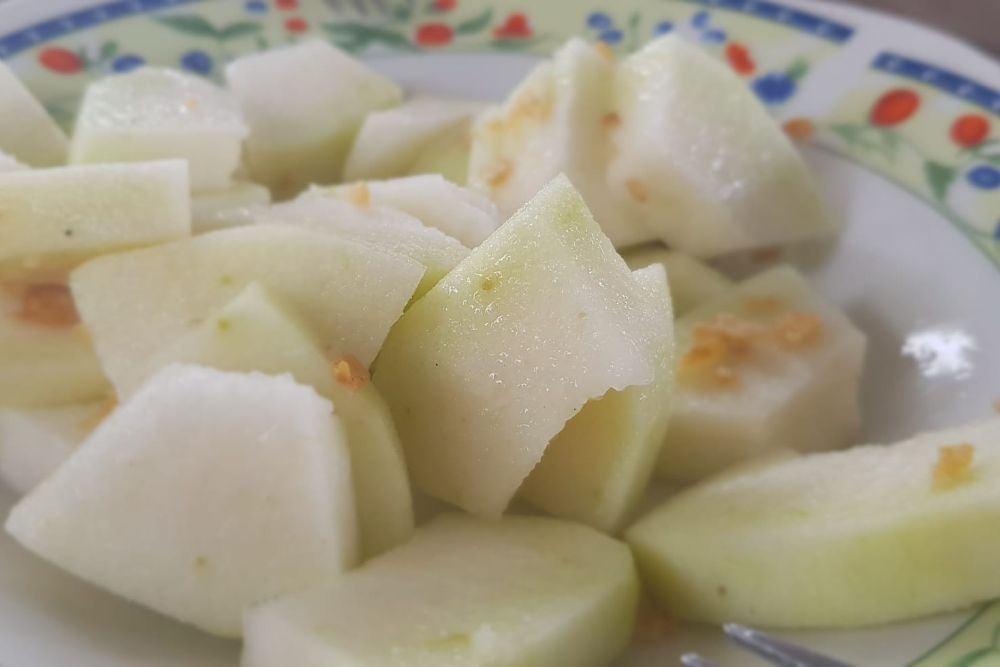 Maureen generously brought out plate after plate of chilled guava, dressed only with slivers of citron peel, which we devoured non-stop.
Unfortunately, the farm only supplies to Malaysia, primarily at AEON  Jusco malls. Philip gave us a tour of the selection station, where workers separate those with even one blemish, and pack the remainder carefully for the supermarket.
Not too far away from Philip's guava farm, was Bert's Garden, at 2078-C, Jalan Kampung Pinang B, 76400 Tanjung Kling.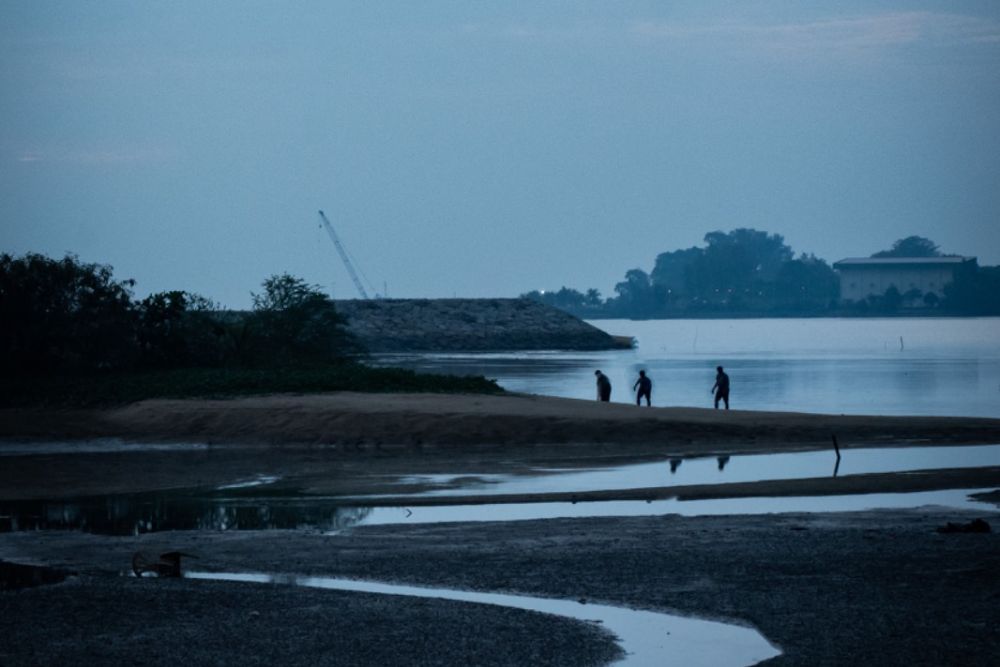 Sitting with a view of the estuary at low tide, and feeling the sea breeze aroused our appetite again. I was totally thrilled to find that deep fried chincalok (krill) patties was on the menu.
The ever genial Bert came over, and gave us a history of how the wonderfully sited restaurant came into being.
Originally intended only as a seaside retirement home, friends whom he invited over, regularly came to visit, and to accommodate the home barbecues, he commissioned attap roofed pavilions, which then turned into an informal eating venue, and then a full-fledged restaurant.
They nearly lost it though, as the battle for planning approval raged on, until the Tourism Minister realised what a gem it was.
We placed our order adding on spicy otak-otak, asari clams in a garlicky sauce, and even a steak. Then came Brandon, Bert's son and master chef. He managed to get some freshly caught fresh water udang galah, which in English, translates to lobster.
Flamed on an open pit, and torched to finish, the firm flesh was succulent with a savoury sweet freshness.
There's always time to shop for some traditional handmade souvenirs.
While J Manik, at No.23, Jalan Hang Lekir, MY 75300 is a bit of a tourist trap, it did offer authentic Nyonya kasut manik-manik (beaded shoes).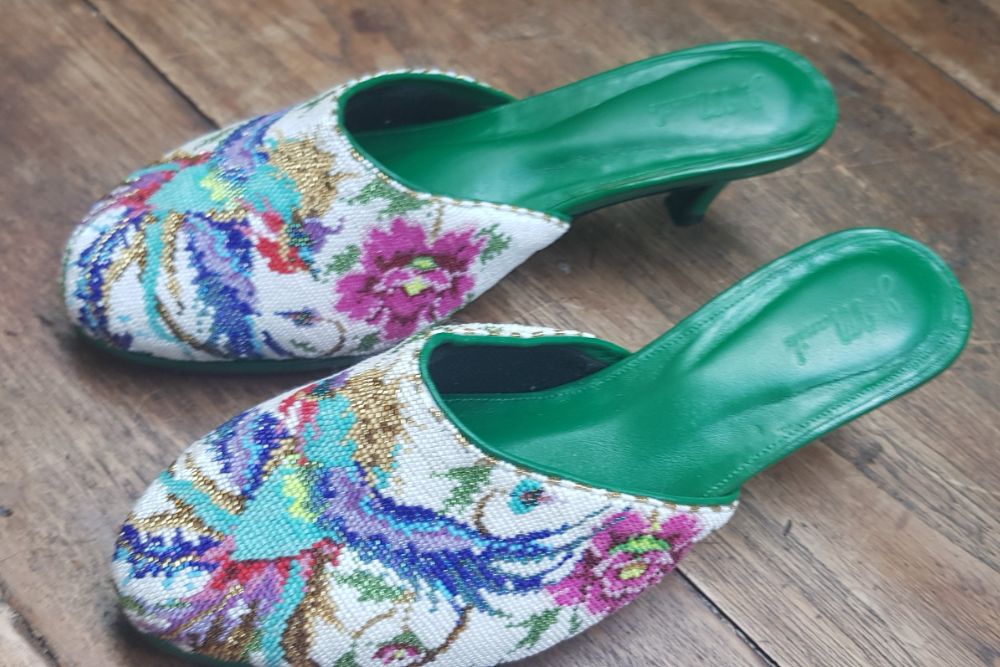 After shopping shoe shopping, I met Chef Allan Wan who helms the kitchen at
Baba House
, at 121 Jalan Tun Tan Cheng Lock, Taman Kota Laksamana, 75200.
He whipped up an "off the menu" Ayam (chicken) chincalok, so representative of Malaccan flavours.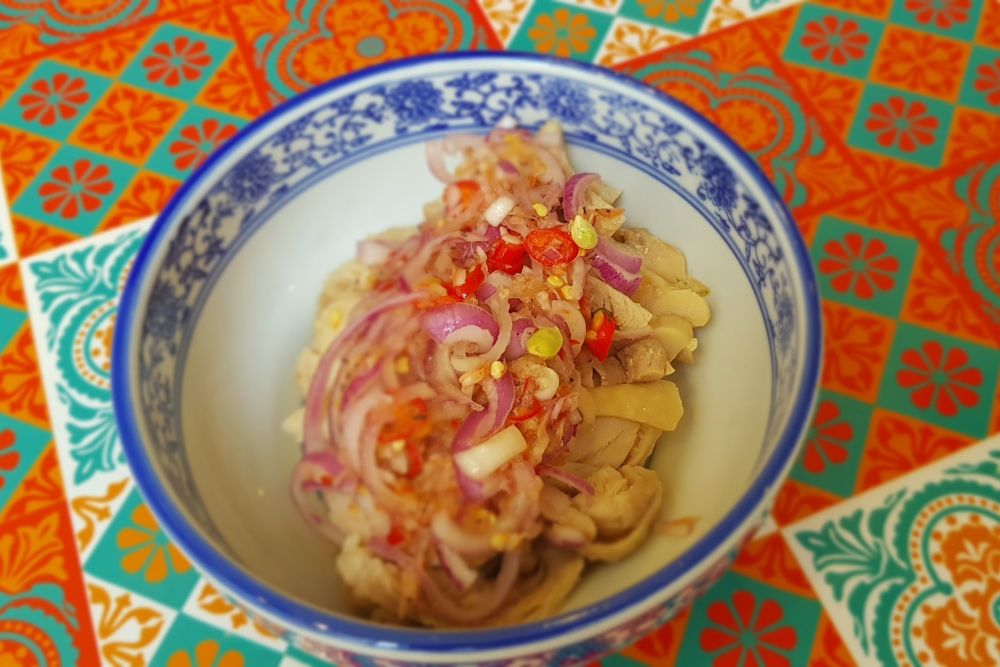 The décor was very much "in your face" Peranakan, and though the chicken was good, the patterned bowl clashed against the strongly coloured faux majolica tiles.
Before my road trip back to Singapore, I headed for some durian cake from Sharing Plates at 143 Jalan Bendahara, Melaka, MY 75200, The Western fusion tropical menu was a tad sweet, and hinted of durian, while a sambal pasta ensured that I had the carbo to last the journey home.
Though the trip home took double the time it took to get there, being a wet Sunday evening, I totally enjoyed the short weekend up north to friendly Malacca.