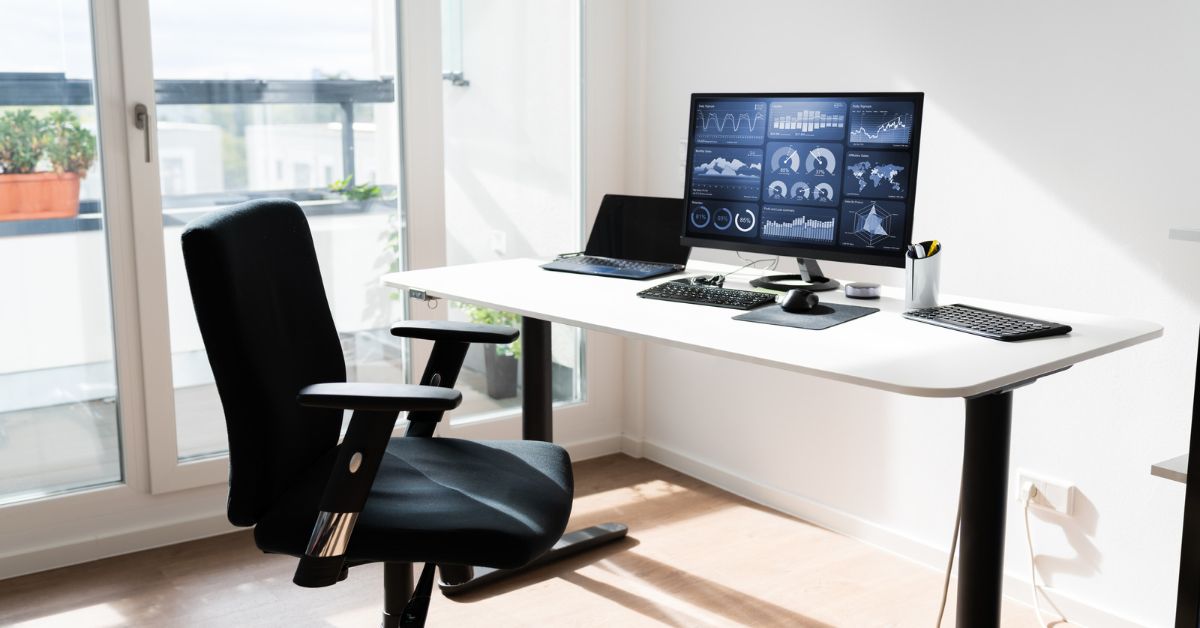 The digital age means that we are able to sit down at a computer and get instant access to the entire world from the comforts of our own home.
Technological advancements like the internet, wi-fi access and e-commerce have been a real game-changer and enabler, especially for silvers who don't have to forego anything as the body weakens and energy levels are flagging.
A computer workspace serves several functions simultaneously; it's an entertainment system, writing nook, place for lifelong learning and a gateway to news and social connections.
There are many seniors who still continue working from home and, as such, this space has an added importance for them.
As we tend to spend a fair bit of time here, it's important to understand the need for physical comfort because prolonged periods of usage can lead to problems, especially for seniors who may have circulation problems.
Whether you already have a home workspace or intend to start afresh, here are some useful set-up tips with silvers in mind.
1. Setup a dedicated work area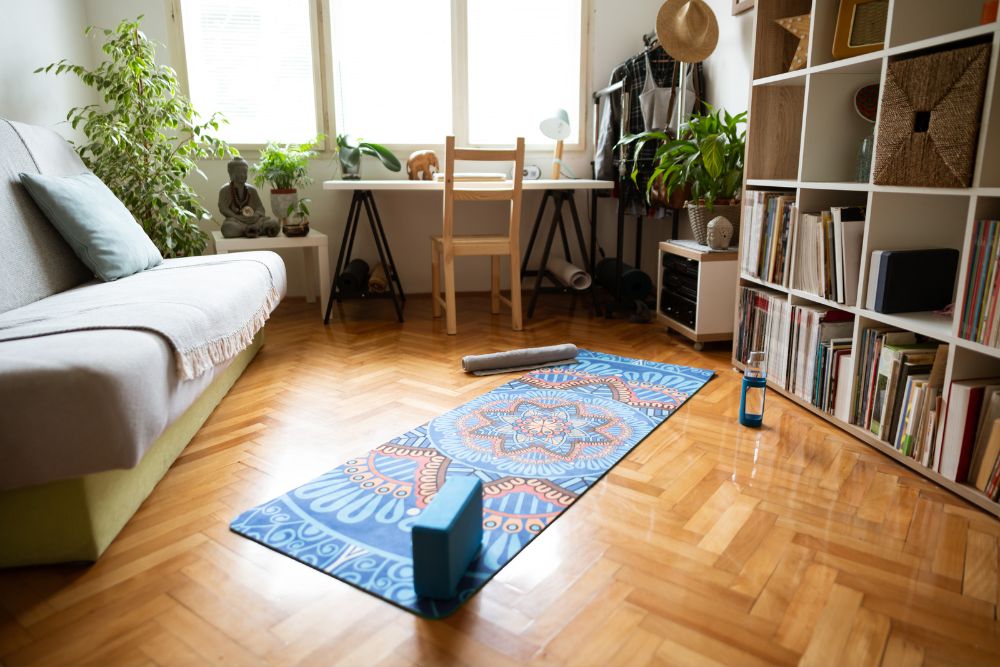 No one wants to spend time and effort moving equipment around daily or fighting for space with those living with you.
To avoid this, set up a dedicated workspace, whether it be a room or a desk in a preferred corner. A dedicated workspace will help separate and create boundaries between work and home, making it easier to 'clock off' at the end of the day.
While setting up an ergonomic workspace requires a bit of planning, it's well worth the effort. Some of the consequences of not doing this can include carpal tunnel syndrome, back and shoulder problems, disk injuries, headaches, and possible falls.
Do also take into consideration the lighting conditions around the workspace. For example, try not to face an open window as the glare from sunlight may hurt your eyes.
As long as sufficient light is able to reflect on the area in the daytime, that should suffice. And needless to say, make sure there's a power supply next to the workspace!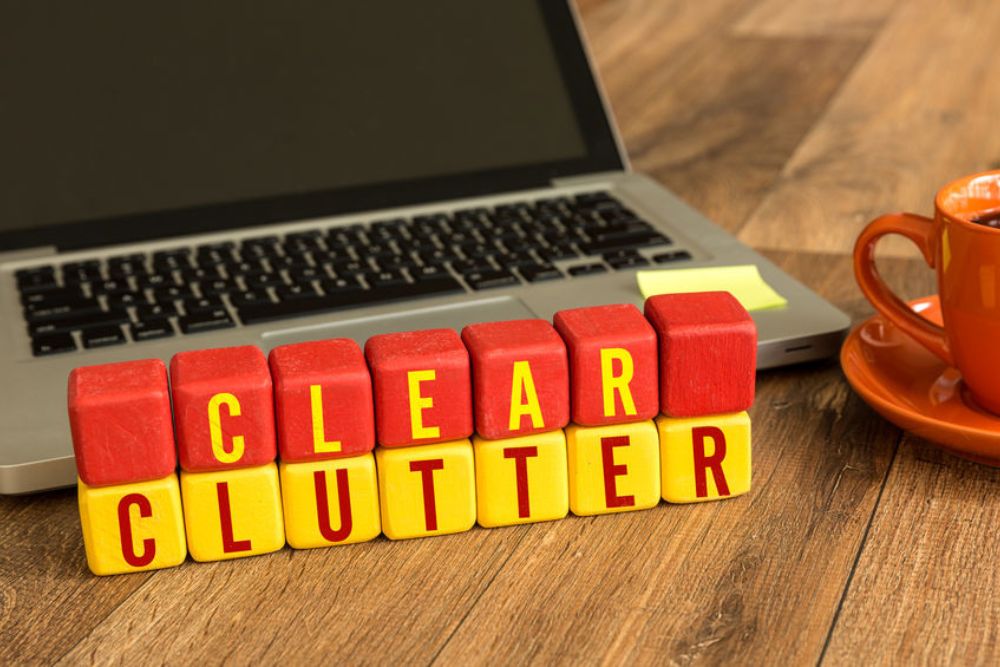 Marie Kondo's mantra — discard everything that does not spark joy — should be top of mind for your work space. Some people find de-cluttering therapeutic.
For minimal desk set-ups, generally only keep your peripherals, phone, monitor and laptop mounted on the table. Less frequently used items can go in a drawer or pedestal.
The use of notice boards and desk organisers is another good way of keeping the mess off the table. Clutter can be bad for productivity and an eye-sore.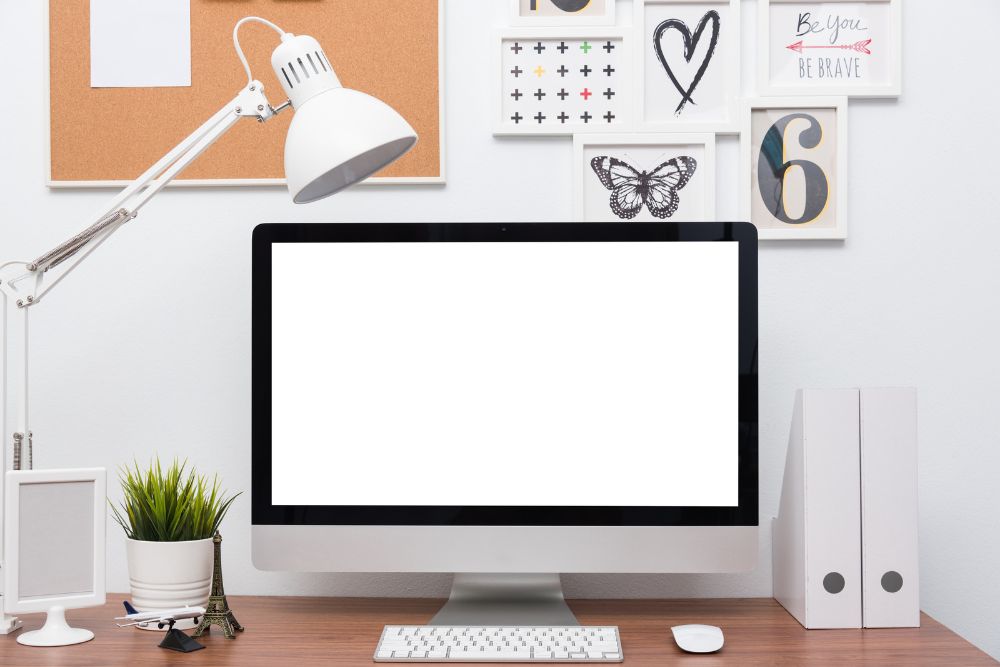 This is a useful tip especially for Zoom calls, where quality lighting can go a long way since the flipside is a reduction of energy, causing eyestrain and headaches.
While natural light is ideal, in some cases an artificial light source is needed (at night or when the sky is overcast). Examples of a good artificial light source include a light bar or monitor lamp.
Basically, this device sits on top of your monitor, saves desk space, and provides even illumination. Lamps that use LED white lights are closer to a neutral colour temperature and the lack of flickering makes for a more comfortable experience.
So why is the
colour temperature
of light important? If you get too much blue light when you work during the night, it will affect your sleep.
The light bar is also designed to focus light on your desk rather than the monitor – ensuring that there is no glare if you're sitting in front of the monitor.
4. Improve Your Workspace Setup Ergonomics and Comfort
Your
home office set-up ergonomics
should follow similar principles to that of your office workspace. One of the more neglected factors is how close your monitor is to you.
On a side note, if you're using a laptop, it's still recommended to connect it to an external monitor for enhanced resolution. Also, having a monitor arm allows you to freely adjust the distance between the monitor and your eyes.
A monitor arm is a robotic looking arm that attaches to your desk, wall, or ceiling and raises your monitor to an ideal height.
Based on the screen resolution, there are minimum viewing distances that impact how well your eyes can read the text on your screen.
Here's a simple guide as to the relationship between screen size and viewing distance.
So, if you have a 27″ monitor set at
4K resolution
, the recommended viewing distance should be around 53cm.
Here
is the link to an article with a table detailing the ideal viewing distances based on your monitor size and screen resolution.
The viewing distance really matters if you're using monitors every day, and becomes even more vital depending on the resolution of your monitor.
For example, if you're doing graphics design or photo editing, you may end up spending more time closer to your monitor because you're trying to get that pixel-perfect crop compared to the time spent typing an email or working on a spreadsheet.
As for the proper monitor height, adjust it so that the top of the screen is at or slightly below eye level. Your eyes should look slightly downward when viewing the middle of the screen.
5. Get a steady, adjustable table and supportive chair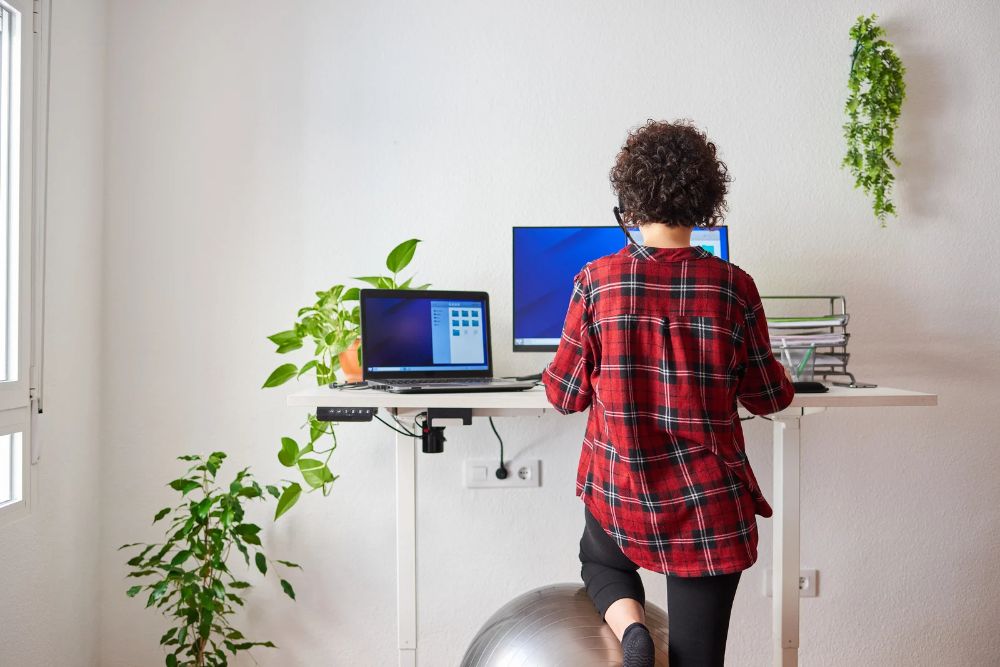 This leads me nicely to the subject of ergonomic tables and chairs.
Ergonomic tables are essentially height adjustable desks which can be lowered for when you wish to sit, or raised for when you prefer standing — especially after a heavy lunch.
Adjustments can be made manually or through electronic means. This concept promises a healthier and more comfortable workspace.
In recent years, this has moved from being an office novelty to an essential tool to address worker's comfort. As such, why not have one for your home as well? Determining the right height for your adjustable desk is crucial.
The ideal configuration is that it should allow you to bend your arms 90 degrees while typing.
For those in wheelchairs, having an adjustable height desk is a boon, for obvious reasons. If possible, fix a roll-out keyboard shelf under the table which hides the keyboard when not needed and importantly reduces the strain on your wrists.
Now, to ensure your absolute comfort, select a chair that has the right fit — there should be about a one-inch space between the chair and your back, knees and sides of the legs.
When seated, your feet should be flat on the floor and knees should be level with your hips.
A chair with armrests is also a must, as it will not only help cushion your arms, but offer support as you sit down or stand up.
For seniors, chairs that swivel so that you can turn easily are recommended. Add a carpet or slip resistant mat below the chair if desired as this will help prevent the chair from rolling about and posing a danger.
A chair with adjustable height is useful, especially if more than one person is using it.
For added comfort and support, add pillows for proper back or neck support, and a foot rest if necessary. If you have the budget, an ergonomic chair works wonders.
Ergonomic chairs ensure your body is kept in a safe and upright position to reduce stress on the spine, neck and hips.
This is achieved by a headrest which supports the neck and shoulders, and a backrest to support the natural curve of the spine, especially if you're sitting for long hours.
6. Ancillary stuff- ergonomic mouse, mechanical keyboards and webcams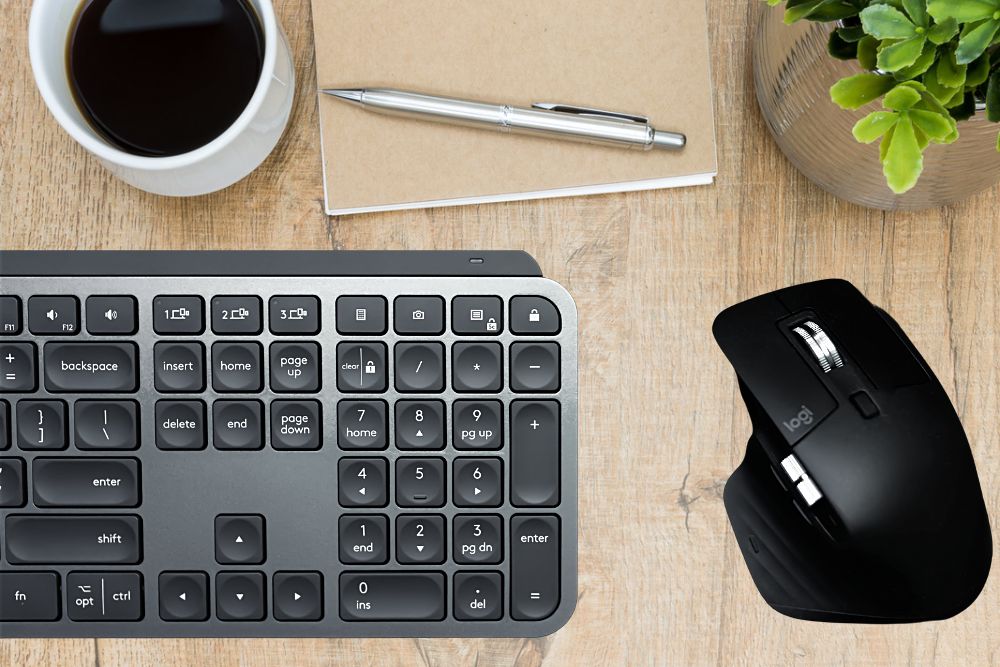 Mechanical keyboards and ergonomic computer mice are designed to prevent muscle strain and improve productivity. So even if you are using a laptop, it's recommended you use an external keyboard.
There are two main reasons why people gravitate towards a mechanical keyboard; feel and sound.
As most of us spend somewhere between 20 – 40 hours a week sitting at our desk typing away and the main input between you and your computer or laptop is your keyboard, having a satisfying and responsive tactile keyboard makes typing a much more pleasant experience.
It's also useful to choose a keyboard with keys that light up to increase visibility.
An ergonomic mouse on the other hand is one that's designed to fit the human body.
It keeps your hands, elbows, wrists and arms in a natural position. Some have a classic shape designed to mirror the hand in a weightless environment.
A vertical mouse allows you to grasp it with a handshake grip. Both types can make you more productive, reduce fatigue and prevent common conditions like mouse arm syndrome, carpal tunnel and Repetitive Strain Injury (RSI).
To complement the mouse, it's recommended to get a good mat so that there's some friction and control when navigating the cursor on screen.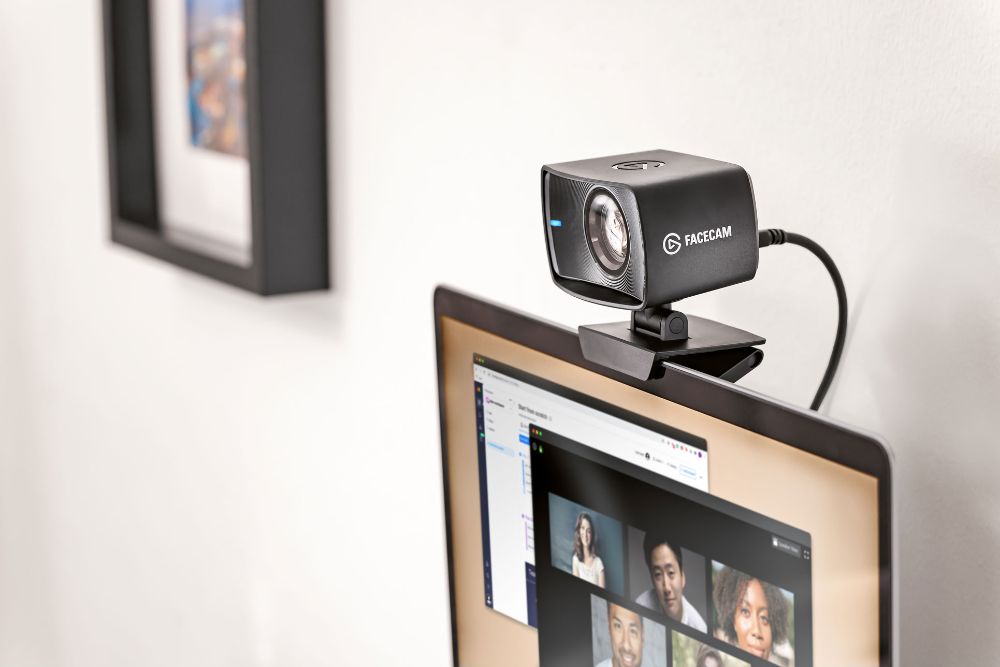 While your laptop already has a built-in webcam, it's recommended you invest in a dedicated external webcam as these typically have higher quality components, providing for better resolution, speed, fluidity, colour balance, wider field of view and noise reduction.
It's also best to ensure that your webcam is compatible with the video conferencing application that you're using (like Zoom or Teams).
Instead of a mouse, some people prefer to use a trackpad or touchpad.
Many laptops come with a trackpad as standard, and many people don't like using them, opting instead for a mouse. But if you're on the move, or even at your workspace, a track pad means there's one less item to remember or to deal with.
Once you get used to a trackpad, you'll wonder why you ever bothered with a mouse.
Logitech
has a rechargeable K400 wireless touch keyboard which incorporates a trackpad, while Apple users should opt for the
Apple Magic Trackpad
.
For those who like to work with printed sheets, consider a home printer that doesn't take up too much space and is relatively quiet.
Consider how much printing you do and decide between a laser printer or an inkjet printer using replacement toner cartridges or refill ink packs.
No matter what is stated on the box about the number of sheets that can be printed with one set of cartridges, discount this number heavily.
And the cheapest buy may not necessarily be the best choice, as the ink runs out quite quickly and within a few changes, you would already have paid more than the cost of your printer.
Now that you've got your home workspace all set up, you need to be disciplined in your approach to work or play when using your workspace.
For every 20 minutes of usage, you should take a 20-second break to look at something up to 20 feet away.
Sitting all day is also not good for your health. Get up more often. Set a timer for every 30 minutes to stretch or walk around.
Remember, the time and money you invest in it now can save you from various health issues in the future, and increase your quality of life in the present.