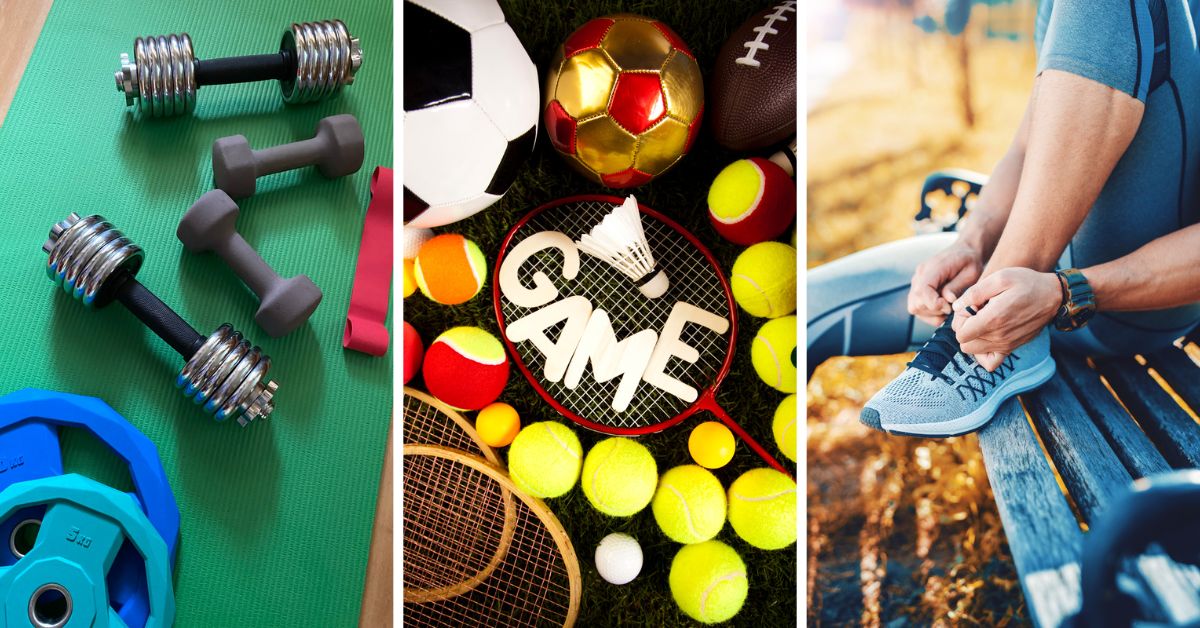 For the first 13 years of my life, I was a weak little girl who battled asthma. I had never tasted ice-cream nor cherished cold drinks until I became a teenager.
Fast forward to today — despite torn ligaments, back issues, tendonitis and spondylosis — I love my active lifestyle simply because of the untold benefits that have come with it.
I've been managing the asthma through exercise, sufficient rest and keeping stress at bay.
I've only used the Ventolin Inhaler once in Brussels when the asthma made a comeback after 22 years.
Come with me on my fitness journey through the vista of the years to give me a chance to convince you of the hidden pluses of an active life, especially as we age.
Bereft of asthma, I dived into table tennis, netball, softball, and athletics. At 14, I sustained an ankle injury when my leg hit a hurdle in the 110m hurdles heats.
After that I hobbled to the long-jump try-outs, not giving up, albeit very much in denial. But thankfully I found my form in athletics. I sprouted into a sprinter and middle-distance runner.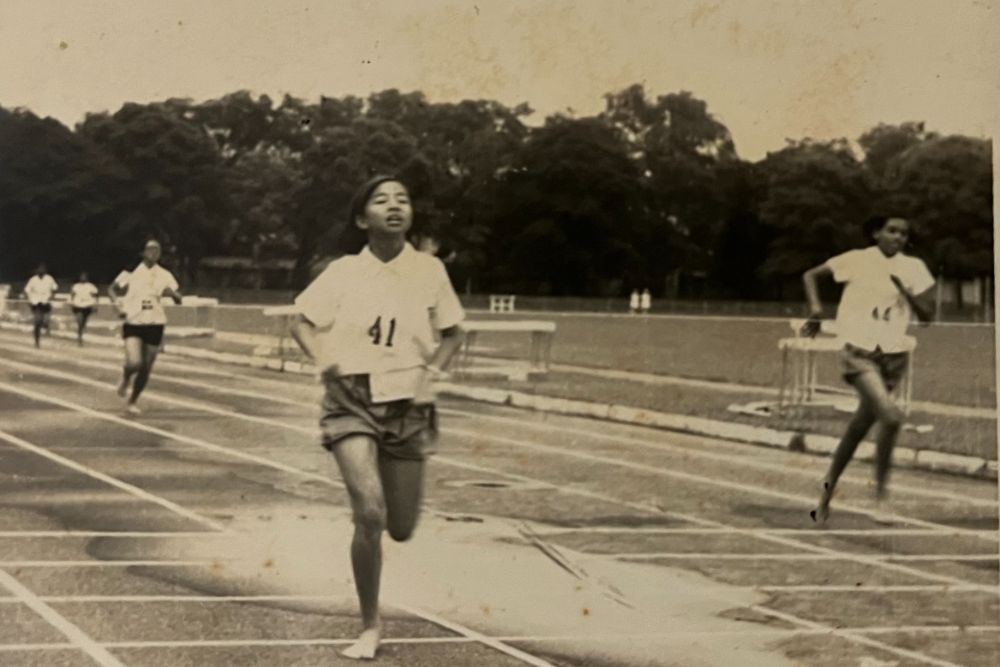 I remember I was dying in the 800-metre race and was almost going to give up, promising myself I wasn't running that race again.
That thought evaporated when I was told it was the finals (no heats) and that I had come in second.
What a far cry this was from the days when I could not sleep at night because I had asthma.
As a baby, I was falling sick every other week. There were no nebulisers and inhalers then.
I just had to survive each attack. My constant companion was the sound of wheezing in my chest.
Swimming was recommended for asthmatic patients but I did not take a fancy to it.
Mum had been a national hockey player for the Malaysian team, so I gave hockey a shot in secondary 1. But one whack on my shin sent me reeling to the next sport, athletics.
At the same time the lure of the smart uniform and demeanour of the cadets in the National Cadet Corps got my attention and I signed up.
In Junior College I tried canoeing but gave it up for netball. After JC, I picked up tennis, playing with my NS-serving classmates at the Civil Service Club in Dempsey.
By then I knew nobody could stop me from doing what I set my mind to.
At University I was roped into the Arts Faculty's bowling team while juggling my studies.
When I started teaching, I took half my Secondary 1 class to the ice-skating rink because a student's mother worked there. It turned out to be another enjoyable sport I fell in love with.
However, it was hard to keep at revenge exercise when work, marriage, and children came into the picture.
Aerobics had become popular. But I could only put in an hour after work once a week to make sure I could reach home in time to tuck in my two-year-old son. Then hubby was posted overseas, to three cities, which was disruptive to my exercise routine.
Back home, after a few years away, I could step up my exercise routine after I returned to the workforce.
A new gym had opened in Orchard and I signed up. I'm into my 30th year with them.
Once I fell in class because of my weak ankle (hurdles' injury). It was just before my 25th wedding anniversary. My doctor told me to say goodbye to step classes. But I still get to enjoy exercise.
Exercise has become a lifestyle with myriad benefits.
When I am exercising, I would not be thinking about work because I just had to focus; it's great for destressing. The endorphins lift your mood. You move quicker with a zest in your stride, have a better sense of balance to break falls, and maintain better body shape.
Instead of being breathless climbing the stairs, through exercise I found I could improve both cardiorespiratory fitness and muscle strength.
Instead of losing muscle mass as we age, we can improve this with weight and resistance training. It is not how late you start, but about starting!
A Healthy Lifestyle for Self-care
Besides the gym facilities, let me entice you with what awaits you when you decide to make that change in your lifestyle.
A suite of classes is available. You can start with Zumba which is easy to follow, coupled with body toning, and stretch classes (so necessary as we age).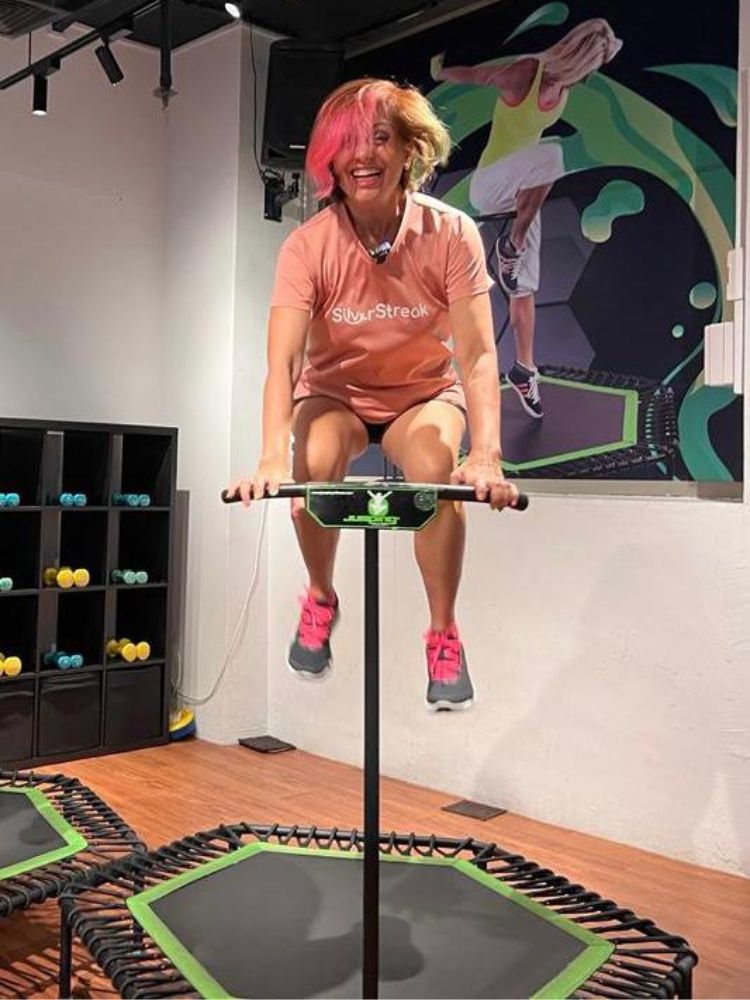 As you feel more confident, you can move on to other dance and cardio classes like Hip Hop, Funk Blitz, Kick Boxing, and Aero Groove, my favourite. Or take advantage of the range of yoga and pilates classes.
Most gyms have these classes but call them by different names. You may feel a newbie, but not for long.
As you keep attending these classes, they get familiar and easier to follow, and you build strength, stamina, and a social network.
As silvers, you will not only be exercising side by side with women of all ages but will feel less lonely because overnight a whole new world opens.
You are presented with an option of a ready itinerary every day:
You may not only have lunch and karaoke 'kakis" but travel companions, too.
Dr Tan Huei Nuo, Head of Geriatric Medicine, Tan Tock Seng Hospital has this to add:
Exercise is the key to maintaining good health and a well-established way to combat the rate of ageing.
It can play a role in disease prevention or as a treatment for diseases, akin to therapy with medication, without using pills.
When planning your exercise routine, consider the type (aerobics, flexibility, resistance and balance training), intensity, and quantity of exercise.
At the end of the day, exercise is one of the strategies which we can undertake to optimise the peak performance of our health and function in a lifetime."
Every year I try to set personal fitness goals.
In 2020 it was the 100km OCBC virtual cyclethon. It felt exhilarating getting out into the nature parks and cycling by the beach.
Over the years, whenever I am not conducting training in communication skills, you will find me putting in between 8 and 10 hours at the gym a week doing various classes.
I try to strike a balance between cardio, body sculpting/toning, pilates, yoga and dance workouts.