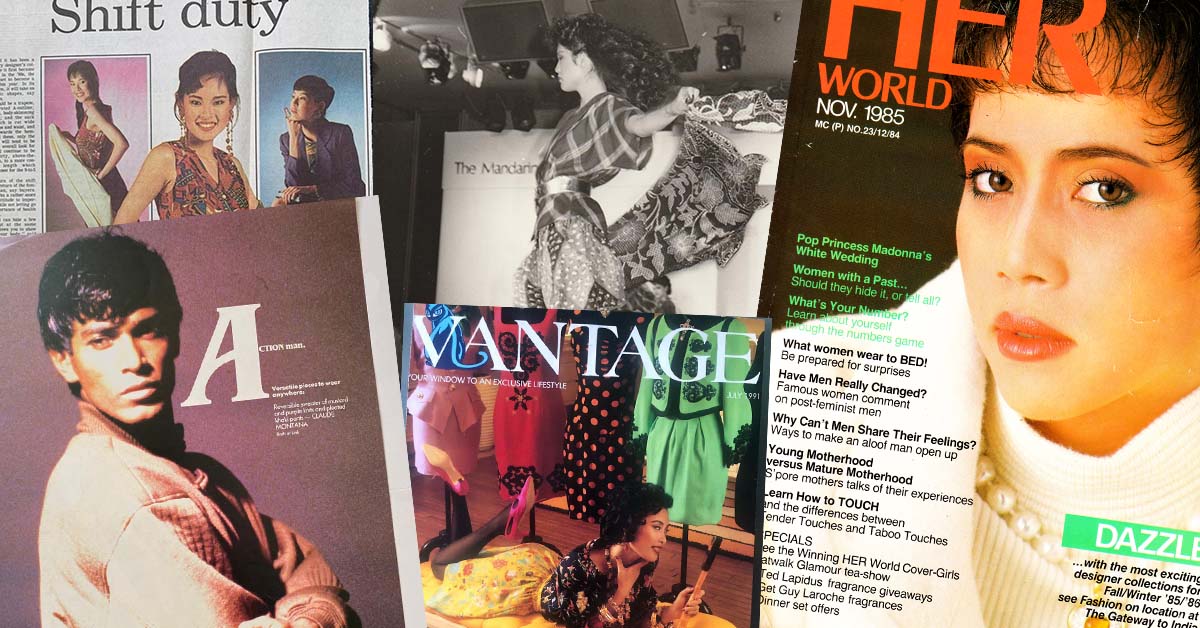 While fashion is often associated with youthful vigour, there's also a lot to be said for an experienced hand oozing confidence while legging it across the catwalk.
You'll get a chance to catch some silver model talent at Silver is the New Black, a runway show featuring a diverse model cast of all-over 50-year-olds, handpicked and styled by Daniel Boey for #FashTag at Singapore Design Week 2022.
Five silvers who will be strutting onstage tell us what it's like to be a model and how to live your best in your silver years.
Supermodel Pat Kraal, then and now.
Having modelled in Paris and Singapore in the '80s, top model Pat Kraal is no stranger to the fashion world.
As Managing Director at Platinum Angels Management (PAM), a modelling agency set up for silvers, and founded by fellow models Beatrice Andre-Besse and Brandon Barker, she wants to continue to live the model life.
"We intend to break the mould and be at the helm of this new wave of age awareness," Kraal says of PAM and the recent trend of fashion brands incorporating older models into their marketing.
For instance, supermodel legends from the '80s and '90s have reappeared on the catwalk alongside their younger peers, with renewed spirit and unwavering confidence.
Angel Cheah is a picture of youthful vitality in her silver years.
Model Angel Cheah began her career in her teens to earn extra pocket money while studying. Now, she balances her time between family and posing for the camera, which she calls a "godsend".
"Having the opportunity to model again in my 50s brought back great memories of my younger days," Cheah says. To her, youth is more a state of mind than a state of life as one is only as old as one thinks.
To silvers who have yet to take the leap into modelling Cheah's advice is "to give it your best shot".
The sky's the limit for Helena Lim, whose bright smile will take her anywhere she wants.
Former model Helena Lim thought that her modelling years were long behind her. However, seeing older peers return to the industry inspired her to do the same, showing how agencies like PAM are starting a revolutionary movement.
"Just do it. You have earned the right to author this next chapter in the book of your life," she says, encouraging silvers to be bold and pursue what they love despite the odds.
Age is just a number for Ibrahim Atan: Who says you can't look this good in your silver years?
Model Ibrahim Atan is undoubtedly an industry veteran, for whom modelling has become second nature since he started in the '80s.
These days, Atan embraces life at his own pace and engages in a variety of hobbies, such as playing golf and fishing, when he's not modelling.
"I have not retired and I enjoy meeting people from all walks of life," he says.
On working alongside his younger peers, Atan adds that he doesn't feel any pressure as he brings along years of experience that he could share with them.
"Youth encompasses energy and exuberance," he says.
Lyn Wang is not planning on stopping anytime soon.
Lyn Wang never imagined she would venture into modelling, until she was scouted in her earlier years as a beautician.
Having gone on hiatus to care for her daughters, Wang is making her return as a silver model at Singapore Design Week 2022.
"Do not allow your age to be a hindrance," she says.
As for overcoming the challenge of putting herself back in the spotlight, Wang says: "Staying positive is the key word to looking youthful and having good mental well-being."
Look out for Silver is the New Black on 17 September 2022 at Raffles City Shopping Centre.
When:
17 September 2022, Saturday
Time:
3.30pm
Where:
Raffles City Shopping Centre
Fee:
Free admission
Website:
The Front Row
Returning for its third edition,
#FashTag
is a creative initiative by virtual fashion festival,
The Front Row
, that explores the possibilities for fashion in an increasingly digital post-pandemic world. From 16 to 25 September 2022, catch curated runway shows, industry talks and workshops.