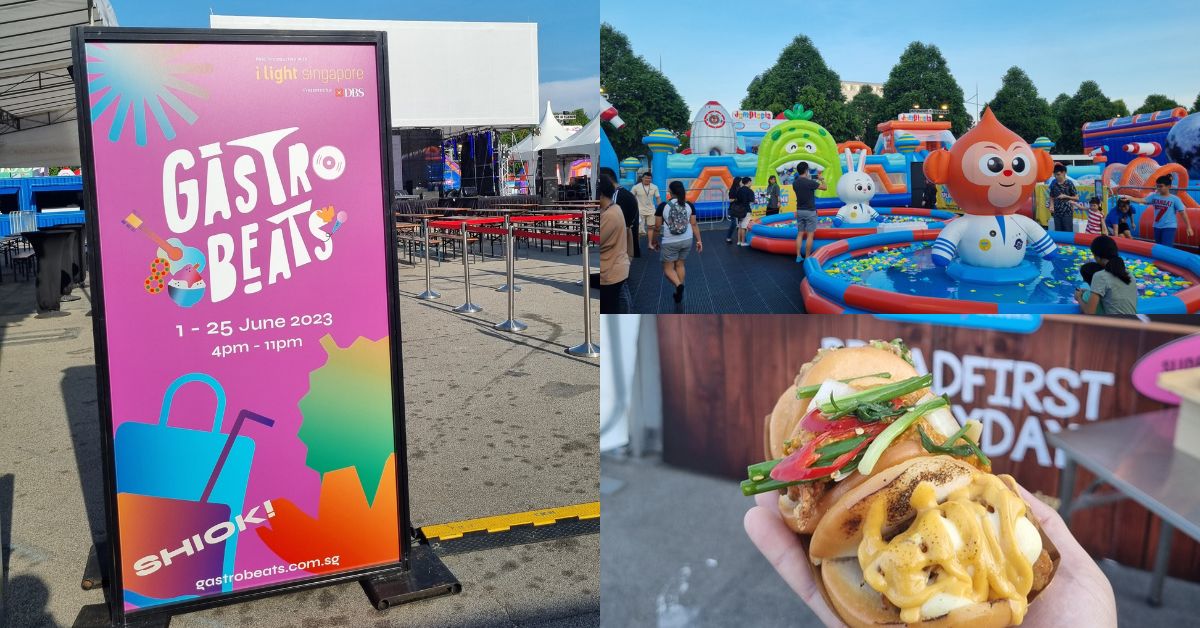 GastroBeats 2023, a month-long food and music festival at the Bayfront Event Space, begins today (1 June) featuring
live music
by local bands, more than 50 food stalls and beer tents.
There are also interactive zones and
kid-friendly
attractions like a bouncy castle and splash theme park, for anyone looking to occupy kiddos during the June holidays.
GastroBeats 2023 will be open until 25 June from 4pm to 11pm daily.
Like last year, it will be running together with i Light Singapore, a sustainable multi-sensory light showcase stretching across the Marina Bay area.
There is ample seating throughout the event space, though we suspect it might be difficult to snag a spot during peak hours, as the event space is completely free to enter.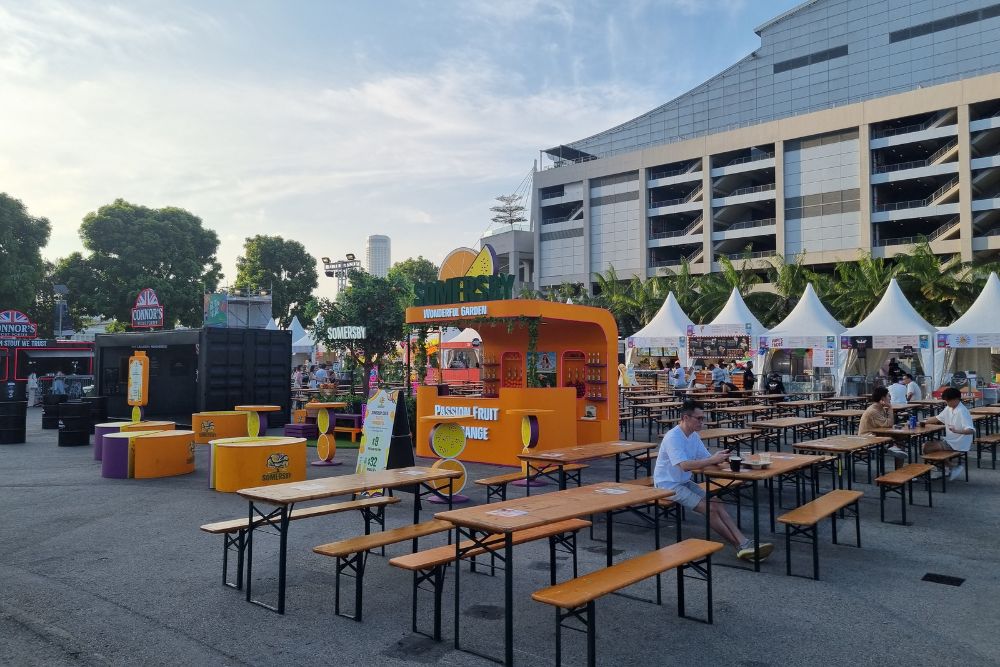 SilverStreak got a first look at GastroBeats 2023 – this is what to look out for, whether you're planning a day out for the kiddos, or looking for some respite from their boundless energy.
1. Bop to live music by local bands
GastroBeats wouldn't be GastroBeat without, well, beats, in the form of live music every Friday, Saturday and Sunday evening.
Expect a lineup of local bands like 53A (the feature act of National Day Parade 2016), Shirlyn & The UnXpected and Peep Show. There will also be several acts featuring performers with special needs, such as Strawberry Story (a duet formed by visually impaired artists) and the MINDS Taiko Drum Troupe, which featured in the 2014 edition of the National Day Parade.
Click
here
for a schedule of the acts.
2. Chow on soft-shell crab mantou sliders or mochi-stuffed you tiao at over 50 street food vendors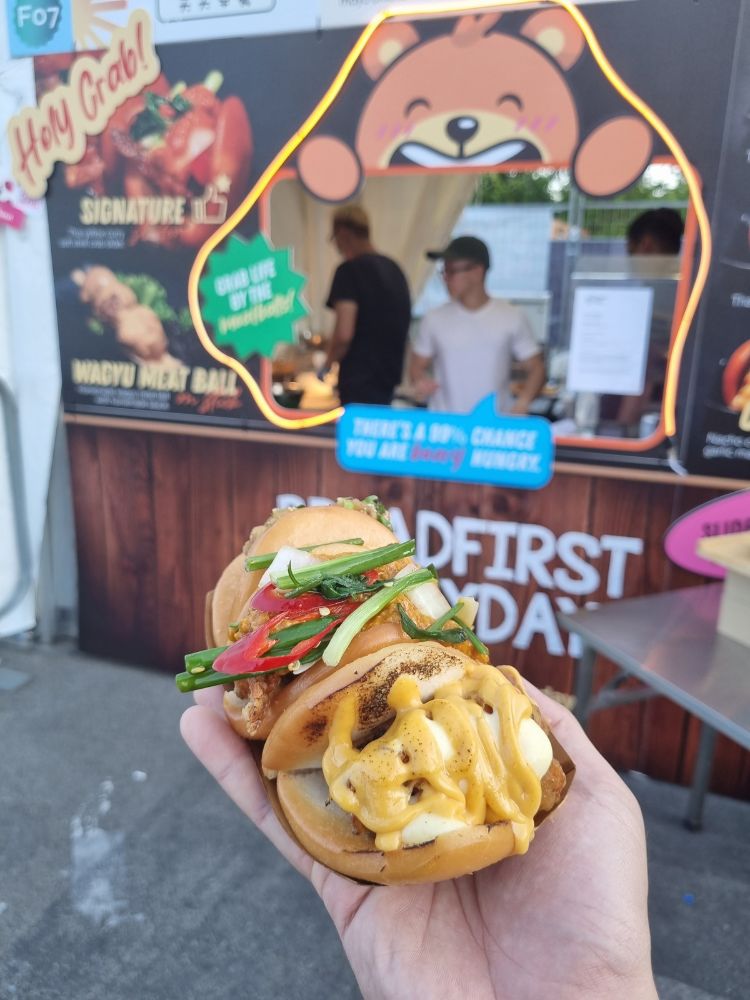 Come hungry, as GastroBeats 2023 features an eclectic mix of local, Thai and Taiwanese food vendors, each with their own dedicated area.
Street eats include croissant pizzas from local bakery La Levain, Thai-inspired mantou (Chinese buns, usually steamed but now deep-fried) sliders by Breadfirst Everyday, mochi-stuffed you tiao by You Tiao Man, and ice cream by local stalwart Swensen's, done up to resemble chicken nuggets and drumsticks.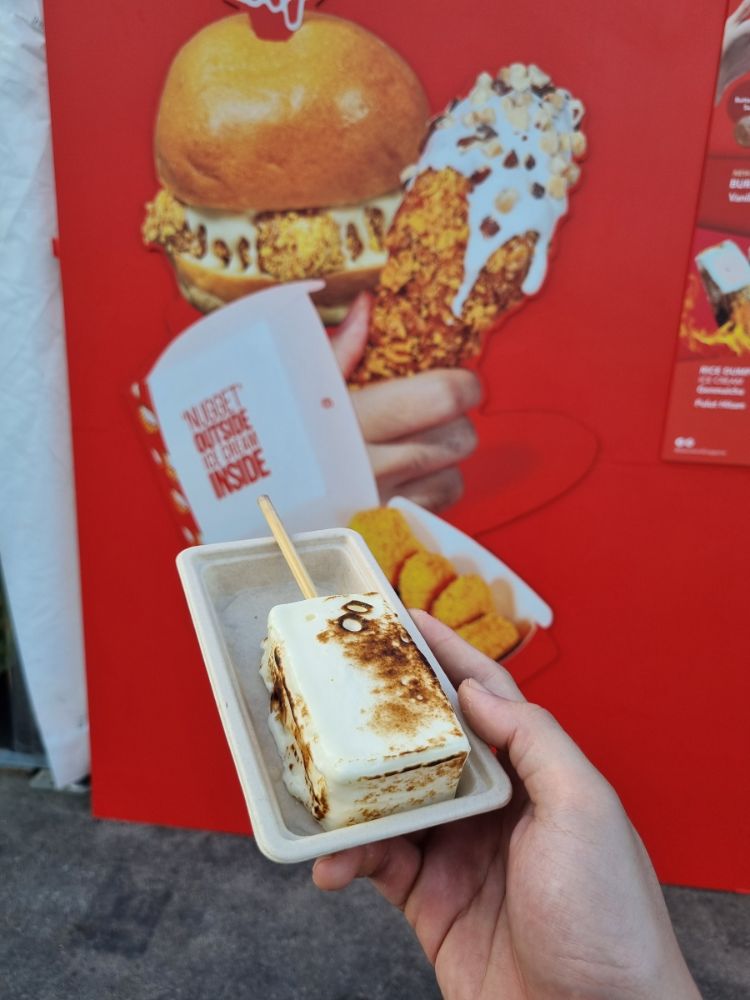 There are also vendors selling food festival staples like bubble tea, Thai milk tea and coffee to wash it all down. You can check out the full list of stalls
here
.
3. Kick back, and grab a beer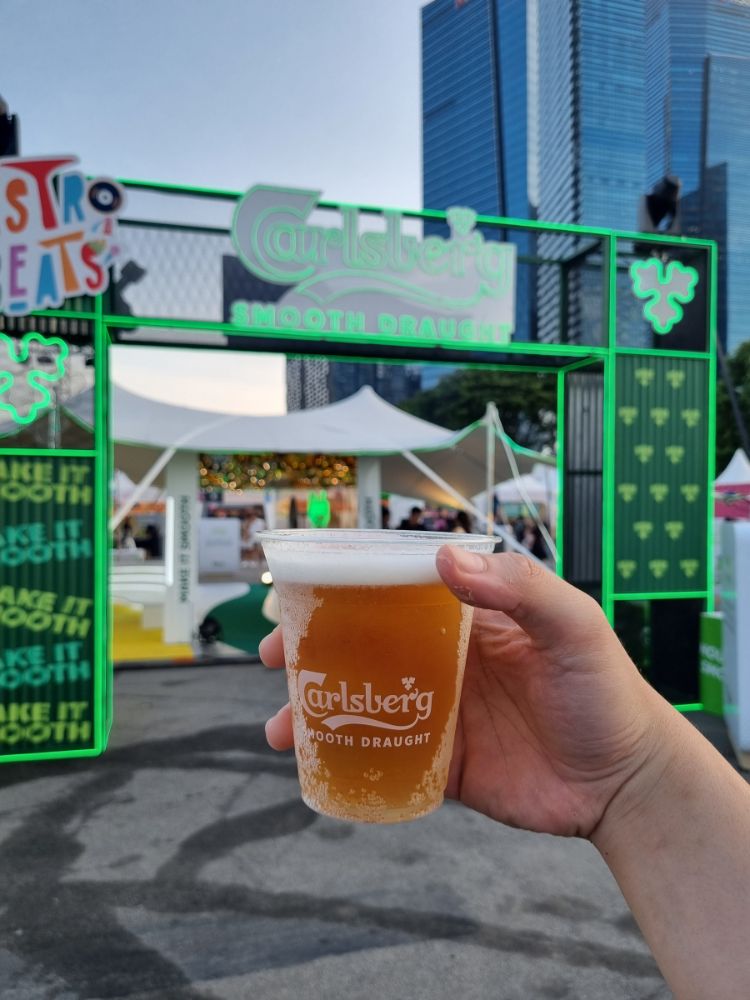 If those aren't your cup of tea, other liquid refreshments like Carlsberg Smooth Draught, Connor's Stout Porter, Kronenbourg 1664 Blanc and Somerby's Cider (all $9 a cup except for Kronenbourg, which costs $10) are sold at themed booths around the GastroBeats 2023 event space.
Cocktails ($12) and wine (from $12) are also available, as are soft drinks and bottles of water ($2) for the non-drinkers.
Visitors can enjoy 10 percent off alcoholic beverages if they visit during the happy hour timing of 4.30pm to 7.30pm on weekdays (except Friday).
4. Slide, splash and bounce at GastroBeat 2023's kid-friendly play zones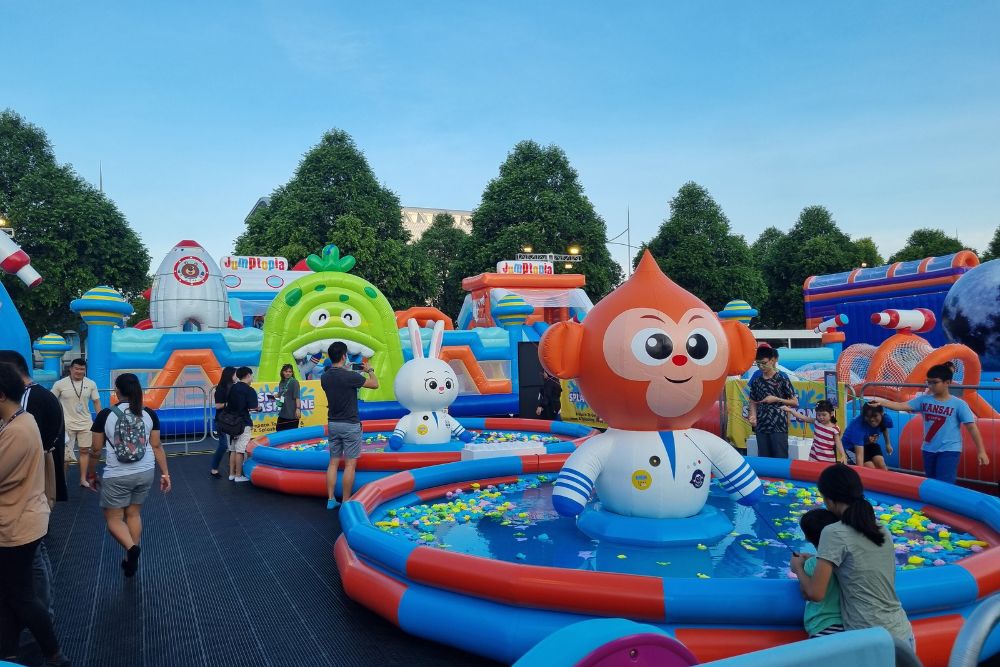 Families with toddlers or young teens can't miss Jumptopia, an inflatable theme park by Kiztopia (which manages several indoor playgrounds) with dual zones catered to both age groups.
The toddler-friendly area consists of the Galaxy Adventure Zone and Space Splash Zone, featuring space-themed bouncy castles and water games respectively.
Jumptopia Wild's adrenaline-inducing bouncy obstacle courses and high-speed slide, on the other hand, are reserved for older kiddos that meet a minimum height requirement. Single entry tickets start from $19 per child (it gets cheaper the more kiddos you have in tow), while unlimited day passes cost $29.
Children must wear socks to play, and it is advised to bring a change of clothes for kids heading to the Space Splash Zone. Get tickets for Jumptopia at GastroBeats 2023
here
.
5. Hit up interactive experience zones
The interactive experience zones at GastroBeats 2023 offer visitors an extra layer of fun (and the chance to win some swag).
One example is the DBS Zone, which takes sustainability, exercise and money management and turns it into gamified experiences and Instagram-worthy installations.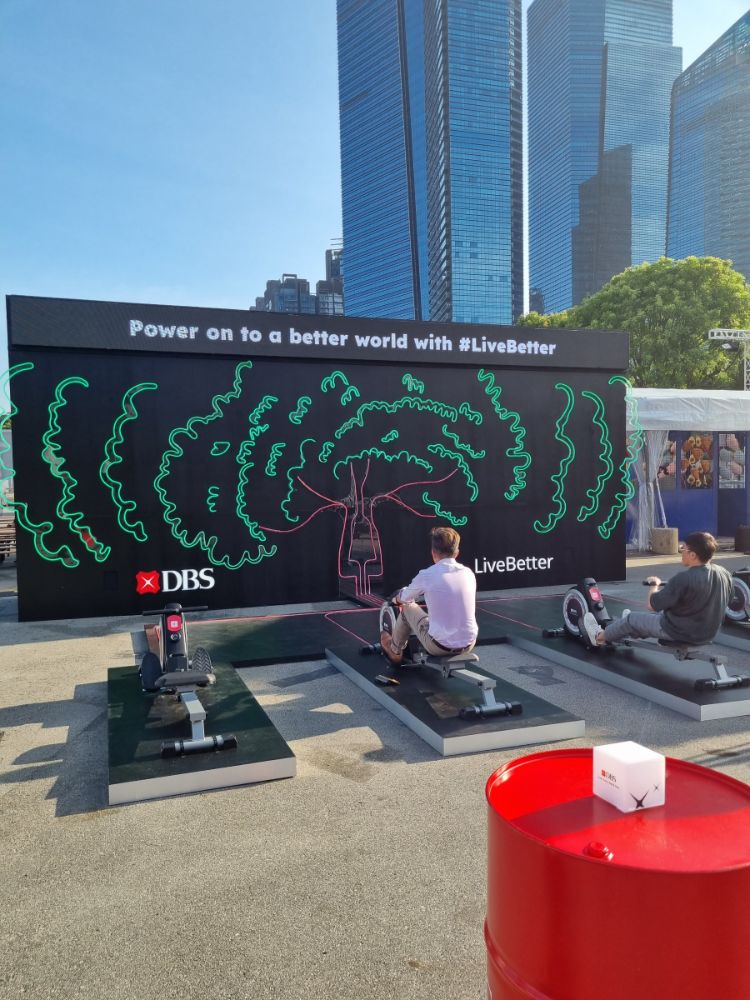 Not to be missed is their Glambot booth, which captures festival visitors in cinematic slo-mo a la The Oscars.
This is the first time such an experience has been offered to the general public in Singapore, so take your chance to strut your stuff. You might even win an Apple Watch SE if you share it on Instagram with a creative caption about self-love.
You can also choose to get your sweat on at a rowing machine that powers a light fixture, or sort world currencies onto a map of the world. Complete four out of six stations to redeem a light-up reusable tumbler in the sustainability-focused spirit of i Light.
6. Snap a photo or ten at the various installations and mascots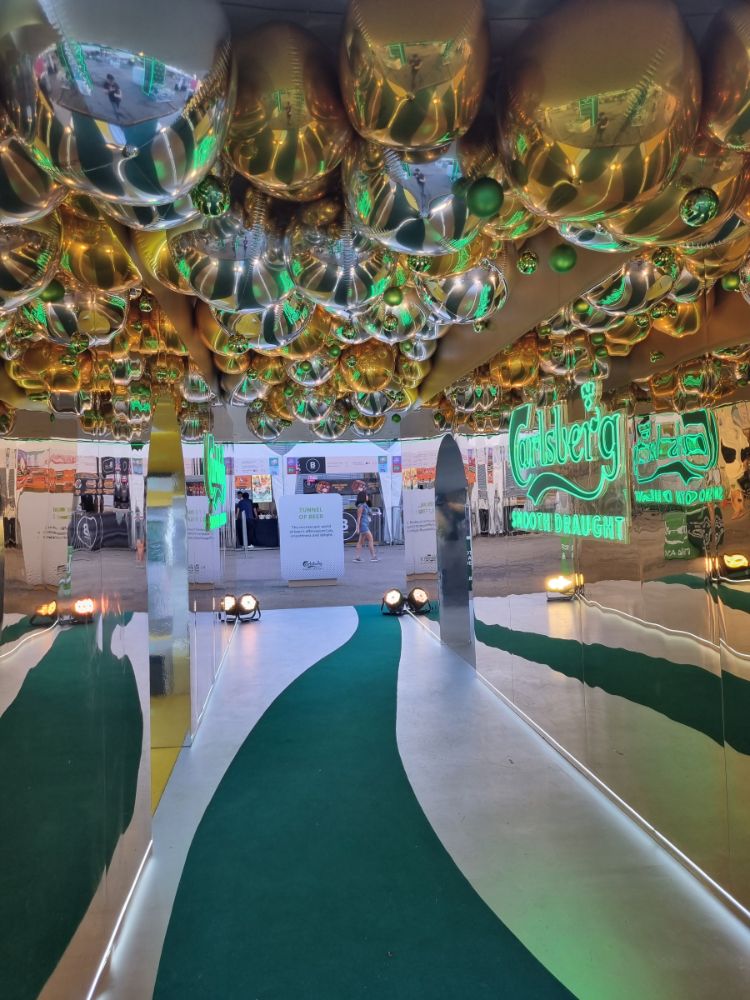 GastroBeats 2023 is peppered with quirky brand installations and roving mascots, so there's plenty of places or things to snap a photo with.
Don't dismiss this as a novelty for the Instagram generation – it never hurts to have a good photo on hand.
Mascots that we found particularly photo-worthy include Pau-Pau, foodpanda's adorable pink panda, and Smiley, POSB's way of encouraging children to squirrel away their money for a rainy day.