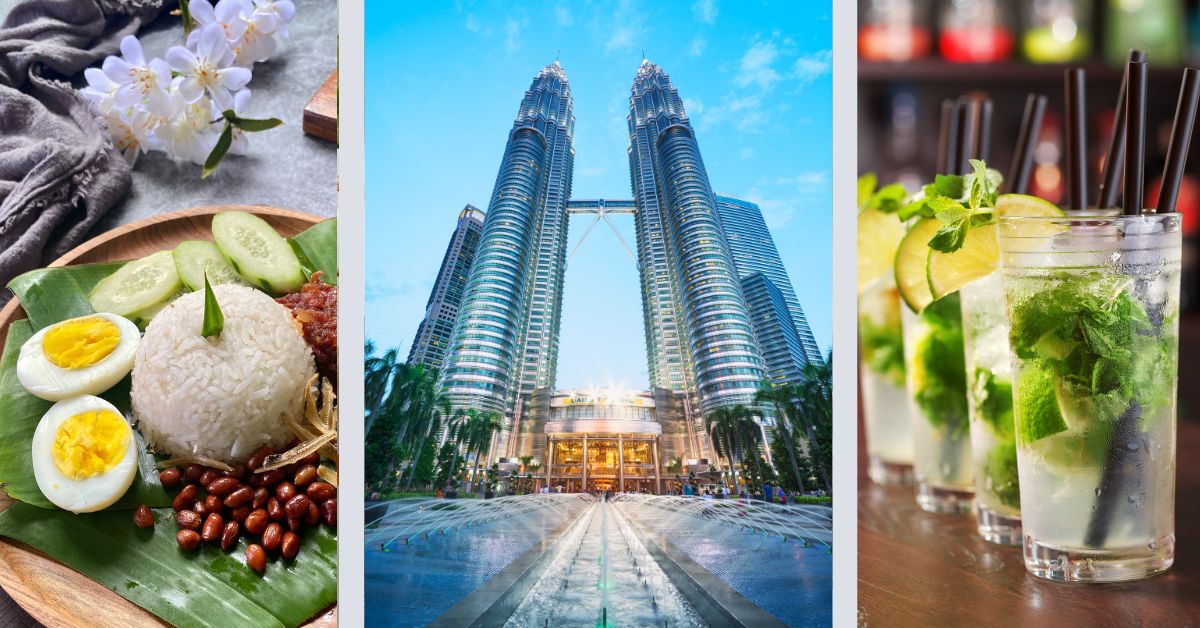 Jasmine And Rani Hit The Road: A post-pandemic road trip to Kuala Lumpur (KL) is not something either one of us was going to miss out on. We have never travelled together, but the opportunity — as food and travel lovers — to check out offbeat dining spots was too tempting a dish to resist.
Before you go, do your homework and check websites, ask around for advice from those who have used private hire services, before picking a company with a good track record and experienced and professional drivers.
Our five-hour drive into KL began in a private hire luxurious Mercedes seven-seater, which is as comfortable as comfort gets. For those who don't fancy flying, or driving or coach travel, a private hire service is best.
Make sure you buy
travel insurance
, and check the various plans offered by different companies. Do be mindful of the fine print.
Be Aware Of Your Surroundings
The advice of well-meaning friends comes to mind about keeping safe in KL; how to travel, and what to carry so as not to be a victim of crime. Snatch thefts are said to be common.
That said, keep this advice in mind anywhere you travel.
Happy to report, we did not experience any such mishaps despite traipsing all over Bukit Bintang, Petaling Street and Chinatown on foot.
KL is a big city and if time is short you need to stay where it is convenient to get about.
As always, location is key. As we only had the driver for the return trip, we opted to stay in the Bukit Bintang area, where most places were within walking distance, to avoid hefty transport costs and KL's infamous traffic situation (which remains unchanged).
When it was called for, we hired a private-hire driver via Grab, which works in KL.
Our deluxe room with twin beds for a two-night stay cost S$151+ excluding the mandatory RM20 Tourist tax.
On our first morning in Kuala Lumpur, we discovered Kedai Mamak Husin, a 24-hour joint with the best calamari rings I have ever tasted.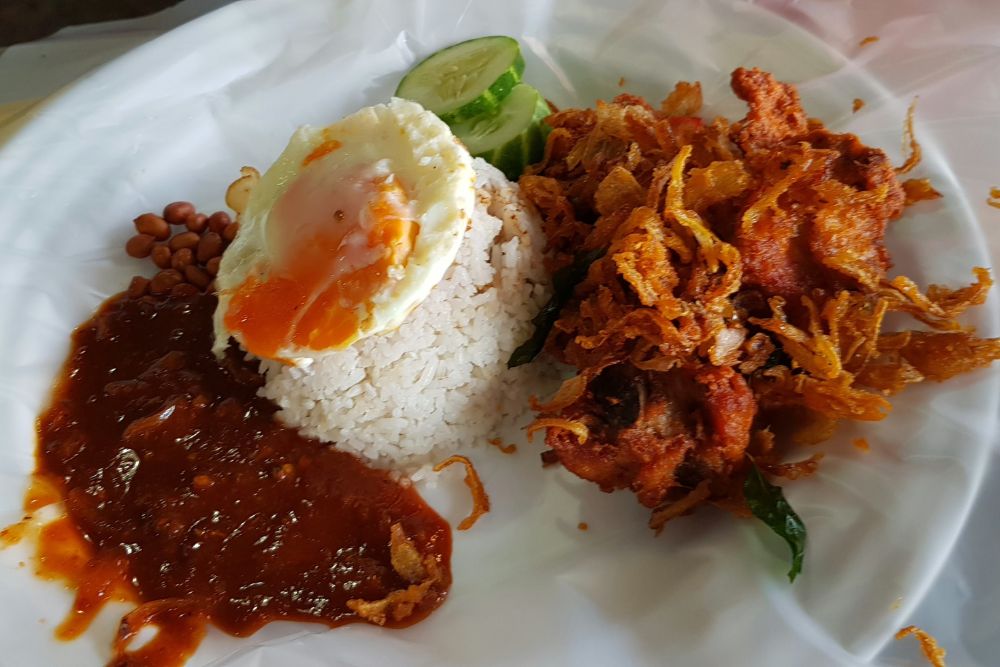 Beneath the tasty batter, the flesh was tender with the clean, briny bite of freshly caught squid.
It was served with fluffy rice infused with coconut milk, a sunny side egg with a frothy white fringe and a bright orange yolk, and a thick slice of cucumber.
Tiny groundnuts and crispy brown shallots sprinkled on top added more crunch.
The fiery red sambal was different from its Singapore cousin; very spicy, watery and tart from tamarind and coarsely ground shallots.
On the second morning, we took a 15-minute walk to Chinatown.
The walk itself was not particularly pleasant. In between side stepping muddy puddles, there were hairy moments when we thought that we would wind up becoming roadkill.
Pavements would suddenly end at construction site hoardings with no possibility of crossing the road as cars bore down demonically on us.
However, after scaling a rusty pedestrian bridge (avoiding holes large enough to fall through), we were rewarded with the sight of Petaling and other streets of Chinatown.
Many shops were reminiscent of bygone Singapore — think peeling walls, five-foot ways stacked high with goods, and street carts.
Breakfast stalls, some of which have been there for generations, beckoned.
We had the silkiest chee cheong fun (rice rolls) at Yooi Kee.
"Chee Cheong" translates to pig intestines, but this only refers to the appearance of the rolled rice sheets and can safely be consumed by vegetarians.
The third-generation proprietor, a relatively young lady, was an expert at chopping these rolls into even lengths while taking orders, without even glancing at the chopper or the board.
The stall also sold intestines – the real thing – deep-fried and crispy with other innards like tripe and spleen in a bowl of plain congee. The consistency was perfect; the broken grains were tender but not mushy and each mouthful slid smoothly and comfortingly down the gullet.
Dining out is a treat in KL as there is an endless variety of Chinese, Malay and Indian food.
Along Jalan Alor, only a few streets from our hotel, the signboards advertising seafood cooked in every which manner seemed endless — Thai, Vietnamese, Teochew, Kampong, Malay, various Chinese, steamed, barbecued, fried and in any other conceivable style.
One signboard proclaimed that they sold the only satay goreng in Malaysia. Lobster, crab, prawns, oysters, scallops, clams, escargot, mussels and other crustaceans were on offer, as well as frogs and many different species of fish.
Skewers of meat, fish, quail eggs, crabsticks and assorted fish, meat and combination balls in pink, green and white hues, to be dunked in different flavours of stock — savoury and spicy — and peanut gravy were displayed at mobile stalls standing parallel to the restaurants.
Though Jalan Alor has a repuation for being a tourist trap — with restaurants selling grilled seafood very similar to what's found in Newton Food Centre — Jasmine spotted some gems.
A huge coffeeshop had many small stalls, including a halal dim sum corner named Cik Noor Dim Sum. It cost RM8.80 for three pieces of Teochew siew mai.
Though the yong tau foo looked very much like its Singaporean counterpart, the taste of Alor Yong Tau Foo set it apart.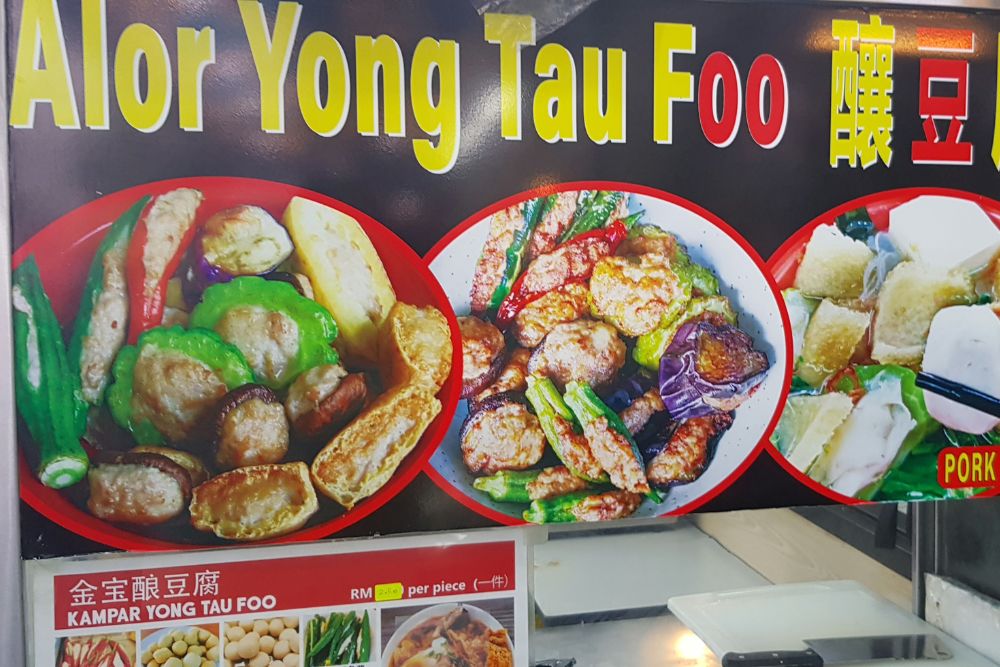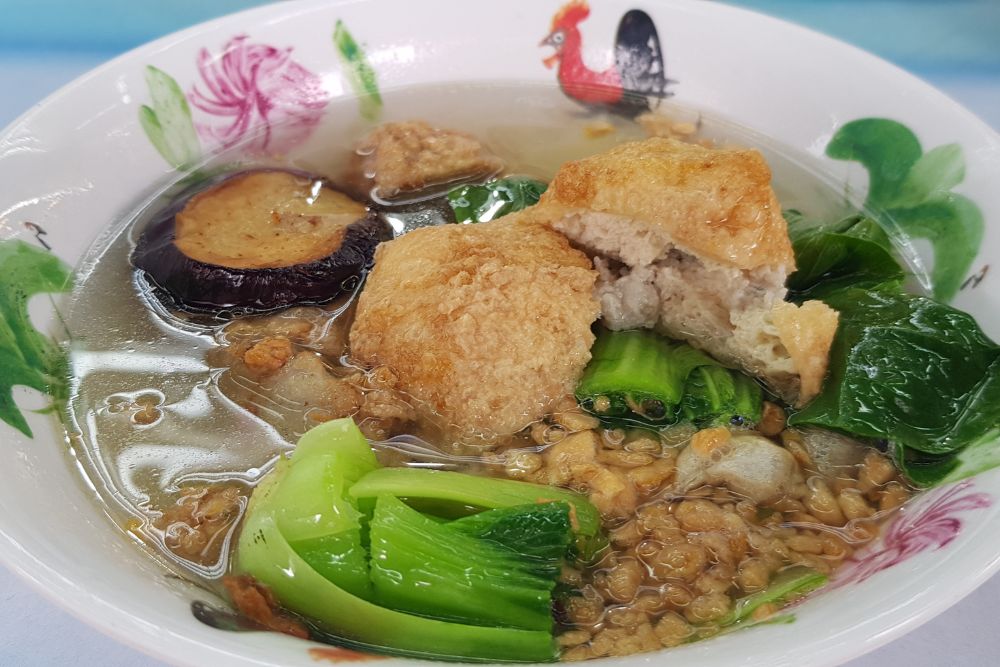 The stuffing of fish was not only well-seasoned, but had a bounciness that could only come from yellowtail and other freshly caught fish, not the addition of dory which is so prevalent in yong tau foo found in Singapore.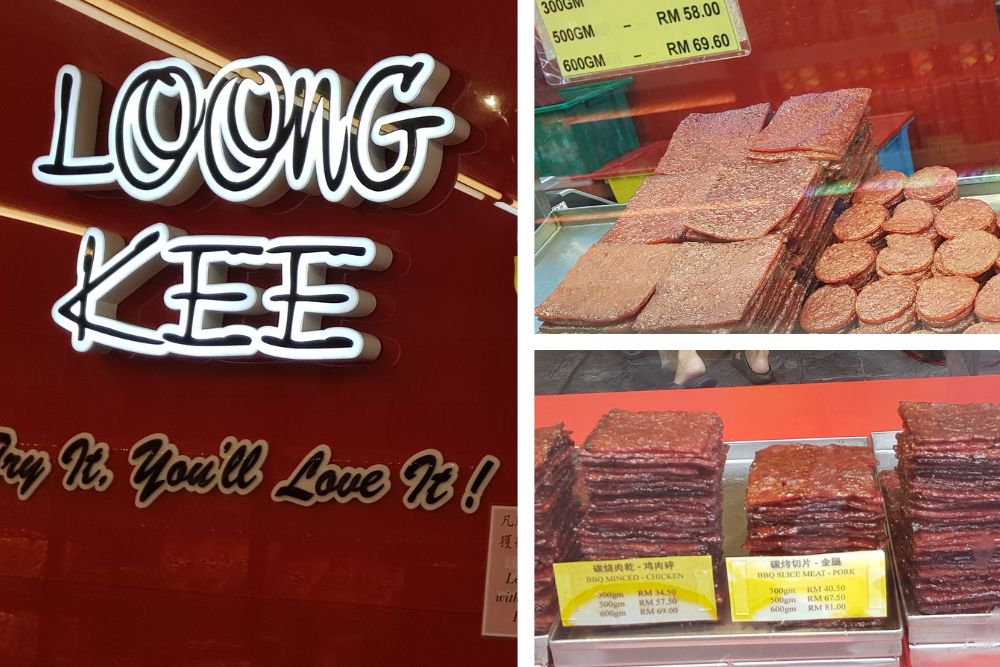 The aroma of barbecued meat being grilled on charcoal pits at Loong Kee was tempting, and chicken (sliced and minced) was as easily available as pork and sold at the same price, based on weight.
For dinner, Rani proposed true-blue Malaysian at the award-winning
Bijan
restaurant, a RM5 Grab ride from our hotel.
The menu included our favourites: Cucur udang (prawn fritters), minced prawns coddled in a savoury spongy batter and deep-fried till crispy, to be eaten with their house chili sauce; kerabu pucuk paku daging, a salad of young fern shoots tossed with grilled beef strips; and a roti jala (fish net crepes) tiffin set with chicken curry and salad.
There was much attention paid to presentation, and everything was very tasty indeed. At less than RM100, this was excellent value for such a classy venue.
The next night, a sudden craving for good British-style fish and chips hit Jasmine, and though Rani was not convinced, she was persuaded to go for the pies.
At the higher end of the scale for pub grub, the fish and chips in the Magnificent Fish Restaurant, located in Changkat Bukit Bintang, brought us back to England. Picture a plate of flaky white fish encased in a crunchy light batter.
Rani was not too disappointed with her pies either, which featured creamy chunks of chicken enveloped in proper puff pastry.
Every drop of sangria down to the last in the jug was drunk with gusto, though there was an overload of diced apples rather than oranges.
At around RM100 a head, this was another reasonable indulgence.
We saved the best for last and had a lunch to remember at Warong Old China.
This Peranakan restaurant, a two-storey pre-war shophouse has a museum feel about it, as it is filled with antiques and takes you to the days of old.
It was a tussle between the Nasi Lemak with Chicken Rendang or the Buah Keluak Fried Rice set lunch at RM16.90 each so we ordered both together with an additional side order of Chicken Lobak.
Each plate was a considered offering.
Blue-streaked coconut rice, not overly rich, paired well with tender chunks of chicken well-permeated with aromatic curries. Chunks of bangkwang (Chinese turnip) gave a juicy crunch to some of the dishes and we had to restrain ourselves from ordering more.
An easy venue to recommend for the nostalgic ambiance, attentive service and heritage dishes.
After two years of cabin fever, it was time to go pub hopping, and we hit Bukit Bintang for a slice of Malaysian night life. Be adventurous, as we were, and bar hop.
To Rani's dismay, familiar haunts like The Ceylon Bar were a Covid-19 casualty. However, stalwarts such as the Havana Bar and Grill with its Cuban Hacienda-style décor remains ever popular. Here you can start sipping mojitos as early as 3pm to the Salsa beat.
There were new additions as well, such as Gravy Baby, and though drinking was a mainstay, the focus on food seemed to be way higher than before, with each joint placing much emphasis on their specialities which went way beyond bar snacks.
If Jazz is your thing, then do not miss No Black Tie.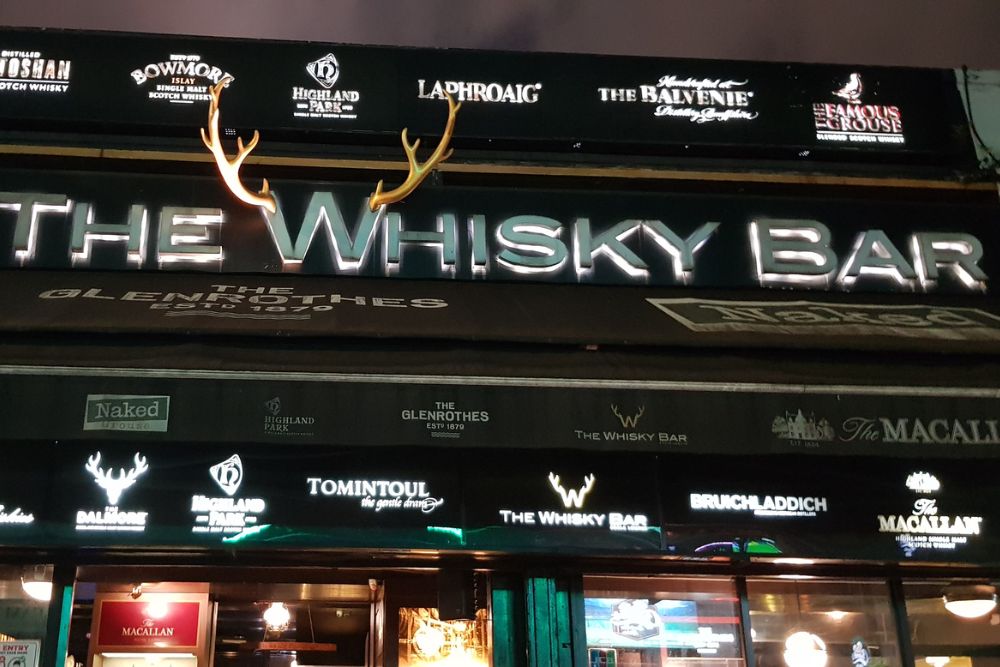 The Whisky Bar is a whisky lover's dream and definitely holds court in the club scene here, with rows of whisky bottles as far as the eye can see. Take your pick of Irish, Japanese, Scotch, or any of their curated whiskies.
While the Singapore dollar enjoys a healthy exchange rate, inflation and rising costs around the world have also affected the Malaysian economy.
We noticed that prices have gone up by at least 30 percent, but it's still good value for money.
Fahrenheit 88 off Bukit Bintang and Pavilion were the big malls closest to the hotel.
The former offers a good mix of upmarket and affordable labels, including Lovisa, Sephora and our very own Charles & Keith.
Pavilion is a little more high-end, with Dior and Prada boutiques. The Parkson Grand department store carries designs from Dressing Paula, Eclipse, Pinko and Spao, among others.
Note that travellers are granted
GST relief on goods
valued up to S$500 if your trip lasts more than 48 hours; it drops to S$100 for a period less than that.
Our trip to KL did not disappoint on many fronts.
Despite the short time we had, the effects of the pandemic, the tumultuous political situation, and the beating the Ringgit has taken, the Malaysians have not lost their charm.
Their warm hospitality and friendly ways serve as a magnet, drawing one and all to this vibrant city.
Our only regret — two nights was way too short despite all we managed to pack in.
KL, we are so coming back!