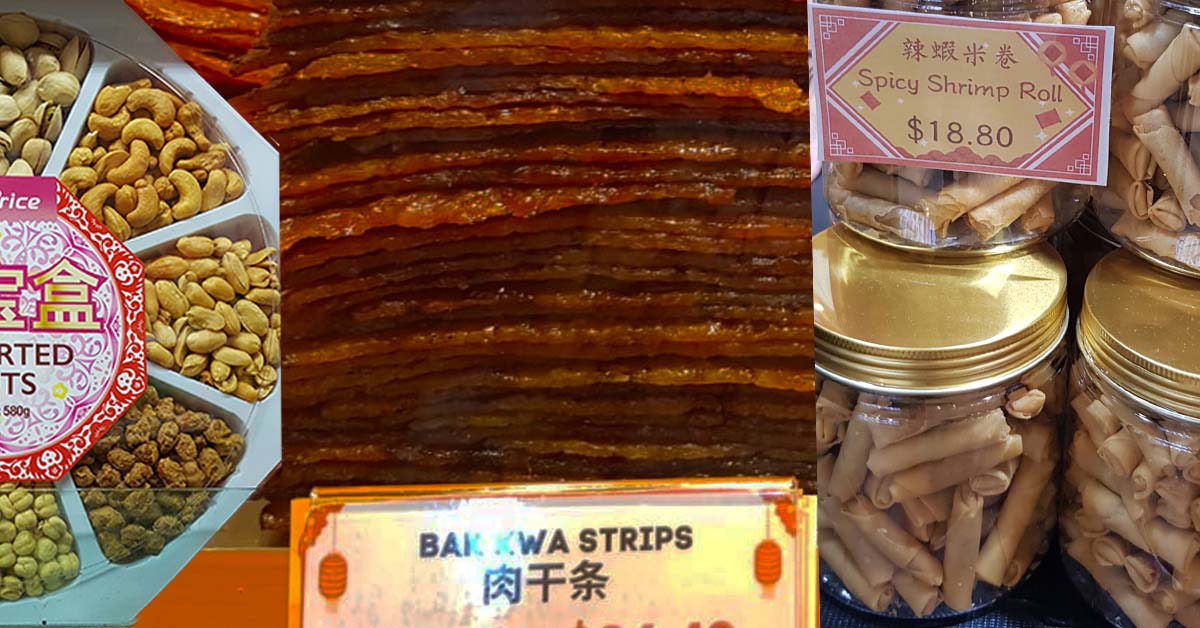 The Lunar New Year which is also known as the Spring Festival, signifies renewal and the beginning of a new year, so heralding it in surrounded by auspicious decorations and food and treats aplenty may urge good fortune and luck all round.
As many characters in the Chinese script share the same sound, their completely different meanings give rise to a play on words using homophones.
Even non-Chinese speakers know that "8" is "auspicious and lucky" as it sounds like "prosper". The converse would be "4", which sounds like "die". However, 48 is very desirable and 448 even more so, as these numbers sound like prosperity is guaranteed.
We festoon all entrances with "ang chye" a banner which translates to mean red, being the most lucky colour red and fortune.
Pussy willows, representing everlasting spring and growth, are arranged in tall vases and prettied up with bright red ribbons and faux gold (gold painted) charms of taels, coins, gourds and various miniature objects of wealth along with the animal of that year.
But I also lament at how in the globalisation of products and services, the auspicious meanings of many of the symbols of Chinese new Year have been lost in translation, reducing delectable delights to boring, unappetizing and sometimes inaccurate descriptors.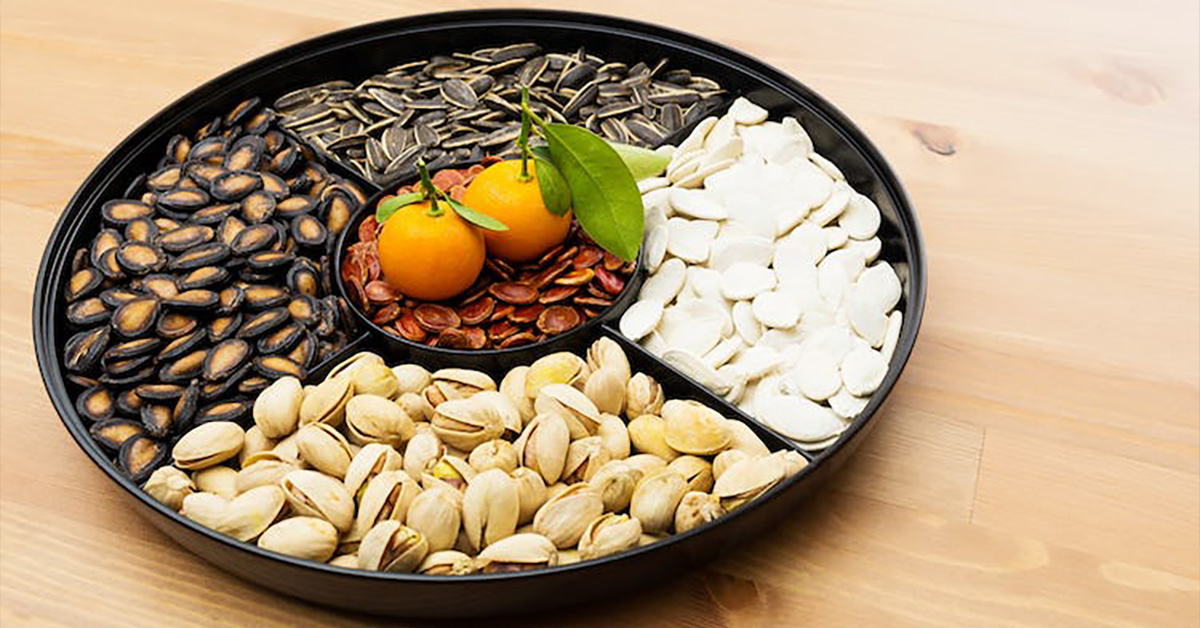 A revolving tray called the "Tray of Togetherness" would make its yearly appearance on our coffee table. There would usually be 8 snug compartments filled with traditional must-haves.
Red, white and black melon seeds are the essence of fertility for the same word also doubles to mean "son".
As I pour these slippery and smooth guazi seeds into its own chamber in the tray, the swirling cascades evoke images of visiting aunties in the most fitting of cheongsams, daintily cracking their tips.
Barely showing any teeth, they would grip the miniscule flat teardrop of a kernel and, without missing a beat in the conversation, quietly flick it down.
I convinced myself then and there, that I would be just as elegant as them when I grew up, but alas, till today, each attempt would end embarrassingly with the tiny red melon seeds being gulped down whole.
Lotus seeds, encrusted with powdery sugar, reiterates the wish for many happy descendants while candied lotus root sections sounds like "leen ngau" or abundance every year.
A nod to our tropical shores are the centimetre-wide strips of coconut, desiccated and sugared to a crunch. Coconut or Ye zi also sounds like grandad and son respectively, so this symbolises bonds and family unity over generations.
Though dried winter melons are used throughout the year for sweet brews, sticks of these can be eaten as they are, sweet on the outside, with a moist fleshy interior.
Cut straight and hard, they represent man, and translate to mean "a good beginning and end" with wishes for good health and development from head to toe, in a steadfast manner.
There would also be whole dry longans in the shell, as being round, they symbolise a perfect life, and a name sounding like family reunion together with dried red dates.
On the first day of Chinese New Year, we would take them from the tray and brew them into warm and bubbling and deliberately sweet tea which would first be offered to family members and then our visiting guests.
This first drink of the year brings wishes for sweet beginning and is also a tonic for circulation and restoration of the body balance after hectic days of preparing for a new year.
Granny's Shi Bing Shebang
My grandmother would snip shi bing — whole dried persimmons — into sections which would expose their gold sides, and naming us in turn, she would cite the blessings: "All the best, may you always be able to follow your wishes and may life be smooth sailing all the way".
I never thought much of it then but I think that was her way of demonstrating her love for all of us despite her strict demeanour.
The remaining compartments had optional items which changed yearly.
Sometimes, there would be chocolate coins wrapped in gold foil and nowadays, nuts are a common filler as they too have their own auspicious tags: Almonds symbolise a bright future; pecans or walnuts, longevity; pistachios are the smiling nuts, beaming wide with happiness to be cracked and chomped.
This year, I will continue the custom for my guests and especially my granddaughter, hoping that her parents will not kick up a fuss while she is helping herself to these sugary treats, as being a heritage believer, my wishes for a sweet year for her take precedence over unsavoury thoughts of sugar overloads and cavities.
Such trays and crystallised fruits which are so full of meaning are getting rare as supermarkets replace them with "Eight Treasure" octagonal trays of assorted nuts, preserved fruits, candies or gummies.
Fortunately, street vendors and shops in Chinatown still sell them: Gainswell Trading at Blk 531, Upper Cross Street, #01-14 and Tai Chong Kok at 38 Sago Street.
Labelled by Gainswell as "New Year Candy" each filled tray has a net weight of 350g and contains candied kumquat, lotus seeds, lotus root, ginger, carrot and water chestnut and retails for $4.80. Tai Chong Kok also terms them as "Lucky Candy" retailing a small bottle at $8.50.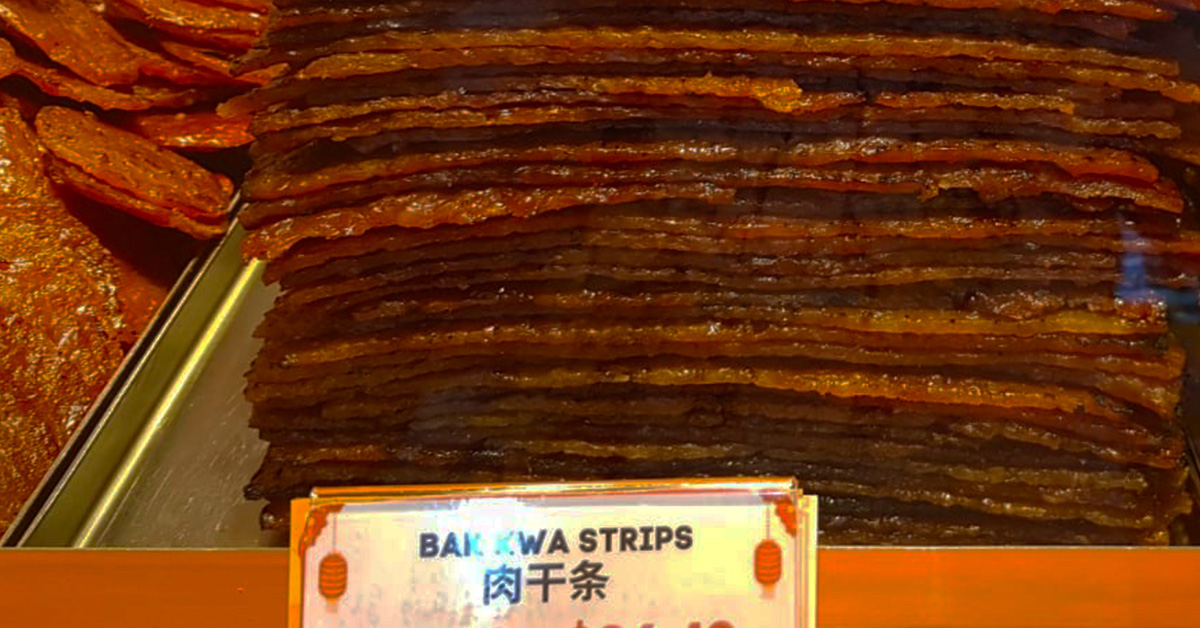 Revelling in all these happy associations, I am jolted to reality not just by the shocking price for bak kwa, the caramelised barbecued pork slices which patrons would send their foreign workers to queue overnight for, but also by the English name brandished by some brands on the packaging — pork jerky which brings forth visions of dehydrated, stone hard, teeth-breaking, salty provisions, eaten not by choice but for survival.
Expeditions and emergencies are a world apart from festivity and celebration which is what the Lunar New Year symbolises.
Porky squares of delight with charcoal crisp edges, moist, with just the right chewiness, savoury, with the customary tinge of caramelised fat should never be equated to jerky, and even if they warrant translation, even a direct translation of dried pork slices certainly sounds more tasty than jerky.
As bak kwa makes for a good gift, as well as being a standard New Year's item in any Chinese home, reputable brands seem to command higher prices and longer queues. The higher quality or category is for pork slices which cost considerably more than minced pork slices.
As the new year approaches, you can watch with alarm as the prices of bak kwa from brands like Lim Hock Guan and Bee Cheng Hiang start to climb, even as the queues get longer.
This spike in demand and pricing have become accepted during this time of year, but this bak kwa phenomenon is not noticeable among many of the other festive goodies, except maybe for some brands of pineapple tarts.
Roll Call — Shrimps On Parade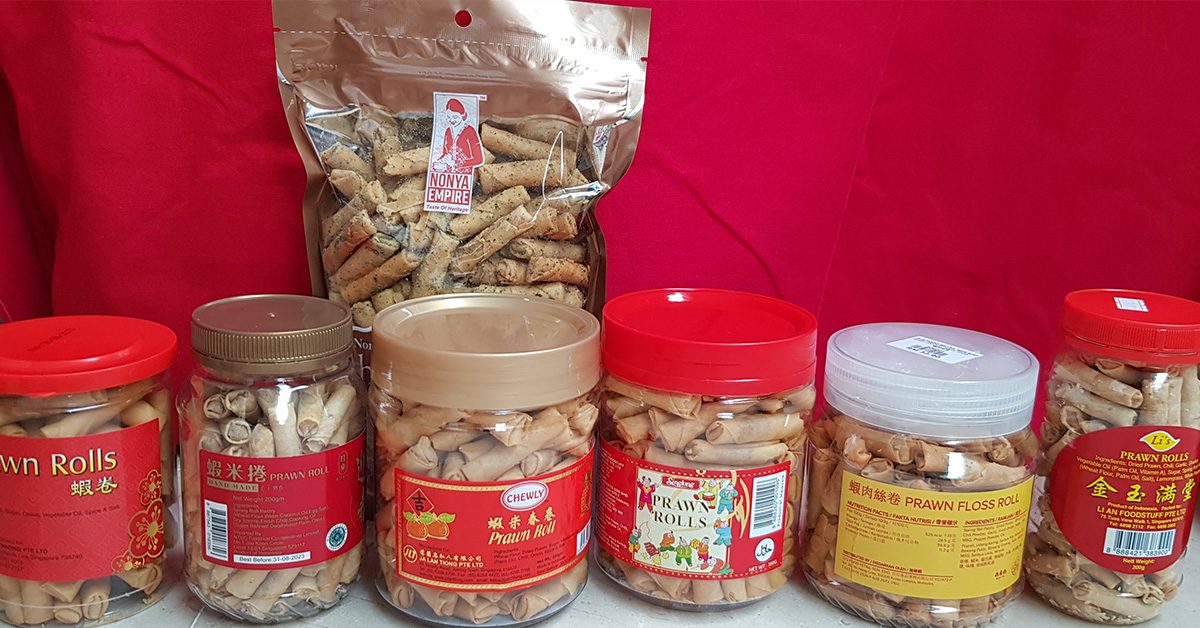 Another titbit with a local touch, popular year-round, is the spicy dried prawn roll.
The packaging description of this as "prawn or shrimp rolls" totally does not do this imaginative snack justice.
Small square spring roll skins are filled with a spicy fragrant dried prawn floss and deep fried to a golden hue, looking like little gold bars. And as prawn is known as "ha" which sounds like laughter, they fit perfectly in the spectrum of auspicious snacks.
There are numerous brands on sale at this time of the year.
A product search in NTUC yielded 5 brands.
(*on special offer, usual price is $7.02; $0.35 cents per 10g)
At Cold Storage, I found Li's prawn rolls at $6.90 for 200g; $0.35 cents per 10g.
I ventured out of the supermarkets into the many pop-up stalls set up in the mall to sell Chinese new year items, and some of them sold prawn rolls too.
Firstly, they did not give net weights for their products at all but the proprietor estimated that the net weight of the spicy shrimp rolls in the squat bottle was about 300g and at $19.80 for the bottle, this came up to double that of the supermarkets at $0.66 cents per 10g.
Rasa Sayang also sells halal prawn rolls, at 300g for $17.00; still substantially more than those sold at the supermarkets at $0.57 cents per 10g.
Bakery Cuisine which also did not cite net weights sold a small bottle of spicy shrimp roll, with a likely net weight of 300g at $18.80, about $0.50 cents per 10g.
On a recent trip to Kuala Lumpur, I picked up a bottle of prawn cocktail rolls, a decidedly nicer name for these mini crisps, at MYR32.90 for 300g (net weight) which worked out to be very similar to the supermarket price at $0.38 per 10g.
Taste wise, except for Nonya Empire Nori Prawn Rolls, I found very little difference in any of these differently named rolls. Could they have come from the same factory? The Nori Prawn rolls were a tad too sweet, but the rest tasted quite identical.
As this year is a very special Chinese New Year — we can all go visiting without restrictions — snack vendors are back in full force.
Supporting local is the way to go, especially if the vendors accept CDC vouchers, and it would be a great way to start the new year with sweet and savoury snacks that stir up spending in the economy.