Dennis Wee, 69, former Chairman and Founder of the Dennis Wee Group (DWG), admits that he is not one to 'sit still'. In 2017, the father of three handed over the reins of his property business to his son, Denka Wee, and embraced retirement. Daughter Daphne manages Wee Bands, a hair-tie bangle business, while youngest child Denise, is a stay-at-home mother of one.
The sincere and witty Dennis, still has a boyish charm and puts anyone at ease upon first meeting. Perhaps this is the secret of his success.
Yet for all his successes, Dennis struggled in his early years. He started out as an office boy at Singapore Press Holdings (SPH) and Parliament House. Yearning to see the world, he talked his way into an unsolicited job interview as an offshore oil surveyor with Western Geophysical, an oil exploration company. The job took him to the Philippines, India and Fiji. But it was not all glitz and glamour — as part of his job onboard the ships, he even had to clean toilets.
After 14 years, recession hit and Dennis was retrenched in 1986. Jobless and by then married to Priska Wee with a six-year-old son to feed, he struggled to find a job. Eventually, Dennis was invited by a friend who was in the real estate business to try his hand at property sales. So, the long-haired hippie in t-shirt and jeans swopped them for dress shirts and pants. He says it was a different clientele, "I had to borrow a pair of trousers from a friend and use my wedding shirt to work". After about a year, he left his friend's firm and freelanced for a while before joining ERA, where he had a successful career in property sales. In fact, back in the day, he was one of the first property agents to have a photograph on his business card.
Six years on in 1992, together with his wife Priska, he founded the Dennis Wee Group (DWG). It was hard work, but his dedication, determination and sincerity brought him blooming success. His mantra is "Work hard while you are young. You don't want to work till you drop dead!". When he first started the business, he only took the day off on his birthday, Lunar New Year and Christmas. Otherwise, you could always find Dennis at work — rain or shine.
With a network of agents managing real estate sales in Singapore, DWG set sights on the international markets in Japan, United Kingdom and Thailand, and the rest became history.
The Golden Years — Family Trumps Everything
In 2017, DWG merged with PropNex Realty, leaving Dennis and Priska time to enjoy their golden years of retirement. To Dennis, this was the time for him to continue travelling, and travel he did. Together with his wife, he travelled all over Europe, Amsterdam, Italy, Germany and Switzerland.
The family man also loves spending time with his family. The proud grandfather of two enjoys being with his granddaughters and if they are not visiting him at his home, he is at theirs.
Having struggled in his earlier life, Dennis realised the need to save. He credits his wife Priska, for encouraging him in this aspect. In addition to the importance of savings and wise investments for retirement, taking care of his health is also at the top of the list. Whether it's brisk walking, jogging, cycling or hitting the gym, Dennis always ensures that he keeps fit.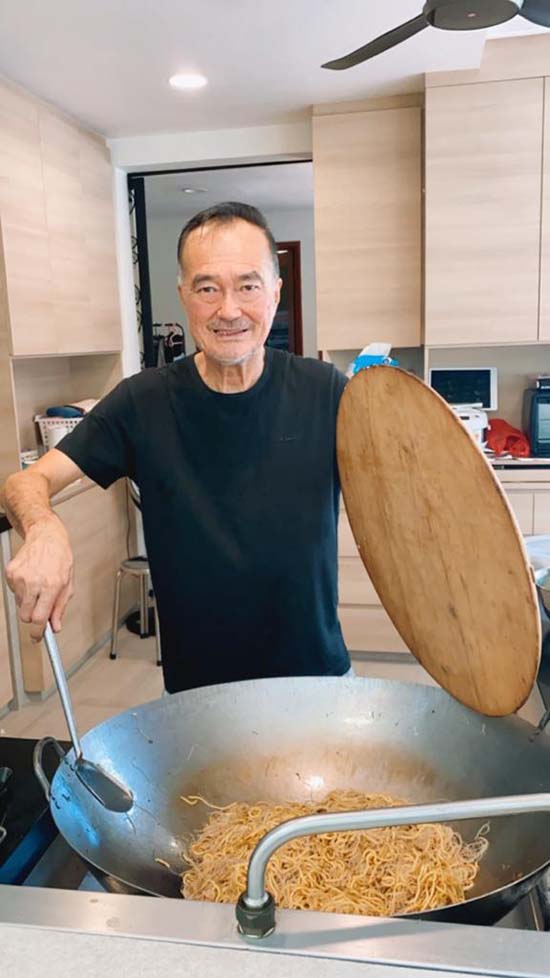 Being a Peranakan (straits, born Chinese), Dennis is a definitely a foodie at heart. His late father Jolly Wee was a well-known Peranakan Chef.
Pre-Covid, Dennis and his 'khakis' would hang out at the Jagoh Road Coffeeshop in Katong, where they would enjoy their coffee and local favourites. Lunchtime would see them hitting some of the local hawker centres — Nasi Padang at Balestier, Noodles from Tiong Bahru. And while his name is eponymous with real estate, Dennis Wee is also known for his Hokkien Mee.
Dennis's love for this signature dish all began with a neighbour, who used to peddle Hokkien Mee on a tricycle at Telok Kurau. Dennis used to help out and eventually learnt the art. He adapted the recipe and tried out his own, which became wildly popular. For years during Lunar New Year celebrations, he would treat his associates at DWG to Hokkien Mee at his home. It was a hot favourite and became a talking point.
A Rotarian with the Ulu Pandan District, Dennis's first brush of cooking for charity started with whipping up plates of Hokkien Mee for a Rotary Fundraiser. It was a huge success and he raised more than $8,000 for charity. He also participated in a CEO Cookout at St James Power Station cooking his popular Hokkien Mee for charity. His daughter Daphne then posted photos on her Instagram page, which became so popular that many of her followers wanted to try his Hokkien Mee for years. After pestering Dennis to open this to the public to try, they finally did and even created an Instagram page of its own —
@hokkienmeemaster
. Part of the collection from their sales went to charity.
But Dennis has since stopped this. It was tiring to have to go to the market with Priska to select fresh, prawns and squids that go into the Hokkien Mee. Thus, despite its roaring popularity, he needed a break.
Dennis enjoys cycling and he has cycled all over Singapore, Punggol, Marina Barrage etc. with his friends, although Covid restrictions have restricted some of these.
He is also a car enthusiast and is one who enjoys long drives. As a retirement present, his son Denka gifted him with a luxury car. He feels that driving helps him to fight off dementia.
Living out The Golden Years
Family, health and friends are important, says Dennis. Since Covid-19, he has turned his previous chitchats with his friends at the coffeeshop to meeting them on "WhatsApp".
He says, "Never mind if it is a recycled message, joke or if a story is forwarded many times. Be grateful to have friends who think of you. Stay in touch". Music is also another way the retiree relaxes. As a Rotarian, he helps the needy and believes in giving back to society, and as a practising Catholic, he says his faith grounds him.