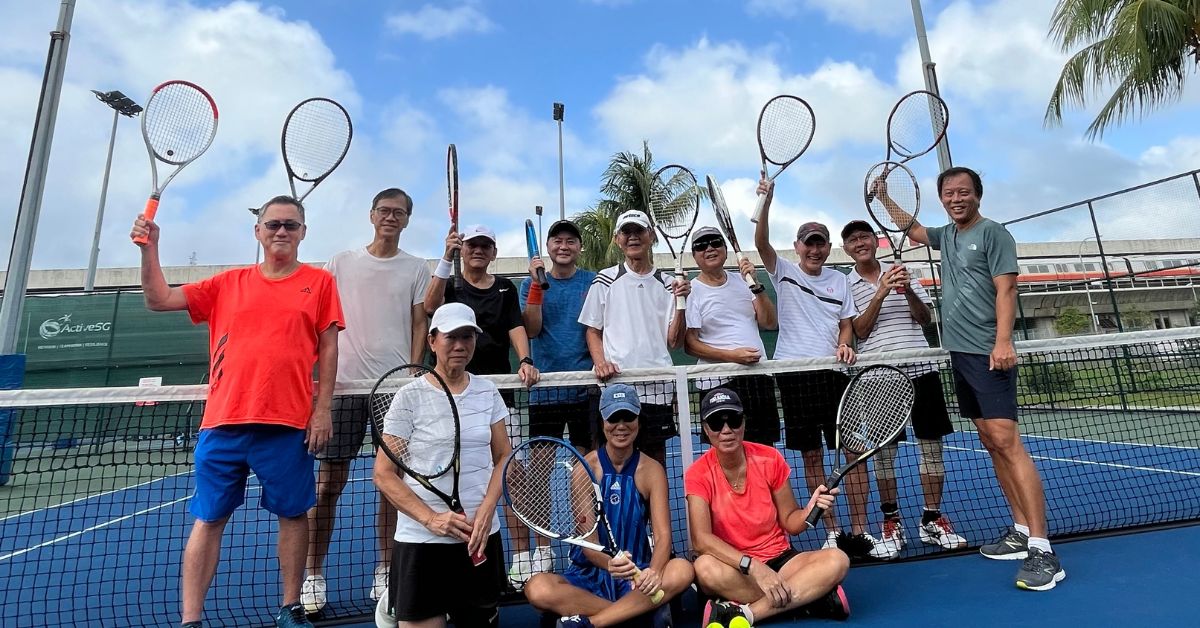 With ages ranging from 56 to 91, a group of tennis buddies gather at the Yio Chu Kang Stadium tennis courts regularly to serve and volley. They may not move like they do at Wimbledon, but they certainly keep active and have fun.
The moment I arrived at the stadium courts, at the invitation of seamstress Mary Tan, I could feel the warm, yet chill, vibe this group radiates.
Mary, 74 years old, is a founding member of this group, having played tennis for 40 years.
Although the group has been playing together for a long time, it only got its Interest Group classification eight years ago, when there were 10 members, which met the criteria set out by
Active SG.
These days the group plays free at designated timeslots (8-10 am on Mondays, Wednesdays and Fridays). Anyone 65 years and above pays nothing for the use of gyms, swimming facilities and interest group sports facilities.
Wong Soon Yee, who turned 91 this year, may not be running as much on court, but is still able to enjoy the game with the others.
The common thread of this motley bunch is their love for the sport and their sense of humour. Some of them had played together before, but left to focus on work, golf, and other sports. But they found each other again upon retirement. And for some it was the game to return to for health reasons.
Bert Foo, 70, wants to slow things down after a health scare in 2021. So, it's goodbye golf, but hello tennis, again.
I joined the group for kopi and rojak after their game to find out what keeps them together.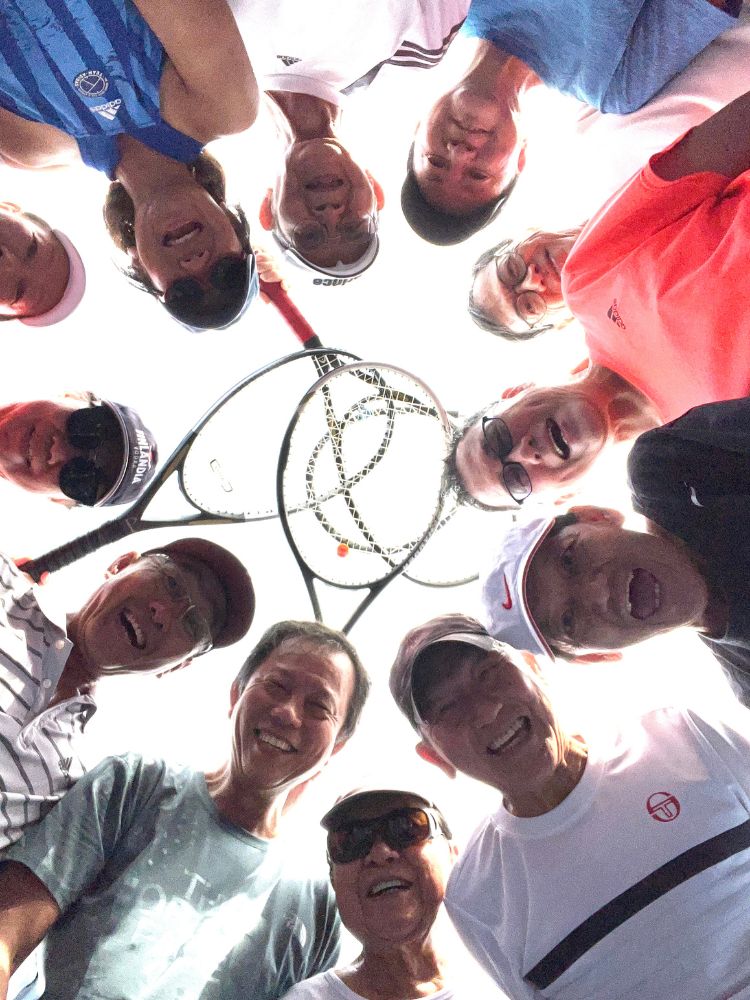 "It's not all about tennis," retired Vice Principal Doreen Tan, 63, quips. "They're so sweet. They are so forgiving and don't tell anyone off," she says.
And they look out for each other.
One morning, Simon Seah, 72, collapsed on court. He was rushed to the Ang Mo Kio Polyclinic, and by 1 pm his operation was over and he had been fitted with a stent. He now cycles but with a tennis racket slung across his torso so that he can stop and play with his friends anytime he wants to.
Affable Stanley Koh, the 72-year-old whom the group labels "Gym Tonic Ambassador" and "ActiveSG Tennis Ambassador", has been helping another player with a thyroid issue to get back on his feet and back into the game. Stanley is trained to guide rehabilitators at the Lien Foundation-sponsored gyms available in some Community Clubs (Gym Tonic).
Physical and Mental Well-being
But nonagenarian Wong is a marvel. He has a clean bill of health: No high blood pressure, and his cholesterol and glucose readings are good. Only his knee started to act up recently. He took a break but bounced back onto the court the moment he could.
As a warm-up, Wong walks from his home, which is across from the Yio Chu Kang MRT station, to the tennis courts.
He started playing tennis at the Changi Sailing Club when he was 45 years old. Then, as a draughtsman with a workshop that designed furniture, Wong got his children interested in tennis.
He was married for 36 years when his wife passed away. He says if you want to live a good life you must know how to find something interesting to do and you will not feel lonely.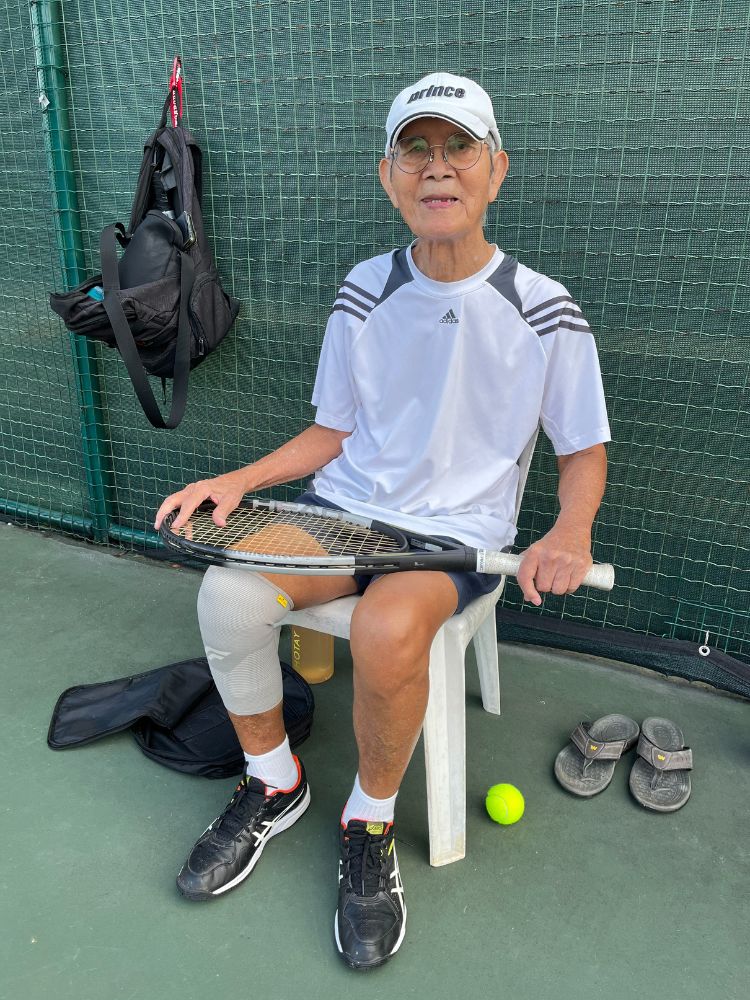 "If I don't continue playing tennis, I find myself becoming weaker." So he presses on. He sums up the attraction of the group's dynamics: "Friendly, passionate and competitive."
The whole group is inspired by him to play into their 90s, especially 83-year-old Goh Eng Han who sees Wong as a role model.
Sports is very important, stresses Stanley, the group-appointed "Chairman". He knows of retired silvers who choose to stay cooped up at home and some have become depressed. He advocates joining a senior interest group for the package deal: Exercise and friendship.
The bonding naturally follows. Mary's husband Eddie Lim, 88, who took up tennis coaching in Las Vegas when he started playing, does not play as much these days but still maintains ties and joins the group for a meal.
The bonding is cemented every Friday over a meal. Besides being tasked with collecting money for tennis balls they use during practices, Stanley is in charge of selecting the "makan" venue and menu. The group's favourite haunt is The Village in Serangoon Gardens, downing wine and beer over a zhi char meal.
Exercise Makes You Look and Feel Young and Happy
As with most players in the group, Raymond Ng does not look his age. Having played since the 1990s, he says his game is slower now that he is 78 but he is happy that "this is one sport that one can play for many silver years ahead".
"Nobody exerts any pressure on each other. And tennis chases the blues away," he adds.
No wonder I felt that chill vibe. I basked in the banter as I listened to them ribbing each other both on the court and at the gathering after.
Stephen Seah, 67, is very proud that his uncle Stanley invites any silver he knows who plays tennis, to join the group and experience what Doreen highlighted.
And it is not just Singaporeans who feel at home in the group.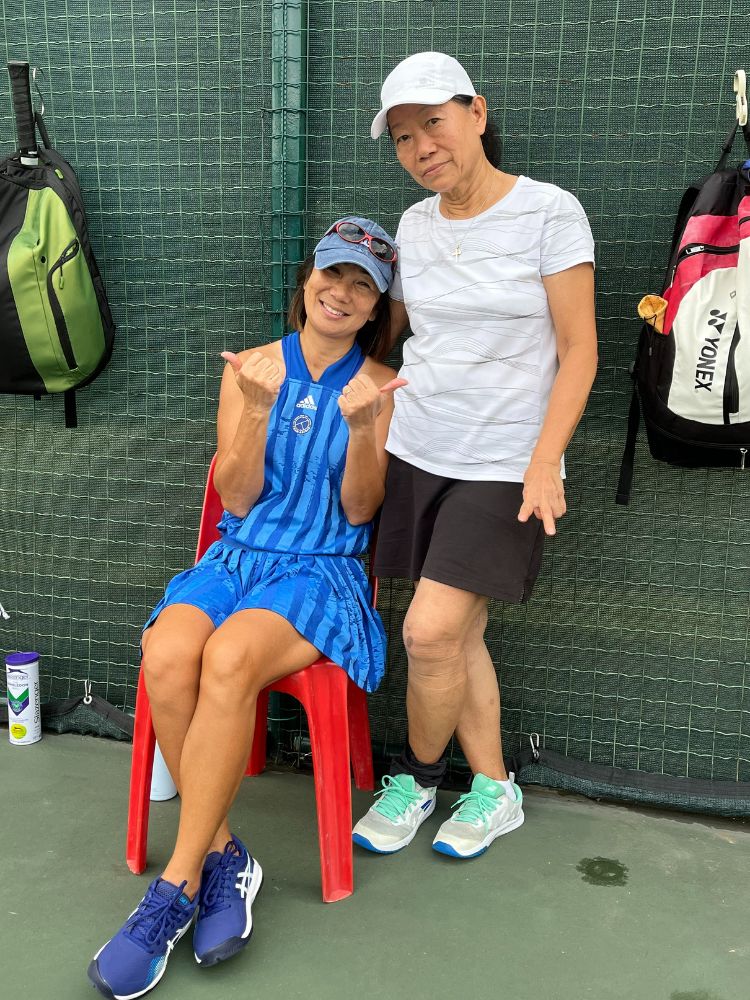 The baby of the group, 56-year-old Michelle Wong, is from Hongkong and has been living in Singapore for a long time with her French husband.
She has been with the group for 18 years.
"You must be fit to play tennis. You cannot play tennis to get fit."
They agreed that those who have played racquet games before, should make a comeback because, armed with ball sense, it will be easier to pick up the game. Otherwise, it could be frustrating to learn the game late in life.
Steven knows what he is talking about because he carefully manages his heart issues (blocked arteries). He finds himself lobbing the ball more these days instead of driving.
The group is now big on travelling together with a tennis game thrown in. Their last trip to Thailand was a huge success, where they played at the AC Sports Centre in Hat Yai. They are looking at another destination next, hoping to arrange games on clay courts.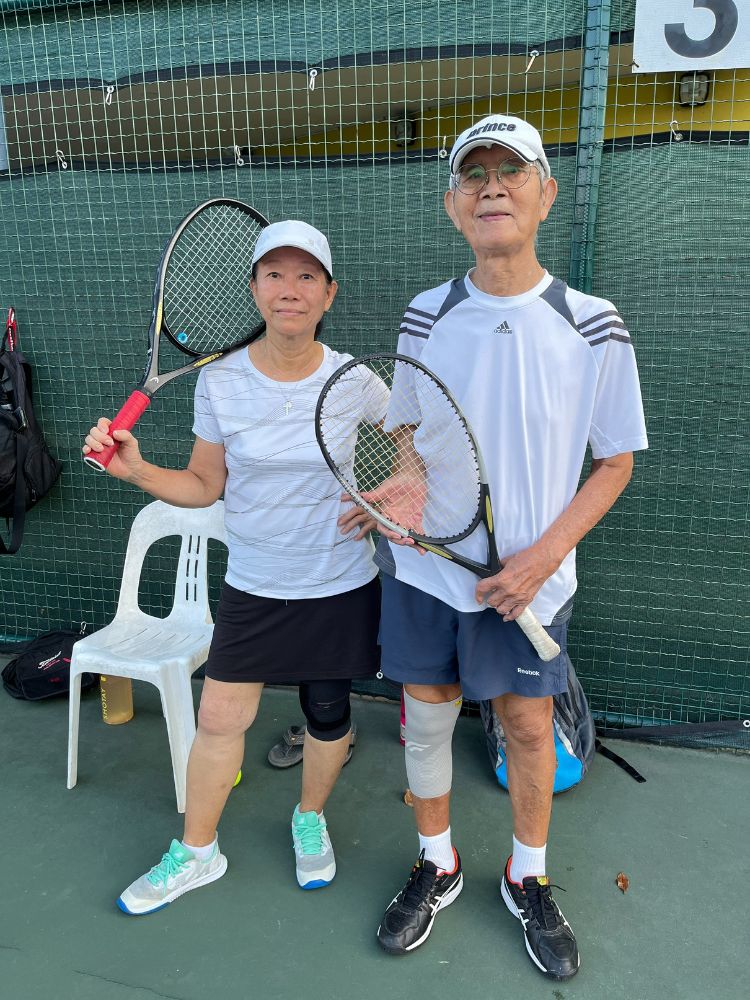 As Mary aptly sums up: "Don't keep thinking about age. Just pick up a sport you like, be daring, be confident, and play it."
If you would like some advice on how to start a playing group, Stanley Koh would be game to offer advice. You may
email
him.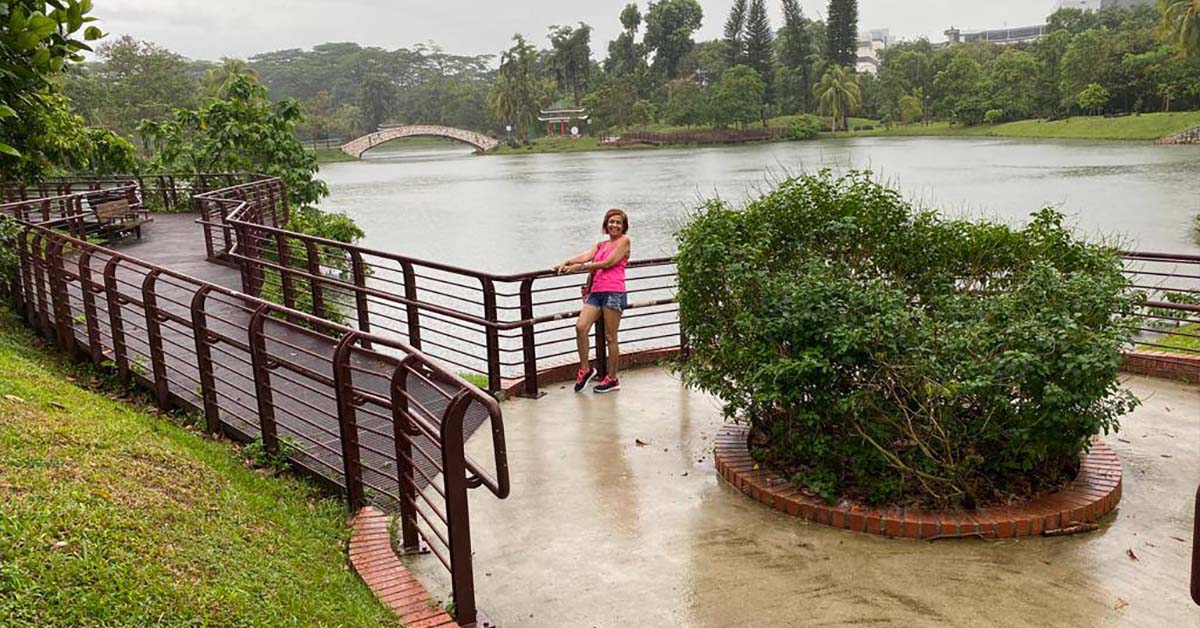 The North Eastern Riverine Loop
If you're looking for a leisurely activity, how about exploring the North Riverine Loop? Admire all the sights and sounds as you cycle or stroll along this path.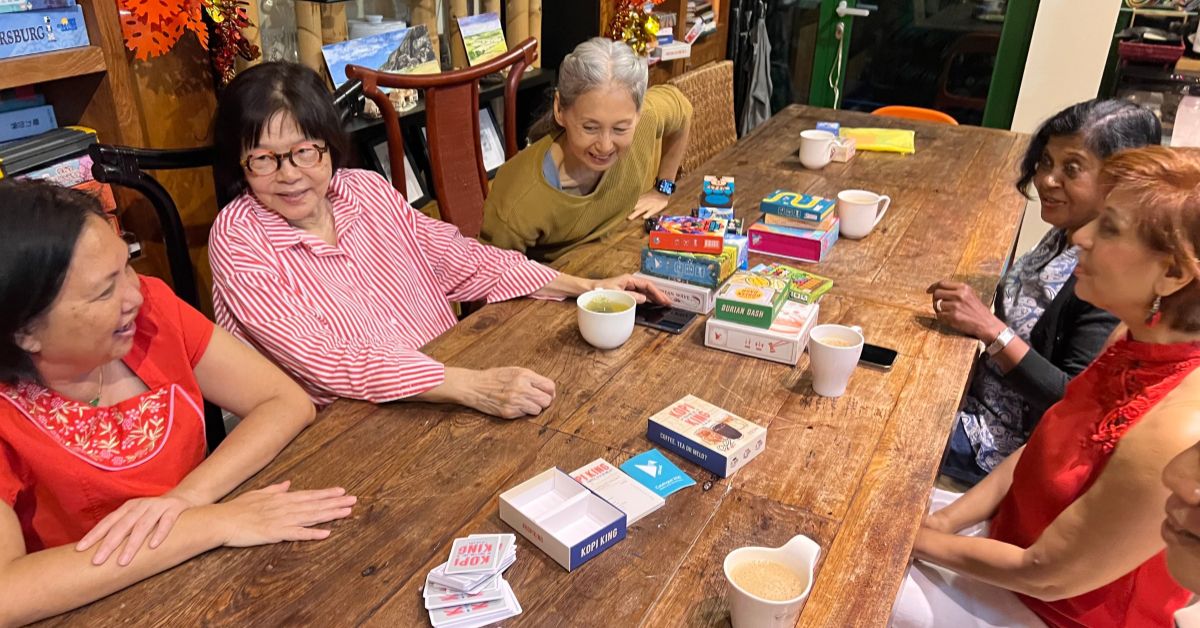 Let's play Card Games to Stay Sharp
Our true colours show when we are playing games, no matter how old we are. A group of silvers gathered for a round of Durian Dash and Kopi King, creations of local card game creator Origame. The results were entertaining, and revealing.