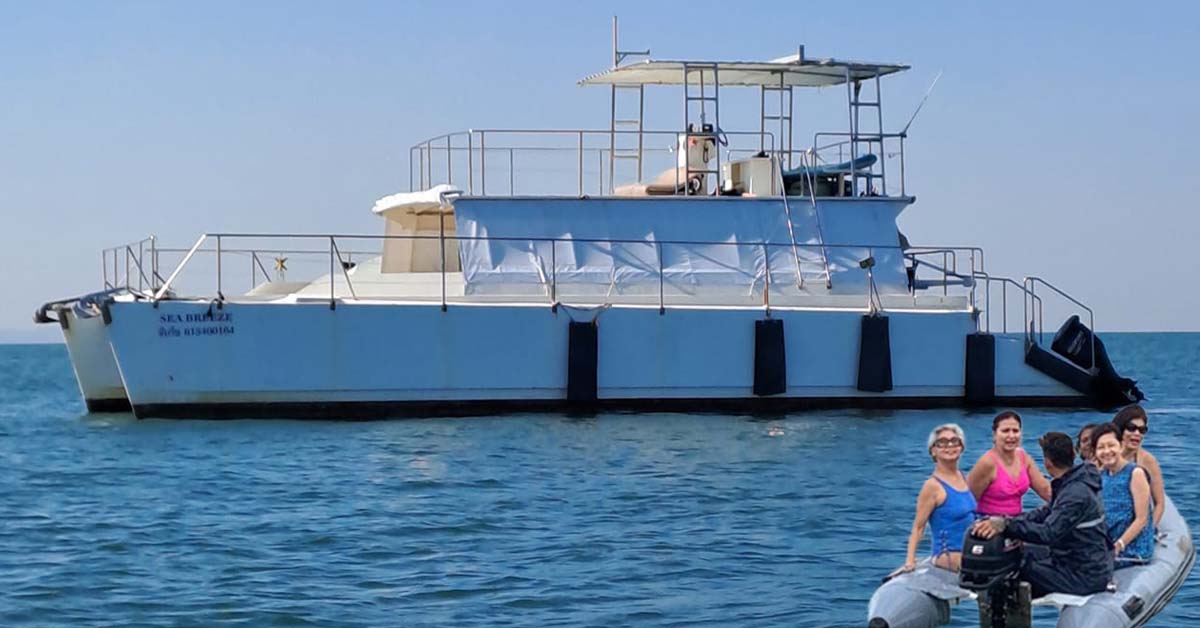 A silver friend living in Bangkok, Jeed, was having a birthday and wanted to celebrate it on a yacht. It was not even a milestone birthday, but heck, at this stage every birthday is a milestone. With that in mind, I jetted off to Bangkok where the major planning had taken place thanks to the 'Footloose Girls' as they call themselves.
The party kicked off at Jeed's Bangkok condo, where the nine of us met for a quick breakfast and then popped into our hired van and began the road trip to Pattaya. We were like school kids on a field trip belting out old time favourites like Girls Just Wanna Have Fun, all stoked for our beach get away.
Our first stop was the birthday lunch at The Cave Beach Club, a beachfront restaurant with scenic views. The celebration had begun! The mood was merry and who would have guessed our ages looking at how energetic this bunch was.
A delectable Thai lunch ensued, with champers, cake, wine and way too much food. We tucked into Som Tam (papaya salad), seafood hormok (fishcake) and air-dried pork.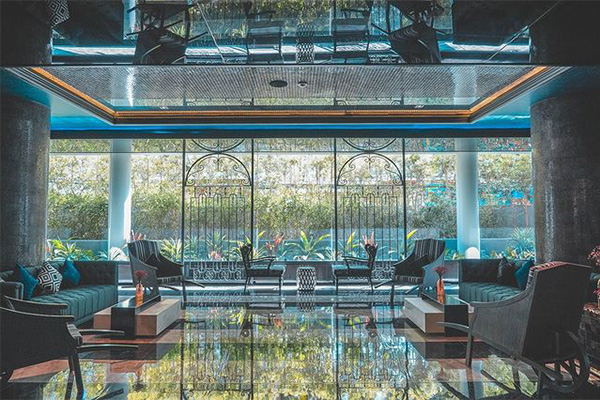 Next stop was checking into our hotel, the
Mera Mare Hotel
from where we would embark upon the next half of the celebration. A quick lie in and we were ready and dolled up for the birthday dinner.
We had booked a table at the
Castello Di Bellagio
, a picturesque restaurant atop a mountain, rumoured to be modelled after an Italian castle in Lake Como. It also boasts an excellent wine cellar, great landscaping, and provides scenic spots for photo ops.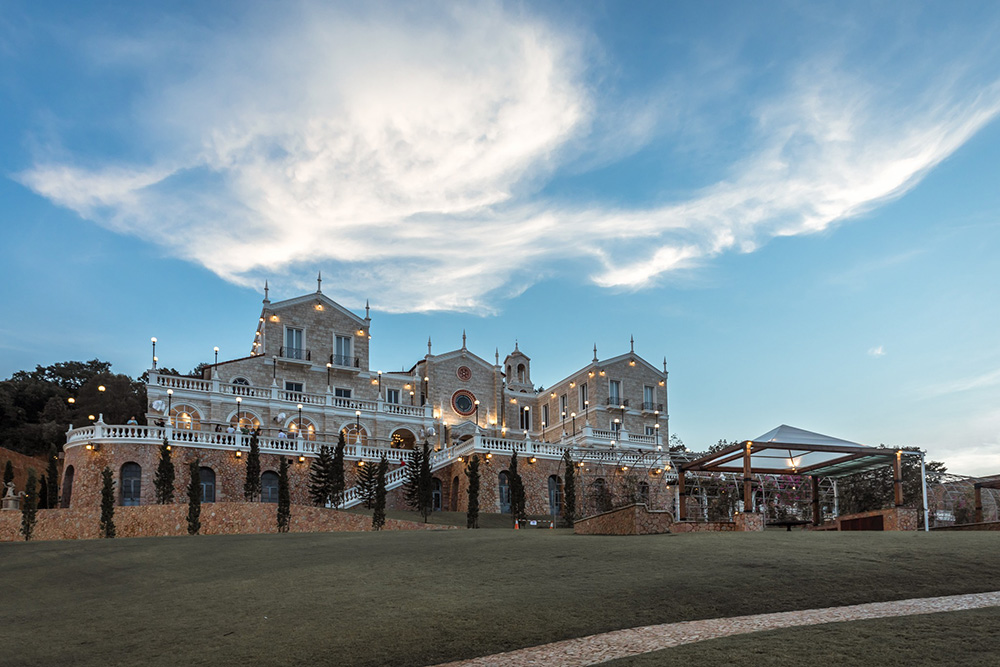 The food was simply out of this world, from the charcuterie board, French mussels in white sauce, salmon, gnocchi with snowfish, to name a few.
Every dish was flavourful and delicious, especially when paired with a Chateau Rothschild 2017, a lovely surprise gift.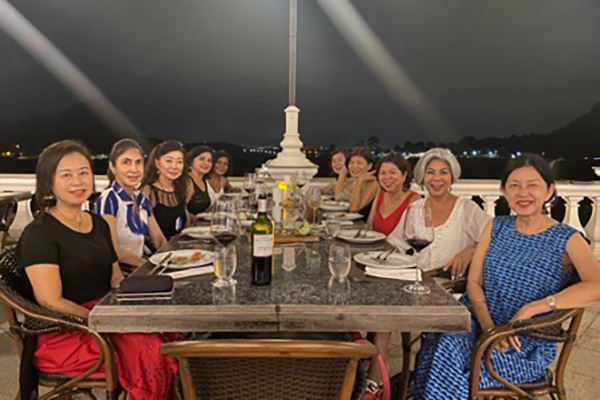 The highlight of the night was the wonderful fireworks display that lit up the night. But the night was still young and the night owls amongst us wanted to paint the town red.
Off we went to Pattaya's famous (some would say infamous) "Walking Street" and hit the clubs.
The street was alive with an eclectic mix showcasing transactions of the seamier side of life. This is Pattaya after all!
Spas and massage parlours stayed open till the wee hours to lure the tourists.
The club scene has changed since my last visit years ago. The Bollywood clubs now outnumbered the Western ones. We checked out a few and club hopped, until it rained on us and we called it a night.
We did have to head out to sea early the next morning.
After a leisurely breakfast, the weather co-operated and it was hello sun, sand and sea. We headed to our catamaran,
Rseabreeze
, bikini babes ready for adventure. With Skipper Julian and his mother, Yvonne, in attendance, we set sail.
Pole dancing on a boat? Blame it on the free flow of drinks.
What a joy to tuck into freshly caught prawns barbecued to perfection, and because we were such a great bunch, our skipper rustled up some fresh salmon and served us sashimi with wasabi and soy sauce! Such a treat!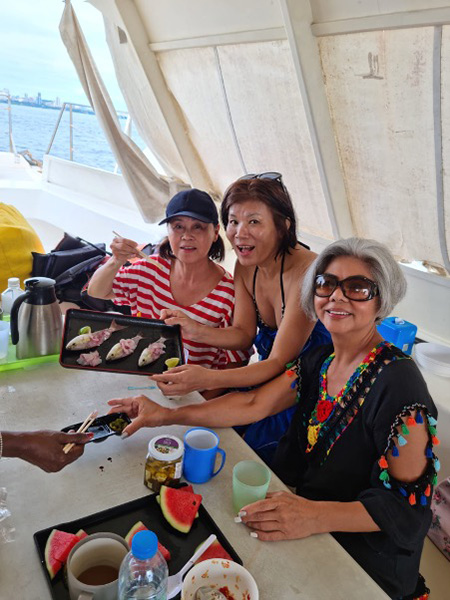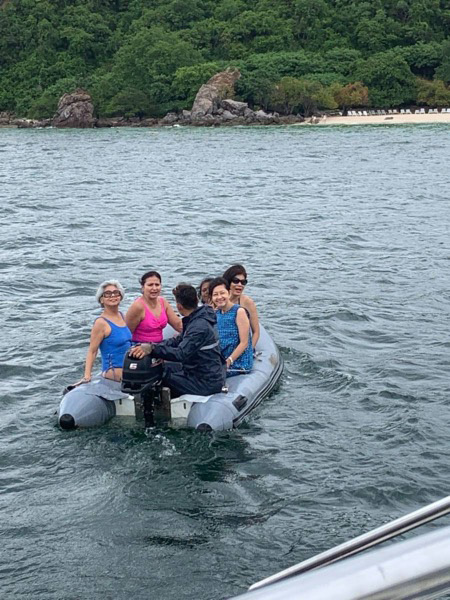 We stopped at the nearby island of Koh Larn or Coral Island for a spot of swimming and kayaking. What a riot we were.
After all that fun it was time to head back, so we packed into our van and headed to Bangkok, stopping along the way for high tea at
La Baguette
, where the almond croissants are legendary.
What a great get away it was. A lovely way to forge new friendships, chill, feel the sea breeze on our faces and have fun.
The wise doctors of old were right. Now I Know why they would suggest convalescing by the sea, nature's healer.
The Best Times to travel: November to February.
Weather: Perfect, very Goldilocks like (not too hot, not too cold)
Avoid the months from March to May, as it gets too hot with temperatures of about 33°C. June to November is considered low season as it falls during the rainy period.
The best way to get to Pattaya is to fly into Bangkok.
You can choose from major carriers and budget airlines, but given the fluctuating air fares, you'd best check with the respective airline sites, or your travel agent for the best fares.
For the adventurous, fly into Bangkok and switch to overland transport which could take between 2-3 hours depending on traffic. Many transport companies offer overland transport from Bangkok to Pattaya.
Choose from Taxis, buses, trains or private hire vehicles.
Many of these are available at the Airport counters. For those who wish to book ahead, it is best to check online.
If you want to travel in comfort opt for private van hires. Most can seat 10 comfortably and are air-conditioned and may cost between $70 per day.
If you are staying overnight in Pattaya, you need to budget another $20 daily for the driver's accommodation depending on the length of your stay. Gasoline and toll costs are not included.
Most vehicles come with a full tank and you are expected to refuel along the way, and refill it by the end of the journey. Remember to set aside a tip for the driver as it's a common practice.
There are several hotels and resorts on Pattaya Beach.
If you are travelling with children the Hard Rock Hotel is a good bet.
Hotels such as The Hilton, Dusit Thani, and Courtyard By Marriott too are located close to Pattaya Beach.
At The Mera Mare our rooms cost us about $115 per night on a twin sharing basis.
Resorts such as The Intercontinental Resort Pattaya, Avani Pattaya Resort are worth considering if budget is not an issue.
As rates vary according to the time of travel, it is best to check with online sites such as
Expedia.com
or
booking.com
or the respective hotel websites.
Several companies offer boat charters with cruises to the islands off Pattaya.
It is best to hire a boat with a skipper and crew as it allows you to relax and not worry about navigating the waves and waters. There are several options online.
On our trip we opted for Rseabreeze and chose to have a skipper and two crew members.
The cost of hire includes meals, staples such as mineral water, but alcohol is not included. Meals may be ordered on request. Charges start from $500 onwards. Negotiate and choose your itinerary and menu beforehand.
Boat Charters
R Sea Breeze
Yvonne/Julian : +66 65 55 25 265
FaceBook:
Rseabreeze
Pattaya Yacht Charters
Ph : +66 87 64 57 771