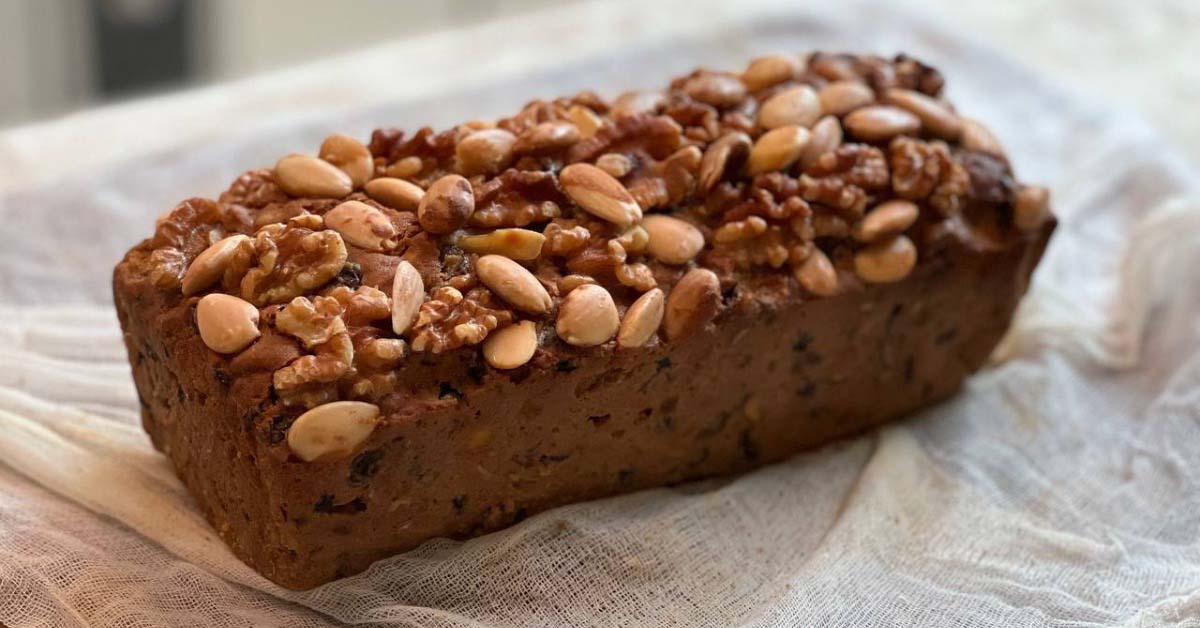 Have you started thinking about Christmas desserts yet? It's still some time before Christmas, but it's not too early to think about recipes and sweets to bake! Try out this Christmas classic traditional fruitcake recipe.
Former lawyer turned local tour guide and vintage ware collector Jasmine Adams has been baking fruitcakes for over 20 years as a family tradition ever since she's married her late husband, Brian.
For her, baking fruitcakes has been a fond memory, especially when she and her friends would form a production line baking a dozen of fruitcakes at one go. But when Brian passed away, she stopped baking them – until now.
Baking fruitcake is not an exact science. There are so many measurements, ingredients and proportions that work, but this recipe she's sharing with you has been refined over the 20 years that she's been baking fruitcakes. Along with her family recipe above, she is also sharing with you her tried-and-tested tips that she's accumulated to avoid pitfalls when baking them.
Tip 1: Why do all the fruits in my fruitcake taste the same?
A good fruitcake must be one where you bite in and say – ooh I got a raisin, or a sultana, or an orange peel. So how can we try to get the distinct flavors out of the different fruits? Jasmine's rule of thumb is to never use a mixed fruitcake mix.
Rather, and this is crucial – soak each type of fruit separately in different soaking liquids to achieve plump fruit in the cake. Jasmine prefers alcohol as soaking liquids but if you would like to go alcohol-free, you can use different fruit juices too.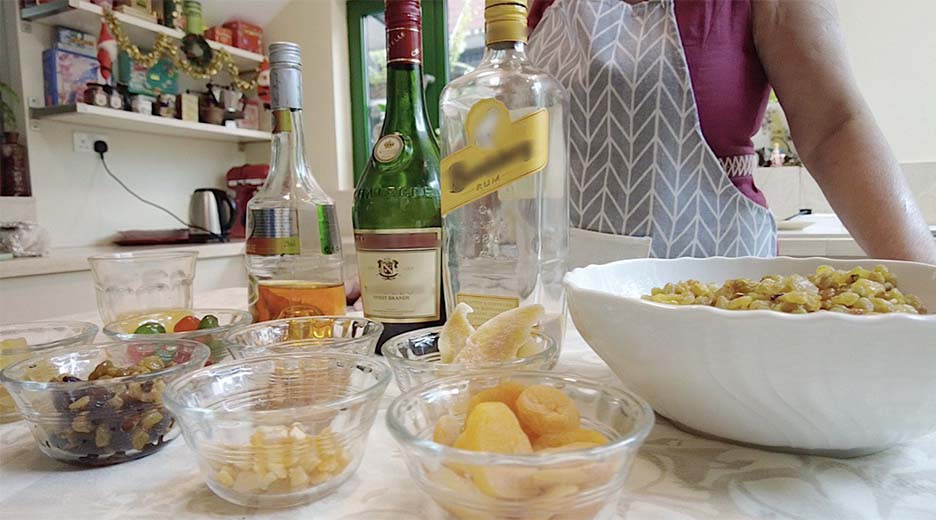 But what do you do if you had to bake a fruitcake at the last hour and do not have the luxury of time to properly soak your fruits? Just boil enough water to cover the dried fruit and leave it to soak for about 5 minutes. Then rinse the fruit before soaking them in the soaking fluid, whether it's fruit juice or alcohol, for at least a couple of hours – by boiling the fruit, they would have already plumped up in the water and the membrane opened to receive and soak the liquid.
Tip 2: How to stop the fruits from sinking
This is a common pitfall, but the science behind this is all about density. Some fruitcake recipes call for cake flour, but Jasmine advises against this because the lighter the fruitcake batter, the more likely it is for the fruits – which are heavier – to sink. Instead, use all-purpose flour so your fruitcake can have more bite to it.
If you find that even using all-purpose flour may not do the trick, here's Jasmine's recommendations: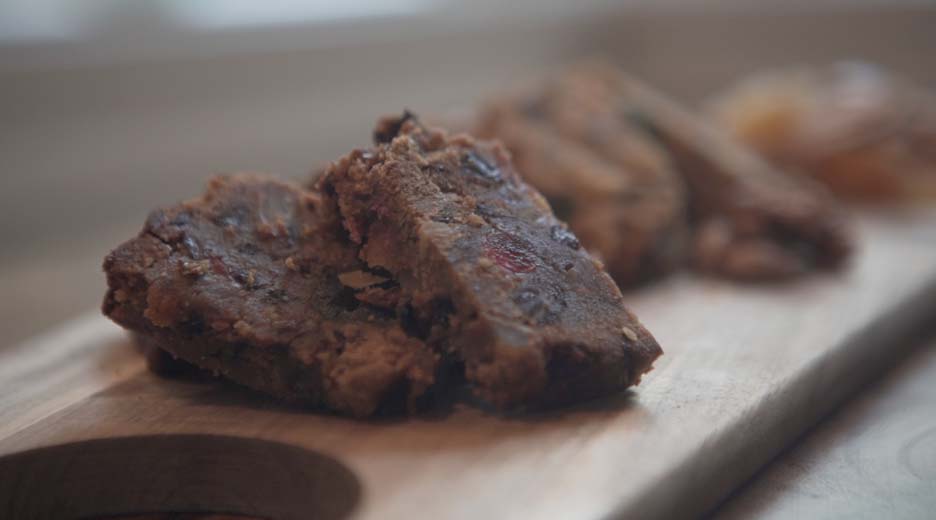 The coated fruit allows them to stay suspended in the batter until the batter firms up and that way, the fruit would be more or less evenly distributed throughout the slice.
Tip 3: How to keep a fruitcake moist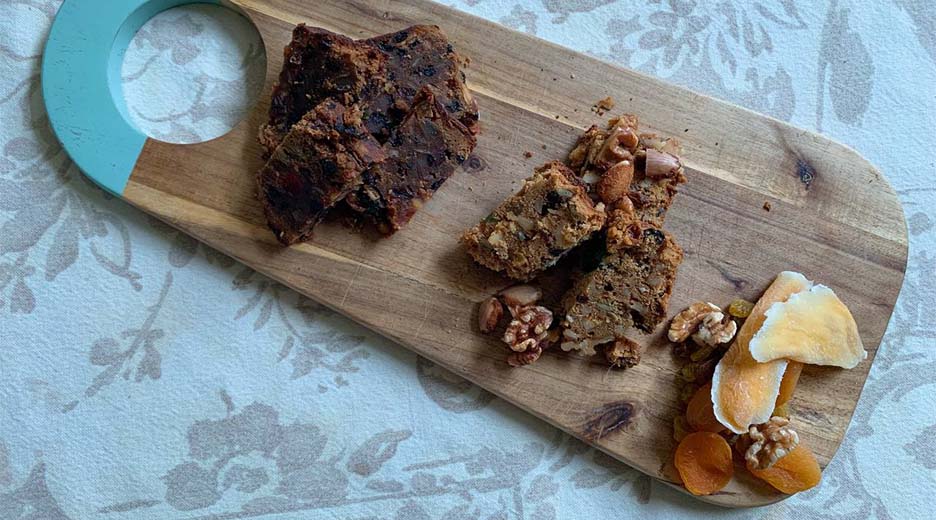 You'll see that there is a tablespoon of treacle in Jasmine's recipe as she finds that this not only adds moisture to the cake, but it also makes the cake more brown.
An important thing — you do not want the cake to be too brown on the top. A little cheat code is to top your batter with some whole blanched almonds and halved walnuts. They protect the top of the cake while baking and to Jasmine, also makes the cake look better. Try not to use cherries though as they tend to caramelize too much, but you'll find that almonds and walnuts brown beautifully and remain crunchy.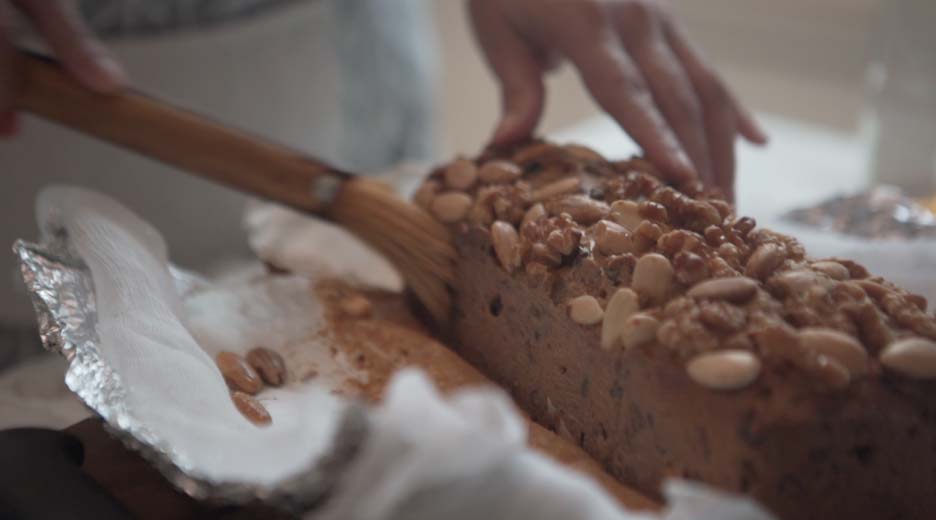 Lastly, more moisture can be added by brushing it with rum after baking and wrap it in cheesecloth. If you find that your fridge is too full, you can leave your fruitcake wrapped in muslin and foil on the kitchen countertop or dining table for a month without any issues.
Whole blanched almonds and halved walnuts for topping (optional).
Preheat the oven to 160 degrees Celsius
Cream the butter in an electric mixer for about 5 minutes
Add in the sugar and cream for about 10 more minutes till light and fluffy
Add in the eggs one by one beating about 5 minutes to incorporate each egg before adding in the next egg
If there are signs of curdling, add in a tbsp of flour and increase the speed
Set aside ½ cup flour to toss in the fruits
Sift the remaining flour with the salt, baking powder and spices
Mix the fruit and rind, and toss in the flour to coat thoroughly
Mix the almonds and the pumpkin seeds with the fruit mixture
Add in the fruit and nut mixture into the batter, mixing on low speed
Remove from mixer, and add in the treacle, orange juice, vanilla, rose/orange blossom water and brandy, mixing well to incorporate all the ingredients. Do not overmix
Ladle the batter into the prepared tins, filling up to ¾ of tin
Top with the blanched almonds and walnuts in your preferred pattern, or in random trying not to leave any gaps
Bake in a preheated oven for 2 to 2½ hours, checking after an hour to ensure that the top is not too brown. If it is too brown, reduce heat to 150 to 155 degrees centigrade for the rest of the baking time, and use a foil to cover the top to prevent further browning
Check for doneness with a toothpick or bamboo skewer
Invert cake carefully on a rack to cool thoroughly
Brush with more brandy or rum (optional)