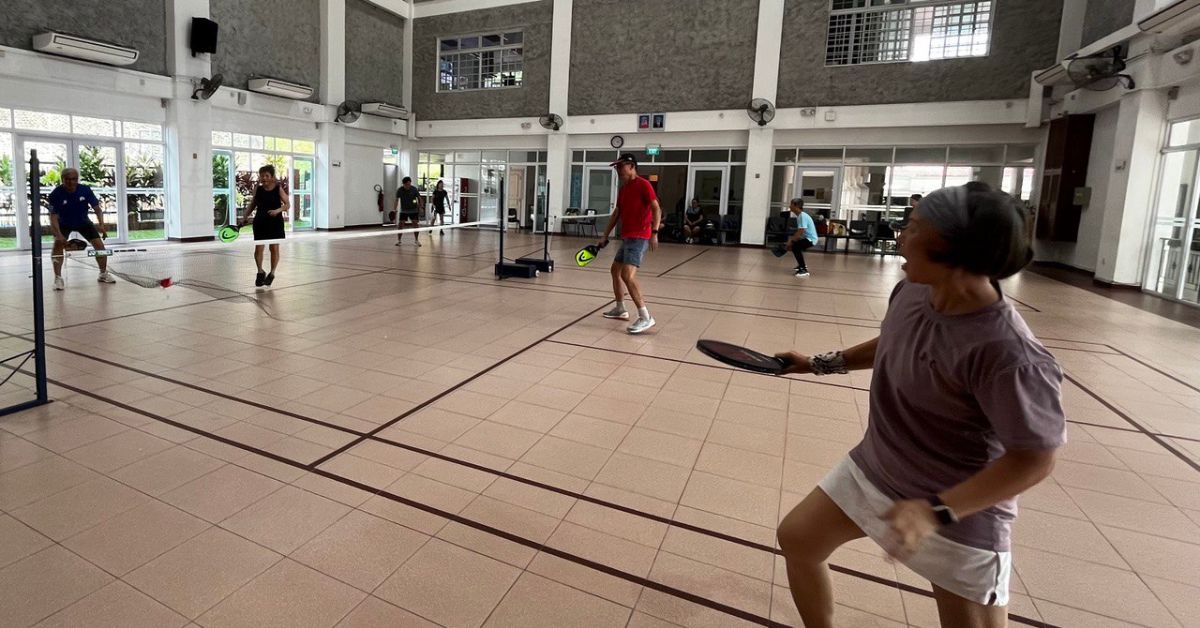 Pickleball has become a hot sport in Singapore, and is proving to be a great family activity.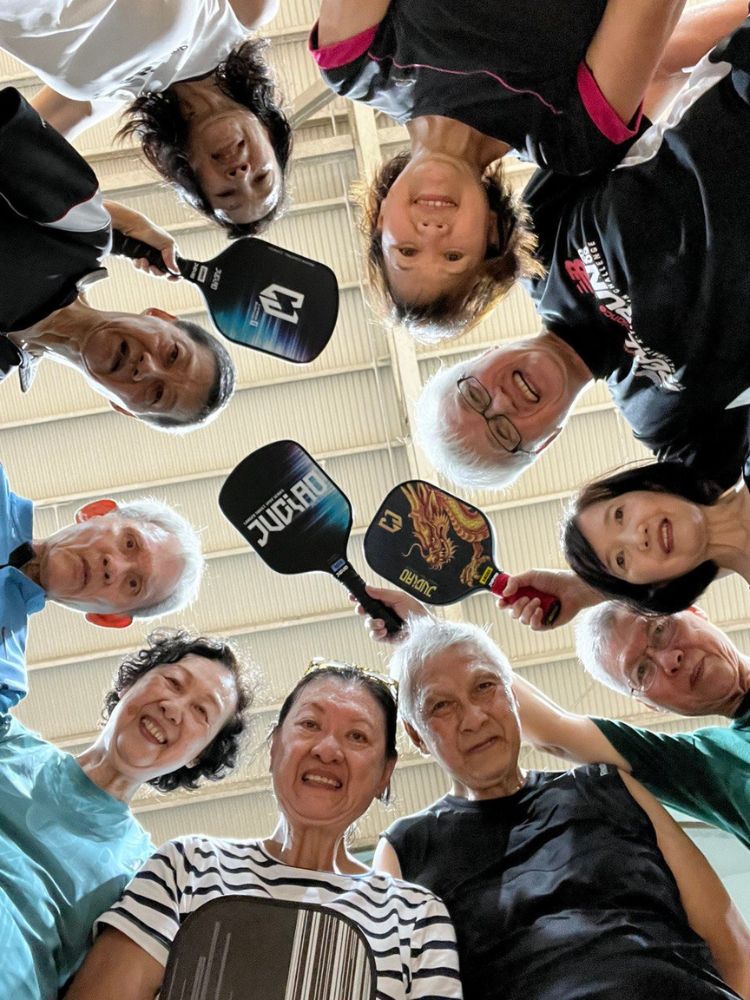 The Low family, lives out their mother's legacy by meeting every week for a family meal; just the siblings and their spouses as the children are all grown up and have left the nest.
Andrew Low decided to take that family activity a step further — exercising together.
They already belong to a walking group, but after he spearheaded a Pickleball Interest Group at the Tanglin Community Club (TCC), he enticed the family to take up this increasingly popular sport.
Every Friday afternoon the family of six brothers and one sister, with their spouses, gather at a pickleball venue to play.
Andrew and his wife Maureen conduct a mini tutorial during the game breaks to show the correct serve with the upward arc (no part of the paddle head should be above the wrist when the paddle strikes the ball), and remind the players of the rules.
For example, following the serve-bounce-bounce rule and not volleying in the kitchen zone (area near the net). They also give pointers for better play. Four players play at a time. Scoring is with either 11 points (where you must win the serve) or 21 points like in table tennis.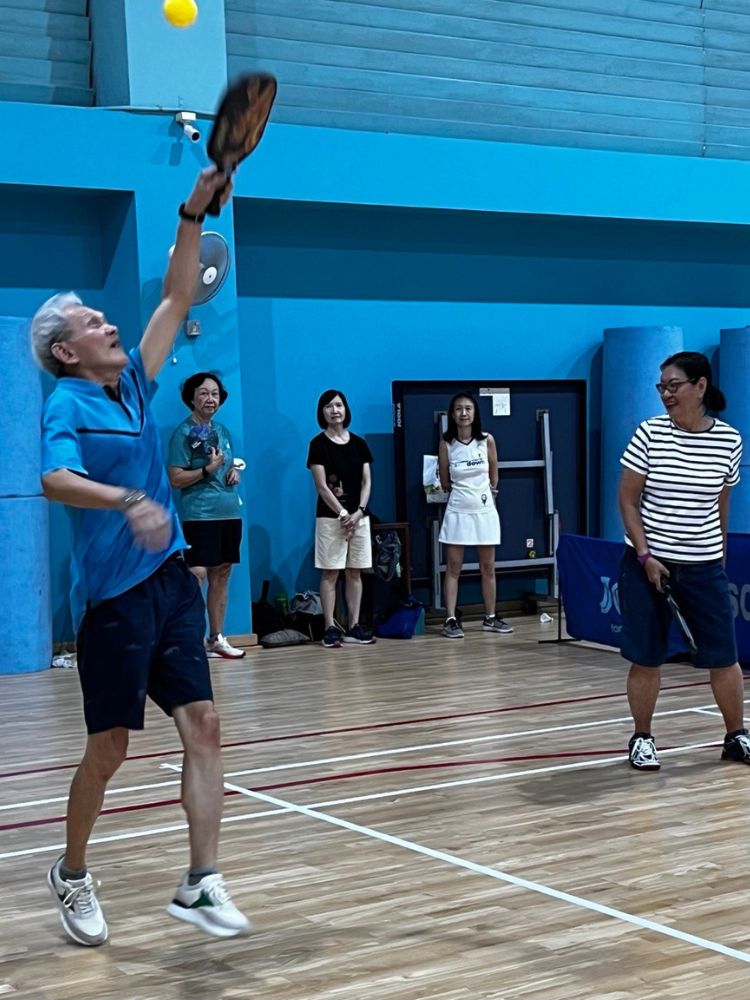 The oldest member of the family group is Chan Yaw Kok, the husband of the only Low sister, Rose.
At a sprightly 80, he still executes a spring in his step each time he hits the ball.
Rose is 76 and proudly pointed out her decade-old knee-replacement scar saying she has no problem playing pickleball.
Her husband loves the game so that is a win-win she says. She encourages other silvers to pick up the game.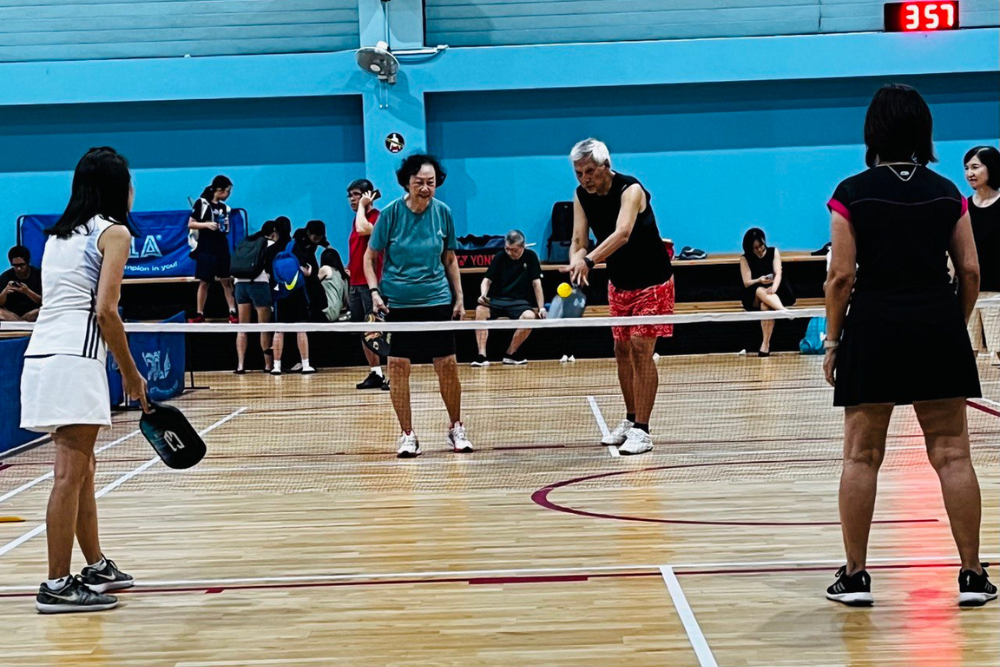 Pickleball is a paddle sport that combines the elements of tennis, badminton and table tennis.
Played indoors or outdoors on a court the size of a doubles badminton court using a light perforated hollow plastic ball hit over a net.
Pickleball was founded in Washington in 1965 by Joel Pritchard, Bill Bell and Barney McCallum, three fathers who grabbed table tennis paddles and improvised a new game for their bored children.
Joan McCallum came up with the name: A reference to the leftover rowers who would race for fun in local "pickle boat" crew race competitions.
During the Covid-19 Pandemic, people moved over to the paddle sport when traditional team sports could not be played. In the US, participation increased from 5 million in 2021 to 36.5 million in 2022.
Pickleball was introduced in Singapore in 1990 but did not take off until a few years ago. Now there are between 30 and 40 interest groups with more youngsters joining in, making it a social activity involving all age groups.
"You can get addicted to pickleball. We certainly are,"
This cohesive group attests to the addiction despite encountering injuries or harbouring age-related ailments.
A Demanding But Forgiving Game
Florence Ng, who has played basketball when young and tennis and table tennis for many years and now does freelance work while being a caregiver to her parents says:
"I am afraid of the sunlight. My kneecap is also not so good these days. So I'm glad that finally I have found something that is the best fit for me. I get to perspire a lot which means my heart is working.
"Exercise must be like a hobby. You must like it. Working out on the cross-trainer does not bring me joy; pickleball is enjoyment to me,"
Teresa Winata, who used to play tennis, says it helps with ball sense. She also says the pain in her knee has disappeared since playing pickleball.
Emily Foo has been playing pickleball since Dec 2022, despite suffering from osteo arthritis. She decided painkillers are not the answer for her. "It is all part of ageing." And to prove that, she was back on the court playing her best game.
In school Lee Soek Hoon was a very active sportsgirl who ran and played softball. She has only spent the last few months playing pickleball and is now hooked. She envisioned a slow game and was sceptical until she tried it and is very pleased with the workout she now gets.
On the other perils of the game, Andrew warned: "Running backwards is a bit dangerous. In the excitement we could trip. We must be mindful of this and remind each other to be focused and not get carried away."
Easy to Pick Up Pickleball
"You can find yourself playing almost instantly; and that's the best part,"
Clara has no racquet sports background but is picking up the game well.
She was not daunted by her husband's three stitches from crashing into the railing when he tried to retrieve the fast-moving ball and ran backwards.
Raymond Tan chipped in: "It's an easy game." And not expensive. You do not have to sign up for a club membership. Paddles cost between $45 and $200.
Sunny Ng elaborated: "We are guided by the more experienced players. That is how we learn."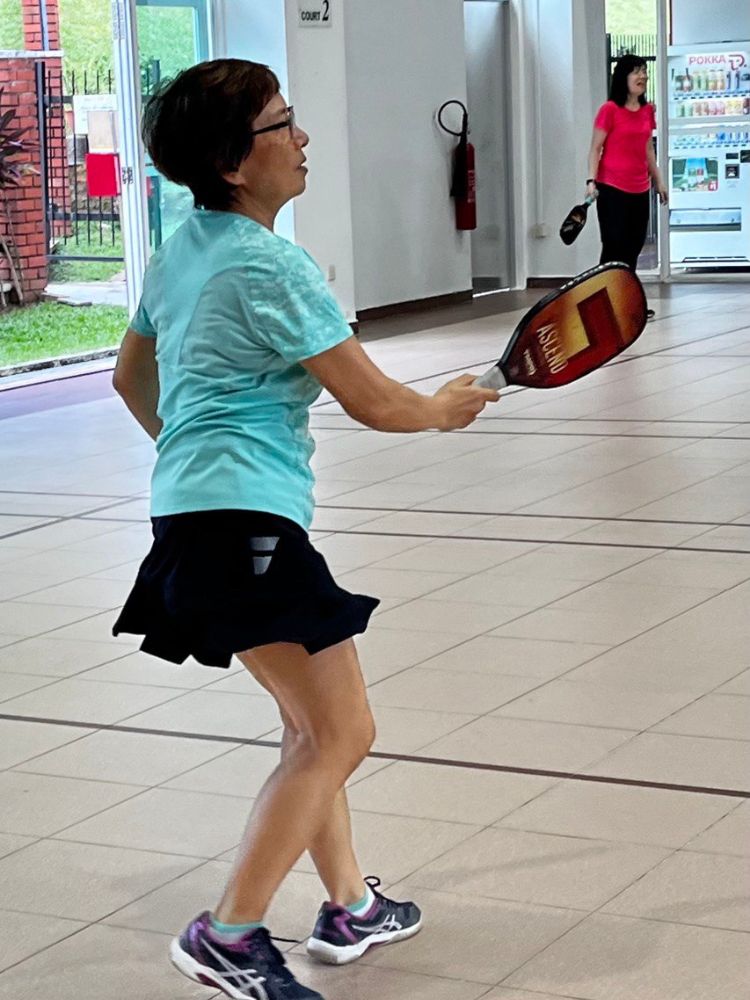 Lee Lu, who plays tennis simultaneously, is one of the more experienced players having played longer. The former educator just wants to teach players to play correctly. She is ready to offer tips to anyone willing to be instructed.
Friendship and fellowship are important to Jean Low. And this game promotes it.
When practice ends at 3.30pm on Wednesdays, Jean looks forward to heading with the team to either Newton or Adam Road for a yummy cold dessert.
And for the most keen-player Yeo Siew Keng, it is passion that fuels her love for pickleball. She plays four times a week at various venues with other groups.
In conclusion, a word of caution from Soek Koon: "I am going to be honest and say Pickleball is not to be labelled an old folks' game. But it is a good game so just play it well by remembering the important stuff. Make sure you warm up. Lock the wrist when playing. And cool down when you are done."
Andrew summarises it well: "We know we are not as young as we used to be but we approach the game cautiously and have fun. If accidents happen, we learn from them. But we do not stop."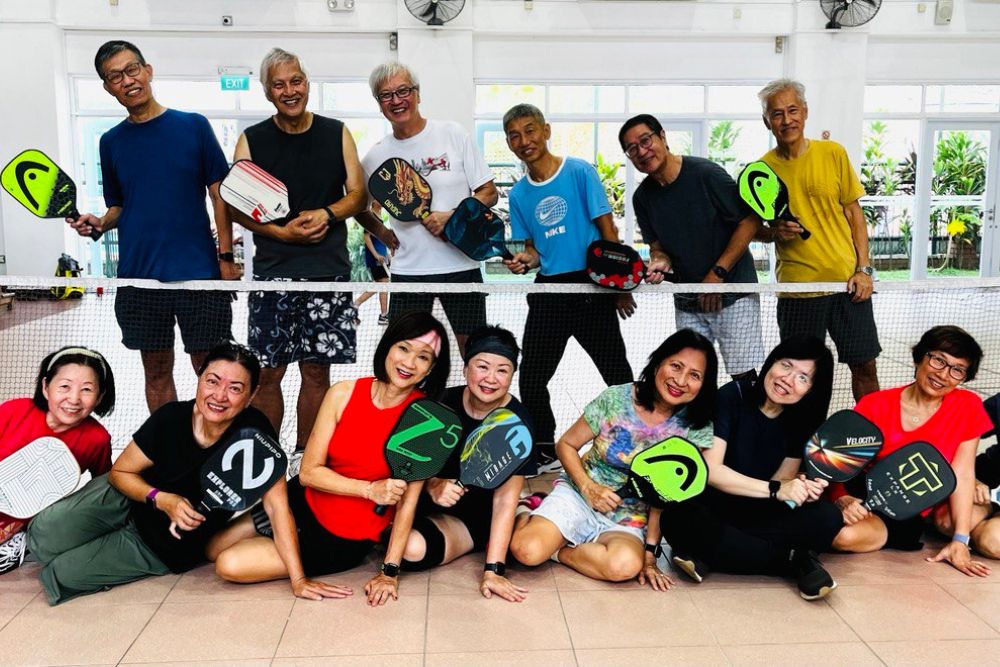 Silvers interested to know more about pickleball clubs in Singapore that they can join, do contact the
Pickleball Association (SPA)
. SPA has also kickstarted a new mental wellness charter to show the life-changing benefits of integrating pickleball into our lives.